4 Worries That Terrify Beginner Freelancers
and how to get over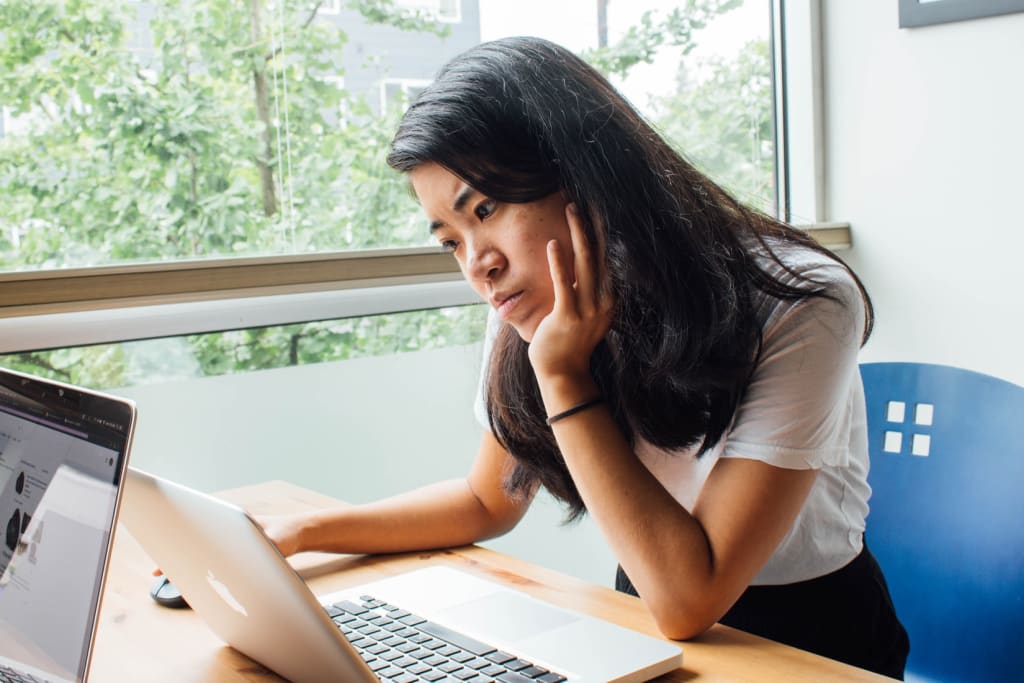 Image credit: Iris Wang on Unsplash
An astonishing 85% of the global population are not happy with their daily jobs, according to Gallup's World Poll.
Luckily, there are plenty of side-hustles anyone can do besides a full-time job. Inspired by great minds and a desire to become location independent, I took my first freelance project in October 2020.
Freelancing might seem like fun. However, it requires powerful self-discipline, dedicated work, and an excellent reputation to win clients.
If you are eager to start, but impostor syndrome does not let you send your first proposal, these are common fears and negative thoughts that I had to overcome to kick off my freelancing career.
"I have nothing to prove my expertise."
You realize you don't have a portfolio of former works. You don't have nice client testimonials to back up your work. You have no right to share insights from your former projects. You feel stuck and don't know what to do next.
I know how it feels. I've been there too. As a marketer, I can't talk about the exclusive insights from my ex-projects. When I started freelancing, I had nothing to share except for promises and statements that I know how certain things work.
I spent half of the year creating a portfolio with over 80 writing samples. I wrote case studies about former projects (without naming clients) and became a certified marketing expert to prove my expertise and stand out among the rest candidates.
I had to overcome the impostor syndrome to get my first client project. I hid my anxiety deep inside and tried to be everyone's darling. My first freelancing experience taught me valuable life lessons that might be helpful for you too:
Small details matter. When building your profile, focus on achievements. It is the right way to impress potential clients.

Everyone is skilled. Period. You just have to present your experiences properly.
"I am not good enough, and everyone will reject my proposal."
Imagine you are an employer who wants to hire an expert on a popular freelancing platform Upwork.
You open Upwork and start looking through the list of freelancers who can are skilled in CRO (conversion rate optimization.) While checking some profiles, you read the following:
I helped X clients to improve the conversion rates for different businesses, from one-page websites to giant e-commerce stores.

I have X years of experience working on CRO in different industries. Let me help you with your challenge.

I examined the client's landing page, conducted interviews with actual website users to discover their objections. A new solution perfectly addressed users' information needs and helped to improve the conversion rate.
You will get bored if I name a few more examples like these. The fact is — they are real! People describe their expertise using long storytelling that often elaborates what they did but has no evidence of what they achieved.
If you want to create powerful proposals that address clients' challenges— show them how effectively your solution can help them fulfill their needs.
How can you do it? Add a few project work examples to your portfolio that should communicate the results achieved.
Here is how I present my ex works in a portfolio and include them in the proposals. Notice, I focus on "what has been achieved" instead of "what has been done."
If you want to build a successful freelance career, consider your portfolio as a sales pitch, the more relevant and convincing it is, the more likely you will get a gig.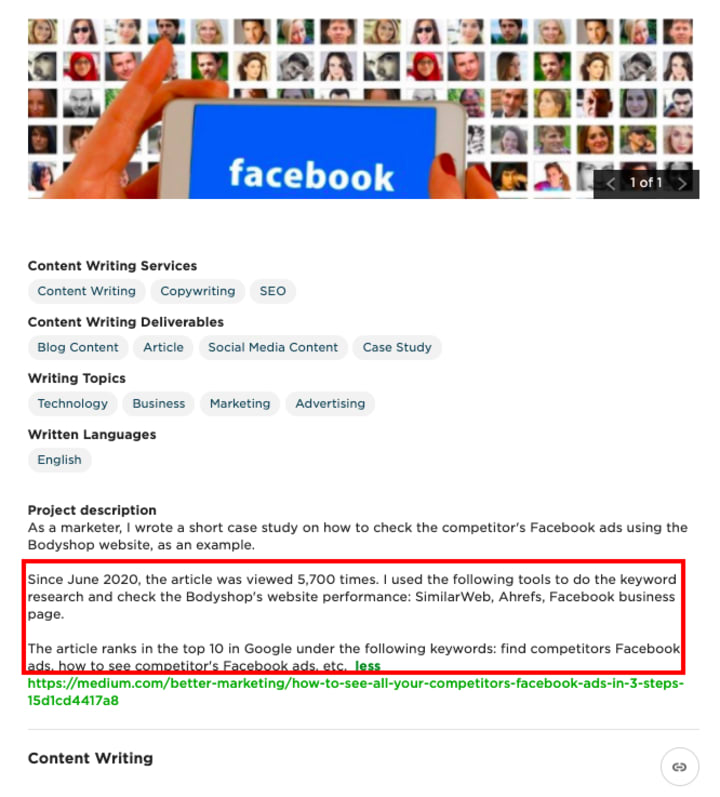 "Am I cheap, or am I too expensive?"
You might end up working for free if you don't know how much your time is worth or simply underestimate your skills!
Once, I took a project where I had to create short case studies. The client assured me one case study wouldn't take more than 3 hours. We agreed that every case study would be billed as a 3-hour work with a $25 hourly rate.
In reality, I spent over 5 hours working on every project because of endless comments from different people. I underestimated myself and worked cheaply, but I've got priceless experience along the way.
If you work on freelance platforms, like Upwork, examine the employer's average hourly rate and the project details. If you feel it would require more work — propose a higher bid with detailed reasoning.
Those who disagree will go. Let them go. Strive to find a client who is open to collaboration and negotiation.
Time is money, but also freedom if you start to value yourself more.
"What if a client does not like my work?"
Setting the right expectations, meeting the deadlines and client's needs defines the project's success.
The world does not end if a client does not like your work. Feedback is crucial, and, as a freelancer, you need to be open to it. Discuss what else you can do to meet the needs and work closely with a client to make sure you've done the job well.
Do not take failures personally. Instead, learn from each mistake.
Takeaways
60% of people who started freelancing reported earning more than when they worked for an employer.
Do what makes you feel happy, work with people who inspire you, learn from bright minds, and you will notice how your side hustles will become a great source of income you've ever dreamed of.
About the Creator
Self-made marketer & content writer. Writing daily. Creating SEO-friendly content for 3 years.
My site: https://selfmademillennials.com/
Let's get in touch: https://www.linkedin.com/in/victoria-kurichenko/
Reader insights
Be the first to share your insights about this piece.
Add your insights