4 Post-Grad Tips I Wish Someone Gave Me
It's not as scary as people make it seem... OK, maybe it is.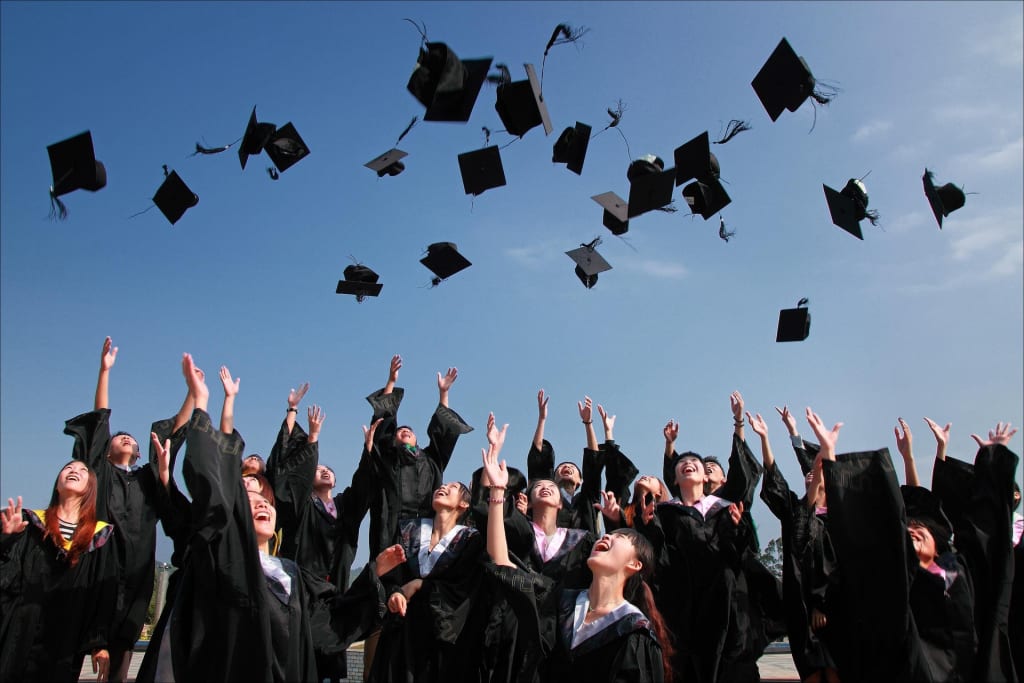 First and foremost, if you are about to graduate or have recently graduated: Congratulations! Graduating from college is a huge accomplishment, one that definitely needs to be celebrated. Navigating the "real" world is daunting, intimidating, and exciting all at once. But there is nothing to be afraid of. Or well, kind of. Post-grad life comes with a lot more responsibility (and a lot more bills, but you don't need to worry about that yet), and the best way to manage that is with knowledge and balance.
I remember graduating and feeling so ill-equipped to handle "adulting." It's weird to think that you won't need to go to classes anymore or buy any more clunky textbooks. What you do now is up to you, and there is both beauty and pressure in that.
Take a deep breath.
It will all be OK!
But just in case you aren't convinced, here are four tips that I wish someone gave me when I first entered the "real" world.
1. Relax. I mean it!
OK, I know I just said this, but I need to reiterate it. Take a deep breath. Finishing school should be something to celebrate, not something to panic over. The first thing that you should do after you graduate is something for yourself. Pick an activity that you've always wanted to do, find a place that you've always wanted to go, and make it happen. Pursuing higher education is stressful and you should reward yourself for completing it.
If you are unable to take a trip or spoil yourself with a big purchase, give yourself a few weeks to relax, hangout, and worry about nothing. I know this might be difficult to do when you're worried about finding a job or potentially applying to graduate school, but trust me, you need this. There won't be a time where you can just chill out and do nothing for a long while. Give yourself some time to bask in nothing, you deserve it.
2. Network to learn.
Most people believe that students should know what careers they want to pursue after they graduate college. But this isn't the case. Many scholars graduate from colleges thinking that they know what industry they want to be in, only to find out that it isn't what they thought it would be.
To mediate this, I recommend that you network with professionals in the field that you want to be in to learn more about it. Find people who are in positions that you want to be in and message them for an informational interview. I know this sounds intimidating, but you'd be surprised to find that most people want to help young graduates!
To get a good look at the job or industry, you should compile a list of questions or things that you'd like to learn more about. Here are a few that we recommend:
What does your day-to-day look like?
How did you get to the position that you're currently at?
Are there any publications that you recommend that I follow?
Are there things that I can do to make myself a better candidate?
Are there things that you dislike about the field?
What are some things that people think are true about the job/industry, but aren't?
3. Recognize that this is just step one.
OK, this is an important one. Remember that whatever position that you land in right now, is only the first of many that you will have. It doesn't mean that you haven't made it or that you won't make it. Try not to compare the perks of your job to those that you see on social media.
(We all know that social media has a way of perpetuating things in a way that's more glamorous than it is.)
Comparing your situation to someone else's doesn't benefit you in any way. It will only make your job seem more tedious and could potentially affect your daily mood.
This is just step one. You have a long way to go and a ton of room for growth. Remind yourself that every opportunity is a learning opportunity. Regardless of where your first position is, you will still learn. There are lessons in the workplace that aren't pleasant, like figuring out how to balance mundane tasks with the fun ones, but they still need to be learned and navigated. Your first job will teach you what you truly value in the workplace and advise you on how what to look for in your next venture.
Stay hungry and stay humble.
Work hard and better things will come.
4. Read up on employee rights.
Did you know that employees are protected by certain rights? This is seriously something that they should've taught us in school. Employees are protected by specific laws to guarantee that your work environment is safe and productive. This includes meal break laws, harassment laws, and worker's compensation laws.
Before you start your first job, research and learn more about these laws. This will help make sure that your employer is treating you fairly and could potentially protect you from issues that could arise in the future. Remember that businesses are essentially only looking out for themselves. Don't think that they always have your best interest at heart. Learn these laws so that you know that you are getting what you're supposed too.
People react very differently to post-grad life. It is tricky to navigate, but you'll make it! Stay patient with yourself and with others. Be eager to learn. Never let yourself think that you're the master because that's when the knowledge stops. Speak up and ask questions. Make your voice heard. Among all of this, don't forget to have fun and to enjoy the weekends. They will keep you grounded when the work weeks feel never-ending.