10 Best Journals and Planners for Productivity
Want to constantly keep your thoughts and work days organized? These are the best journals and planners for productivity you can buy right now.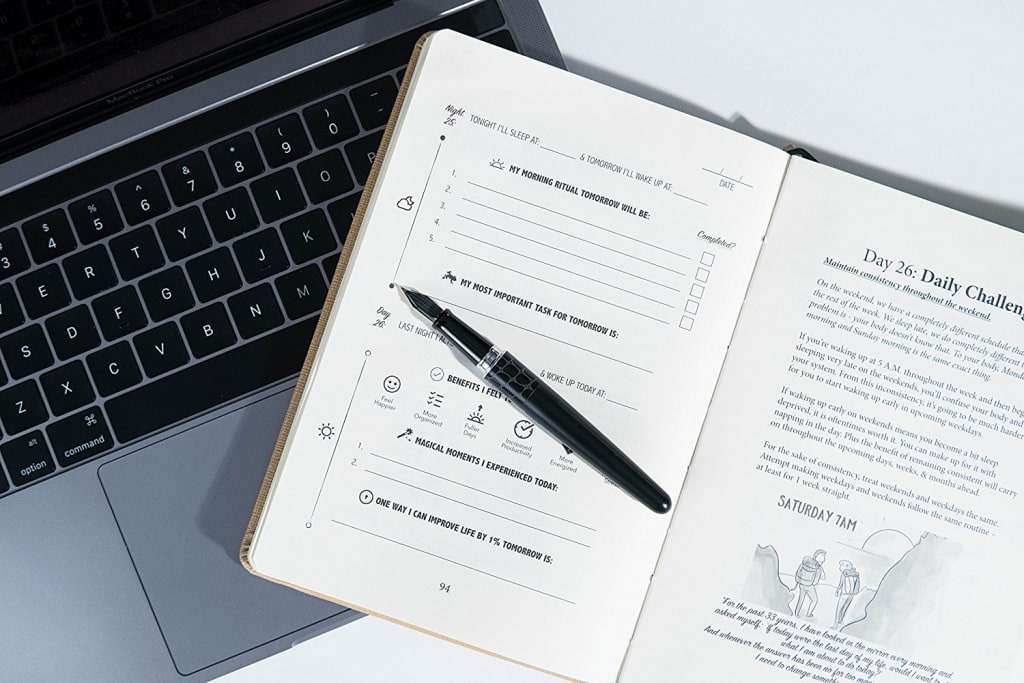 I was the most disorganized person ever. I'd forget events, did last minute assignments, missed my appointments, and forgot literally everything else because work was taking over my life. It would usually be really tough for me to be productive whenever it was my busy season. I wouldn't be productive to the point where I couldn't complete simple tasks like cleaning around in my apartment.
After noticing my friend checking off tasks and events from her planner and staying on top of everything, I finally figured out what I needed. I wanted to get my hands on a cool planner so I searched online and came across a huge selection of journals and planners for productivity to store down thoughts and due dates for assignments. Journals can also be a therapy weapon. All I can say is that my work days have never been more organized, and I've become way more productive, too!
Most of us hard workers need a planner to help us stay up to date with everything that's coming up and even help us become more productive every day. BestSelf Co.'s agenda and journal in one has monthly, weekly, and daily spreads so you can thoroughly organize your life through every single working day. You can jot down everything from birthdays to due dates, chores, tasks, and anything else.
The SELF journal is all about you and what your days look like. It's a day planning system with included gratitude, notes, goals, and reflection sections that have been used by even millionaires!
Want a more professional-looking planner to guide you into achieving your goals? The Full Focus Planner allows you to break down your biggest goals into actionable steps. You can use the weekly and quarterly review templates with the daily task lists.
You can use the weekly and quarterly review templates as well as the daily task lists to connect the dots between your granular to-do's to your big-picture ambitions! In addition, when you purchase this planner, you're getting exclusive access to a series of short videos where Michael Hyatt himself will coach you on how to use each element of the planner! Michael Hyatt's planner is one of the best journals and planners for productivity because everything is laid out perfectly for you.
The Mastery Journal is easily one of the coolest journals and planners for productivity you can buy right now because it's designed to jot down not only notes, but thoughts and ideas, too. This is the perfect journal you can use to write down any ideas you have and set a daily plan every single day no matter what profession you're in.
This journal will guide you into mastering productivity, become more discipline, and stay on top of your work game all throughout the year. If you're a busy worker, you can use this journal to help you keep up with all of your tasks, and express your thoughts and ideas in. Keeping a daily journal by your side is the perfect way of writing down and letting out your thoughts! Try out bullet journaling, since it's been shown to help people struggling with motivation.
When you work out, you want to keep track of your progress so you're consistently on top of your workouts. You can easily track your progress daily with one of the most beneficial journals and planners for productivity on the market—The Morning Sidekick Journal by Habit Nest. After you finish working out in the morning, or any time of the day, write down what you've accomplished.
The morning planner uses three phases in order to help you keep up with your momentum of your daily productivity, morning energy, and your overall health. You can also write down work tasks and assignments you need to get done on specific days while you jot down bite-sized pieces of content from your workouts!
Some of us can use a bit of inspiration every day to push us into becoming motivated to do work. I know I always need to be motivated because there will be days where I'll wake up and I literally just want to lay in bed all day. I obviously can't do that because I have a ton of work to get done! Moorea Seal's 52 Lists for Happiness is a great weekly journal that offers nothing but positivity, balance, and joy!
This tool offers list lovers to write down their own unique happiness and bring in joy and balance into their lives. It's a stunning, undated hardcover journal that features 52 listing prompts to make it yours and encourages readers to reflect, understand, and invest in themselves by figuring out what to do every day and getting everything done!
Have you ever seen a planner for writing in events and assignments as well as a detailed coloring book? If you love to color intricate pictures, then I've found one of the coolest journals and planners for productivity you'll ever lay your eyes on. This planner gives you the opportunity to plan effectively with daily tasks and increase your imagination and unwind when coloring hand-drawn images in the planner such as flowers, woodland creatures, and more!
This planner is made with a 100 percent sturdy recycled chipboard back with flexible clear covers. Since color is so therapeutic, any worker should own this planner to color in and calm down when feeling stressed out and overwhelmed from work.
There are people out there who aren't looking for a heavy, compact planner journal, but something dainty and can store all of their everyday details. People who go on business travels also want to carry around a small daily planner or organize their days when flying to a different destination. The perfect planner for those people is Urban Outfitters' Printed Daily Planner Journal!
Urban Outfitters offers this in a wide range of designs from marble to floral and even solid. These planners are detailed with metallic foil lettering and a ribbon bookmark. It features a page for every day of the year to organize your traveling days and become more productive every day. In addition, there's space for doodling when you're feeling bored on the airplane!
Nothing keeps you more organized and feeling productive when you have a planner color coordinated! Hieno Supplies' colorful planner is among the creative journals and planners for productivity you can buy now. Our brains actually learn faster and better when our notes are written down in colors because it helps us remember them easier. If you have a tough time trying to understand what you're learning during training at work, you can use the colorful notebook to help you remember the different information.
This planner journal allows you to write down your thoughts, notes, and brainstorm ideas clearly and smoothly. You can also separate your specific notes by color so you don't get mixed up with each other. Everything is more fun when you color coordinate your work!
Are you a passionate writer who's on the hunt for a really sophisticated and professional journal to write down all of your stories in? Despite my job, I'm a passionate writer myself, and I always wanted a detailed journal to make all of the stories I've written down in it the best. All of my stories are genuine, so I only wanted the best journal to store them in. Plus, writing daily journal entries can improve your writing abilities. AzureGreen's leather journal is an awesome journal for those who are interested in writing down everything that pops into their head. It's constructed in great, brown leather with unlined, handmade paper.
These journals are completely handcrafted with embossed designs and the shape of the stone varies whenever buying one of them. It also features a beautiful, antiqued crass swing clasp to securely keep the journal closed. It's great to bring to work, too, when you need some time to get away from tasks for a bit and continue your story in your journal.
Lastly, the marble design can never go out of style and DesignWorks Ink's journal is certainly of the best-looking journals and planners for productivity out there. Bloggers and journalists certainly need a journal, too, to write down all of their ideas for their next posts. A journal this great looking will always motivate you to write down all of your blogging and article ideas in it. You'll constantly be a productive journalist when you have this journal by your side!
The journal is made in a white and gray marble design with "Notebook" stamped in gold foil on the cover. You can use this journal as both a datebook and a space to clutter all of your best thoughts and ideas in!