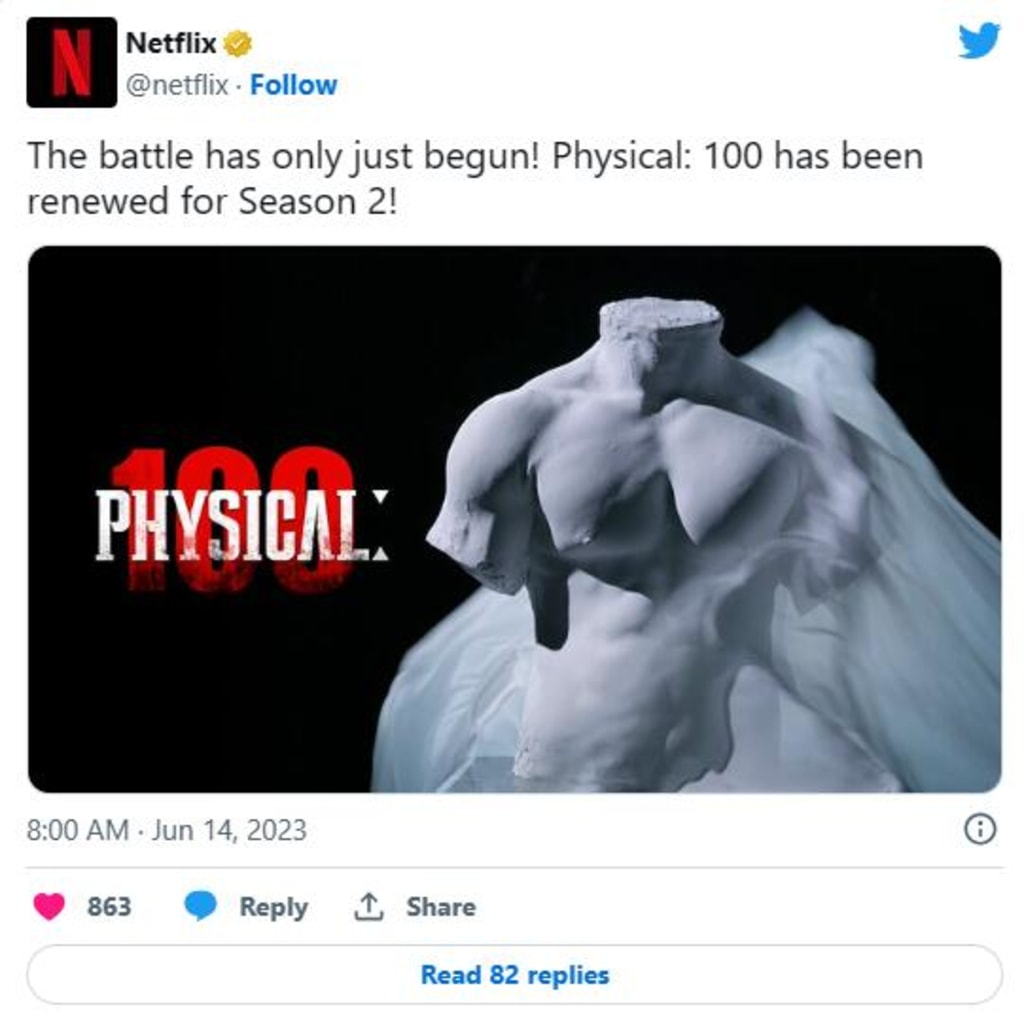 Netflix announces the second season of Physical: 100, the first unscripted show that became Netflix's most popular non-English TV series. The series ranked top 10 in 82 countries, with 192.63 million hours of viewing in just 6 weeks.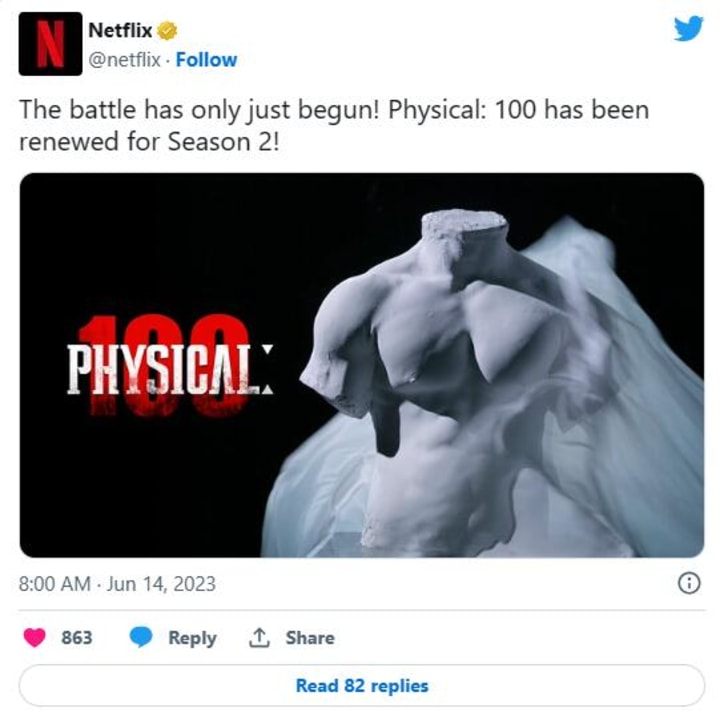 The breakthrough reality competition series gathered 100 individuals from various athletic backgrounds, ranging from Olympians, firefighters, and former soldiers, to bodybuilders, and more. The show gained interest from the public as the show featured prominent figures such as Yun Sung-bin, a skeleton racer who won the 2018 Olympics Gold, Yang Hak-seon, a gymnast who won the 2012 Olympics Gold, and Choo Sung-hoon who is a former MMA fighter.
They all fiercely competed with each other through a series of physically enduring games to win 300 million won, which equates to $1,840,000 HK dollars. The show now embarks to find the answer to "What defines the perfect physique?" Is it strength, endurance, agility, balance, or willpower?
Continuing the success of season 1, the director Jang Ho-gi is even more confident for Season 2 as he states, "The second season will surpass its predecessor in every aspect."
Jang shares that although they will retain the essence of the show, they plan to add fresh elements that will keep the audience on their toes.
"I'm honored to meet a lot of contestants whom I feel are overqualified. And I'm also collaborating with many experts to make sure we have even more electrifying and well-designed quests that will leave audiences on the edge of their seats," Jang stated.
What will be in Physical: 100 Season 2
In season two, the show will continue to showcase people with exceptional physical abilities from various fields, including athletes, bodybuilders, and military personnel. Regardless of age, gender, nationality, or weight class, 100 people with the strongest physicals will return to compete in even more challenging trials.
PD Jang Ho Gi, the show's producer, expressed gratitude for the international support for 'Physical: 100' but also promised significant changes in the upcoming season. He stated, "We have taken into account the feedback from viewers and experts and will be creating a new world for season two, leaving only one key goal, 'Exploring the most perfect physical.' We will be introducing a larger space and more powerful quests, inviting performers who were not able to participate in the previous season."
The show has garnered attention for its unique concept, but it also offers insight into the physical capabilities of the human body. Viewers can expect to see more thrilling trials and challenges that will test the limits of the contestants.
Steps to Download Physical: 100 from Netflix
What you need: Kigo Netflix Video Downloader
How to download Netflix videos in HD MP4:
Step 1. Install and Run Kigo Netflix Video Downloader, and click the setting icon to set the output format as MP4, output video quality and so on.
Step 2. Enter "physical" to search on Kigo, or you can copy the video link and paste.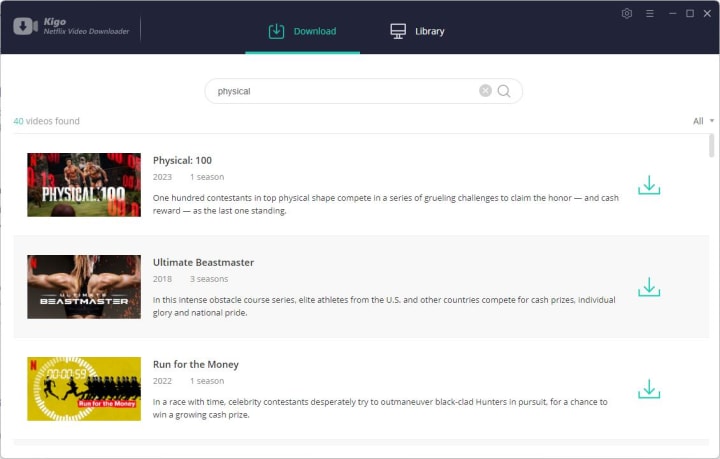 Step 3. Click "Download" button to select the episode and set the video quality, audio quality, audio language, subtitle language and so on.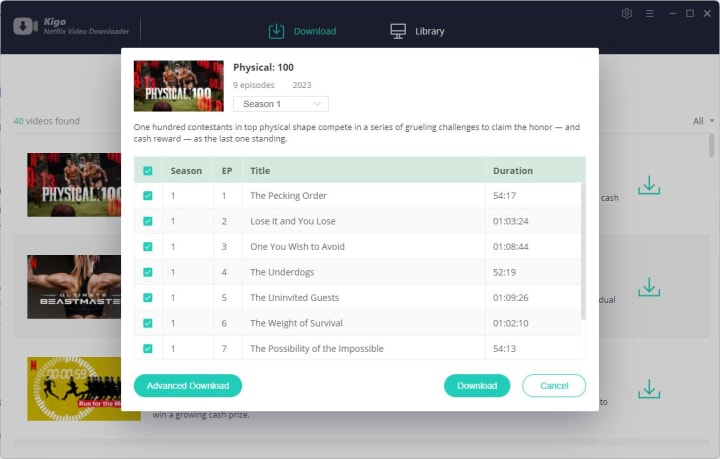 Step 4. Click "Advanced Download" to set the video quality with different bitrates, audio quality and so on. You can also set the subtitle modes, including internal subtitles, external subtitles, and hardcode subtitles. You can also select to save them to video, audio and subtitles only.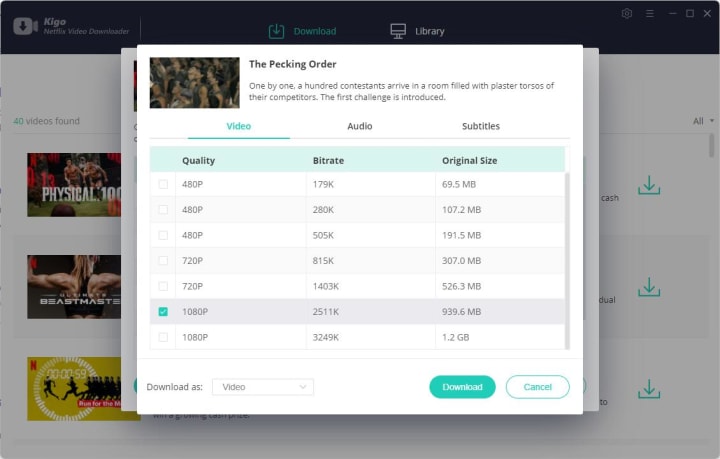 5. Click "Download" to start downloading Physical: 100 from Netflix and store them in HD MP4 format.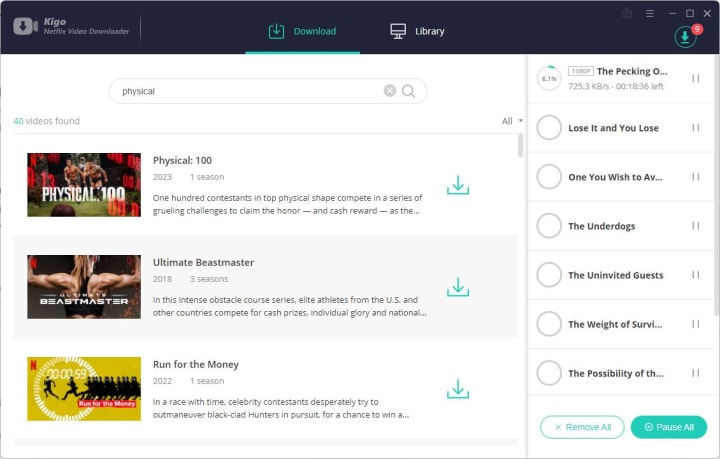 Final Words
This method is not just for downloading this program, you can also download other movies, TV shows, etc. The downloaded movies can be played on any device that supports MP4 format.
Reader insights
Be the first to share your insights about this piece.
Add your insights