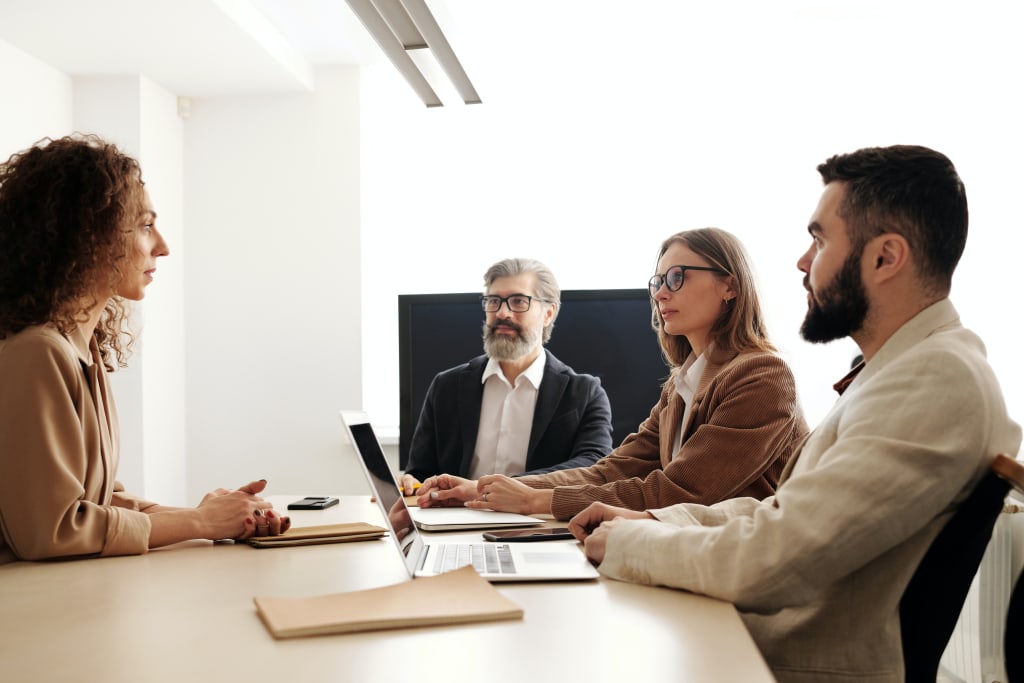 So can you start by telling us about yourself?
Yes, no problem. Well, first of all, thank you very much for giving me the opportunity to be interviewed for this customer service position today. I am a very positive, happy, caring and sociable person, and I enjoy helping other people. I genuinely enjoy working in customer service roles. I also have the skills and qualities that are a match for the job description. So with confidence, I could come into this role and get up to you really quickly, which means you won't have to spend lots of time monitoring or supervising me. I have previous experience of working in customer facing roles and I know the importance of customer service in any company. Customer service is vital, if a company is going to be successful, And also beats its competitors. I pride myself on being the type of person who is able to robustly deal with difficult situations and challenges, I can handle customer complaints in a competent Manner, and I will always follow company rules and procedures. I also believe that I'm very good at winning over dissatisfied customers. So, within the role to help increase company Revenue. Finally, I recently completed an online customer service training course through the website udemy.com.(ignore if you didn't) So I have extra knowledge and up-to-date expertise that will help you Excel within the position.
What does customer service mean to you?
Customer service means many things to me. Customer service means first and foremost going above and beyond what is expected. So you want to make all customers, feel welcome and valued and appreciated whenever they come into contact with the business, it would also be my responsibility from a customer service perspective to encourage customers to come back to your company time and time again. So essentially they would become long-term customers of the business and good customer service is about encouraging customers to recommend your company to their friends and family, and that helps you to save money from an advertising perspective. Customer services also about constantly analyzing what you can do in your role to improve the customer service experience because it's important in customer service that you always meet the demands of your customers and finally customer services about being consistent you have to be constantly really good at what you do better than your competitors and to achieve that you have to be consistent and always look to improve what skills and qualities that'll need you to work in customer service.
What are different skills and qualities needed to work in customer service?
There are numerous different skills and qualities needed to work in customer service. You need to be a competent and confident communicator. You need to be really good listener because when you listen to the customer it gives you information that helps you create and sell products and services that they need. You need to be a believer in the company brand. Because if you are passionate about the brand, it makes it easier for you to upsell. You need to be a positive role model. When presenting the company and you also need to be willing to go above and beyond what is required and also be flexible and adaptable. So if you need to help out the company on a short notice, you should be willing to do that. You also need to be knowledgeable. Most importantly on company procedures, especially in respect of the complaints process that the company wants you to follow in your role.
How would you deal with a customer complaint?
Whenever I'm dealing with a customer complaint. I would, first of all, listen to the customer, that's really important and you need to show them that you are genuinely listening and paying attention. I would ask them questions to get to the bottom of the issue. And the quicker, you can get to the bottom of the problem. The better I would apologize quickly if the company was at fault. I would be genuine in my apology and I would then put a plan of action in place a process for resolving their complaints. And I would agree that process with the customer. So, I would confirm with them that they were happy with my plan of action. I would then take decisive. action to resolve the complaint. I would keep the customer updated. I would follow up with them to make sure that they were happy. Once the resolution had been completed and finally whenever dealing with a customer complaint, I would look to learn from the situation and share any feedback I had with the remainder of my team.
What's the best customer service you've ever received?
I would say, the best customer service that I've ever received was through Amazon. So, several weeks ago, I placed an order online and the order was going to be delivered the following day. When the next day, came, I received a notification on my smartphone to say, the product had been delivered. When in fact, it hadn't now naturally, I was disappointed with this, so I went online to make a complaint. Now, this is where Amazon's customer service, really impressed me. So the complaints procedure was seamless, it was really easy to use and I was able to quickly speak to a customer service agent. Aunt, when I was explaining to the customer service agent, what had happened, they were genuine in their apology and they and it seemed like they really wanted to put things right quickly for me. So they found the order within seconds, they apologized, they did not question the genuinity of my complaint and they immediately dispatched a new product. And I like the fact that the complaints procedure was quick, the customer service agent was knowledgeable, and they really care about giving the right level of Service. And I learnt a lot from that experience, how important it is to always focus on the customer and do what they want you to do.
How would you deal with an angry customer?
Dealing with an angry customer. I think it's important to not take what they are saying personally, you have to always focus on creating the successful resolution. So I would not take anything they said personally and I would listen to them and while they were speaking, I would show them that I was paying attention and genuinely caring about their situation. Also give the customer time to vent because by allowing them to vent their frustrations. It helps make them feel listened to and valued whenever the time was right. I would ask them questions because I would want to get to the trigger point. What was it that has happened? That has made them feel angry because then that information then enables me to put a plan of action in place to resolve it. I would show empathy and understanding while dealing with the angry customer. I would be confident though, whilst dealing with them. I would put a plan of action in place. I would quickly resolve any issues that they had and I would learn from the process. So, my aim would be at all times to win them over and get them to be a happy customer.
Why should we hire you?
I believe you should hire me for several reasons. The first reason is I have a good level of business. So I understand you are investing in this role and I need to give you a good return on that investment, and that will be achieved by consistently offering outstanding customer service to your customers. You should also hire me because you won't have to constantly monitor or supervise me moving forward. And I am also a very fast learner. I am able to follow rules and procedures, and I am also flexible and adaptable. So if you need me to come into the company to help out at short notice, then I will do. Finally you should hire me because I'm really good with people and sociable, I can build connections with people. I am also open to change and I will also always take care of my ongoing professional training and development.
That's the end of the interview. Let me know in the comments below, what are your thoughts?
Reader insights
Be the first to share your insights about this piece.
Add your insights