Cee
Relentless, Wait 'Til Morning ft. The BLK LT$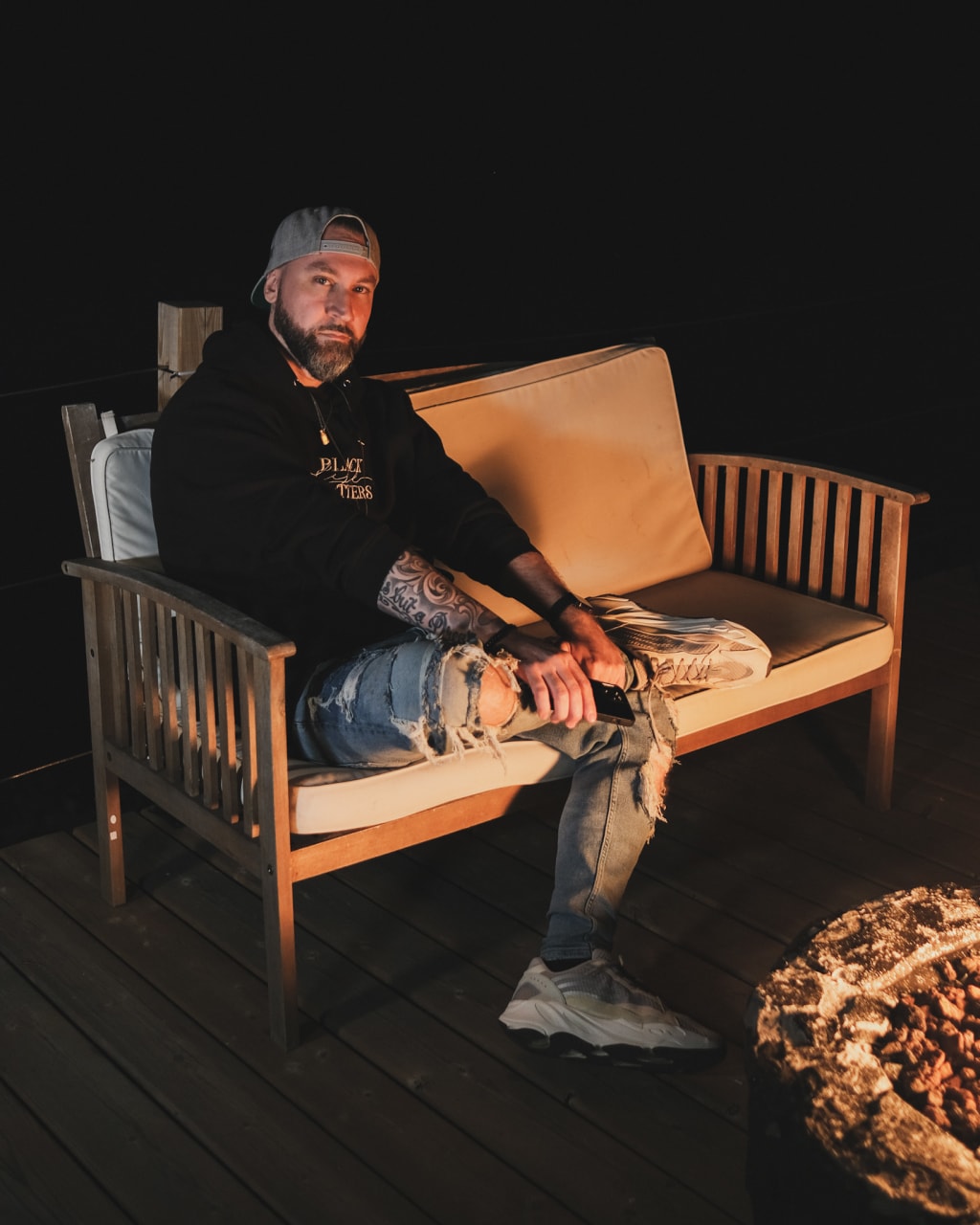 Relocating to Canada from Australia in 2010 after landing a distribution deal in the US, Cee gave up everything to pursue his dream in music - even missing the death of his father in 2016.
His debut album, This Is All I Know, hit #6 on the iTunes Hip Hop Charts in Canada and #8 in Australia.
Cee has completed 5 tours across Manitoba, Ontario + Quebec with the likes of The Palmer Squares and The Bodega Brovas, opened for legends including Mos Def, Raekwon, Bliss N Eso, Hilltop Hoods, Slum Village + more, and rocked festivals including headlining the Port Hope Jazz Festival, Under Pressure + Paint The Park.
His sophomore solo project Relentless is produced by Toronto's Myer Clarity and features no samples - all musicians. From Hip Hop to Jazz to Reggae to Neo-Soul to Boom Bap Rap, Relentless hits every soundscape, giving Cee the space to tell his unique story. With features from the JUNO-nominated The BLK LT$ (formerly known as Andreena Mill), Notion, D'Eve Archer and Bonfire, Relentless is truly something special.
How long have you been creating music?
I released my first song back in 2002. Been a hot minute!
What is it about music that makes you feel passionate?
I love being able to spread a positive message through my music, something people can learn from or be inspired by. I love how making music makes me feel, and I want others to feel the same way. We need more positivity right now, and I hope I'm contributing even a tiny piece.
Do you have a preferred genre?
I've been a Hip Hop fan since I was 11 years old, but I'm also huge into R&B, Neo-Soul, and Reggae. I appreciate everything, though - if it's good, it's good!
Tell us about your latest song, EP, or album.
The sophomore solo album from Montreal-via-Melbourne artist Cee, Relentless is his boldest project to date. With sample-free production helmed entirely by Toronto's Myer Clarity, the Urban Hang Suite vibes of Too Hungover with D'Eve Archer and Notion hit hard, to the jazzy, Foreign Exchange-esque Wait 'Til Morning with The BLK LT$ (f/k/a Andreena Mill of Closer To My Dreams by Drake fame), from the piano-heavy, gang chorus of Tiffany Blue to the moody dedication to my late father Survivor with Bonfire, from the reggae sounds of Let Justice Prevail with Caleb Hart to the crunching guitars of the hard-hitting Stay Woke, Relentless truly has something for every taste.
Could you describe your creative process? Where did the ideas come from, how were they transformed in your mind, what did you start with and how do you refine these beginnings into the finished work of art?
For this album, I worked with Myer Clarity, a producer based out of Toronto. Each of us typically brought inspiration to the studio for each song - for example, I brought Myer "Long Story Short" by Black Milk and we created "Stay Woke". We did all of the original sessions at Myer's home studio, and then we rented a studio in Toronto for a full week and recorded for 10 hours a day, inviting the session musicians and singers to come through and add some garnish to each song. My brother Notion mixed and mastered the whole thing, which was an EPIC job, he's the true MVP of the project. He had more than 100 stems in each session that he had to edit and arrange (with the help of Myer), and then mix and master the entire thing. 17 songs, including the deluxe version that's dropping next year.
Are there any challenging aspects to writing and/or recording your music?
I've been doing music for so long that there typically aren't any huge challenges as we've faced it all by this point. The toughest part of this album was the editing - it was recorded in a "dump" sort of fashion, where we just did take after take after take with no in-studio editing. While it saved us time up front, it cost Notion and Myer a TON of time on the back end, which essentially delayed the project.
How has the reaction to your latest release been?
It's been phenomenal. We're 100% independent so it's always a challenge to try to break through the noise, but the response from long-time and new supporters alike has been genuinely moving. All the curators and press have really held me down, too. I'm stoked.
What is the best song you ever released and why?
This is a two-part answer. Lyrically, it's a song called "Revenge / Entropy Pt. II" from 2017. Two verses of 24 bars double time, all with the same rhyme scheme. It's also the least streamed track I've released lol, which drives me crazy because nothing comes close to it bars-wise. Musically, it's "Wait 'Til Morning", a jazzy, Foreign Exchange-inspired joint with the Queen of Canadian R&B, The BLK LT$ (formerly known as Andreena Mill). Her hooks on Drake's "Closer To My Dreams" and "The Last Hope" were so influential for me around 2008/2009, so to work with her and to get her support has been a genuine honour.
What song do fans seem to favor?
So far, the highest streamed songs are "Let Justice Prevail" and "Too Hungover", both songs that I expected folks to dig. I received a bunch of great feedback on the intro, "Making The Move", but that didn't go over as well with curators as the drop takes a while to kick in.
Has your style evolved since the beginning of you career?
Very much so. I started off as a more underground, bar-driven MC. I was then inspired by Kanye West's soul samples and lyrical approach, which persists to this day. The topics I cover has mostly stayed the same, but with "Relentless", I really tried to step it up a notch with no samples, all live musicians. The whole project is just a piece of art, from the songs to the art to the videos.
What do you enjoy most about being a musician?
I love the feeling of releasing music and just having it out in the world. It makes me feel great that I'm able to express myself through music, and my favourite part is the people I work with. I keep the circle very small, everyone I work with are incredibly trusted and are insanely talented. I'm blessed.
Playing live or recording in studio? Do you have a preference?
Studio all day. Live is cool, I just think I'm not into it as I haven't had many amazing live experiences as yet. I've done a couple hundred shows and only maybe a handful were amazing.
Do you have a preference… vinyl records, cassettes, CDs, or downloads?
Streaming and then vinyl. My brother got me a turntable for my birthday this year so I've been buying up classic albums and really been enjoying listening to them on vinyl.
Is there an instrument which you would like to learn and why?
I actually have played guitar since I was 9 years old. I stopped once I discovered Hip Hop, started again when I was about 16, and then picked it back up once more in like 2009. I only ever got competent, never great, but I think if I really dedicated myself to it, I could be solid.
Are there any musicians who inspire you? What qualities do you admire about them?
So many. My Top 5 rappers are Kanye West, Phonte (of Little Brother), Royce Da 5'9", Black Thought and Scarface. But I'm incredibly inspired by Soul/Neo-Soul artists like Kwabs, Banks, SOHN, NAO, Erykah Badu, and D'Angelo. Their music just moves me, I can't even explain it, they make me want to expand the type of Hip Hop I make. I'd love to work with Kwabs, he's on my vision board.
Would you like to travel to other countries to perform your music? If so, what would be your first stop?
Of course! I'd love to do a show in the home of Hip Hop, New York. I just wanna do one show in the US to say I did it. I'd love to rock in London, and also play one of those Eastern European festivals. The fans out there just really appreciate real Hip Hop music.
Other than fame & fortune, is there something you hope to achieve through music?
The "fame and fortune" concept is a thing of the past IMO. I just want to move people, I want them to think critically and logically and for themselves. I want people to experience joy and love through my music.
Are you currently working on any projects we should look out for?
Absolutely. I have the deluxe version of "Relentless" coming in early 2022 with 5 new songs. I also have the second volume of the "bye toxic city!" EP completed with Cambridge, ON's Smokewell/D-Cipher, which is super dope Boom Bap. And then my brother Notion and I will finally kick off our collab LP next year. Lots to come!
Is there something you would like to say, that we didn't cover?
Watch the 3-part podcast series we did on the "Relentless" album with Myer Clarity, Notion, the Creative Director Joshua Telfer and filmmaker Richard Bastarache via our YouTube channel. It'll really give y'all some perspective on just how much thought and work went into the project.
IG: @ceefor / twitter.com/ceefor / youtube.com/movementfam
Musicians
About the author
Inviting music fans to explore new music from around the world
Hip Hop Momma supports and promotes seasoned & emerging artist of all genres ...
http://hiphopmomma.com
Reader insights
Be the first to share your insights about this piece.
Add your insights