Winner's Gap
Ignorance is bliss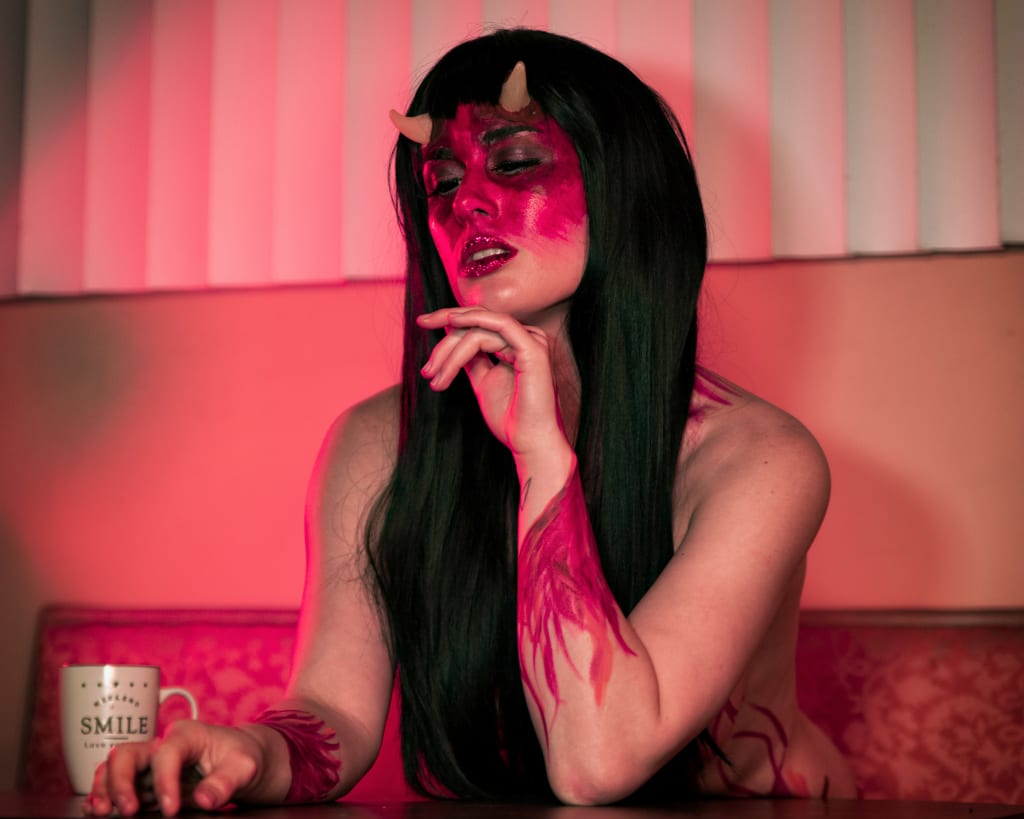 model: Olive Glass
It started with a reel.
A quick fan poll from an online viral newcomer that had just surpassed 1 million followers asking if anyone had a day they could not account for, not related to drugs or alcohol. She sat on her signature pink Muppet fur chair, custom blue cat-eared headset glowing in the neon lighting of her room and talked about how hers had happened right before her online success and wondering if anyone else had a similar tale.
"Post your story below and as always, like and subscribe!"
The comments started to come in and people found each other. As the video spread to different sites it went viral and more and more replies, reactions, and remixes popped up. All of them from the tech bro and influencer communities and all overnight successes. All of them admitting they had a missing day at the very beginning of their rise. Different dates, often years apart, but always a day that nobody could account for.
The fans, most of whom didn't have such a gap, put forward their explanations, their theories, their conspiracies, but nothing ever really made sense. There were so many, hundreds really, of stories with some parts the same but usually every other part different. Toxins, star positions, 5G, hypnotism, and every other suggestion could never explain the sheer variety of these stories. One day gone--then a sudden rise to fame and fortune. Those that realized they had this in common started to refer to it as their "winner's gap" and online ads for pills that could provide a similar day of amnesia started to flood the socials. Hypnotism apps started to explode across everyone's feed as well, luckily just as fake as the pills. Meet ups started to get organized for up and comers trying to go to the mountains and blackout with a guide on whatever drug would do the job.
But there was no substitution for the real thing.
I was with my friend at a coffee shop and we debated the various pros and cons of the conspiracies. I was pushing the idea that all of it was just a big con - an online flash mob of people feeding off each other's fake stories. He was arguing it was just a shared hallucination. That was when a woman at the next table gave a little chuckle. It was one of those sounds that hit a little harder than it should, and we couldn't help but turn to look at who had made such a…dark? sound. She was striking and dressed sharply, with long raven-black hair. She grinned at us, and the air seemed to get a little thin.
"Here's the thing, we kept getting complaints that they couldn't enjoy the deal if they were always dreading the end. And it was true enough to weaken a contract or two – even led to some losses. So we added the rider to the contract, and now they're ironclad. No memory of the deal, and all parties are happy!"
"Excuse me?" I asked.
"You wanted to know about the winner's gap. I just thought I'd let you know. Honestly I shouldn't even be saying anything, but this has been too much fun." She flashed a smile at me and winked.
My friend and I quickly exited the coffee shop.
And now all I can think about is that day last June when things turned around for me at work … and the day before that I still can't quite remember.
About the Creator
Photographer
Print publications: Digital Photography World, November 2016 and Practical Photography, April 2017.
IG: @byondhelp
Other photos available at:
DeviantArt: http://byondhelp.deviantart.com
And my website: http://www.byondhelp.com
Reader insights
Outstanding
Excellent work. Looking forward to reading more!
Top insights
Easy to read and follow

Well-structured & engaging content

Excellent storytelling

Original narrative & well developed characters
Add your insights