The Spooky Spectrum: Carrie White from Carrie (1976) (Part 1)
"Creepy Carrie! Creepy Carrie!"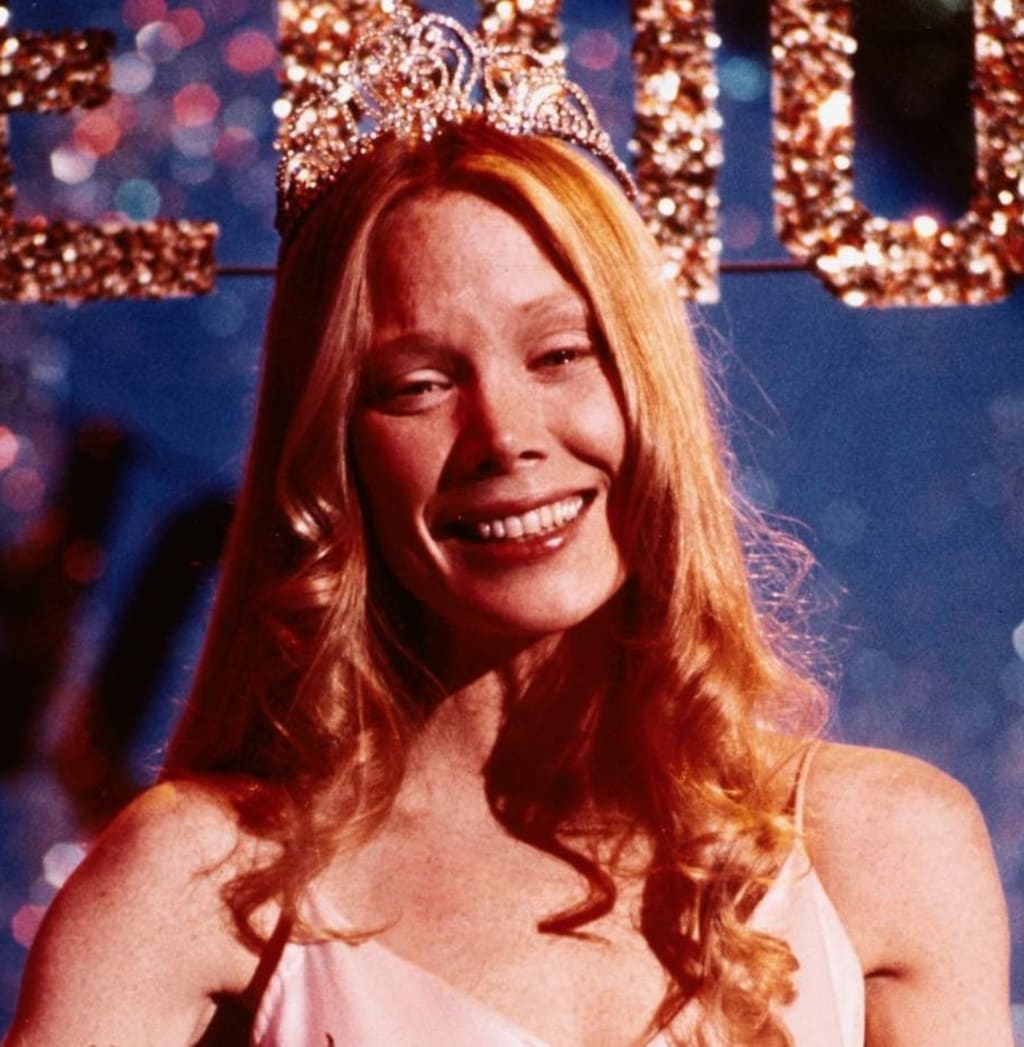 Welcome, my dear readers to The Spooky Spectrum, A Halloween Edition of Breaking the (Autistic) Code. I will be looking at Autistic-coded characters in Horror films during the month of October. It is important to note that I will definitely be discussing some disturbing topics in these essays so be cautious before continuing on. Spoilers will also be a thing as well. I am not a licensed medical professional and this series is not about diagnosing the character(s) with Autism Spectrum Disorder. This series is a personal examination of the film/TV show's plot, the character's traits and personality and how they relate to me as an Autistic woman. I would encourage my readers to seek out different perspectives on disability representation especially from BIPOC disabled creators who are often ignored in the disability discourse.
This movie, Carrie, had so many aspects that spoke to my experience as an Autistic teenager, minus a few things, and it resonated with me more than Matilda did. I do remember borrowing the DVD of this film from my older sister in my early twenties. I immediately fell in love with the film and related so strongly to Carrie and the constant harassment and abuse she suffers both as school and at home; this was one of the few films where I felt seen and understood. Thus, I feel that I can go into further detail about my thoughts on this movie. For the sake of length, this will be split into multiple parts. I want to cover as much ground as possible when talking about the film and why it would speak to Autistic people, especially those who have dealt with extreme trauma.
Carrie (1976), a film directed by Brian De Palma, and a book written by Stephen King in 1974, was released in 1976 to the praise of critics and fans of Stephen King. The film is considered one of the most iconic horror movies of the recent century with its skillful production, acting, and story. The film was a commercial success as well with earning over 33.8 million in the box office compared to its 1.8-million-dollar budget. This film would carry a heavy influence on horror films and teen movies for the next 45 years. A lot of filmmakers, TV producers, and authors create characters that have autistic traits but will vehemently deny that their characters were intended to be Autistic. I strongly believe that this is what Stephen King, and De Palma, did in Carrie. When King was asked about the inspiration behind Carrie, he recalls two former schoolmates. One was treated cruelly by her peers for how she dressed the same outfit every day and was treated worse when she tried to break free from her standard dress.
"One was singled out because she wore the same clothes to school every day and was taunted by classmates. I have a very clear memory of the day she came to school with a new outfit she'd bought herself…she'd changed the black skirt and white blouse – which was all anybody had ever seen her in – for a bright-colored checkered blouse with puffed sleeves and a skirt that was fashionable at the time. And everybody made worse fun of her because nobody wanted to see her change the mold."

- Stephen King
This leads me to believe that these two girls, who inspired King to write Carrie, were at least neurodivergent. Many Autistics repeat their outfits and may prefer to wear the same clothes every day. This can be explained by understanding sensory needs and knowing that Autistics crave sameness and stability in their daily lives.
There are several aspects that really informed me that Carrie is an Autistic-coded character. At the beginning of the film, Carrie discovers that she has recently gotten her period. She is terrified and confused by her period and she turns to her peers for help. Her peers mock her and pelt her with tampons and pads until her gym teacher intervenes to stop. Carrie is overwhelmed with not only her emotions about the sudden onset of her period, but also the external stimuli of her classmate's jeers, and the objects thrown at her. Of course, she is distressed by all of this and cannot verbalize her feelings except for begging for help. Menstruation can be a stressful time for Autistic women due to the unpredictability of the individual cycle as well as hormonal changes and the uncomfortable sensory inputs that come with menstruation. Because of this, Autistic women experience monthly menstruation in a much more intense way than their neurotypical peers as they are more sensitive to the emotions, hormonal changes, cramps, and bloating. The gym teacher and principal discuss the incident and it is discovered that Carrie's mother never informed her about her period or even about puberty. The principal remarks that he does not want to get in the way of "people's beliefs" and sends Carrie home.
Autistic people, especially Autistic women and girls, are often left out of discussions regarding sexuality. This is based on stereotypes about Autistic people being asexual or else too childish to enjoy "adult activities" like sex. The education that youth do receive is heteronormative and out-of-date, leaving many 2SLGBTQIA+ autistics confused about their sexuality and why they are "not like their peers." It also doesn't help that some of the parents of these Autistic people continue to coddle and shelter them from those "adult things" instead of offering basic information including topics like consent and abuse. It is clear that Margaret seems uncomfortable with any type of physical affection and it just masking her discomfort. It is important to remember that while Autistic people can be uncomfortable with physical affection, that doesn't mean that they do not want intimate relationships with others or that their preferences will be "typical." Many Autistic people are also involved and enjoy taking part in alternative lifestyles. Neurotypicals, at least the ableist ones, are too uncomfortable to acknowledge that fact because they see Autistic people as infants who cannot consent to anything. This is not true for at least some autistic people who are more than competent in not only understanding their sexuality but able to negotiate relationship dynamics through clear, honest, and direct communication.
Part 2 will be posted Here