The Halloween Abductions (Ch. 3)
You just thought your children were safe.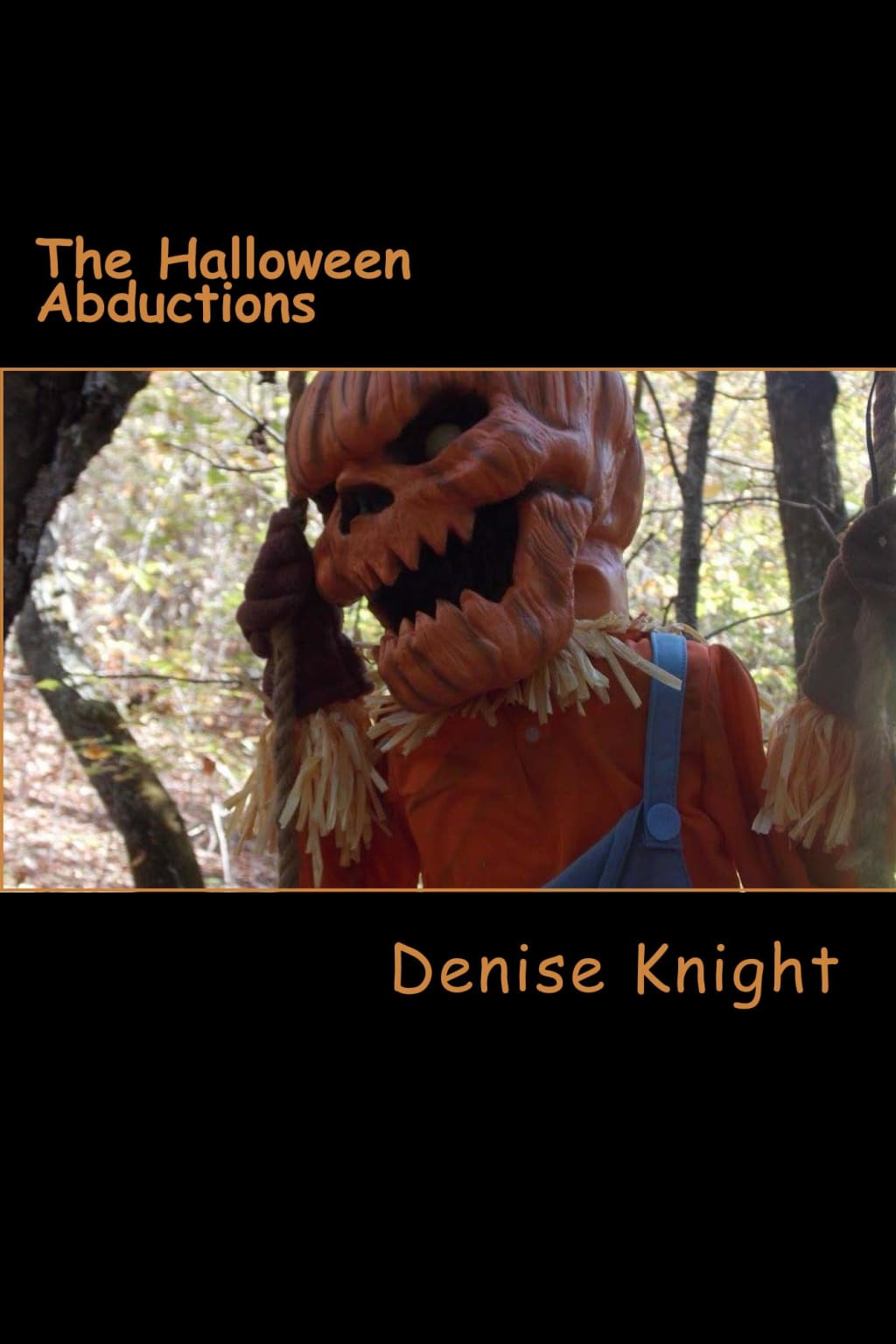 book cover
Chapter 3
November 1, 2016 - Abbeville, AL
7 AM, Carly Hindson awakes, relieved that the night before was just a bad dream. Then in just a few seconds, the stabbing heart pains begin as she realizes it wasn't a dream. She had cried herself to sleep the night before. Now she is angry with herself for falling asleep, not realizing that maybe it was forced on her by God, so her body could begin to restore itself. The coming days would be harder and she would need a strength that only her heavenly Father could grant. Seth Hindson still had not slept. He had wanted to stay out with the search party, but it was suggested by a police officer that he stay at the house with his wife and wait in case there was a ransom call. His wife needed him there too. It took all he could do not to fall apart. Prayer and faith kept him strong. When Carly awoke, Seth had coffee and bagels waiting for her. Normally, he would get up and fix a full southern style breakfast, but that just wasn't in him this morning. Neither of them felt like eating anyway. They decided to hold hands, pray, and cry together. Then as they took a few sips of their coffee, they began to retrace the events of the night before and see if they could come up with any answers.
By 10 AM the entire area around Lake Community Baptist Church and the Bryant farm had been searched twice. High School classes and football practice was canceled. The community was still in shock over Josiah's disappearance. The football team had flyers printed up and was posting them throughout Abbeville, Headland, Eufaula, and Dothan. Travis Kingston, Abbeville's beloved football star, could not remember a time when his family and church family did not jump in and help in a crisis. His family was in the center of coordinating help during a crisis. As a matter of fact, when there was rallying of any kind to do (church or community), Nancy Kingston was the first person called upon. Those who knew her knew she was a woman who could get a job done. Travis knew this about his mom too. Travis, himself, was very much like his mom. She had raised him to look for opportunities to minister to others. She had made him aware of the many needs surrounding them and the importance of doing everything possible to meet those needs. They were aggressive in reaching out to others, and as is natural, even more aggressive in helping those they were close to.
Travis had become good friends with the Hindson's. They were not only his spiritual leaders and mentors, they had become a source of confidence for him. Although they had not been at Lake Community Baptist Church for a long period of time, they had won the hearts of many. Travis had spent hours with them seeking advice for his life and having them pray with him. Like many high school students, Travis struggled with finding his identity, something he would not talk about with his parents. He struggled with how his plans for the future, his hopes and dreams, and other's expectations of him fit into God's will. Seth and Carly were always available to him and that gave him hope and peace. Travis also admired how the Hindson's lived what they preached. Unlike several church members in Travis' life, Seth and Carly lived out their faith in practical ways all the time. This, too, gave Travis a sense of hope and desire to live more Biblically.
_____________________________
Albany, New York
Lawrence and Carly Hickman were longtime members of Revival Fire Gospel Church. They were the type of members the church could not do without. As assistant pastors, their primary ministries were education and hospitality. They also served in the music and youth ministries. Even events that some would consider menial such as cleaning day, visiting shut-ins and minor church repairs were considered important by the Hickmans. They raised their boys, Henely and Manely, to take church ministry serious as well. They viewed church authority seriously and always tried to be submissive to the lead pastor and God. This family was also very active in the homeschool group based in the church. Henely and Manely, like many of the other youth at revival fire, were very vocal about their faith. They stood up for the beliefs and preached their beliefs. Henely had recently started speaking in tongues and been slain in the Spirit. The church was so proud of his submission to the Holy Spirit. Manely, in a recent prayer revival, had his Sunday School teacher prophesy over him. She prophesied that he would someday lead an orchestra and use his faith to reach masses. His parents felt he had spiritually arrived. The Hickmans were respected and needed, so it was quite a shock when both boys demonstrated blatant disrespect at the Alternative Halloween Party.
By 3 AM, following the Alternative Halloween Party, people were filling the pews of Revival Fire Gospel Church. Not only had the phone prayer chain been activated, but an emergency prayer meeting had been called at the church. Will Boutman's brother and sister-in-law, Paul and Willow Boutman were overwhelmed by the turn out. They knew they were loved and were grateful, but they were so scared and heavy-hearted that they could not express those grateful feelings. They could not socialize or interact. All they could do was stay in their car in the church parking lot and cry. While Will led the prayer service inside, Manely and Henley gathered up some of the church youth and surrounded the Boutman's in their car and prayed for Martina's safe return. They prayed for God to comfort and empower Paul and Willow. It was one of the reasons the Boutmans chose Revival Fire. The love and support of its members were always more than sufficient. This was the side of the Hickman boys that people in the church and community were accustomed to seeing. Will Boutman thought, "The earlier behavior of these boys must have been an isolated incident." As far as he was concerned, it was over and in the past. Right now, it didn't matter anyway.
___________________________
Baton Rouge, LA
The usual laughter and carefree attitudes of the Swampland Neighborhood were put on hold. The disappearance of Essie Lane now held them captive. The authorities had responded quickly and efficiently. Several search parties had already formed and dispersed. Tom and Carol Lane still could not believe their baby girl was missing. They were a homeschool family with five kids ages 2 to 16. They were known for being over-protective and never letting their kids out of their sight. How could this have happened? This was the question on everyone's mind. Maybe they had gotten too comfortable in their safe little community. As Tom, Carol, and their oldest child, Maggie, reviewed the events of the evening, none of them could recall seeing anyone suspicious or unusual at the Halloween celebration. Of course, most everyone was wearing a costume, but they still thought they could identify each person with whom they came in contact. Officer Brady had suggested that it could have been someone from the community, but they dismissed the thought quickly. There was just no way it could have been one of these people they knew so well. How could someone have slipped into their community so easily and snatched their baby right out from under them? They could still hear Essie's laughter as she continued the cake walk with several of her friends. She was dressed as a little pink fairy, and as the music played, she giggled and followed her little friend, Sammy, who was dressed as Mater from CARS. The music stopped and Essie had won. She ran forward and gathered up her cupcakes, then ran to give them to her mother. Her mother handed them to Maggie to place on their table with the rest of their loot, then turned to see if Essie wanted to get her face painted with her 4-year-old sister, Emily. But, Essie was gone. Surely she had just wandered somewhere nearby with one of her older siblings or maybe with her father. But within minutes, her parents were aware; Essie was nowhere to be found.
________________________
Atlanta, GA
As Ryan and Lacey Masters sat in the local police department, they became more anxious and irritated. The police had already taken all the statements of witnesses at Happy Clown Burgers. They had gone over the Master's story several times and tried to assure them they were doing all they could. They encouraged the parents to go home and wait by the phone. The Masters became more distraught though at seeing how busy the police station was. They heard the daily news and read the newspapers; they knew how serious crime was in their city. However, they had no clue what the police were up against until this night. Officer Lancing was finally able to convince them to go home and wait for a ransomed call. The couple had decided to allow their little Liam to go home with Lacey's parents. Their home had a first-grade security system and two security guards on duty at all times. To ease his daughter's mind, Mr. Lacey even hired a personal bodyguard specifically for Liam.
The cops were sure this had to be a ransomed kidnapping. Everyone knew of the wealthy and powerful Stanley Masters, the founder and CEO of one of the top law firms in Atlanta. He was the attorney to top athletes and celebrities who now called Atlanta home.
Although Ryan was nowhere near as wealthy as his wife's family, he certainly had no financial troubles. As a computer analyst, he was able to provide a nice home and lifestyle for his wife and kids. The circles this family moved in was far removed from the common, every day crime of Atlanta, GA. As they found out though, no one is exempt from evil in this world.
__________________________
Panama City, FL
As Mitch and Vanessa Parker kneel again, by their bed, they once again beg God to bring their Lacey home safely. They pray that she is safe and unafraid. They try to put out of their minds all the cruel invasive thoughts that plague any parent in this position. They try to remember that they serve a God who is in control and can keep their baby safe. Then they began the same conversation they just had before prayer and have had several times since Baby Lacey's abduction. Is this some kind of punishment from God? Are they doing something wrong in their life? How could God possibly have allowed this to happen? Would God punish them further for these doubts? Then… an overwhelming peace would come over them. They knew that God would protect their baby and bring her back to them. They had been obedient to God. They had stayed true to His Word and chosen to serve in a church that had stayed true in a world where many churches had begun to compromise holiness and godly values to cultural adaptation. They experienced a peace that could have only come from the Holy Spirit. So, what to do next? They knew the police were competent. A couple of officers even went to their church. Even though they were apprehensive, new parents, they knew most of their church members were God-fearing, God-loving people. They knew these people would be there for support and help. Mitch and Vanessa knelt down to pray again. This time, they thanked God for keeping their baby girl safe and for the fact that He would bring her back to them. They then sought the Lord's guidance as to what steps to take next to aid in finding their little girl. And as they knew He would, the Lord began to speak to their hearts and minds.