The Church
My mom's childhood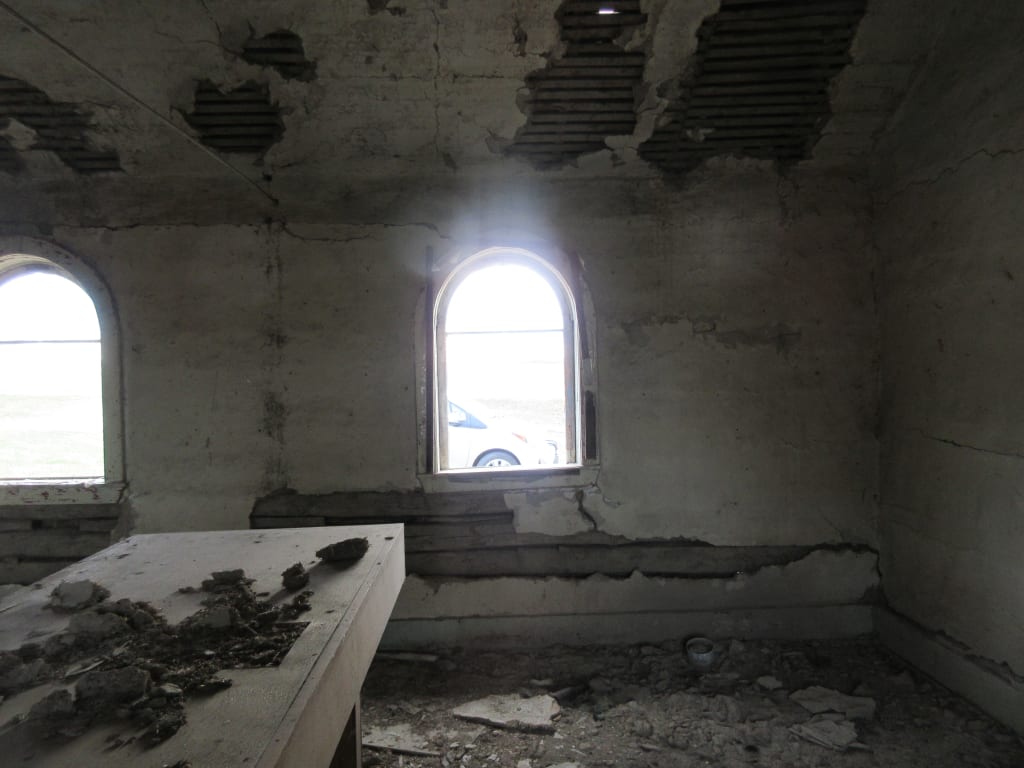 The yellow and red leaves were falling off the trees with every gust of wind that kicked up. This was yet another picture perfect fall day in October, and I and my mom had plans for the day.
My mom was in her eighties but still full of energy and excited to see her family. We had travelled to the small community where my mom grew up as one of eight children. Her childhood was one that caused her great anxiety as it was a different time when her community had little to say about what happened to them. Her family life was on one of Canada's many reservations; her childhood was changed forever when she was taken to one of the many boarding schools that were to teach the children how to not be an Indian. My mom also had some nice memories of her family though and their old home which is why we went for a visit.
We had rented a motel room in the town as my mom did not want to bother her sister for a room while we visited. For me that was fine as I also felt more freedom in our own motel room. I was loading up the car with gifts we had brought for two of my aunties - one who lived on this reserve and another who lives in a nearby reserve - my great auntie, and my cousin who lives in the town. As I did this we talked about where we'd stop first. She wanted to go see the church and graveyard that was in the middle of the reserve and where my kokom and mushum were buried as well as many other relatives like my young cousin, uncles and other relatives whom I had never met. Also on the itinerary was a visit to the old homestead site, lunch and visiting with our relatives, more visiting and then a visit to the Roman Catholic church that was on the edge of the reserve. It was a jam packed couple of days that's for sure, and now we were off to our first destination.
As we drove I admired the prairies - quiet, humble and secretive. As we drove my mom told me a story I enjoyed. Apparently as a child of about 8 or 9 she had stayed at her friend's too long, so it was already dark. When my mom was a child the reserve did not have any electricity, so she and her horse had to ride out into a black night where they'd only see some lamps lit inside the houses they'd pass. On her way home, she had to ride right by the very graveyard we were going to visit. That night her horse got spooked by something in the graveyard and took off for dear life with my mom hugging him closely till he stopped in front of her doorstep. My mom shared many good stories and some like this one were a bit scary. She said she never did know what the horse heard or saw but her parents told her that's why you don't stay out late.
We arrived at the graveyard and in the sun it didn't look at all scary at least not as my mom told it. We visited the graves of our many relatives. She put tobacco on her parents' graves and her brothers' graves and continued looking at others whom she knew. We spent a good part of our morning there and then even went inside the unlocked church which was a small one room wooden structure. It looked clean and seemed to be in use even though it was all quiet when we went inside. After my mom seemed satisfied with her first visit, we then went to see my great auntie Eva.
My great auntie Eva lived by the lake. She had a nice little house there that almost looked gingerbread like. Her home was very cozy and inviting. She offered us cookies and tea and took out her photo albums. My mom and her talked and laughed about the past events they remembered but that I had no clue about. My great auntie Eva looked like my kokum as they were sisters. I'd recognize her on the street even if I never met her. She had laughing eyes and was a bit unsteady on her feet. While my mom and her aunt were enjoyed their hearty bursts of laughter, my auntie Nell phoned to see when we were coming for lunch, so we all got ready and left to the other side of the reserve to my auntie Nell's.
My auntie Nell had lived in her home for most of her adult life, and she was now in her mid sixties. She lived there alone since her husband died, but two of her sons, my cousins, lived nearby. They were not at home at the time though so we had to miss out on their company, but sometimes all the women visiting is a better visit as we don't have to listen to the guffaws of the males listening in on our conversations and stories. My other auntie Jane and my cousin Sandy met us at my auntie Nell's. We exchanged gifts and ate heartily while everyone talked about what was going on in their lives, their children's lives and in the spiritual world until it was time for supper. At this time some of us had to leave and some of us went to the lake for a hot dog barbeque to end our day. It was a bit chilly but it was still a nice way to end the day.
After all our visiting and eating my mom and I started to drive back to the motel in town. As we were driving out to the edge of the reserve I asked where her childhood home was and she showed me. It was out near the edge of the reserve as well and the lake was the opposite where my kokum and mushum's home sat. We pulled off the road and drove around some trees to a clearing where we could see no houses but only the tall yellow grass and the tall trees standing and seeming to be watching us. I had the feeling we were being watched but there was no living soul around. I walked around and took pictures as my mom tried to find any bit of her past on the ground. There was nothing that would have shown anyone lived there at one time let alone a large family. It felt calm but I still felt as though we were being watched. We stayed here quite awhile as my mom seemed desperate to see something that she could say ,"Here is where I lived with my family for a small part of my life."
As we left the site of my mom's past I felt sadness that she didn't find what she wanted and that my kokum and mushum were not there to greet her. I almost feel that is what she wanted. We drove home admiring the sunset talking about the next day already. We arrived at the motel and my mom seemed to be in good spirits but tired. We got ready for bed even though it was still early, and then just went to bed.
Our night was not the most restful I had but that was the least of my morning thoughts. I got up a little earlier than my mom to shower up and be ready for when she got up but by the time I got out of the bathroom, she was up and changed. We had our breakfast and then set out to see my great auntie again as we made plans to visit her again. As we drove we didn't have as many set plans for the day but knew that my mom wanted to check the old Roman Catholic Church at the edge of the reserve. She didn't remember the exact location, so we were going to ask my great aunt after visiting for a bit.
We arrived at my great auntie's; and my mom and she had another morning of talking and laughing. I felt a little excited to see a new site from my mom's childhood as I have an interest in old buildings and their history. During this morning's visit my mind kept going back to the old Roman Catholic Church site but I know the reason I was there was for my mom to see her family and home probably for the last time as she said she doesn't like to travel anymore, so I just tried to keep myself occupied which I didn't do the best job. Finally after what seemed more hours than it really was, they were ready to go out to the church. I on the other hand had my camera ready and practically jumped to my car.
All the roads on the reserve are dirt roads. None are paved so wherever you drive you kick up a dirt storm. As we left my great auntie's home we turned to the very opposite of everywhere we had been. We kept driving along until we saw a sign that said we were leaving the reserve. I saw that sign first and thought, "Did we miss the church?" But then I looked off to the right and there it was. It was small, the wall on one side was held up only by a tree that had grown on that side of the church. It held my attention because it looked discarded and unattended which it was. It was unlike the other small church that was clean and kept.
My mom and her auntie walked around the outside and my great auntie said that there were graves all around the church, but the only ones we saw were farther back with headstones. My mom stood outside looking at the small church and said as a child she remembers thinking it was such a huge building and seeing it now, it was so small. We all walked in the doorway and when you got inside you could see that the ceiling was coming down in that front entrance. There was another doorway inside to the larger room for the services. This too looked in much disrepair. It looked like no one even came in here. The windows were broken out; and if you looked up, you could see the sky in cracks in the ceiling. The pew was still there with lots of dust and parts of the ceiling fallen down on it. Outside this room we went to the entrance and there were small stairs that led up to a small room where I suppose the priest must have slept when he was there. It looked very confining and not at all comfortable. I didn't like it at all.
We finally left that sad place and we all seemed to leave feeling a bit heavier for some reason. I was glad we would get to see my aunt again after we dropped my great auntie at her home. She was very tired from all the walking and I'm sure the building.
We had our supper with my auntie and my mom seemed tired, and we were going to drive home the next morning, so wanted to leave early, so my mom could have a bath and pack most of her things. The atmosphere seemed a bit more subdued than the day before and I could feel it too. My mom and her sister said their goodbyes and had their hugs and tears before we left. We drove away from my auntie's house with her standing outside watching us go and my mom looking back waving. After we were down the road a bit my mom was fiddling around with her purse looking for her kerchief that she always wears. She couldn't find it so we pulled over so she could make a better look and I could phone my auntie in case it was there. My auntie answered and said it wasn't there and so I turned around to go back to my great auntie's. We arrived but she hadn't seen it either but said maybe she dropped it at the church. It was already getting dark, but we could still see; so I thought we should go check before going to the motel. I know my mom only brought one kerchief, and she always wears them, so I thought we'd better get it; or I'd hear that the whole way back home.
We drove along the road back to the Church and when we arrived I turned on my headlights for a better view. I looked around the ground but didn't see anything in front so went to the back and still nothing. I finally went inside and there it was on the floor. I grabbed it and brought it back to the car and to its owner. My mom was really glad to get it back and started brushing it off right away. I got back in the car quickly as it was much darker now, so I left my headlights on. I backed out closer to the road and pulled out. As I looked in my rear view mirror the church sat there empty but not completely dark. I stopped and held my breath. Out of the window in the priest's room there was a light in the window. It looked like a candle. I know no one was in there and have no explanation for it, but that room gave me the chills while I was in there. I don't want to know what secret it holds or who is its prisoner.