The Bath Road House
inspired by Jeffery Dahmer's childhood home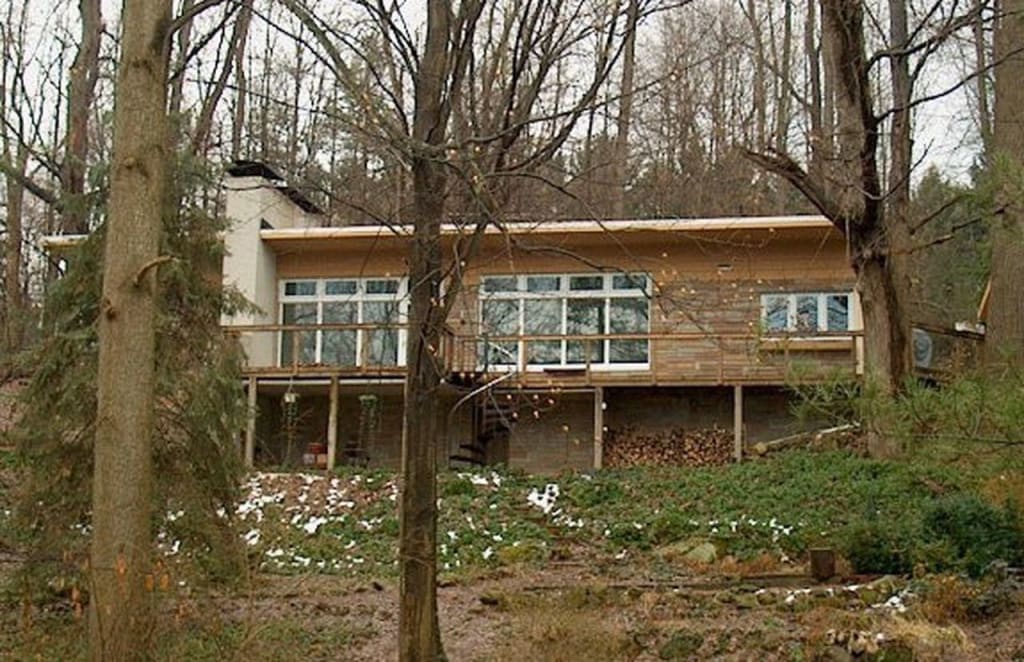 1968
Janet and I felt like prowlers as we drove through the upscale neighborhood. From the car, we admired what we could see of the homes. Each was set back from the main road, hiding behind thick coppices of trees and shrubbery. We glimpsed the slopes of their roofs through the clearings between the tree branches, and we whispered to each other as if the houses were sleeping giants that had eaten the people inside them.
"Look at that one!" Janet whispered.
It was a ranch-style house sitting low in the tree line. Nestled on a wooded hillside, it was almost completely hidden. I stopped the car to have a look down the driveway, but you could only see the closed garage door.
"It's for sale," I said, pointing to the realtor sign almost hidden in the bushes by the road.
We looked at each other in silence. She finally giggled. I couldn't tell if she was having fun or was just nervous, but I knew we were thinking the same thing. I turned into the gravel drive and crept toward the house.
"Lionel! Don't!" she said, but she was still laughing.
We were newlyweds and somewhat arrogant in our youth. This was the most reckless thing I'd ever done. I wanted to knock on the door and ask to see the inside of the house, but we knew if anyone was at home they'd think we were manic.
I parked the car halfway down the driveway and opened the car door. I got out and, standing behind the door, I just looked at the house and tried to envision what its insides were like. I felt like my father, standing there, contemplating a serious decision and its outcome.
"Lionel! Let's go!" Janet said from inside the car, trying to control her volume in case someone inside the house heard us.
There were no lights on and no vehicles parked outside. A part of me was aroused by the thought of us breaking in and making love somewhere deep inside the vacant house, but neither Janet nor I were adventurous enough to act on impulse. That fantasy was overcast by the law-abiding, well-behaved, boring young man I had always been. I'd never done anything illegal. I inherited that from my father, which is probably why I felt like him now. It was unfortunate my oldest son would not inherit that trait from me.
Jeffrey was eight years old when we moved into that house at 4480 West Bath Road. The best side of the house was the back that faced the woods. You could sit out there and see deer and turkey wandering about on a nice day. The deer would come right up to the patio and Jeffrey would try to lure them closer with carrots. He just wanted to touch them.
The house was built in 1952. The Akron Beacon Journal printed a feature about it a year later because of its modern style. The open layout and floor-to-ceiling windows filled the house with sunlight and gave you a broad view of the outdoors. It had three spacious bedrooms and two and a half baths.
A deck out back ran the length of the house; a great place for bird watching if you enjoyed that sort of thing. I often felt like the view was wasted. I liked the seclusion, but I think Janet wanted a house with curb appeal, one anyone could admire as they drove by. She had liked the idea of owning the Bath Road house, but we all make decisions we regret and can't take back.
There was plenty of room for the three of us. Too much room, maybe. The canopy of trees kept the house cool, but it also made it impossible to see a sunset or sunrise. Janet lost track of time and frequently stayed in bed longer than she should. I would come home from work late in the afternoon and often find she'd stayed in bed all day.
I was a senior research chemist in Barberton and later became the research supervisor. It was a demanding job, but I liked the work. Janet stayed home to raise our sons. When she wasn't obsessed with the thought of someone trying to break into the house every time she heard something outside, she confined herself to our bed and was convinced she was deathly ill.
Work absorbed my day and attending to Janet absorbed my evenings. I'd arrive home and find Jeffrey sitting in front of the windows and just staring outside. I think he was too afraid to go outside by himself. The woods were too full of nightmares. Once, I found him poking at a dead bird on the deck.
"It hit the window," he said.
At dinner that evening, he asked me what would happen if a bird's bones were placed in bleach. I took his question as an interest in chemistry and was happy to show him. I remembered a chemistry set I'd gotten for Christmas one year that fostered a life-long interest in science. As an adult, Jeffrey put his lesson to use too.
1978
Three weeks after my graduation, Dad moved into a motel. Mom took David and moved to Wisconsin. I was alone in the Bath Road house, but it didn't feel any different than when they were living in the house with me. I had always felt lonely there.
Despite how I felt, even with them there, I didn't like being in the house by myself, especially during the day time. With all of its windows, I felt like there was something in the woods watching me; it knew me. I felt naked inside.
It's why I never played in the woods or even strayed far from the deck or patio when I did go outside. I couldn't see beyond the thick trees a few yards beyond the house. I knew the trees kept going beyond that, but my mind obsessed over what I couldn't see. Something dark and evil was watching.
I'd graduated from high school the month before. Dad had given me his old car. One night, I took it into town after sunset just to drive around and get away from it. That's when I saw him.
The hitchhiker wanted a ride to Lockwood Corners to see a rock concert. I lied and told him I was headed in that direction. I asked him if he wanted to stop by my house and smoke some weed or have a few drinks before we left. He told me his name was Steven.
"This is your house?" he asked.
From his tone, I couldn't tell if he was impressed by the house or if he was making fun of it. My parents thought it was a nice house. I didn't have very many friends, so I'd never been to their houses to see what they were like. I had nothing to compare our house to, so I didn't know if it was nice or not.
I didn't care. I just didn't want to be alone. My parents weren't here, but when you are anywhere with your loved ones and you still feel alone with or without them, you feel like it's a prison. It felt worse than that. I didn't know what home was supposed to feel like. I was alone in the house, alone in my mind. I thought Steven could help with that.
"We need to get going," he said after we'd smoked a joint and had a few beers.
I didn't want to leave. I didn't want him to leave. I didn't want to be alone on Bath Road, not here in this house. Not tonight. Not now. Not ever.
"I'll go get my keys," I said.
I approached him from the back with the barbell in my hand. The first blow to the back of the head knocked him forward and onto the floor. The second knocked him unconscious. I didn't know how long he might stay out, so I pressed the barbell against his neck until the breathing stopped. Now he'd have to stay.
When I was done with him that night, I put him in the basement. I chose to bury him in the woods behind the house. It was the first time I'd ever ventured out there. I began to panic. I knew it was watching. It wanted Steven.
A few days later, I missed him. I wanted to see him again, so I dug him up, but during the day. It took a long time because I kept stopping to look over my shoulder. Nothing was there, but I knew it was out there.
Steven wasn't the same, and I knew I had to forget about him. I didn't want it to have him. I had to do something. Thanks to Dad's chemistry lessons, I knew what kind of acid to use. I flushed the detritus down the toilet. I used a sledgehammer to crush his bones. I scattered them in the woods.
I left Bath Road a few months later. I moved into my grandmother's basement in West Allis. I had escaped the woods. I had escaped the Bath Road house, but I knew it had followed me. It was always there. Watching. Waiting.
About the Creator
Author. Poet. Reader. Animal Lover. Blogger. Gardener. Southerner. Aspiring playwright.
Blog: www.shannonyarbrough.com
Twitter: @slyarbrough76
Goodreads: https://tinyurl.com/m4vbt2ru
My Books at Amazon: https://amzn.to/36n25yy
Reader insights
Be the first to share your insights about this piece.
Add your insights