Take Away
Always check your receipts... A short story told through pizza receipts.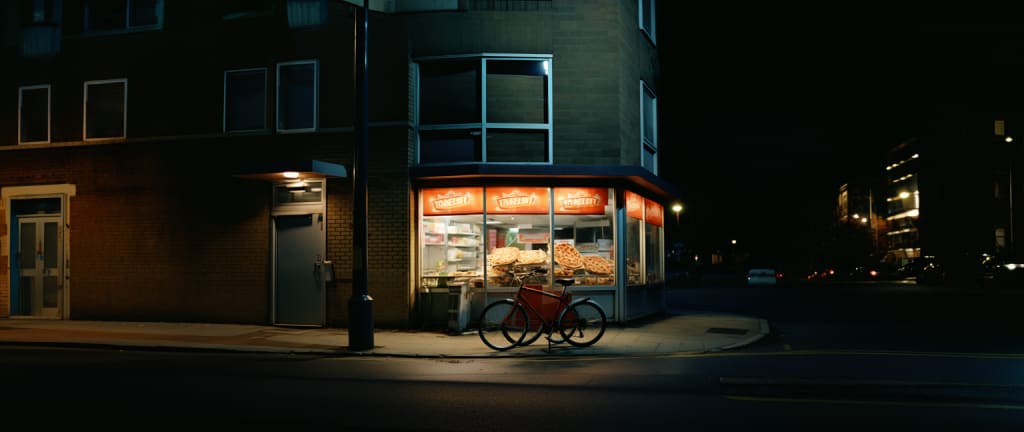 Image by MidJourney
The following receipts from a pizza restaurant were key evidence in the investigation of the disappearance of 9-year old Macie Adams in south London, in September 2023.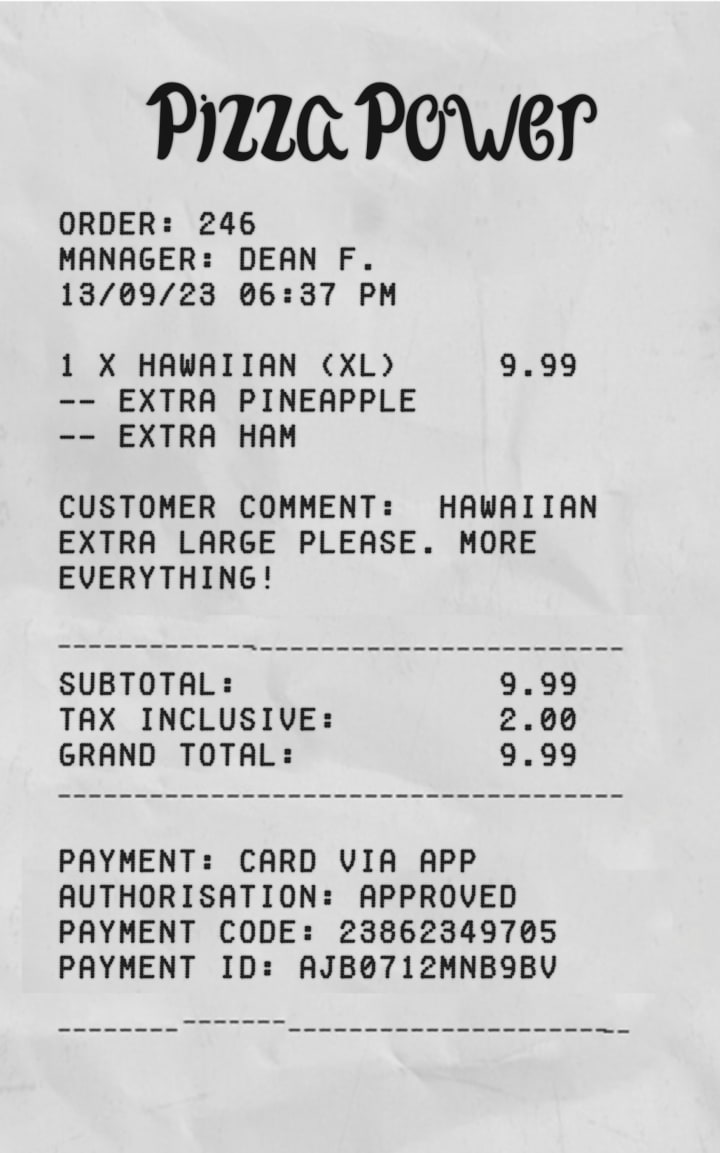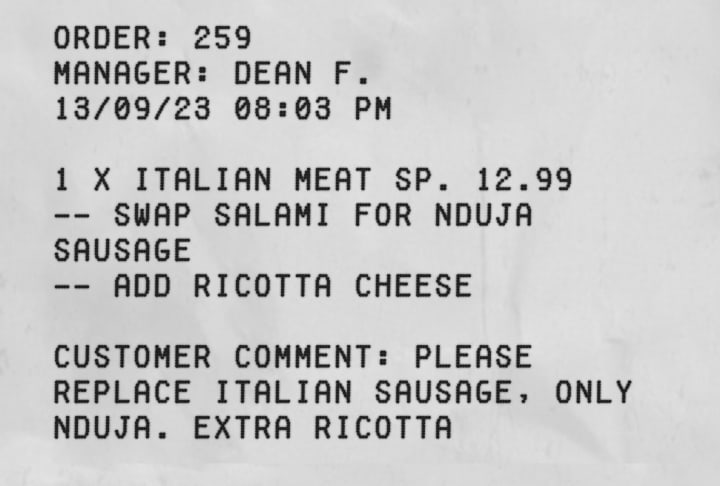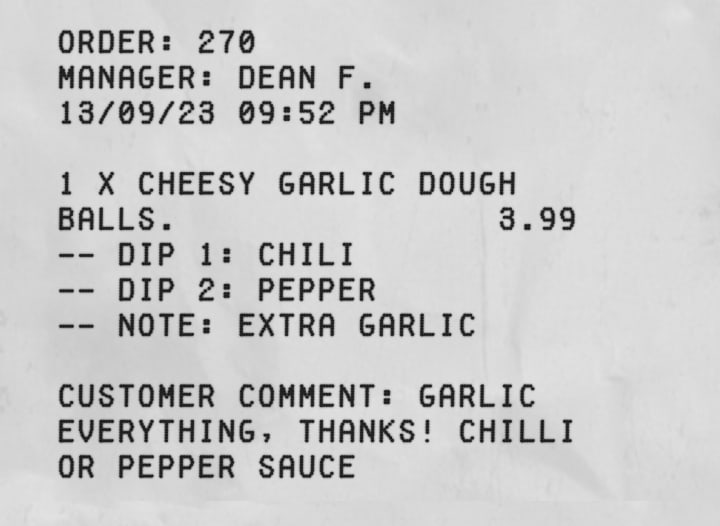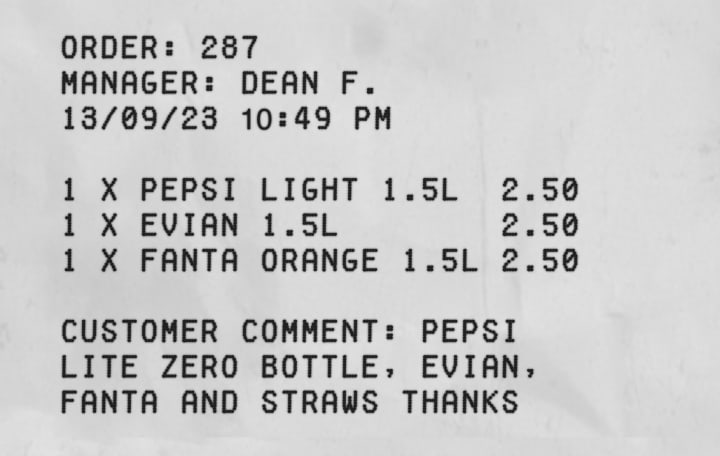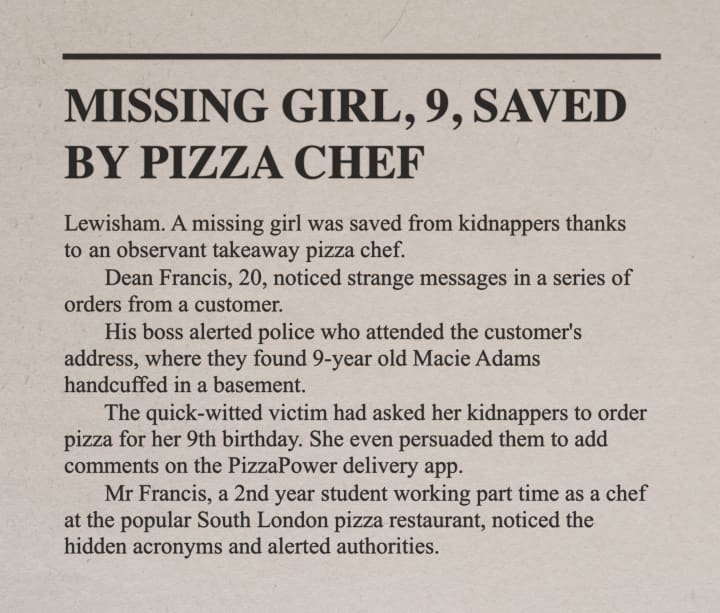 Transcript:
Receipt #1:
1 x HAWAIIAN (XL) 9.99
-- EXTRA PINEAPPLE
-- EXTRA HAM
CUSTOMER COMMENT: HAWAIIAN EXTRA LARGE PLEASE. MORE EVERYTHING!
Receipt #2:
1 x ITALIAN MEAT SPECIAL 12.99
-- SWAP SALAMI FOR NDUJA SAUSAGE
-- ADD RICOTTA CHEESE
CUSTOMER COMMENT: PLEASE REPLACE ITALIAN SAUSAGE. ONLY NDUJA. EXTRA RICOTTA
Receipt #3:
1 x CHEESY GARLIC DOUGH BALLS 3.99
-- DIP 1: CHILLI SAUCE
-- DIP 2: PEPPER SAUCE
-- NOTE: EXTRA GARLIC
CUSTOMER COMMENT: GARLIC EVERYTHING, THANKS! CHILLI OR PEPPER SAUCE
Receipt #4:
1 x PEPSI LIGHT 1.5l 2.50
1 x EVIAN 1.5l 2.50
1 x FANTA ORANGE 1.5l 2.50
CUSTOMER COMMENT: PEPSI LITE ZERO BOTLE, EVIAN, FANTA AND STRAWS THANKS
Newspaper article:
MISSING GIRL, 9, SAVED BY PIZZA CHEF
Lewisham. A missing girl was saved from kidnappers thanks to an observant takeaway pizza chef.
Dean Francis, 20, noticed strange messages in a series of orders from a customer.
His boss alerted police who attended the customer's address, where they found 9-year old Macie Adams handcuffed in a basement.
The quick-witted victim had asked her kidnappers to order pizza for her 9th birthday. She even persuaded them to add comments on the PizzaPower delivery app.
Mr Francis, a 2nd year student working part time as a chef at the popular South London pizza restaurant, noticed the hidden acronyms [oops: acrostics!] and alerted authorities.
-------------------------------------
Thanks for reading this short story!
I wanted to work on some stories in unexpected formats.
The words are the kind of things that people type in text boxes and input fields on websites and apps. These are the kinds of spaces where we encounter text every day, but we see them only as functional or commercial or technical.
We don't think of them as spaces to find real stories.
But actually these formats lend themselves very well to linear plot structures.
They provide the perfect framework for sequences of events, scenes and minutiae, which in the reader's mind become woven into a single narrative.
Discovering a character's personal story in such an impersonal space – like online reviews or takeaway receipts (and more still to come!) – makes them all the more surprising, emotional, or even scary.
This concept first came to me with my story Top Reviewer where we learn about the disturbing events taking place in the protagonist's life through the product reviews she is writing on a shopping website.
Another thing about this concept which I find interesting is the idea that we are all unconsciously telling stories every day in the breadcrumbs of our digital lives.
This is also kind of worrying... What are we saying about ourselves that we're not even aware of? And who are the faceless strangers reading it? Are they friend or foe?
I'm developing more ideas in a similar vein, and I hope you will join me on more journeys like these in the weeks and months to come.
I only write 100% original, handmade, short fiction stories. No reviews. No opinion pieces. No filler. All killer!
(Seriously, there is quite a lot of killing in my stories...)
Here's a few highlights which other readers have enjoyed:
A is for Apple – A dystopian glimpse of how a family gets by in a world driven by advertising.
A Pox - flash fiction written in olde English about a plague in London.
The Truffle Cobs – A family's Mexican restaurant is struggling, until a mysterious new ingredient becomes a massive success. But what is this strange fungus? And where does it come from?
And please remember, for everything you read on Vocal: like, subscribe and share to support independent writing and thinking.
See you on the next one!
About the Creator
Writer of Wrongs. Discontent Producer. Weird tales to enthral and appal.
All original works of fiction 👋🏻 handmade in London, UK 🇬🇧
Reader insights
Nice work
Very well written. Keep up the good work!
Top insights
Compelling and original writing

Creative use of language & vocab

Easy to read and follow

Well-structured & engaging content

Eye opening

Niche topic & fresh perspectives
On-point and relevant

Writing reflected the title & theme

Excellent storytelling

Original narrative & well developed characters
Add your insights