Primeval Darkness
A Sample Of The ScreenPlay I Wrote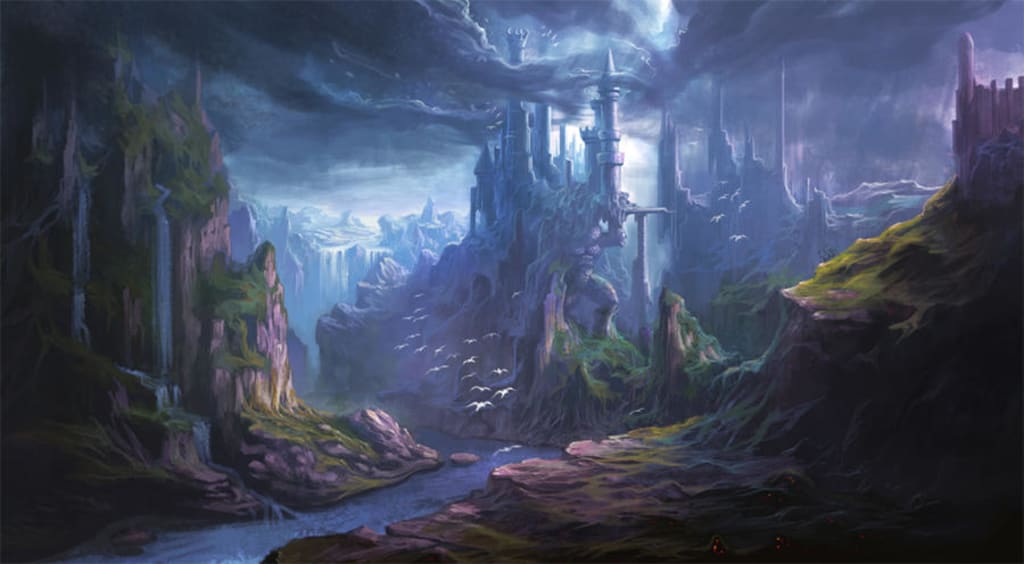 https://www.deviantart.com/gypcg/art/The-castle-171417178
CHAPTER 4: OLD FRIENDS
JASON'S APARTMENT
Jason is in his apartment replenishing his gear from the encounter before.
His mind is still reeling about the comment Elias made about his mother.
In his frustration, he grabs his blade and sinks it deep into his desk's oaky mass.
He grabs the picture of all of them together at the roller-rink, and in that split second, he doesn't think of Elias as a monster.
Jason only has a few moments to himself before a few sharp knocks are heard on his door.
He grabs his blade in preparation and hides it behind him, slowly opening the door.
RAMONA IS AT THE DOOR
RAMONA BLACKWOOD
"We have a problem."
JASON
"Do tell."
She rushes inside from the soaking cold
JASON (CON'D)
"What now?"
RAMONA
"Your little siren friend has been causing trouble in the town again."
JASON
"I thought he only drank one or two townsfolk here and there."
RAMONA
"He's decided to... increase his intake so to speak."
Jason looks down as he mulls over whether or not to discuss their encounter the night prior.
RAMONA (CON'D)
"I think he may have made friends too... the number of missing townsfolk is quite unusual for just one creature."
JASON
"How many would you say?"
RAMONA
"Townsfolk, or creatures?"
JASON
"Both."
RAMONA
"About a dozen or so townsfolk. As for creatures, I'd say anywhere between five to seven. There's for sure at least one vampire in that nest."
JASON
"He's a nest now?"
RAMONA
"Sirens generally operate solo. However, since there's a vampire in the mix, it'd be considered a nest."
JASON
"Even wounded, I don't think he could feed off of that many people."
RAMONA
"My point exactly. He could be trying to lure us, or you, out. Also, the sightings have been of vampires, nothing describing a siren."
JASON
"What do you suggest?"
RAMONA
"One more hunt? For old time's sake."
The two equip their gear in preparation for the battle to come.
JASON AND RAMONA EXIT HIS APARTMENT.
CHAPTER 5: I'D BETTER WORK ON MY AIM
VATICAN CITY [OUTSKIRTS]
JASON AND RAMONA ARE LOOKING FOR ANY POSSIBLE SUPERNATURAL
SIGHTINGS.
After several minutes of no luck...
A STRANGE WOMAN APPEARS FROM THE BRUSHES.
KORA CALDWELL
"You two look like qualified folk."
JASON
"Depends on the job."
KORA
"Hunting?"
RAMONA
"Our specialty."
They taunt their blades at their new acquaintance.
KORA
"Nice coating."
JASON
"Thanks. It's mercury."
KORA
"They only made a handful of those blades."
RAMONA
"Back of the market type of blades."
KORA
"The process of making them is quite dangerous. Wielding them even more so..."
RAMONA
"Is that a threat?"
KORA
"No. That would be this."
The vampire leader quickly knocks the hunter to her feet as she dons her fangs at Jason.
He quickly unsheathes his blade only to be swept to the ground by a creature with wings.
KORA (CON'D)
"Come on. I thought you guys would know how to handle a blade better than that."
Ramona quickly regains her ground and tries a few strikes at the vampire.
Kora dodges each strike and palms the hunter into a nearby tree.
Jason charges her, only to be met with the same fate.
Ramona grabs one of her throwing daggers and tries to take the vampire down that way.
The blade brushes the creature's shoulder, but she hides her injury.
KORA
"Missed."
RAMONA
"That just means I'll have to work on my throw."
She taunts as she throws another, pegging her side. Kora hisses as she removes the blade.
Throwing it back, Ramona dodge rolls, and unsheathes her primary blade.
The vampire and her siren friend quickly retreat using their abnormal speed.
KORA [TAUNTINGLY]
"Catch us if you can."
THEY HEAD OFF TOWARDS A CREEPY LIKE CASTLE.
JASON
"I guess we follow?"
RAMONA
"It's going to be a trap..."
JASON
"What other choice do we have?"
THE HUNTERS ADVANCE TOWARDS THE CASTLE.
CHAPTER 6: NOT JUST A NEST
VATICAN CASTLE
UPON ARIVAL, THEY ARE MET WITH A VAMPIRE FIGHTING ANOTHER
HUNTER.
The hunter has silver blades, not as effective as mercury blades, but still dangerous.
His vampire opponent dodges each swing; almost like the nest has made them more cunning.
He quickly blocks and sends the hunter on his back.
Instead of feeding on him, he retreats further into the castle.
RAMONA
"You okay there?"
HUNTER #3
"Yeah. I've seen worse fights."
He regains his footing and readjusts his blades.
JASON
"What are you doing here?"
HUNTER #3
"Hunting. There've been a handful of vampire sightings. I just figured I'd do the town a favor."
RAMONA
"Same agenda."
HUNTER #3
"Brian by the way."
He offers his hand out for a handshake.
Ramona shakes his hand firmly.
RAMONA
"Ramona."
JASON
"Jason."
BRIAN
"Nice to meet you guys."
The hunters advance towards the castle.
They stop by the entrance, where the large twin wooden doors are busted.
The castle appears ancient.
BRIAN
"You guys been hunting long?"
JASON
"A couple of years for me."
RAMONA
"Same for me."
Ramona seems more reserved around Brian due to her fear of her true form.
BRIAN
"Just shy of a year for me."
JASON
"I can tell."
BRIAN
"What's that supposed to mean?!"
Brian quickly unsheathes his blade and poises it at Jason's throat.
JASON (NERVOUSLY)
"Just... constructive criticism is all..."
RAMONA
"Easy there, tough guy."
Brian sheathes his blade and scoffs before the group continues.
They continue for several minutes before Brain pipes up again.
BRIAN
"I had him by the way."
RAMONA
"Who?"
BRIAN
"The vampire from earlier."
JASON
"I didn't say you didn't. I just was commenting on your footwork. Your left shoulder is exposed when you swing for your left hook. If you jab with your right after, you'll have an easier time regaining your footing if you're blocked."
Ramona looks at Jason in awe.
Brian is silent for a moment as he takes in the young hunter's advice.
BRIAN
"Noted."
The hunters advance until they come across a room that is directly above the throne room where the nest is gathered.
GENEVIVE
"If the hunters are indeed at our doorstep, then we have every advantage."
VAMPIRE #2
"This one wasn't alone. Before I left, I spotted two more."
There is silence before Genevieve looks at the siren for comment.
ELIAS
"Let me guess, a handsome hunter and his shorter counterpart?"
VAMPIRE #2
"If they had decided to assist the other hunter, I would have been killed and you would have been blindsighted yet again."
KORA
"Relax. Everything is going according to plan. Even if they storm the gates, there are only three of them and six of us."
ELIAS
"I've faced the hunters on more than one occasion. Do not underestimate them."
Peering downstairs, the hunters count their targets and strategize.
RAMONA (HUSHED)
"This isn't just a nest. This is a clan."
JASON (HUSHED)
"Does it matter at this point?"
RAMONA (HUSHED)
"If we attack, they could very well have a defense strategy already in play."
JASON (HUSHED)
"I recognize the leader. She's the Hybrid we hunted last year."
RAMONA (HUSHED)
"Dammit. I knew I should have collected that ear."
BRIAN (HUSHED)
"You guys collect their ears?"
RAMONA (HUSHED)
"Barkeep wanted proof of our conquest. Jason just had to go find his obsession. I didn't want to leave him alone for too long."
While they're strategizing, they are met with the Vampire Leader.
KORA
"Nice to see you guys again. Sorry about our rough encounter last time. Friends?"
JASON
"Friends don't try and kill each other."
ELIAS
"Oh? Now you're the expert on friendship?"
Elias flashes his Harpy Form and hovers above to gain a tactical advantage.
The hunters respond in unsheathing their weapons.
BRIAN
"I've never seen that before."
JASON
"Siren. Same strategy as a vampire."
ELIAS
"Really? I'm offended. Is that what I'm reduced to in your mind?"
Elias flies at the group in perfect synchronization with Kora's ploy.
Kora swooshes behind the hunters, sending Jason flying across into the nearby column.
Ramona tries to defend her fallen comrade, only to be met with the talons of the siren.
Gripping her shoulders, Elias sends Ramona flying off the balcony.
Brian makes a swing at Kora, as she is distracted, he lands a slash at her elbow.
Her wound is slow to heal as silver is still poisonous to the creatures, though not as poisonous as mercury.
As Ramona is in free fall, her true form begins to reveal itself, preserving its host.
JASON
"Nice try. She's a Lycan."
Elias grins at Jason and flaps his wings.
GENEVIVE
"Precisely. Why is she on your side to begin with? She once was a great Den Leader. You reduced her to your kind."
Upon impact, the wooden floor gives and Ramona falls further down into the Castle Dungeon.
Hearing the crash, Brian and Jason peer over the balcony.
KORA
"For your sakes. I hope by the time she reaches you, she's calmed down."
GENEVIVE
"Lay down your weapons and kneel, and we'll put this whole squabble behind us."
BRIAN
"Not likely."
He charges the leader, blade in hand.
She dodges his strikes until he pulls a left hook followed by a jab, he slashes the leader's stomach.
She hisses and backhands him into the column.
ELIAS
"Come. We have to make sure Ramona is on our side."
KORA
"He's right. Should a Lycan be against us... that's not a fight that I'd like to be in."
ELIAS, KORA, GENEVIVE, AND THEIR VAMPIRE ALLY GO TO RECRUIT.
RAMONA
Brian is recovering flat on the ground while Jason goes to check on him.
BRIAN (OUT OF BREATH)
"You weren't kidding about that left hook."
JASON
"Picked one hell of a time to listen to me."
He chuckles as he helps the hunter off his feet.
JASON (CON'D)
"You okay otherwise?"
BRIAN
"I'll survive."
BRIAN (CON'D)
"What next?"
JASON
"Let's just hope we can get to Ramona before they do..."
JASON AND BRIAN VENTURE FORTH.
THE HUNTERS ARRIVE AT THE THRONE ROOM WHERE THEY FIND RAMONA CHAINED TO A POST.
CHAPTER 7: WE'RE NOT ALONE
CASTLE THRONE ROOM
Upon arrival, Jason and Brian spot Ramona in her Lycan form chained to a post scratching and howling.
GENEVIVE
"She's just itching for a fight."
VAMPIRE #2
"She wouldn't be the only one."
The second vampire leaps from his vantage point, tackling the hunter he once fought to the ground.
Genevieve slashes the once restricted Lycan's chains.
Immediately, Ramona lunges at Jason, only to have him dodge out of the way.
JASON
"I really don't want to fight you."
Brian and his vampire are in combat while Jason dodges the rest of the clan.
KORA
"Do you regret walking into your grave?"
JASON
"I'm not dead yet."
ELAIS
"Key word. Yet."
The siren makes a pass at Jason, only to have him dodge and counter strike, slashing the siren's wing and causing him to spiral to the floor.
KORA
"One lucky strike doesn't mean much against all of us."
The vampire leader advances at the hunter.
Jason and Kora are deadlocked in their combat, him missing each strike and her landing no blows herself.
Brian takes Jason's advice and lands a nasty left hook, sending his vampire into the wall.
Brian grabs the vampire's skull and bashes it against the wall until his face is no longer recognizable.
He takes his blade and stakes the vampire, ending their battle.
BRIAN
"That jab really does the trick."
He turns to Jason, only to see him still deadlocked.
Smelling the blood, the Lycan charges the hunter.
Elias and Genevieve fall back to gain a tactical advantage.
ELIAS
"What now. Master?"
GENEVIVE
"Eliminate his hunter friend. Reduce their morale."
ELIAS
"Consider it done, my liege."
He flies at Brian, donning his fangs and claws.
As Brian is rolling out of the way to dodge Ramona, he is intercepted by the Siren's talons.
Elias lifts the hunter high up in the air and sends him hurling towards the Earth.
Upon impact, the floorboards shake and give way, causing Ramona and Brian to fall below.
Elias dives for Ramona, only to have both Brian and Ramona land on top of one another.
Sharing the blow, Brian just has the wind knocked out of him.
Ramona's human form shows, hinting at her weariness.
KORA
"Enough of this."
Kora knocks Jason off of his feet and swooshes to check on her new fallen friend.
Before she reaches her, she pauses.
KORA (CON'D)
"I think we have a problem..."
GENEVIVE
"What do you mean? Victory is almost in our grasps. Eliminating one hunter will ensure that."
KORA
"Smell the air."
The remaining of the clan smell the air and sense a different odor.
Elias shrieks.
ELIAS
"Hunters!"
KORA
"Obviously. They're nothing we can't handle."
ELAIS
"You don't understand..."
He points as The Shadow have been tracking the siren for quite some time.
The three Shadow blow their pipes at the siren.
One hits the vampire leader causing her to lose her speed, she slowly starts to fade out of consciousness.
KORA (WEAKLY)
"I'm going to have to kill one of you now..."
Using all of her energy, she swooshes at one of the hunters and feeds off of him to regenerate her strength.
His allies draw their blades, to no avail.
Kora pushes their drained brethren on top of them and speeds off.
The rest of the clan are close behind, as Jason is regaining his footing.
JASON
"I'm sure glad you guys showed up. I thought for sure I'd be dead."
The remaining two hunters are silent and mechanically advance towards their prey.
Jason follows, as he sees he doesn't have much of a choice...
<THIS WAS A SAMPLE OF MY SCRIPT PRIMEVAL DARKNESS. I MAY OR MAY NOT ADD MORE>