Pan's Labyrinth - A Movie Review
'Pan's Labyrinth' defines the genre of fantasy.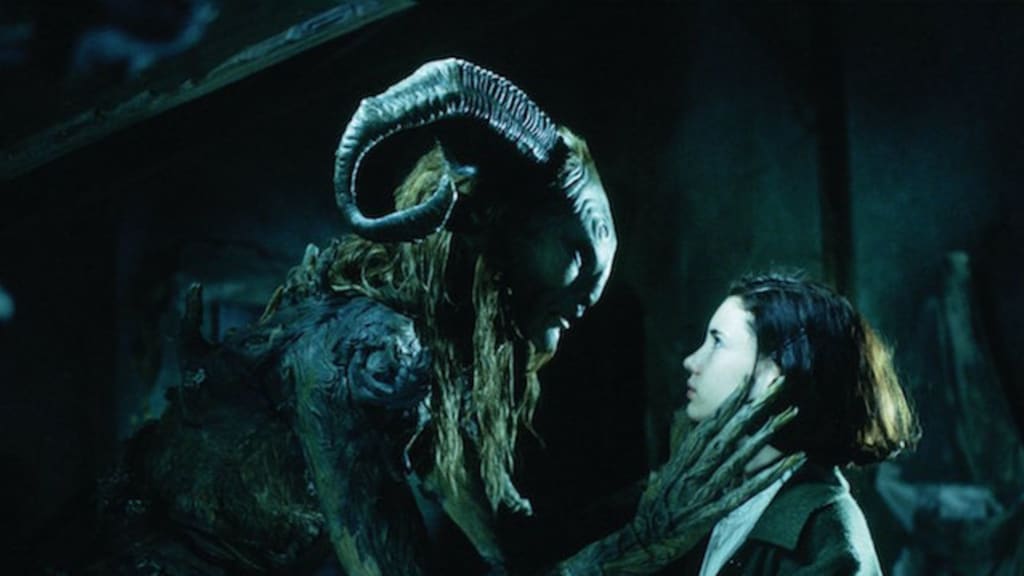 Let's follow Ofelia on her adventures into imagination today.
Released to theaters in 2006, Pan's Labyrinth is a Spanish film about a young girl who escapes reality into her imagination. Ofelia finds herself on a mission. Taking place in Spain in 1944, the terrors of war and her sadistic army officer step-father threatens the lives of everyone around him.
Pan's Labyrinth defines the genre of fantasy. The first time I watched this film, it blew me away. The dark nature of the film sells a magnifying story that will stay with you. Embrace your imagination, and be you.
Ivana Baquero sells the capacious imagination of young Ofelia. Preferring to spend time in her imagination over the cruel nature of the real world, Ofelia gets herself into a lot of situations. Her decisions have causes talk among audiences, but you have to remember that Ofelia is only a child.
I like how Ofelia is not portrayed as perfect, but as a character with flaws. Baquero sold Ofelia's spirit, love for imagination, and bravery.
I don't think there's ever been a character who I detected more than Captain Vidal. He is the definition of evil. Branding a personality so vial, Segi Lopez did not hold back. Lopez became this menacing character. Cruel to everyone, brutal, and finding any means necessary to torture the most innocent people, Vidal is a memorable villain.
Pan's Labyrinth contains several characters. It's not just about one story. The mother-daughter relationship between Ofelia and her mother (Ariadna Gil) was touching. The film signifies how women's roles have changed over time. Gil did an outstanding job relaying the pain of her character.
One of my favorite performances goes out to Maribel Verdu. Bravery does not mean that you are never scared. Mercedes learns how brave she is as she finds herself defying orders, and carrying away with heroic acts. The film establishes choices. Sometimes we have to make a choice that becomes a drastic change.
Is there anything that Doug Jones cannot do? As the only American on the set, Jones has to learn Spanish for his part. Dressing up as the most exotic and frightening characters, the makeup design is out of this world.
Guillermo del Toro drove to the highest extremes to get this film where he wanted it to be. It was a worthwhile journey. His designs are breathtaking, especially for the labyrinth. Imagination speaks louder than words in Pan's Labyrinth. del Toro captured his own vision of a story that's been in his mind for ages. He made every detail believable.
Pan's Labyrinth is a very dark film. There are several moments where I cringed. Vidal is such a monster that he beats a man's face in - repeatedly! There are several bloody and gory moments. Although it looks like a film for kids, it is not. One creature, known as The Pale Man is so frightening that its appearance could very well give a child nightmares.
Having several themes, one noteworthy theme is the power of imagination. Never let go of imagination. No matter how old we get, we'll never let go of imagination. Fantasies are a way to escape from reality. Pan's Labyrinth defines storytelling. The cinematography has an ominous tone throughout, capturing the effect of a child's imagination.
Images are smooth as the camera slowly drifts through the environment. We see everything. The structure of all the sets is breathtaking. I felt like I was in this world, traveling through every corner of the labyrinth.
I recommend to all fantasy lovers to watch Pan's Labyrinth. Once it starts, the film pulls you into its imaginative clutches.
movie review
Writing has been my passion since I was 11 years old. I love creating stories from fiction, poetry, fanfiction. I enjoy writing movie reviews. I would love to become a creative writing teacher and leave the world inspiring minds.
Receive stories by Marielle Sabbag in

your feed