Not Just Dead Air: 'The Walking Dead' Season 8 Trailer Breaks Its Own Record
It is no surprise that season 8's trailer has dragged The Walking Dead back from the grave and sent it shuffling back to the No. 1 spot of network television.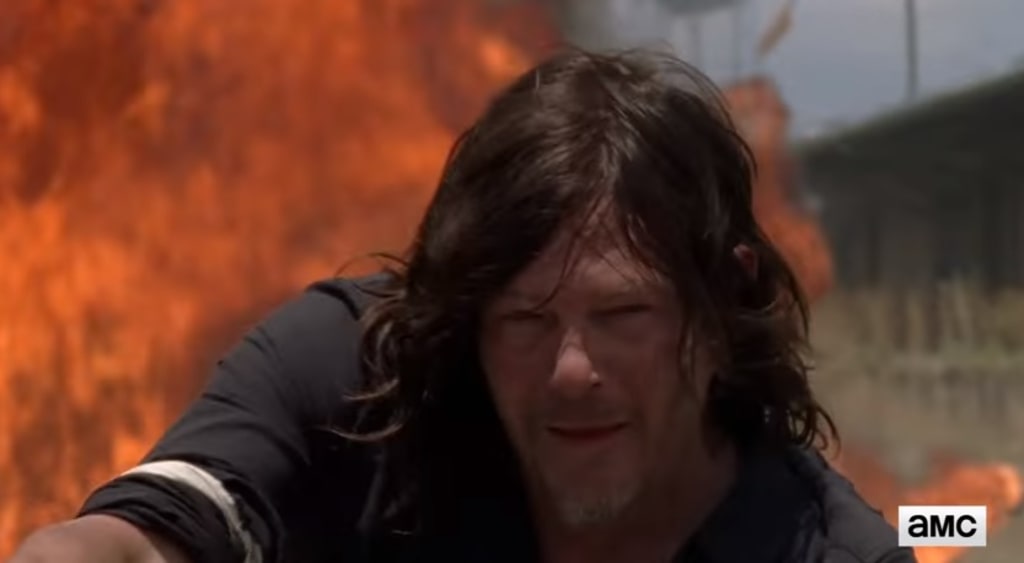 As AMC unveiled its tantalizing trailer for Season 8 of The Walking Dead, we had elderly heroes, Daryl doing his best Sons of Anarchy impression, and our remaining survivors tooling up for war. With an Easter Egg-packed trip through the end of the world, it is no surprise that Season 8's trailer has dragged the show back from the grave and sent it shuffling back to the No. 1 spot of network television.
The Hall H panel and trailer reveal was easily one of the biggest successes of San Diego Comic-Con, and #TheWalkingDead once again showed that there is still life in the old Rick yet. However, is it all smoke and mirrors, or is there a silver lining to the gloomy backdrop of deados and delinquents?
Back From The Dead
Say what you want about The Walking Dead and that great ratings debacle, but with the Season 8 trailer clocking up a whopping 31 million views in just four days, #ScottGimple's zombie romp has smashed its own record.
Speaking after SDCC, AMC Studios president Charlie Collier thanked fans for sticking with the undead ensemble:
"Thank you to the fans for, once again, filling Hall H at Comic-Con, our lucky seventh year in a row sharing this hallowed, fan-first experience. And, since Friday's 'The Walking Dead' panel ended, thanks to fans all over the world for watching our season eight trailer more than 31 million times, and counting. To receive this type of record-breaking response heading into the series' 100th episode is beyond gratifying. We look forward to sharing so much more with you as we count down to an unforgettable season."
The previous record for the show was held by last year's Season 7 Comic-Con trailer — which racked up and equally impressive 25 million viewers — but S8 went and walloped that out of the park with a wire-wrapped baseball bat. Instead of flogging a dead horse (quite literally), the Season 8 trailer seems to have lit the fires from beneath us, but is it all that it seems?
Do the numbers add up?
Without being a negative Negan, surely a large chunk of those 31 million will have tuned in to try and guess who kicks the bucket next or see the hype surrounding that mysterious "Old Man Rick" sequence? With sites like ourselves upping TWD content in the run-up to Season 8 in October, it is only right that curious fans will have clicked play just to see what all the fuss is about. However, whether those who stayed tuned for a grand total of 5 minutes, 20 seconds will transfer to October remains to be seen.
There is of course the usual BS from cast and crew calling this "the best season ever," however, the first impressions have left quite a buzz on the internet. The jewel in the AMC crown still beats off the likes of Game of Thrones to remain the most-watched show on network television and rules the top spot for social media engagement. With Season 7 accused of being slower than normal, it looks like a direct adaptation of #RobertKirkman's "All Out War" chapter from his TWD comics could be the ammunition we need to resurrect a limping franchise.
There is no denying that The Walking Dead has become quite the snarling beast since humble days of washing laundry with Frank Darabont at the Atlanta survivors' camp. As an almost completely different show from its roots, and as we prepare to open Season 8 with the show's 100th episode, prepare for more blood, more bullets, and more baseball bats — you have been warned!