My Top Ghost Hunting Bucket List Locations - Part 2
Oh, yes... there's more!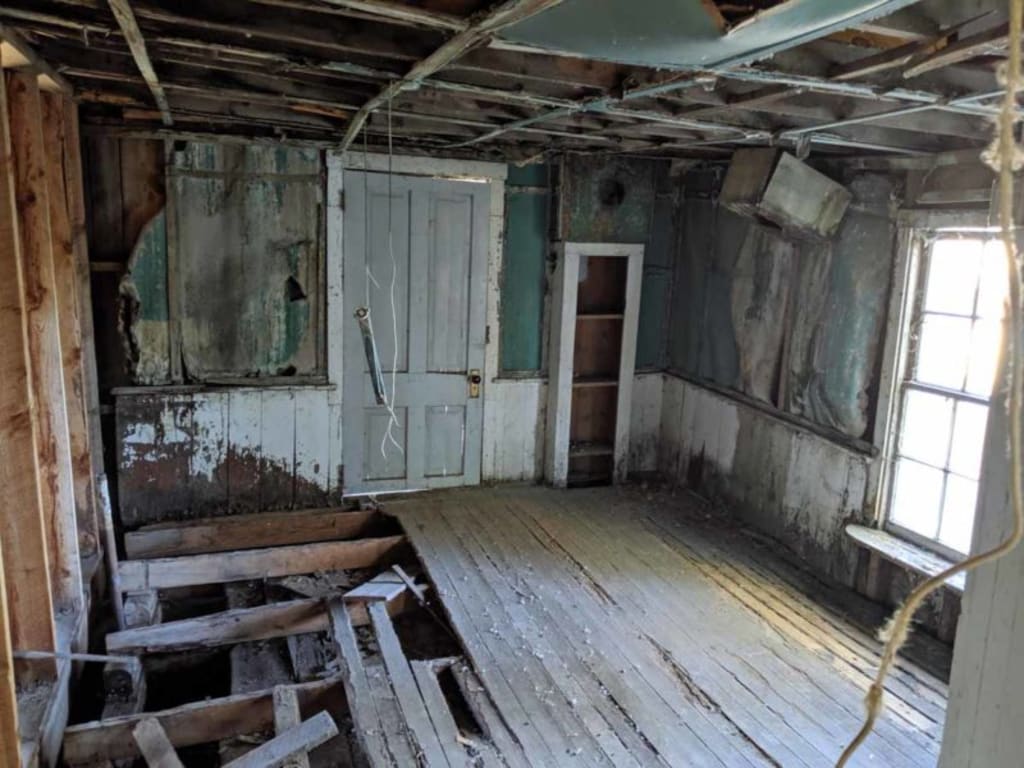 Bannack Ghost Town in Montana
Well, you all seemed to really enjoy the first part of this, so I thought: why not do another! I've had an interest in paranormal and cryptozoology since I was a child and have developed quite the list of places I'd love to investigate if I ever got the chance! I'd love to be able to visit some of these places eventually, so maybe consider tipping so I can start a paranormal investigation fund! Or, better yet, share this story with your friends so I can share the fascination that these places bring to me, and hopefully bring to you!
Northern State Hospital - Sedro Woolley, Washington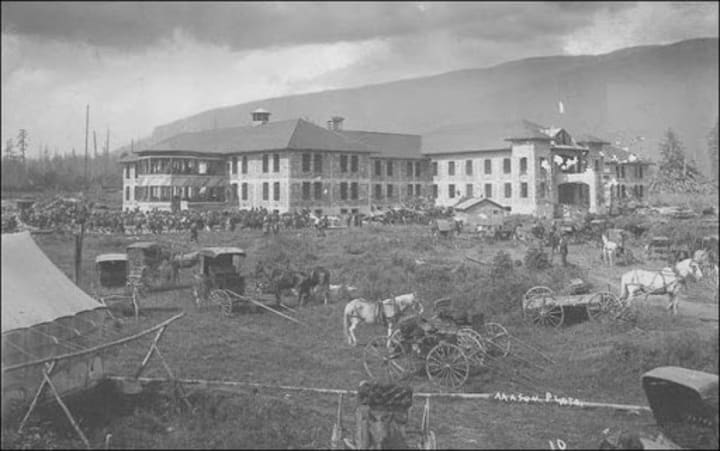 This one hits close to home. Located in the small city of Sedro Woolley, Washington, this former mental institution now serves multiple purposes. Some of the old buildings have been repurposed into long-term care facilities as well as a drug and alcohol rehabilitation center. But the buildings on this sight tell a tragic story of mistreated patients and painful deaths. There is said to be roughly 1,500 unmarked graves on the property from patients who sought treatment, and were instead given cruelty. Northern State Hospital opened its doors in 1912 and operated all the way up until 1973, at which time the facility was retired and left to the elements. At the time of its opening, the facility was known for its excellent standard of care and kind staff. This all changed in the 1950's when one Dr. Charles H. Jones took the hospital into his control. Dr. Jones was a doctor in several institutions dating before World War II, and subsequently left all of them after being accused of performing unnecessary and inhumane experiments on his patients. This awful pattern continued at Northern State. Barbaric procedures were said to have taken place inside the hospital's walls including electroshock therapy and trans-orbital lobotomies. These lobotomies were disgustingly careless and showed no proven results in treating the patients mental handicaps. It's reported that over 2,500 lobotomies occurred in total in the hospital, ending in 1967 when the doctor lost his license due to malpractice. The hospital is claimed to be haunted by several spirits including nurses that can be seen hanging themselves in the windows, the underground tunnels are said to have numerous spirits that relentlessly taunt guests. There are even stories about a man's spirit, desperately trying to find another spirit, one of a young girl with a red ball. Not all of them are bad, however. One spirit is lovingly referred to as Fred and is said to be quite the trickster towards those who pay the property a visit. I've wanted to visit this location for years, and while most of the hospital's structures are now repurposed, there is still plenty to explore on the property. The Skagit County Parks and Recreation organization has even designated the property to be a nature walk, adding miles of trails and a frisbee golf field to the location. For a place to have seen such tragedy, it's oddly comforting to see people enjoy it for it's true beauty. I only hope that the spirits of those who were lost so brutally will never be forgotten by those who walk the sacred grounds.
The Bell Witch Cave - Adams Tennessee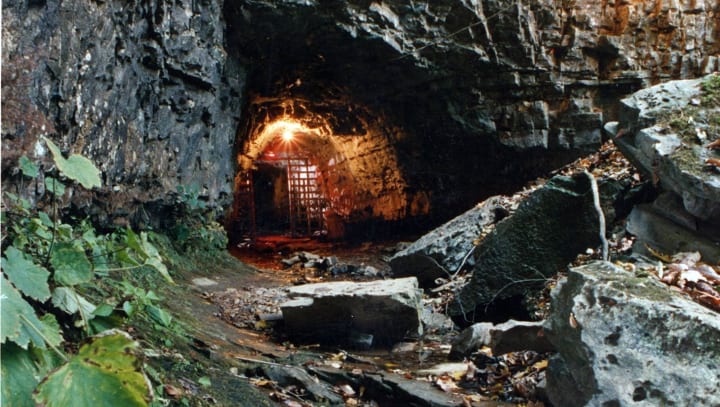 The Bell Witch Cave is located in Adams, Tennessee, and tells the story of a family who believed they were the victims of a relentlessly cruel witch. The Bell family were tormented by an unseen force from 1817-1821, according to accounts. The force was reportedly able to shapeshift, speak to the family, and affect the physical environment of the property. In the book "An Authenticated History of the Bell Witch" by Martin V. Ingram, the author claimed that the spirit affecting the family was named "Kate", after the entity reportedly spoke its name to investigators. The activity mostly focused on the youngest daughter of the Bell family, Betsy. The family claimed to see apparitions taking several forms, including a girl in a green dress and, most commonly, a large black dog. So in this story, where does the cave come in? Well, it's believed that the entity that tormented the family became enraged after being pushed into a cave to escape the Bell family, who had moved onto their land. The cave is rumored to have quite the amount of activity, some of it being experienced by the Bell Family themselves. There is a story about Betsy and some friends descending into the cave in order to look for the "witch" that was tormenting their family. A male friend of Betsy's decided to try and squeeze through a narrow opening in the cave and became stuck. It's claimed that the boy heard a voice and was then pulled out of the opening by his feet by an unseen force. All of the children then received a lecture about being careful in the caves, still from the unseen entity. Now, this story does seem a bit far-fetched. But the story of the Bell Witch opened up a door in the paranormal community into faceless entities and the practice of witchcraft. I'd love to see if there is something more to the story and attempt to communicate with the spirit of whatever may be there. Who knows, maybe I'll even get a lecture about cave-dwelling safety - I wouldn't mind!
Bannack Ghost Town - Bannack, Montana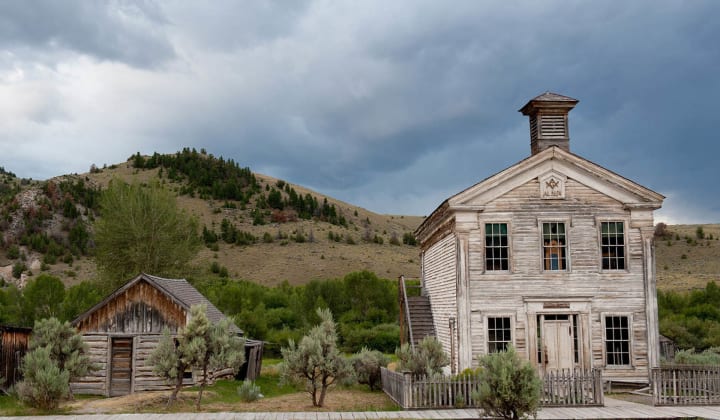 Finally! A ghost town makes the list! Bannack, Montana was founded in 1862 and named after the local Bannack tribe of Native Americans. During this year of settlement, a large amount of gold was found in the area, which saw a massive boom in population. Bannack was even, although temporarily, named the capital of the Montana Territory in 1864. The town continued to survive as a gold town, until reserves began drying up and the population dwindled. The last residents left the town in the 1970's, leaving a hollow shell of what the town used to be. During its heyday, the town was home to about 10,000 people, and boasted a lively town center. Dr. Erasmus Darwin Leavitt is credited with the founding of the town. The former physician arrived in Bannack in 1862, hoping to trade his stethoscope for a pickaxe. He later retired from the pursuit, moving to Butte, Montana to continue practicing medicine, but not before helping put Bannack on the map. This town, though lovely, had its share of secrets. It was largely rumored that the sheriff of the town, Henry Plummer, secretly ran a gang of ruthless road agents, responsible for hundreds of murders in the town. Historians argue the legitimacy of these claims, and the motives of this gang given that only eight deaths were recorded in the town during that time while some historians deny its existence all together. No matter the legitimacy of it, Sheriff Plummer was put to death along with two of his rumored associates. They were hanged without a trial on January 10, 1864. 22 people in total were hanged in total, with illegitimate trials and the remainder were told to leave town and never return, lest they meet the same fate. I've always loved the ideas of ghost towns! Given the history of gold and precious metal mining in the United States, there are plenty to choose from. This one, in particular, tops my list thanks to the stories of illegitimate trials, gangs of road agents that may or may not have existed and how recently it was inhabited. Investigating a ghost town seems almost like a vacation to me (don't judge). With the amount of history and records that would need to be gone through and the amount of structures that would need proper investigation, it's a challenge I would love to pursue!
*** IMPORTANT ***
While I do my best to provide accurate historical data, there are quite a few locations where the haunting rests solely on lore and legends. I try to use language expressing the legitimacy, or lack thereof, of all the stories and claims that have been made about these locations. I'd love to be able to do deep and 100% accurate research, but the lack of public access to records on these locations makes it difficult. And while some of these stories may not be true, there is still plenty to learn about a place and its history through its folklore and stories told through generations.
About the author
Disney blogger with a dark side
23-year-old blogger and photographer
Follow along with my misadventures - IG: @livinglikealesia
Reader insights
Be the first to share your insights about this piece.
Add your insights