Movie Review: 'The Nun' 2018
With The Nun 2 arriving in theaters in 2023, I went back five years for another look at the original, The Nun.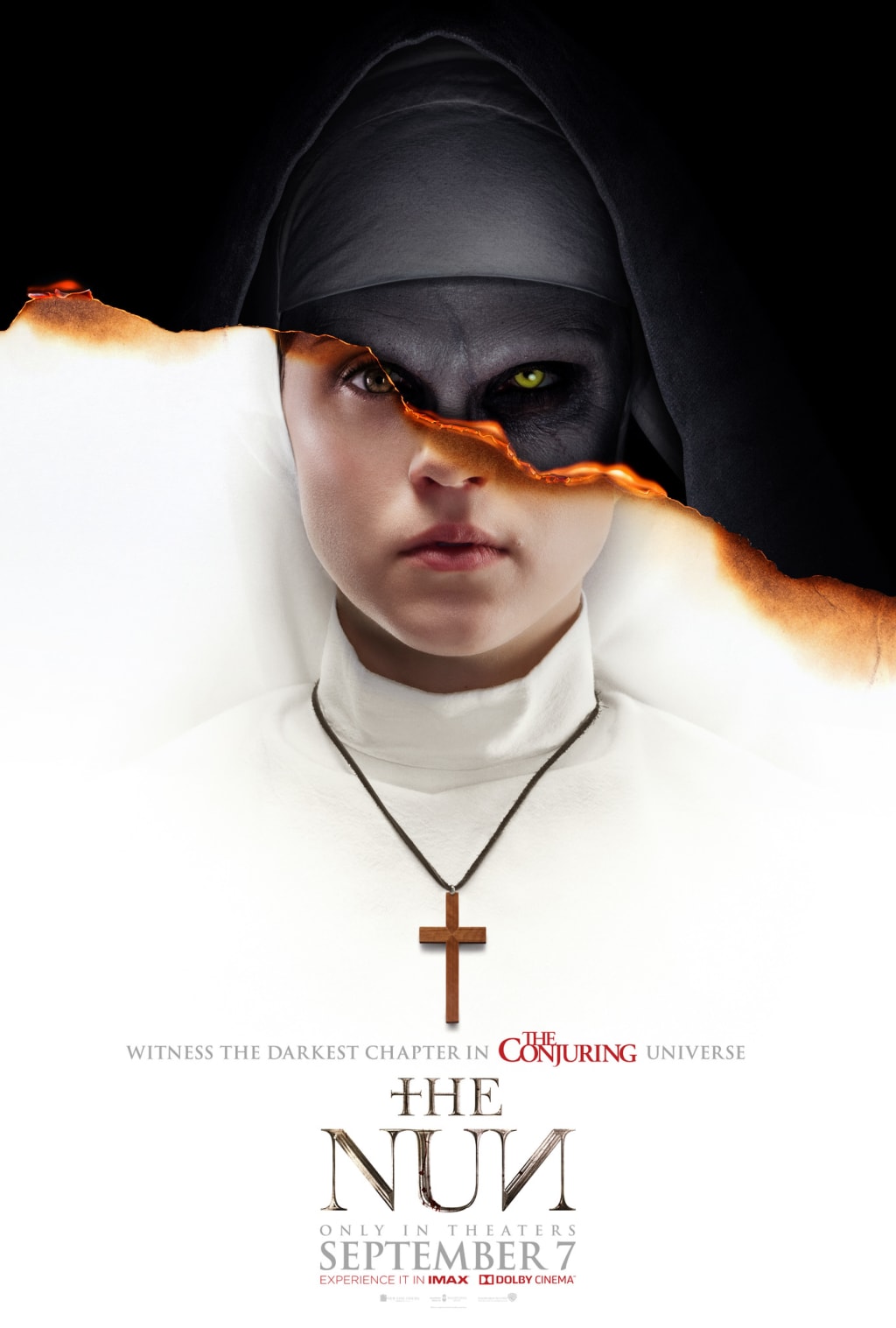 The Nun (2018)
Directed by Corin Hardy
Written by Gary Dauberman
Starring Taissa Farmiga, Demian Bechir, Jonas Bloquet, Bonnie Aarons
Release Date September 7th, 2018
Published September 7th, 2023
I love the visual of The Nun. Whether she's a malevolent painting or taking on a physical form that looks like The Terrifier crossed with a Nun cosplay, The Nun is a strong figure of terror. The face of actor Bonnie Aarons is twisted and contorted via makeup and effects to create a haunting visual that lingers in the imagination in the way great horror villains do. Aarons doesn't get enough credit for making this character so memorable, even iconic. Without her expressive face and the way she physically imposes this character on others, Aarons is the absolute key to why The Nun is a viable franchise aside from being part of The Conjuring universe.
The Nun is also blessed not to have the burden of the Warrens dragging her down in her solo movies. I admire Patrick Wilson and Vera Farmiga but they've extended the fame of a pair of con artists for far too long. The Conjuring movies are cut and paste demonic possession movies that play the same beats over and over again while playing the 'Based on True Events' card as if they can trick the audience into buying what the Warren's tried to sell the world for years, a pack of lies about their ability to speak to the dead.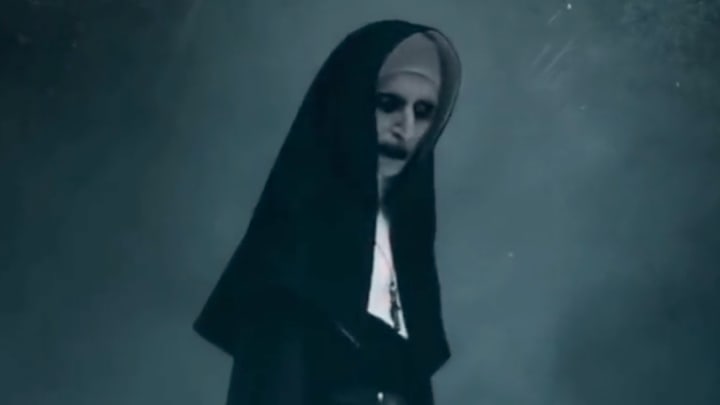 The Conjuring movies overflow with nonsense in which ghosts move furniture, dump items from open cabinets, and are a general nuisance. The Nun on the other hand proceeds from a supernatural premise and never asks that you buy into the reality of this malevolent being. The Nun is a demonic monster, it has almost limitless power, and there are only a rare few who can go against The Nun and live to tell the story. The Nun has a clear purpose, it wants to harm people so that it might affect an escape from the Abbey in which is trapped.
Standing in the way of The Nun and her evil plan are Father Burke (Demian Bechir) and a psychic Nun, Sister Irene (Taissa Farmiga). They've specifically been chosen by The Vatican to travel to an Abbey in Romania where the Nuns have been dying horrifically. Most recently, one of the Nuns hung herself directly in front of the entrance of the Abbey. She was discovered by a local delivery man, nicknamed Frenchie (Jonas Bloquet). Frenchie will be taking Father Burke and Sister Irene to The Abbey and he's going to stick around and become part of the action of the movie as well.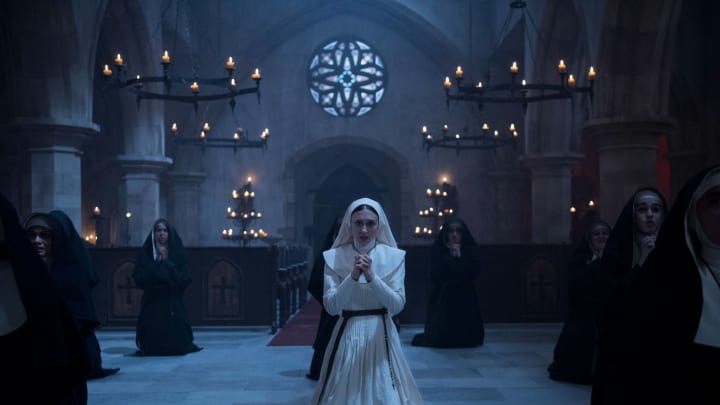 And, jump scares ensue. When I first saw The Nun in theaters in 2018, I wasn't impressed. I found The Nun to be mostly derivative and overly reliant on the kind of cheap jump scares that have ruined the potential of s many modern horror movies. Five years later, I am seeing The Nun with a more friendly eye. Perhaps I was too hard on The Nun. Watching it again, I stand by saying that it relies on overly familiar elements to tell an overly familiar story. That said, there are strong moments that should be highlighted and noted.
A big positive for The Nun is The Nun of the title. Bonnie Aarons brings The Nun to terrifying life with her wildly terrifying physical performance. There are elements of silent movie horror villain to her take on The Nun and I love a good throwback. She's as tremendous at being ominous as she is in enacting terror on her horrifying victim. So much praise must go to the makeup team and costumers as well who've helped to craft a genuinely iconic look that will linger in your nightmares. There isn't much to The Nun as a character but there doesn't need to be. Her specter is so impressive that a lack of depth doesn't matter. That's also an avenue that can be explored in what is certainly going to be a lasting franchise.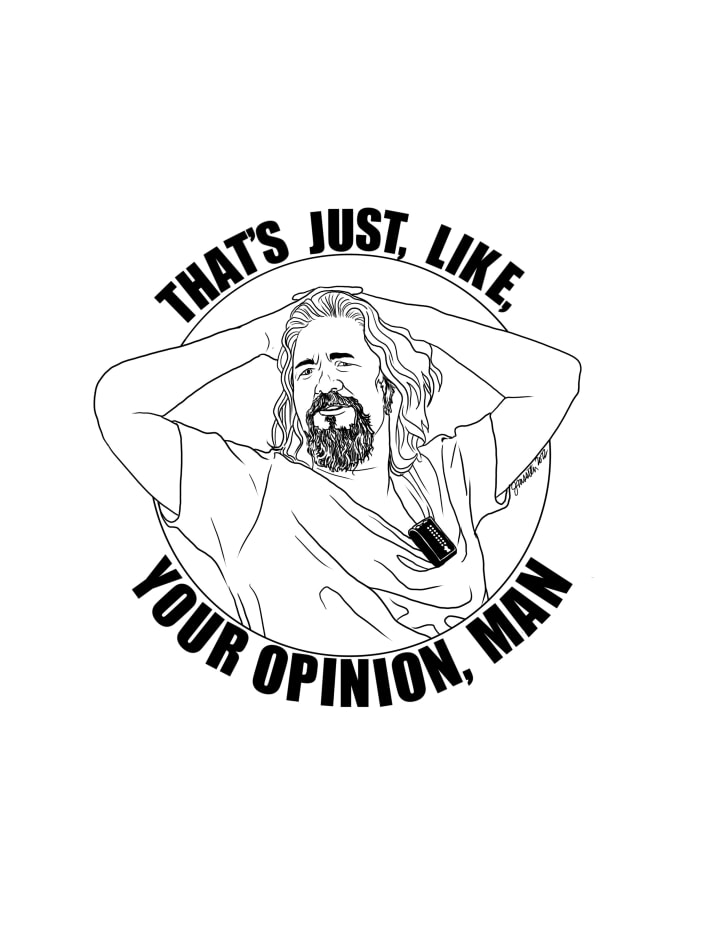 It's only been 5 years but something about that Nun character has won me over. Where I was annoyed by the movie 5 years ago, I was a little more receptive now. Part of that has to do with the tremendous marketing campaign for the sequel. The Nun 2 has brought the Nun character into new light and I have been impressed with the creepy visual of this habit wearing freak. It's been fun to watch this character return in commercials and trailers and I am hopeful that it will be as welcome when I see and write about The Nun 2 when it arrives in theaters on September 7th, 2023.
Find my archive of more than 20 years and nearly 2000 movie reviews at SeanattheMovies.blogspot.com. Find my modern review archive on my Vocal Profile, linked here. Follow me on Twitter at PodcastSean. Follow the archive blog on Twitter at SeanattheMovies. Listen to me talk about movies on the Everyone is a Critic Movie Review Podcast, wherever you listen to podcasts. If you have enjoyed what you have read, consider subscribing to my writing on Vocal. If you'd like to support my writing, you can do so by making a monthly pledge or by leaving a one-time tip. Thanks!
About the Creator
Hello, my name is Sean Patrick He/Him, and I am a film critic and podcast host for Everyone's a Critic Movie Review Podcast. I am a voting member of the Broadcast Film Critics Association, the group behind the annual Critics Choice Awards.
Reader insights
Be the first to share your insights about this piece.
Add your insights