Movie Review: 'Midsommar' Is the Best Movie of 2019
It's early to pick a best of the year, but I can't imagine another movie affecting me as Midsommar did.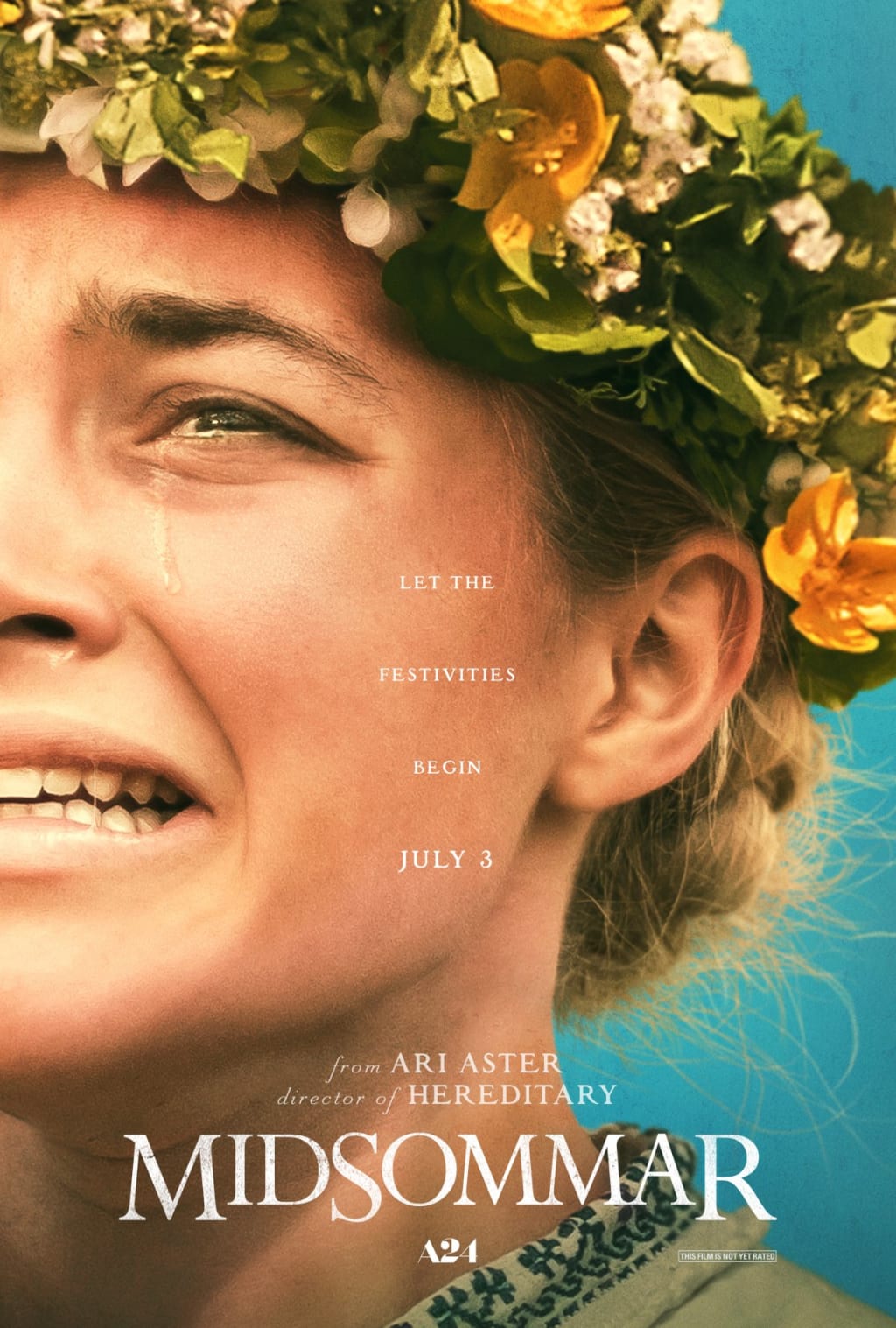 Midsommar absolutely wrecked me. Writer-director Ari Ascher is a visionary artist, and his vision here is among the most disquieting and disturbing that this reviewer has seen since, no joke, Cannibal Holocaust. I have a controversial opinion of Cannibal Holocaust, I think it is rather brilliant. I have long thought of how amazing it would be to see a great director take on such challenging material. Ari Ascher has done that, he's taken highly subversive ideas and imagery, and applied a master's eye to them, and the result is a stunning work.
It's difficult to say what the plot of Midsommar is. The film relies heavily on images, and the story is really carried in the visual realm more than in the typicalities of scripted plotting. Let's try just introducing the characters. Francis Pugh stars in Midsommar as Dani, a college student struggling with her family back home. She's also struggling with her boyfriend, Christian (Jack Reynor). The two have been together for nearly four years, but she is worried that he is going to break up with her because of all the hassle with her family.
Indeed, if Christian's friends are to be believed, he is going to break up with her. Christian's friends. Mark (Will Poulter), Josh (William Jackson Harper) and Pelle (Vilhelm Blomgren) are introduced sitting in a bar talking about their planned trip to Sweden and how Christian needs to break off his relationship with Dani before they leave. The conversation is cut short by another call from Dani and she's wailing in agony.
I cannot tell you anything about what happened as you need to experience it, but it is a gut wrenching, heartbreaking scene. Ari Ascher does not hold back on the triggering imagery here so be warned, if you are not all in for some seriously disturbing images, you may want to sit this one out. This sequence takes place, and we haven't even reached the horrors to come once the scene switches to Sweden.
Pelle has arranged for his friends to stay at his village in the Swedish countryside. He's promised a month and a half of drugs and beer and sex. Oh, and Christian and Josh being anthropology students will have a rare opportunity to study a culture that few people have been allowed to bear witness to. Midsommar is a unique tradition in Pelle's village and while it is well known outside the village, a relatively mainstream tradition in Swedish culture, Pelle's village is cloistered, cut off from the mainstream and adheres to some, let's just say, less mainstream parts of Midsommar tradition.
Despite the troubles in their relationship, Christian feels guilty even considering breaking up with Dani after her family tragedy. So, he invites Dani to come on his trip to Sweden. While Mark and Josh are hostile to the idea, Pelle appears to welcome Dani's tagging along. He's not overly friendly, but there is something oddly disquieting about his good nature. You might chalk it up to foreign hospitality, but Ari Ascher has a way of training you to be suspicious and deeply uncomfortable with even the kindest gestures.
The transposition of the action to Sweden kicks Midsommar into another visual gear. Ari Ascher appears to have taken on a very unique challenge, he's making a horror movie in bright sunlight. Most horror movies thrive in the darkness, but in Midsommar, the sun never sets and that creates a whole new challenge for a horror movie. The movie can't really hide much of anything, and that means that the kind of horrors usually seen in shadow are thrust into bright, horrific light, and the effect is stomach churning.
It's not just the daylight however, that makes Midsommar so disturbing. Like the characters who are out of sorts due to drugs, beer, and lack of sleep from the constant sunlight that beats its way into every building, we are unmoored from the kinds of movie conventions that provide comfort, and a place for our mind to rest. Midsommar has no typical narrative. The story of Christian and Dani is familiar as is the ugly Americans in a foreign country sub-plot, but Ascher consistently upends these conventions by separating the characters from their narratives.
Instead, we and these characters are moved around by the Swedish villagers, moved from one ceremony to the next, from one odd custom to the next. The main characters are as much audience members as we are, and rather than navel gazing at their own issues, they are forced to confront the bizarre and disturbing customs before them, and figure out a way to process what they have seen before the next bizarre incident.
And as we are witnessing these bizarre customs, and the narcotized yet friendly manner of those presenting them, those cult like villagers, our eyes are searching the screen for visual clues to what is coming next. Ari Ascher is one of the best directors working today when it comes to using production and set design to help tell his story, and like the tiny dioramas of Hereditary, the cabins and structures of this Swedish village are brimming with visual details, one more unnerving and distracting than the next.
Some will fault the film for looking a little busy or cluttered, but I found the production design to be fascinating. I want to see the movie again so I can see what I may have missed on the first viewing. That is after I emotionally recover from seeing Midsommar the first time. Midsommar left me muttering to myself, pie eyed, and stumbling to my car. I legitimately wondered if I should be driving after the movie as I was so overwhelmed by what I had just seen, my mind was reeling.
Midsommar is my favorite movie of 2019 thus far. This film is a complete experience, an immersive and deeply disturbing experience that bores into your soul with violent and shocking images. I'm probably overselling it, but this is my experience of the movie; I was disturbed. I felt acted upon by Midsommar. I believe this is what it must have felt like the first time people saw Cannibal Holocaust and walked out in disgust.
I didn't walk out of Midsommar in disgust, but I can sympathize with those who might. I honestly have to warn some of you that Midsommar is not a movie for a casual horror movie fan. This is heavy stuff with disturbingly violent and strange images that left me haunted. If you are someone with a weak stomach, even though I believe this movie is a masterwork, I don't recommend it for you. You have to have a particular tolerance for this kind of disturbing image to enjoy Midsommar.