Making Monsters
Tom Devlin brings horror to Boulder City, NV.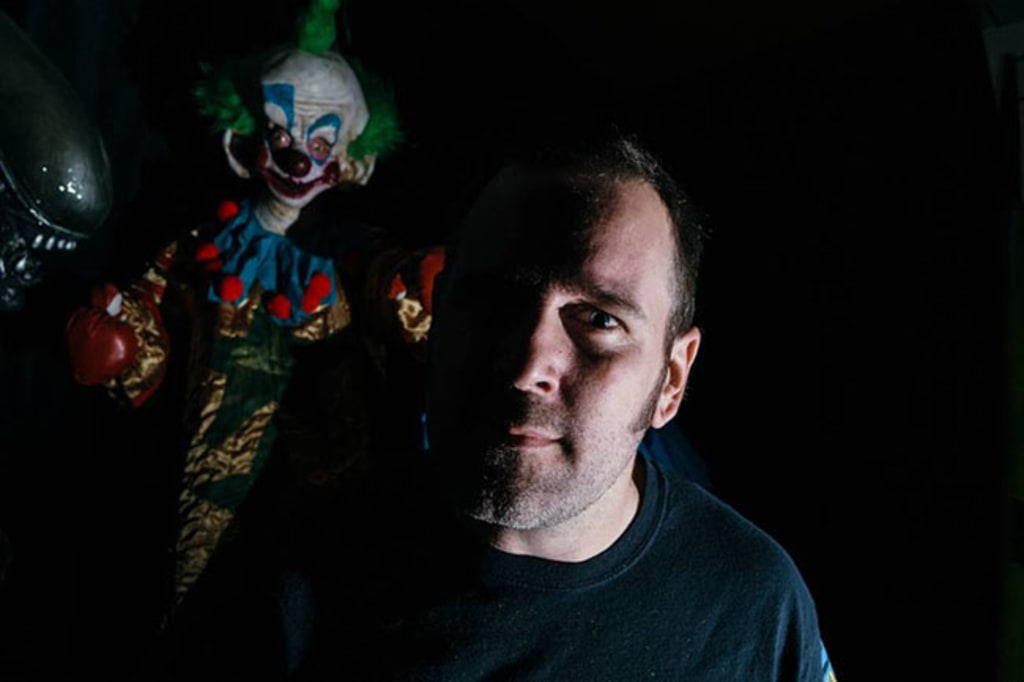 It's unlikely that the settlers of the Southern Nevada desertscape expected a museum of horrors to become a cornerstone of their peaceful early-20th-century city. Yet 88 years later, a decorated hearse, a zombified Spider-Man, and a conspicuous sign touting "Tom Devlin's Monster Museum" have been erected as markers for one of Boulder City's hottest roadside attractions.
Tom Devlin, a renowned special and makeup effects artist with a background of more than 100 feature films, is an ideas man with the drive to turn them into reality. The Monster Museum is proof of that, as is the Dinosaur Adventure micro theme park he constructed down the road. It was at the latter that Devlin offered me a bit of his time for a brief interview. Among a scattering of prehistoric creations that promise to woo visitors, Devlin was happy to give me (and by proxy, you) a glimpse into his career, passions, and inspirations.
From Masters of the Universe to a Master of Horror
The name behind the exhibition of frights may not be widespread (yet), but it's sure to ring a bell for those deeply rooted in the horror community. Especially for the 1.4 million viewers that became attached to the popular special effects makeup competition series, Face Off.
SyFy's first season of Face Off had viewers believing that Tom, then 29-years-old, was looking to break into Hollywood's special effects scene, but that would mean ignoring the near decade of successful work that came before the competition. Ask him what he's been doing since his premiere on SyFy and he won't hesitate to say, "The same stuff I did before Face Off."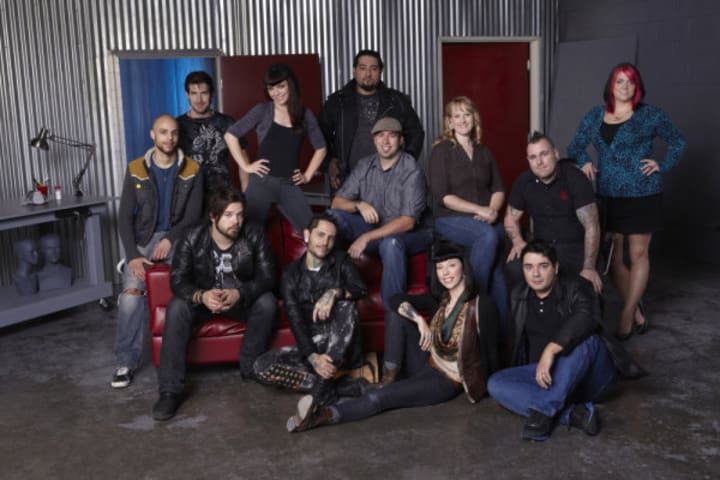 It's easy to mistake a spot on a major network as the high point of a career, but as Devlin clarifies, "We've got years of documentation that all of us have been doing this for a while." His early career that came years before Face Off—when he worked on productions like Red Dragon, Terminator 3, and Buffy the Vampire Slayer—define him more than the reality series ever could. As Devlin explains, the SyFy show wasn't even his first public appearance. "I was actually on a G4 show prior that was calledG4 Underground." The production followed Devlin and his wife (then-girlfriend) Lola during an episode on indie horror and featured a guest appearance by Rob Zombie.
Devlin wasn't born with sculpting clay in his hands, however, and before even getting to Face Off and G4 Underground, he needed the catalyst that drove what would later become a passion. Like so many creatives, he happened upon it at a young age through a surprising source. "I can honestly say, my love for monsters started with He-Man," Devlin explained. "It wasn't horror. It was He-Man, Frank Frazetta, and that kind of world." How deep was Devlin's love for He-Man? Attendees of an early incarnation of the Monster Museum may remember a display dedicated to the Masters of the Universe hero.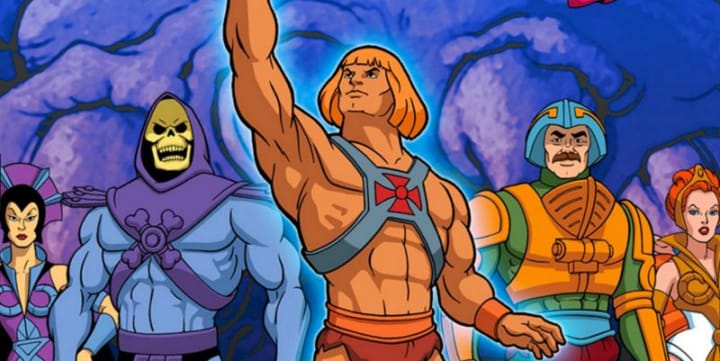 That's not to say horror had no part in the path he took as Devlin also gives credit to a pair of very 80s cult classics. "I love Toxic Avenger, and when I was 10, that changed my life. Monster Squad—so huge for me. I always liked the offshoots. So when every kid was into Ninja Turtles, I had Toxic Crusaders. When everybody loved Goonies, I had Monster Squad."
It was these inspirations that ultimately led Devlin to join the limelight of big-budget productions, starting with his first job ever—The X-Files. For years, Devlin's work went uncredited, primarily due to the scope of the projects he worked on. You wouldn't know it by scanning the credits, but the young makeup effects artist had a hand in movies like The Scorpion King and Daredevil. Tied to Hollywood blockbusters, it was clear Devlin was heading in the right direction, but there remained a lingering need that the 19/20-year-old effects artist still had yet to fulfill.
"All I wanted to work on was Toxic Avenger."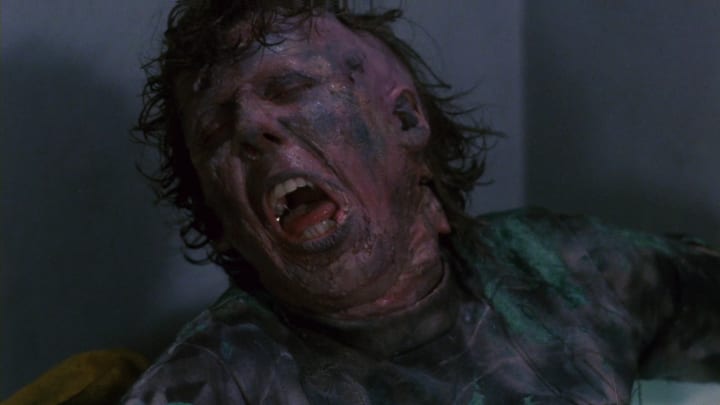 They're names any horror buff will recognize and were responsible for padding Devlin's filmography with more B-horror than most can stomach. His practical effects shined in films like Full Moon's Evil Bong 3: The Wrath of Bong and Killjoy 3, but there have been many instances you would never guess that an artist like Devlin was involved. Where the practical effects of Poultrygeist and many Full Moon productions put Devlin's work in the spotlight, he laments that, more often than not, Asylum's overly-CG'd creations covered his detailed models.
The studio's library of B-grade movies has many examples, but he briefly mentions Asylum's The Terminators as one of the more painful instances. "I made these awesome Terminator makeups where they're muscular… I had this whole theory of my own version of Terminators and they CGI'd mock Terminators. They don't ever show my makeup… and the CG ones don't match what I created for the movie."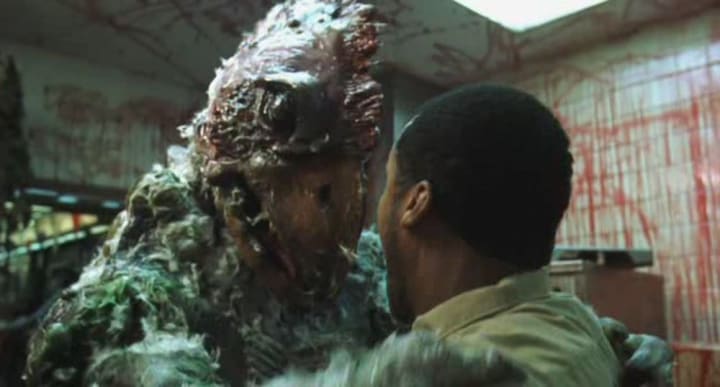 Of course, that's not to discourage anyone from following their passion for special effects makeup. On the contrary, Devlin is quite supportive of up-and-coming artists, even taking several under his wing and passing along work to them for their benefit. You can also find him hosting several weekend workshops that cover sculpting and latex mask creation. When pressed about his advice for others hoping to navigate their way to success much as he did, he was blunt and honest.
"You just have to try. You just have to want it more than the other guy. If you want to work at Legacy FX, it's not impossible. Just start emailing and calling and sending pictures."
It's the same advice given by Rob Zombie on that episode of G4 Underground, except Devlin's version is a bit less harsh.
Bringing Horror to Boulder City
While Devlin isn't done with the movie industry, his focus has been building an empire of sorts in Boulder City. The journey to bring the Monster Museum to life started long before his arrival in the quaint Nevada town. If not for the lackadaisical response from the community of Cape Coral, FL, pushback over lack of parking at a Las Vegas venue, and Sin City's flashier style, Boulder City very likely would have remained devoid of monsters.
When the artist moved his passion to the Southern Nevada city, he found himself being embraced by the community as he worked to get the Monster Museum started, a task he took on only two weeks after moving. "I hear people tell me how hard it is to start a business here. I hear people tell me how closed-minded people in Boulder can be, and I have the complete opposite experience," he explained.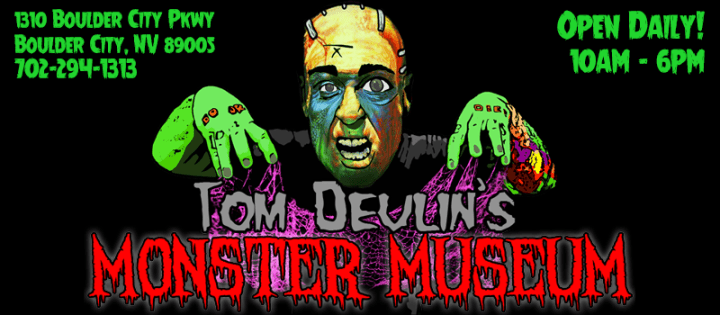 A walk through Tom Devlin's Monster Museum may help understand why such an offbeat attraction would be welcomed in a region known for being conservative. Sure, the subject matter may be unique to Boulder City, but the museum, like its hometown, has a ton of heart in it. Devlin's displays cater to visitors of all ages, even older guests that will get a kick out of the first room. Devlin showcases the golden age of horror, a time when people sought it out as an escape from the Great Depression and World War II.
I'm not going to give away spoilers of what you'll see within the museum's walls, but if you have any appreciation for any form of horror, chances are there is something for you. Devlin covers many generations of the genre and even fuels his nostalgia with work from his heyday of movie making. What you see today isn't even all that Devlin has in store for the future of the Monster Museum as he plans on using even more floor space to bring to life some truly iconic horror villains.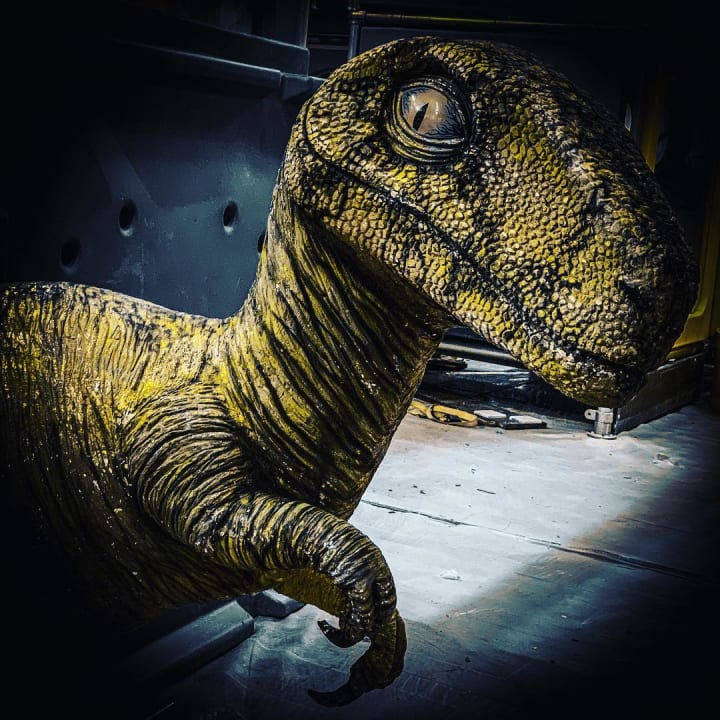 As for Tom Devlin's Dinosaur Adventure (previously Prehistoric Adventure), I was given a quick walkthrough of the 3,000 square-foot space. At each station, Devlin explained what he envisioned, and it wasn't difficult to see it come to life, especially with some of the artist's own prehistoric sculpts already in place. Rideable dinosaurs, an interactive fossil pit, a play area of tunnels and slides, and a planned outdoor expansion are all framed by a narrative that will make children and adults giddy as they step into the closest thing Boulder City will ever get to Jurassic Park.
Tickets to Devlin's museums can be purchased on their respective sites, listed below. At the time of this interview, Tom Devlin's Dinosaur Adventure was scheduled to open on 01/28/2019.