Interview With Rose Sinister
The Woman Behind the Popular New Podcast 'Rose Sinister: Vampires'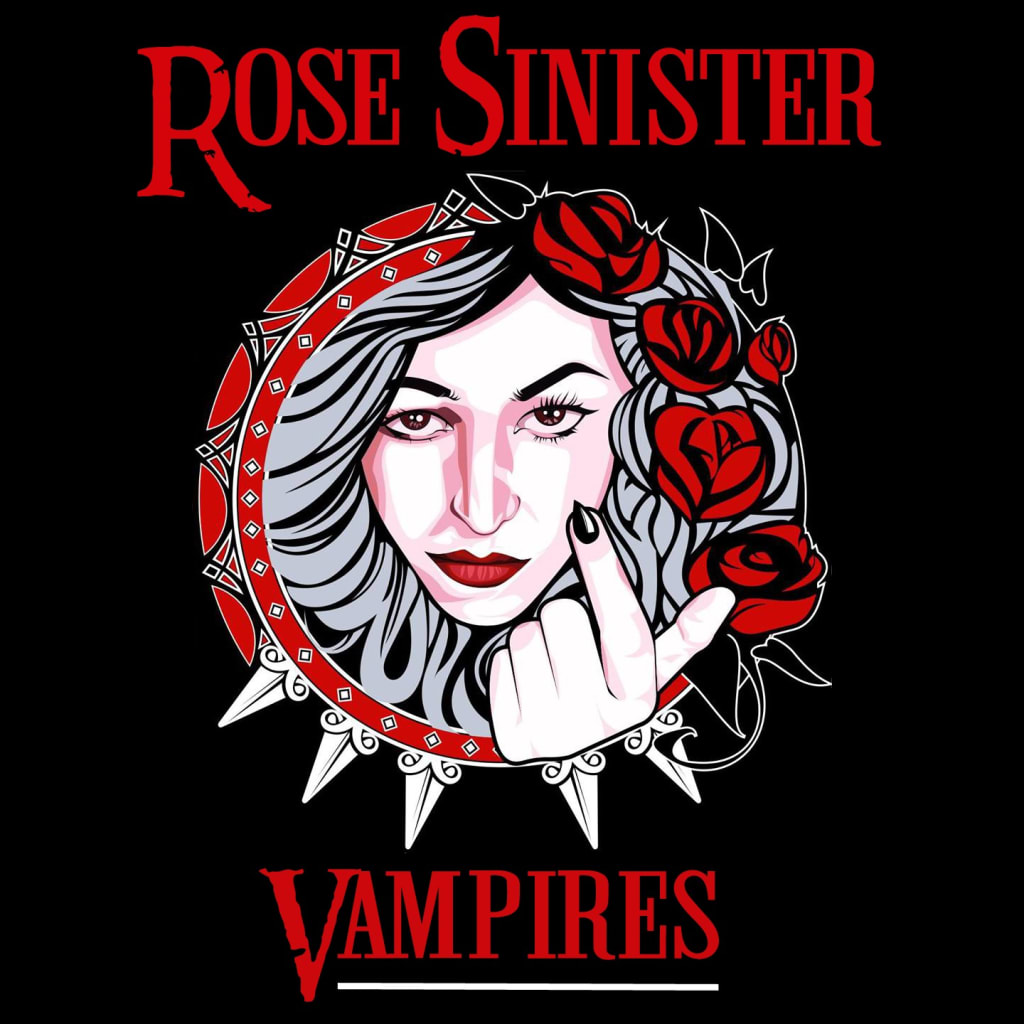 Image owned by Rose Sinister
Originally from Los Angeles, Rose Sinister is a professional tour guide in New Orlean's French Quarter specializing in haunts, mysteries, and - most especially - vampires. Rose has a singular, elegant personal aesthetic that has been likened to a "Gothic Mary Poppins." My kind of gal!
She is also an excellent storyteller, which is put on magnificent display in her latest venture, podcast Rose Sinister: Vampires.
Rose was kind enough to answer a few questions for me. Learn more about her and her podcast below. If you dare...
Crysta Coburn: You talk about it a bit in your podcast, but could you tell us here from where your love of vampires stems? What about vampires captures you personally?
Rose Sinister: I was six when I discovered the character of Claudia in Interview With the Vampire; there was a program on TV, a babysitter's copy of the book left behind, a sneaking trip to the grown-up section of the library, or some combination of the three. The specifics evade me. But I was terrified. I had only just learned that "New Orleans Square" in Disneyland was "based on" the real city of New Orleans, and this somehow made the story more real. I did not want to be a vampire; the fact that Claudia had been turned into a vampire as a child was about the most horrifying thing possible to imagine.
Shortly thereafter I somehow found out—another library book? An older boy on the playground? Dracula had been based off a real person, and to a first-grader's logic, clearly, all this meant that vampires were real.
I spent the next 12 years tiptoeing around the undead. They filled my nightmares and gave me terrible anxiety, so I read books and wrote reports on wolves and spiders and bats and castles and many spooky things without actively seeking out vampire-specific content.
When I finished high school I found myself rather lost, and drifting, unsure about what I wanted out of life and overall just being really passive about my future. I was depressed and dealing with family trauma, and when a friend recommended Interview With the Vampire to me again, I read it with fresh eyes. The horror was gone, replaced by a profoundly intense desire to experience the world as Louis did. It was as though the book had been waiting for me to catch up with it.
And after that I was truly hooked and never looked back. I think really my childhood revulsion of all things vampiric was, in a way, about not feeling comfortable expressing myself. That changed when I grew older and had a little more autonomy.
You're a professional tour guide in the French Quarter in New Orleans, a singular and rather unusual occupation. How did you get this job?
I stumbled onto a ghost and vampire tour on my very first visit to New Orleans. I hadn't even known such things existed, and was over the moon the entire tour. At the end, I asked the tour guide what he did for a living, that allowed him the ability to tell vampire stories in the middle of the day on a weekday, and he told me that tour guiding was his job, and I was just blown away. Like, that's an option?!??
So I knew what I wanted to do from that point on.
Getting here.... well, honestly it required a lot of finding myself, knowing the right people, having the right support, and a certain amount of luck and timing. I moved to New Orleans and worked at a Voodoo shop, then a mom and pop convenience store, then I was a hotel concierge selling tours, then I became a tour guide. Every step along the way I was learning about New Orleans and how to be confident in that knowledge, so that by the time I finally worked up the courage to start performing tours in 2013, I had a really solid foundation of knowledge and people skills. I wouldn't have been a good tour guide if I'd started out doing that work as soon as I moved here.
I started doing the vampire tour full time in May of 2016, when the former senior tour guide for the company I worked for left to start his own business. So I had to remake the tour I perform now from the ground up, and sell it, to really embody that position, because I couldn't do the tour the same way my predecessor had. That was a terrifying and exhilarating period of my life that ultimately directly paved the way for me to grow in other ways.
What brought you to New Orleans from Los Angeles?
I joke that I left LA because I was sick of Hollywood, and the damn movies followed me here. But the truth of the matter is, I loved New Orleans even as a child, and being here felt like home, even when I was visiting. I felt I had opportunities here that I wouldn't have had in Los Angeles. After Hurricane Katrina, I made the decision to follow my dream of living in New Orleans because I realized I might never get the chance to do so if I waited too long. It hasn't been easy, but I think it was the best decision I ever made. Sometimes you have to leave home to find it.
'Rose Sinister: Vampires' is quite polished for a new podcast. What was the impetus for creating your own podcast, and what work went into it?
Rose Sinister: Vampires came about because I couldn't find enough upscale, well-researched vampire material online that satisfied my own exacting standards for content and execution. And I realized that there were probably many people interested in a vampire podcast like I was, but very few with the desire to create one, fewer still with the ability to create a good one, even fewer with the time and other resources to do that, and of all those with the desire, ability, time, and money, I was probably the only one already making a current living as a vampire performance artist. Once I had that realization, "if not me, then who?" I realized "if not now, then when?" and I started work on the first draft of the first episode that very hour. No joke. In six weeks I had a website, three episodes, theme music, and artwork. It all came together very fast once I had that "now or never" moment of truth.
"RSV" has also risen quickly in popularity. What about your subject matter and choices do you think is resonating most with people right now?
I think stories are powerful, they serve specific functions, and they ultimately reflect very important messages and themes about the human condition. I found, as a tour guide, that if I could connect people to historical events emotionally, by drawing parallels between events in their own lives and events in history, that they walked away from my tours feeling more connected to people and events in the past. With my podcast, I strive to have that same impact. The vampire mythos is ultimately just a very specific lens through which I connect listeners to the thematic elements of history that still impact their lives today. I think human beings instinctively thirst for this feeling of connectedness as desperately as the vampire thirsts for blood, and so the podcast satisfies that need to feel a part of something. I show my listeners how threads of folklore connect us all. And right now, as much as the podcast is growing, it's still got a very intimate feeling among the community of early supporters. And that furthers that feeling of connectedness we all crave.
You talk about history and culture, race and ethnicity, women's roles, and in one episode you use Marxism as your method of analysis. Why is it important to view monster stories with these eyes?
Our stories are always reflections of us, for better or for worse; I think we create monsters, in a very real sense, in an attempt to absolve ourselves of our own monstrosity - both on an individual and a collective level. Shifting the way that we talk about history, or the individuals we focus on in the context of a historical discussion, challenges us to think more critically about current events. And I am a bleeding heart liberal social justice warrior at my core. I want people to re-examine their narratives about and relationships with marginalized voices—hell, I'm always challenging myself to do the same. Doing all of this through vampire stories is like hiding spinach in a pan of brownies. The healthy stuff is still there, you just don't realize you're eating it because you're enjoying your brownie so much. By the same token, I don't want my podcast to be a one-stop destination for breaking down societal problems. There's still more work to be done, and not all of it is fun, or should be fun. I hope that people walk away from my episodes and do more work on their own, in their own lives and in their own communities. And in the end I hope all of this means people feel empowered to break away from toxic old cliches and tell. better. stories.
How do people learn more about you and the podcast?
RoseSinister.com is the public's portal to me, my bio, the podcast, and my social media links. I'm active on Instagram and Twitter and Facebook and I try to respond to direct messages. I know that, as I grow, I might not always be able to. But right now I'm just so enjoying this process of growing but still having personal connections to many of my listeners. It means a lot. I'm trying to take it all in and just appreciate the journey, you know?
Thank you, Rose Sinister, and best wishes on your podcasting endeavor!
About the Creator
Crysta K. Coburn has been writing award-winning stories her whole life. She is a journalist, fiction writer, blogger, poet, editor, podcast co-host, and one-time rock lyrics writer.
Reader insights
Be the first to share your insights about this piece.
Add your insights