How 'Underworld' Was the Perfect Vampire Movie of Its Time
Vampires always make more sense in retrospect, eh?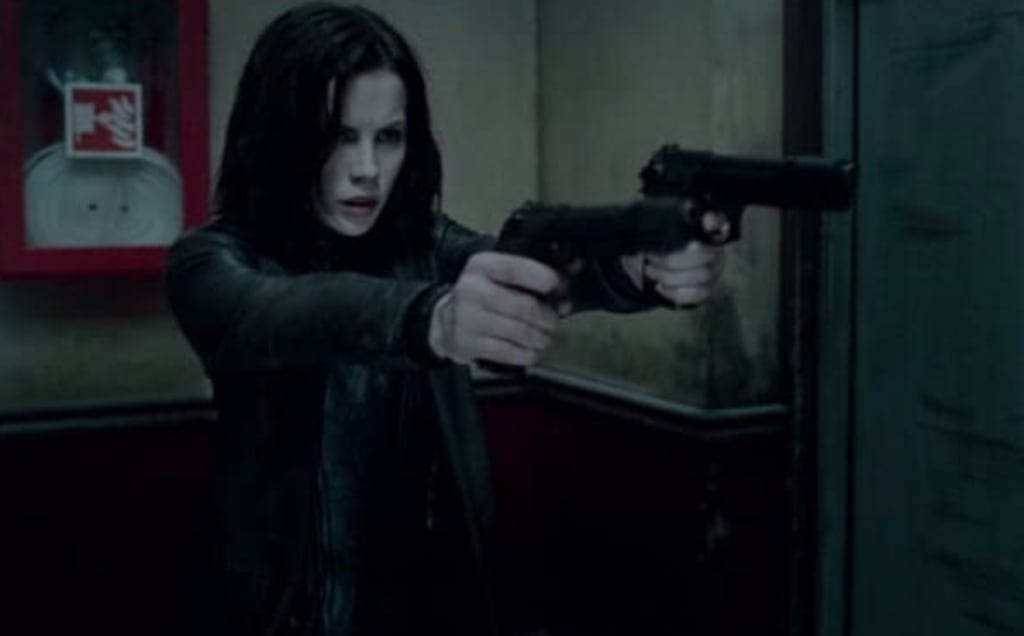 [Credit: Screen Gems]
Even if you're not a fan of horror films, you've probably watched the Underworld movies at some point. This dark vampire franchise starring Kate Beckinsale kickstarted in 2003 and quickly became the it vampire movie that horror fans had been waiting for since Blade, Dracula 2000 and Interview with the Vampire.
It's fun to watch the first Underworld movie because compared to the films that followed, it truly stands on its own. The story was compelling, the vampires were awesome (as vampires should be), and the overall style was something that reflected where society and pop culture was headed.
Looking back, it's easy to see how much things have changed. In the early 2000s, we saw next-level technology become ubiquitous, with this cultural shift instantly adopted by savvy adolescents. What was once "Teen Spirit," flannel shirts and the Rachel became all-black ensembles, heavy eyeliner and even heavier music. With this dark subculture — which has roots stretching back to the 70s — leeching into pop culture on a grander scale, Underworld became the benchmark of sorts, the prime example of Hollywood taking the hint — finally — and delivering a franchise that was culturally relevant.
What made 'Underworld' so culturally pertinent?
For starters, the visual aesthetic of Underworld was something that is generational. In 2003, we saw the rise of teen idols like Amy Lee of Evanescence, Kelly and Jack Osbourne, Avenged Sevenfold and Thirty Seconds to Mars. Not to mention 2003 brought us the revival of MTV's Headbanger's Ball, hosted by Hatebreed's Jamey Jasta.
In short, a darker pop culture was on the rise and teenagers and young adults were eating it up like the proverbial hotcakes. With the early-2000s debut of films like Underworld and Resident Evil, it seemed as if Hollywood might have finally caught on to this generational shift, wanting to capitalize on it.
What we see within Underworld is not only a brutal representation of vampires and werewolves, but also a timely and visual representation consistent with where pop culture was at. Selene represented the goth, dressed all in black with a trench coat and sturdy boots. I remember being super excited to see the movie for the first time because it felt like seeing a character who was into the things I was also into.
Along with the film following the visual aesthetic of the times, the movie studio also hit a home run with the soundtrack. Distributor Roadrunner Records brought in Nine Inch Nails alum Danny Lohner to produce an industrial-rock-influenced musical companion for the movie. The soundtrack featured popular artists of the time including Puscifer, A Perfect Circle, The Dillinger Escape Plan and Skinny Puppy.
How has 'Underworld' held up over the years?
While we're now spoilt for choice when it comes to fantasy-tinged franchises, it might seem easy to discount Underworld, tossing it onto the rubbish heap of time. But in the wake of the release of 2016's Underworld: Blood Wars, I re-watched the original movie and was pleasantly surprised by how impactful it remains and how enjoyable it still is.
I feel like everyone in my late-20s millennial age bracket can easily recall those heady days when Underworld was first released. If you haven't seen the original movie in a while, I suggest going back and giving it another try. You might pick up on a lot more than you did as an angsty teenager and realize why this was the perfect right time, right place vampire movie.
In the years since Underworld, we saw a surge in vampire stories, with many of those films not following the template set forth by this franchise. Movies like Twilight, Cirque du Freak: The Vampire's Assistant and Van Helsing. When looking back at how the Underworld franchise was started, it's a lot easier to appreciate it for not only what it did for vampires, but how it played out culturally.
pop culture
About the author
I love movies, music, sci-fi, and art. I'm a certified graphic designer and create my own art. Things that fuel me include equality, respect, and anything weird.
Reader insights
Be the first to share your insights about this piece.
Add your insights