'Hereditary' - A Movie Review
A Review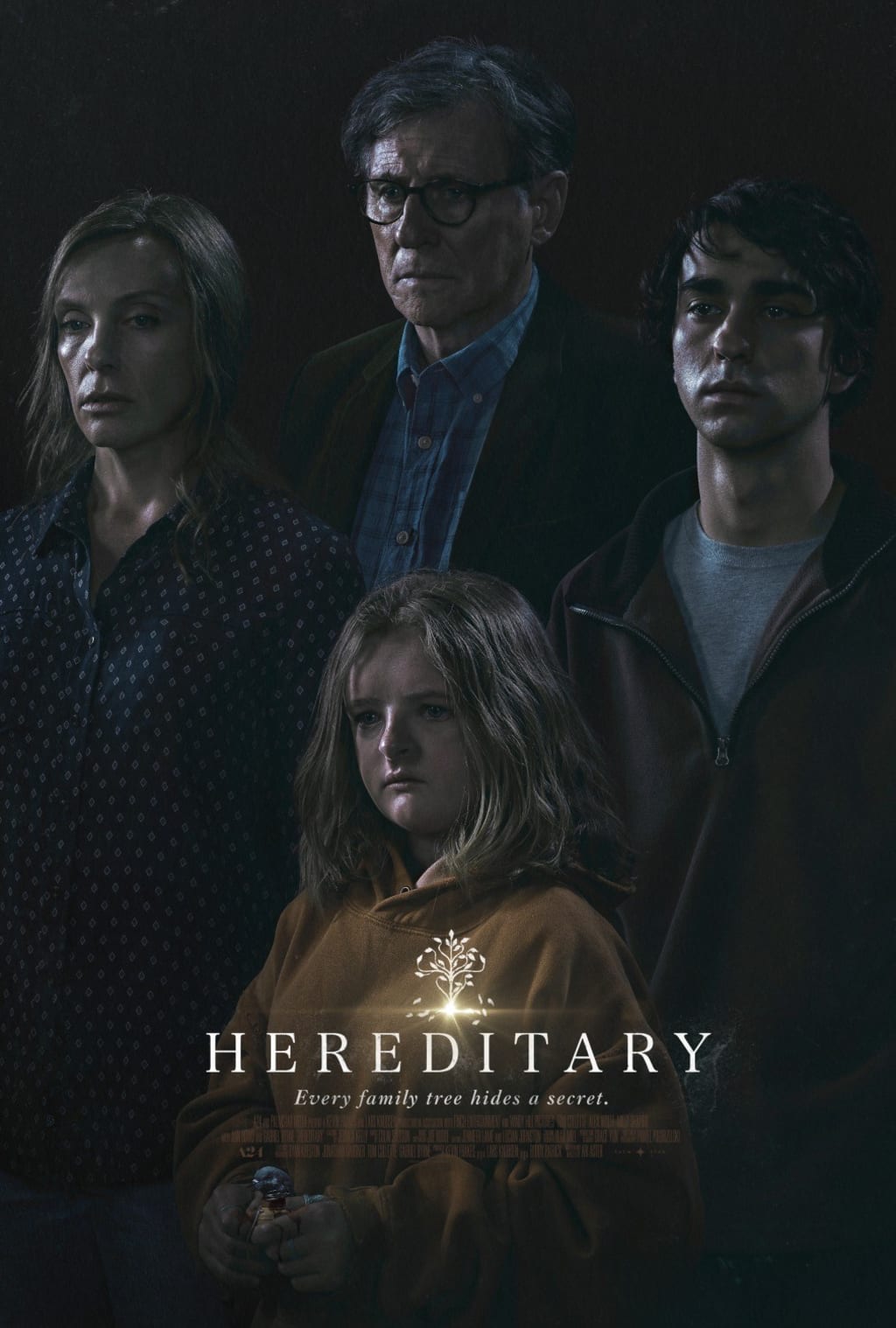 I am still trying to re-adjust my jaw from having it fall to the ground so many times. Trailers. You either love them or hate them. Some give away too much, while others hide twists so well that you swear you walked into the wrong theater.
I had no idea what to expect when I decided to watch Hereditary. I chickened out from seeing it in theatres because it looked too scary. Now, I am regretting that decision! It would have been an awesome film to witness on the big screen, especially with an audience with which to react to all the twists and turns.
Hereditary is Ari Astor's directorial debut. I applaud him for his stunning camera techniques, spine-tingling story, and strong character development. I am really not sure how to describe the film without giving it away. It's like Psycho! A family is trying to recover from the loss of an important family member. Through that difficult time, terrifying secrets and a sinister cult arise.
Hereditary deserves to be watched twice, or more that that because there are so many key elements and clues one will miss. Rewatching it and then researching fun facts, Hereditary is a very different film. And that can be good or bad. Films are meant to do that.
The film would not be what it is without the unforgettable performances by Toni Collette, Gabriel Byrne, Milly Shapiro, and Alex Wolff. No family is perfect. And neither is a loss. It was tough to watch Hereditary at times due to its realistic and overwhelming emotions. We have all dealt with loss differently. Unlike other films, how families may come together, Hereditary is completely different.
Annie (Toni Collette) is the mother of the Graham family who has been through a long history of mental illness through her family. She has had a strained relationship with her mother. After the loss, she is trying to put pieces together but still ends up souring her relationships.
I am honestly surprised that Collette was not recognized for the best actress nominee this year! Her portrayal of Annie is phenomenal and feels so genuine, especially during one particular scene when the family has dinner together.
Gabriel Byrne deserves more recognition for his role as Steve Graham, the calm father who is only trying to look at situations in the most realistic possible way. His performance was really heartwarming, especially the way he cared for his family, but mostly his children. Most of his scenes had to be done through emoting.
I was utterly surprised when I found out that this was Milly Shapiro's first film! You may have seen her on the stage as Matilda on Broadway. Shapiro's role as Charlie is a complete contrast.
Still, her character left me with a few questions regarding Charlie's demeanor and behavior. She's a thirteen-year-old who has a nut allergy and is socially awkward. Immediately you can tell that there is something not right about Charlie. Another aspect Hereditary does well on is subtly. See, don't tell. Don't even explain! Hereditary is the best film to discuss!
As for Alex Wolff as Peter, the eldest of the Graham children, he does a phenomenal job, emoting and saying so much through his eyes. There has been quite a lot of feedback from Wolff claiming that Hereditary was a very difficult movie for him to film. I don't blame him. Wolff's performance came down to his unforgettable facial expressions which carry the film.
The horror of Hereditary is all about emotional scares. We all respond to horror in different ways. Nowadays, horror movies are all about jump scares and not much else. Hereditary has a story. Although a very different story.
There is a subplot about a cursed ritual/cult which then becomes the center of the film. I am still trying to figure out if it worked, or was completely whacky. Then again, maybe it didn't happen. There are theories stating that maybe the last half of the film was all in one of the Grahams' minds. Annie did mention a history of mental illness.
Although the ending of the film left me skeptical, I am not disappointed. Hereditary is its own masterpiece.
I am REALLY surprised that Hereditary was not even nominated for its spell bounding soundtrack, or acting, or even the beautiful cinematography! Or even director! Ari Astor, you did an exemplary job!
Hereditary is not recommended for all audience. Though it is a film you have to see. It had me on the edge of my seat the whole time. I am still regretting not seeing it in the theatre! When you do see it be prepared to lift your jaw up off the floor.
movie review

Marielle Sabbag
Writing has been my passion. I love creating stories from fiction, poetry, fanfiction, and I even enjoy writing reviews about movies and plays. I would love to become a freelance writer and leave the world inspiring minds.
See all posts by Marielle Sabbag →