Goriest Movies on Netflix You Can Watch Right Now
Grab the popcorn and a blanket—here are the goriest movies on Netflix right now.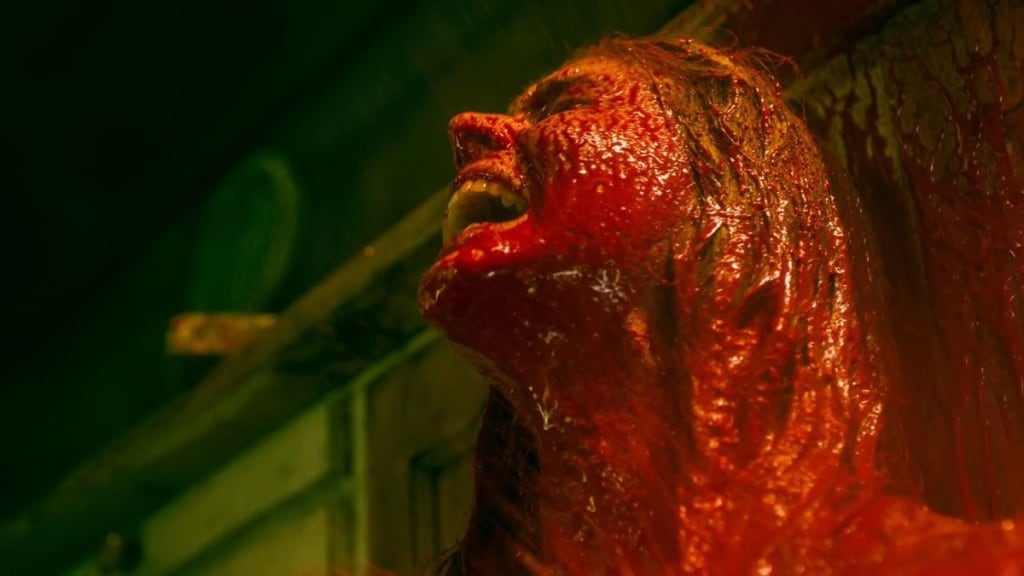 The blanket genre of "horror movies" can be broken down into subgenres in many different ways: the horror comedy, like Cabin in the Woods;the psychological thriller, like Hush or Gerald's Game;or the classic slasher flick like Texas Chainsaw Massacre. Across all these standard subgenres, there's a particular kind of film: the gorefest. Whether you watch on the edge of your seat, or hiding behind a blanket, there's a particular thrill to sitting back and enjoying a blood-filled, violent, horror movie. To that end, here are some of the goriest movies on Netflix right now.
Squirmy alien lifeforms bursting out of the chests of human beings became an instant classic with Alien; and while Dreamcatcher doesn't take place on a space shuttle (nor star Sigourney Weaver), it will appeal to fans of the same kind of slight-icky, Sci-Fi horror movie, though decidedly a bit higher on the "ick" and arguably lower on the suspense. However, it does additionally feature some seriously heartwarming friendships and an added dash of telekinesis to keep things lively and interesting. For the science fiction horror genre, it's certainly one of the goriest movies on Netflix.
Gerald's Gameis a deeply disturbing psychological horror film, but its the truly spine-chilling ending that lands it among the goriest movies on Netflix. Hush director, Mike Flanagan, takes on Stephen King's original story to craft a horror movie that will leave its imprint—visually and conceptually—on your brain for years to come. Without giving anything away, the movie follows a young couple who travel to a secluded beach house in an attempt to rekindle their struggling relationship. When the husband dies with his wife, Jessie, handcuffed to the bed, she faces hours alone with her thoughts, dreams, and hallucinations to run rampant. Already one of the most psychologically disturbing movies out there, it's towards the end of the film that true, gore-loving horror movie fans will get their fix, as an increasingly desperate Jessie struggles to find a way to escape her bonds.
Serial killers? Evil children? Evil dolls? There's nothing about The Devil's Dolls that horror movie fans won't love. Since the premise (evil worry dolls that possess their owners) allows for a wide range of murderers, you also get a wide range of murder methods, so it never gets boring. Something of an "everything but the kitchen sink" approach to horror movies, the 2016 horror film does take on a lot of tropes of the genre, but it makes for a delightfully disturbing movie about a possessed child, an ancient curse, a creepy old women, and, of course, a whole lot of slaughter.
If there's one thing that The Devil's Dolls forgot to include, it's evil clowns. Clown, obviously, will supplement this hole in your horror-movie viewing experience. Scene after scene qualify this film as easily one of the goriest movies on Netflix, and in fact one of the goriest on any streaming service. First of all, the whole premise is a cursed clown suit/demon that eats children. Definite ick-factor. But you'll also get to watch a man's jaw get ripped off of his face, a hefty dose of the blood of innocents, and one of the scariest demon clowns to ever come out of the horror genre. Honestly, Pennywise has nothing on this guy, answering the prevailing question, "Why are we scared of clowns?"
The Babysitter is a horror comedy classic, making use of not only some of the best horror movie tropes, but also pulling from other genres in a directorial shift from the director of Charlie's Angels and other slightly campy classics. It has a Home Alone-esque spirit to it, with a Carrie-esque level of bloodshed. The familiar concept of a 12-year-old boy taking defensive measures against evil (here: Satanic) adults (or teenagers) has all the trappings of a light-hearted comedy, and the mood delivers. The extreme gore and bloodshed on the other hand, along with some delightfully quaint and self-aware horror tropes, make for a decidedly icky watch in the vein of Cabin in the Woods or the Scary Movie series.
The V/H/S series is the perfect design for ultimate gore and horror. It makes use of a frame narrative to portray a number of different found-footage short movies, allowing for a timeless horror anthology classic from many new directors. The frame narrative itself counts as one of the goriest movies on this list, but its inner, found-footage movies amp up the stakes. The range allowed by this method of narration not only means you get a satisfying diversity of plot and subgenre, but also both new and familiar styles of direction and production, including a short from the director of The Blair Witch Project, Gregg Hale.
Unfortunately, The Texas Chainsaw Massacre series isn't available in its entirety for streaming on Netflix. However, you can watch the 2006 installment, The Beginning, which gives us the origin of one of history's goriest horror films. As such, it's certainly one of the goriest movies on Netflix today. It goes way back to 1939 (briefly), and takes place during 1969, offering the earliest glimpse of Leatherface yet. Though not all of the sequels and prequels in this illustrious series can claim the same cinematic heights of the original Texas Chainsaw Massacre, The Beginning certainly holds its own as a bloody, gory bloodfest worth at least one watch.
A home invasion meets secluded cabin horror drama unfolds in Hush, a film about a deaf writer, alone on a secluded retreat, who finds herself under attack from a masked murderer. Though probably not the goriest movie on this list, it is easily one of the best horror movies streaming on Netflix right now, with its silent premise (a deaf-mute protagonist) adding a layer of directorial difficulty and viewer uneasiness to the film. With a masked serial killer reminiscent of classic 80s slasher films, it takes a new perspective on the genre and adds a tone of seriousness through its portrayal with limited dialogue.
Both the original 2002 Cabin Fever—the directorial debut of Eli Roth—and the 2016 remake are available for streaming on Netflix. While a deadly virus might not sound like the perfect premise for a gore-fest (in the way that brain-eating zombies are, for example), this particular strain of flesh-eating virus makes for some seriously gruesome viewing, and the adoption of the "cabin in the woods" horror trope, among others, places this film amongst the best self-aware horror comedy movies around. Five friends, a secluded cabin, imminent death, and a whole lot of blood: You just can't go wrong.
Master of horror, Stephen King, has brought us many of the most disturbing tales of recent pop culture, Children of the Corn included. While "evil children" is common enough in the horror genre, Children of the Corn is somehow all the more disturbing for its portrayal of these children as children—not just as possessed bodies. In fact, this film sparked a major cult following, and has informed some of the most beloved tropes and staples of the horror genre since the 80s. While the film departs from King's original written work, the movie does not suffer at all from it, and is definitely one of the goriest movies on Netflix.
About the Creator
Lover of Books, Saxophone, Blogs, and Dogs. Not necessarily in that order. Book blogger at heartofinkandpaper.com.
Reader insights
Be the first to share your insights about this piece.
Add your insights