Ghoul School: A Spooky Pop-Up Book
This probably explains why I am the way I am.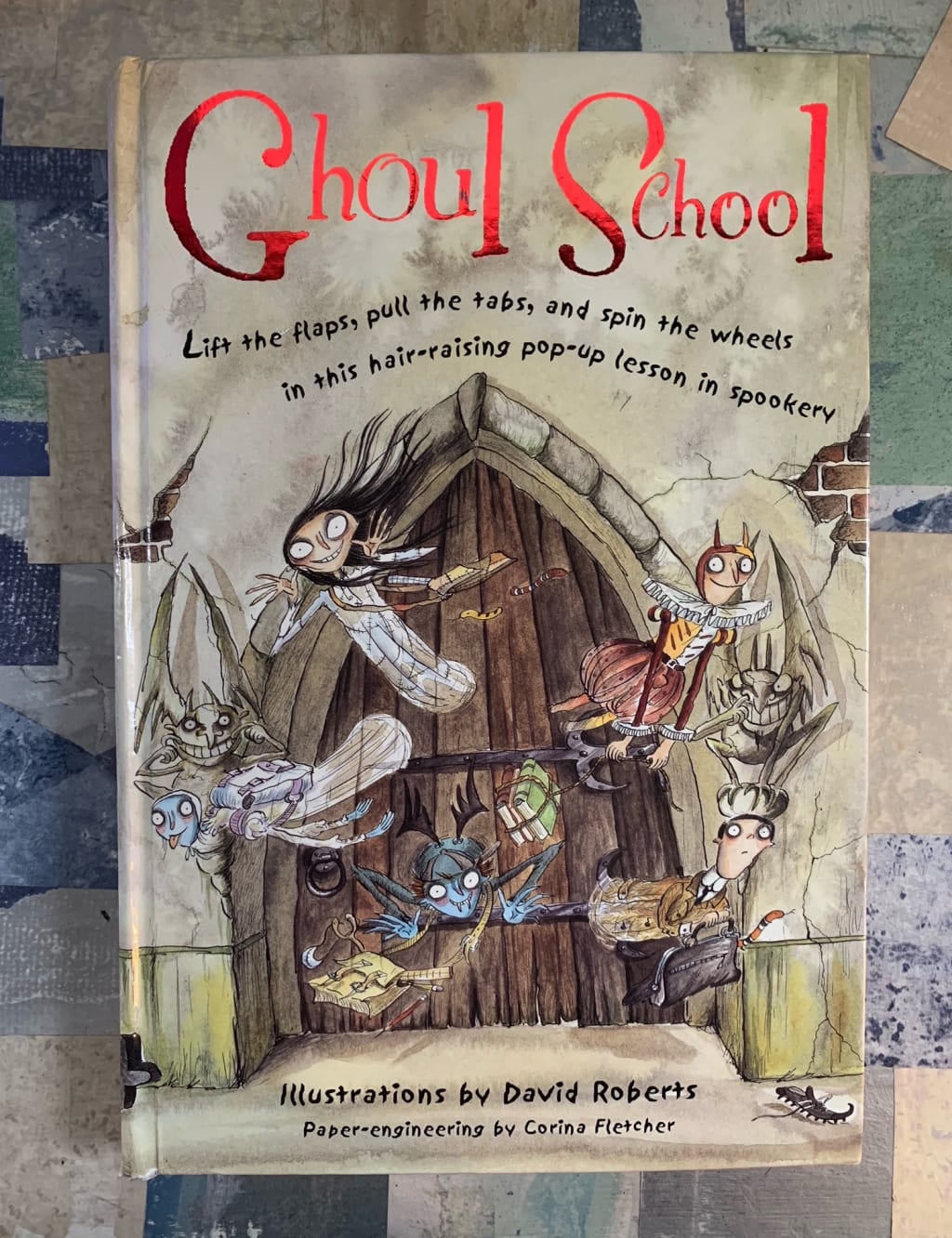 Cover of Ghoul School by David Roberts and Corina Fletcher.
I started collecting spooky pop-up books when I was in fifth grade. My aunt would take me to The Book Loft in Columbus, Ohio and I would run through the maze of 32 rooms, knowing exactly where to go — the fireplace in the children's section.
Turn right; go up the stairs; go straight until you reach the nook with the giant Eiffel Tower poster; turn right; go down the stairs; turn left; pass the comic book room, the bathrooms, some shelves, and there — there it was.
The mantel above the unlit brick arch was lined with pop-up books. Some were open and some were encased in plastic, which frustratingly kept them from my immediate consumption.
And there, one day, I found Ghoul School, illustrated by David Roberts and Corina Fletcher. It was one of the books covered in plastic, but I knew from the front and back cover that I had to have it. I clutched it to my chest as I walked through the store and waited for my aunt to finish browsing.
I ran down the cobblestone pathway, through the tall cast-iron gate, and to the car parked along the curb. I hopped into the car and ripped off the plastic to see what was inside.
What I found was an array of fun and spooky illustrations, tabs to pull, and tiny things to pick up and examine. The first page unfolded onto a castle surrounded by a graveyard. A ghost's mom cried as she waved goodbye from a gothic carriage. A loose vampire asked me to unfold his wings, throw him in the air, and watch as he spun back down to me. The intimidating headmistress popped out of the front door to greet her new students.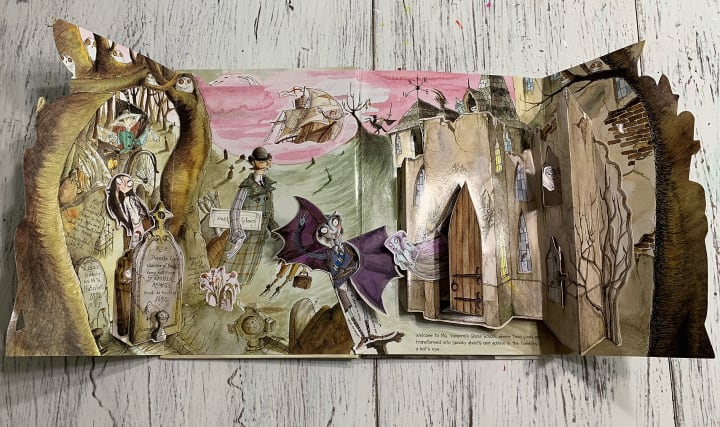 The book goes on to show the classroom shenanigans with the teacher's removable head, the snakes littering Zombia's desk, and ghost haunting the cubbies.
Then there's the lunchroom, where the ghouls are eating bowls full of green soup with worms and eyeballs floating in it. All seem to enjoy the stew except poor Cecil who appears to be the "good guy" and doesn't approve of the others learning to be scary. He's eating a peanut butter and jelly sandwich, a cupcake topped with a cherry and pink frosting, and a rotting banana.
A removable recipe book on the side gives instructions for creating three "classic school lunches:" Smelly Feet Stew, Gristle Delight, and Earwig Tart.
Now, it's recess time. This page claims that "excessive exercise is important to run down one's health." The students are playing soccer on a dilapidated field and using an unusual ball — their classmate Percy's head.
The trees had eyes in Ghoul School and kept score as they watched the grotesque game. Happy skeletons crawled out to spectate from their graves.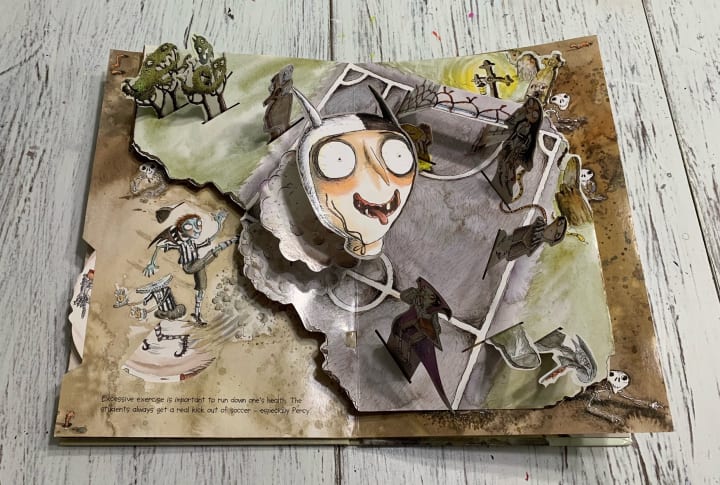 I read and played with this book for years after purchasing it. You can tell it's well-loved by the misfolded bat that refuses to let me close a cubby door, the Headmistress's body torn from the open front door, and the creased and crumpled report card pulled from the last page too many times. I opened this book whenever I could — before school, after school, and yes, even before bed. This was my favorite funny, spooky, gory, and disgusting bedtime story.
Not only did pop-up books and this one, my favorite, give me an appreciation for art and innovation, but they sparked my love of reading. My kids are also into cute monsters and mildly spooky things, so I am so excited to share my scary pop-ups with them. I hope they have the same wonderful experience I have when opening them to this day.
book reviews
I have a degree in Creative Writing but have not written for anything other than my marketing job in years. Vocal has inspired me to start creating again! I live with my husband and two pit bulls, as well as my hilarious step kids.