Final Girls To Femme Fatales: Where Are Hollywood's Scream Queens Now?!
Where would Hollywood be without horror's howling heroines? Here is what the real Scream Queens are up to now!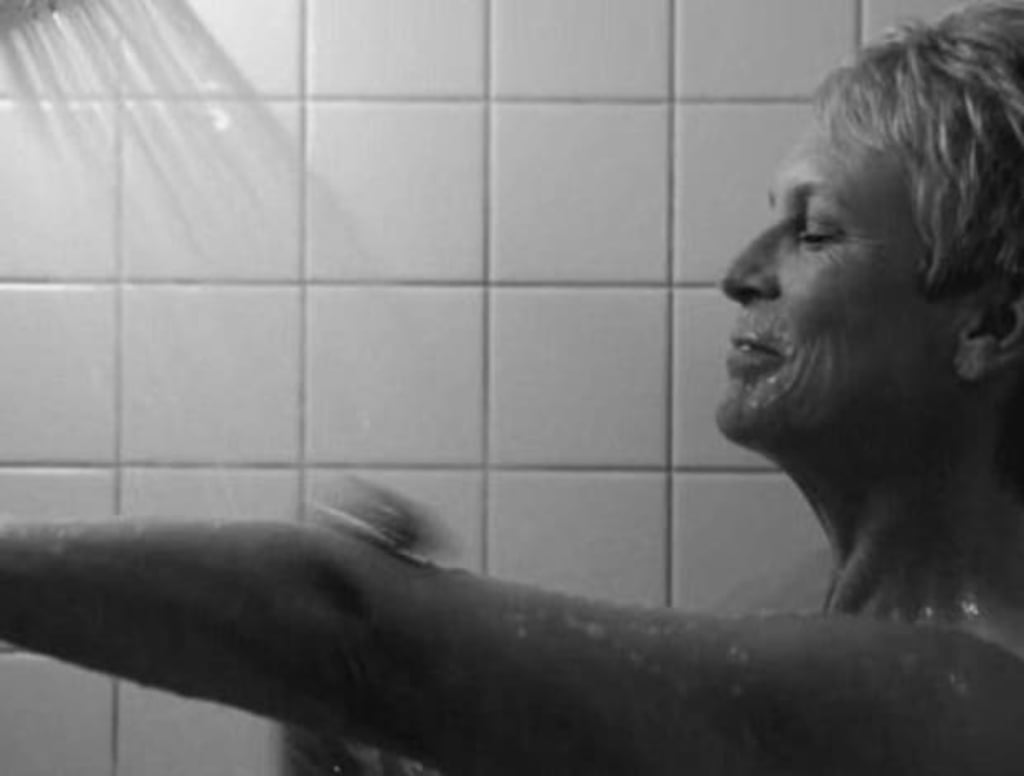 Listen up idiot hookers, Scream Queens is back! Ryan Murphy's horror anthology returns for its second season, swapping out the setting of college campus in favor of hospital halls. With an impressive cast, including Emma Roberts, Lea Michele, and Abigail Breslin, there is undoubtedly only one queen of Scream Queens. Screen legend Jamie Lee Curtis reigns supreme as the psychotic Cathy Munsch. As the Halloween franchise's leading lady, Curtis became one of cinema's feistiest final girls. Whether they make it to the inevitable sequel, or get Barrymore'd in the first act, where would Hollywood be without horror's howling heroines? Here is what the real Scream Queens are up to now!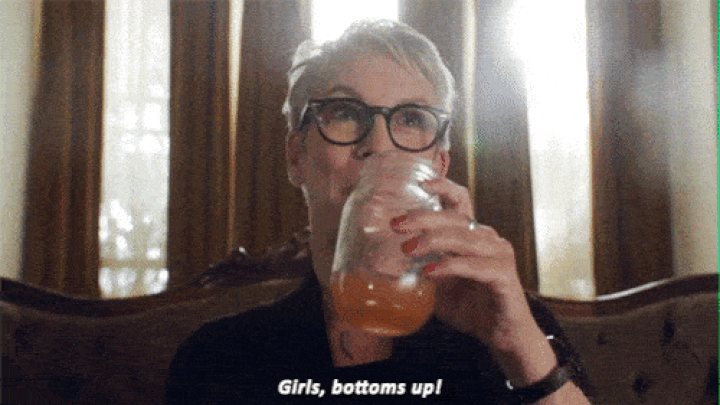 Heather Langenkamp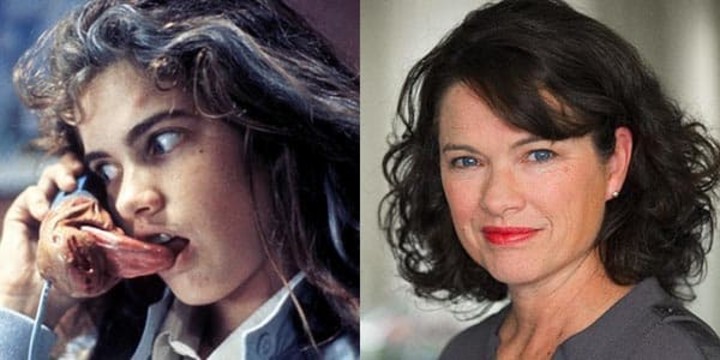 Born: July 17, 1964 (age 52)
Scream on Screen: The Nightmare on Elm Street series (1984-1994)
Then: Poor little Nancy Thompson, haunted by Freddy Kruger across three of the Elm Street films. In a bold move, the third entry killed off its final girl, and Nancy met a grisly demise at the hands of Freddy's glove. Paving the way for a new generation of girls for the franchise, Nancy remained dead for the rest of the series. After the franchise took a brief break after the sixth Nightmare on Elm Street movie, Langenkamp was back (as herself) for 1994's much-improved Wes Craven's New Nightmare. The character of Nancy appears in the maligned 2010 remake - this time named Holbrook, and portrayed by Rooney Mara.
Now: Outside of Freddy's nightmares, Langenkamp has had minor roles in Star Trek into Darkness and played 'tupperware housewife' in American Horror Story: Freak Show. For a while it was rumored that Langenkamp herself would revealed as the Red Devil Killer from Scream Queens Season 1 - however, this never came to pass!
Lin Shaye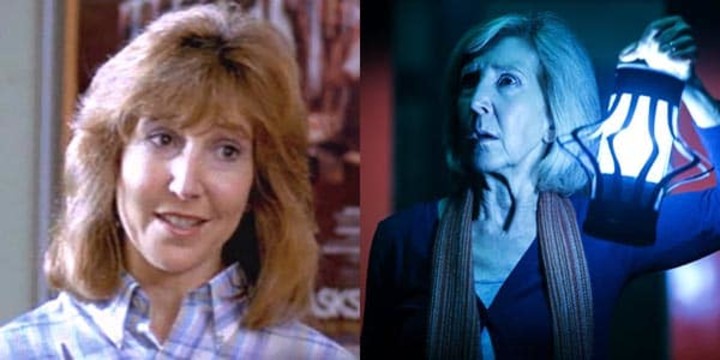 Born: October 12, 1943 (age 72)
Scream on Screen: A Nightmare on Elm Street (1984), Dead End (2003), 2001 Maniacs (2005), the Insidious franchise (ongoing)
Then: Also of A Nightmare on Elm Street fame, Shaye's first taste of horror came about thanks to her brother Robert Shaye, founder of New Line Cinema. Shaye starred as Nancy's teacher in the original, after Robert reportedly said "Put my sister in your movie." Shaye also did a Langenkamp, and turned up in Wes Craven's New Nightmare, this time as a nurse. She tapped in to the '90s trend of gross-out comedies in Dumb & Dumber and There's Something About Mary, then returned to horror in 2003's Dead End. Having clearly found her niche in horror, Dead End earned Shaye a nomination for the 'Fangoria Chainsaw Award for Best Supporting Actress.' After this, she had parts in 2001 Maniacs and its sequel as Granny Boone, before joining Samuel L. Jackson for Snakes on a Plane.
Now: A veteran of horror, Shaye is these days known for her role as medium Elsie in the Insidious films. After minor parts in the first two films, Elsie was a star (and saving grace) of Insidious: Chapter 3. Sticking to blood 'n' guts, Shaye will appear in the upcoming Ouija: Origin of Evil, as well as currently filming her part for the fourth Insidious chapter.
Christina Ricci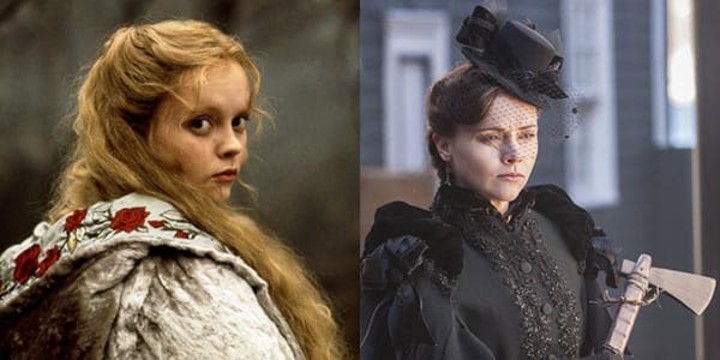 Born: February 12, 1980 (age 36)
Scream on Screen: The Addams Family (1991), Casper (1995), Sleepy Hollow (1999)
Then: Quite the 'goth girl', Ricci's pale skin and perfected scowl made her the only choice to portray Wednesday Addams in the 1991 live-action adaptation, based on Charles Addams' kooky cartoon family. Ricci became a teen icon, and once again went beyond the grave to play Kat Harvey in Casper. As Ricci grew up, so did her roles - she took on the part of Katrina Van Tassel for Tim Burton's glossy take on the Sleepy Hollow legend, as well as playing Selby Wall (based on Tyria Moore), the girlfriend of Charlize Theron's Aileen Wuornos, in the critically acclaimed Monster in 2003.
Now: Sporadic film appearances have been interspersed with television roles for Ricci - she was in the short-lived Pan Am, and had the mandatory Grey's Anatomy role! Back in the bloodbath, Ricci starred as acquitted axe murder Lizzie Borden in Lifetime's biopic Lizzie Borden Took an Ax. Clearly content in the role, Ricci returned to play Borden for last year's The Lizzie Borden Chronicles, which continued the events of the first show.
Jennifer Aniston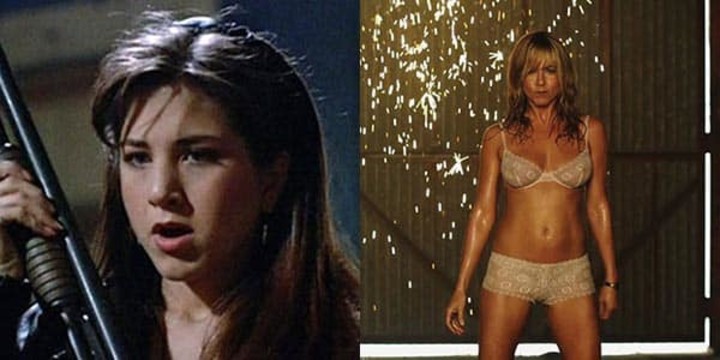 Born: February 11, 1969 (age 47)
Scream on Screen: Leprechaun (1993)
Then: She may not be your typical Scream Queen, but let's not forget Jen's humble beginnings. Jennifer Aniston may not look too kindly on her role as Tory Redding in Mark Jones' '90s corn-fest Leprechaun, but without Tory, would we have had the iconic Rachel Green from Friends? Leprechaun was Aniston's one and only foray into horror, and we think it is highly unlikely she will ever return to the genre!
Now: Thanks to the likes of Along Came Polly, Bruce Almighty, and Rumor Has It, Aniston has become something of a romantic comedy queen. Managing to ditch (some) of her persona, Aniston these days has moved from rom to com - making our sides split in the likes of Horrible Bosses and its sequel, and heading up We're the Millers alongside Jason Sudeikis. Being on a longer break than Ross and Rachel, Aniston still maintains that a Friends reunion will never happen...we aren't so convinced.
Neve Campbell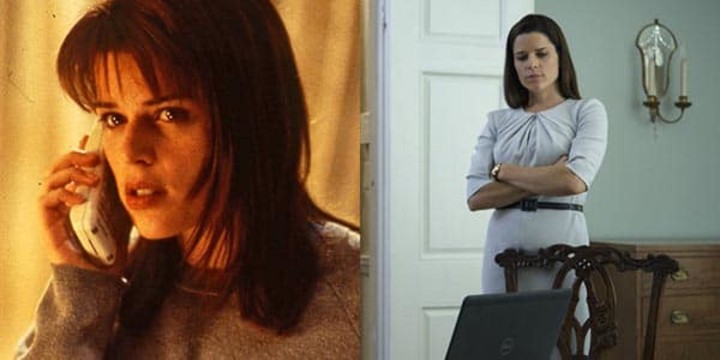 Born: October 3, 1973 (age 42)
Scream on Screen: Scream franchise (1996-2011)
Then: Part of the young Are You Afraid of the Dark? crew, it was clear that Neve was destined for Hollywood horrors. Some may know the ebony-haired beauty as Bonnie from teen-witchcraft angst film The Craft. However, later that year Campbell cemented herself as final girl whilst playing the tormented Sidney Prescott from Wes Craven's Scream. Prescott embodied everything your final girl needs - she was smart, she was sensitive...she was a survivor. If having your boyfriend hack your friends to pieces in Scream wasn't enough, Sid came back three more times to tackle Ghostface.
Now: Swapping the silver screen for Netflix and chill, Campbell is more used to gritty dramas - she appeared in Grey's Anatomy, Mad Men, and most recently the fourth season of House of Cards. In the corrupt political drama, she stole the show as campaign manager to Frank Underwood's bitter wife Claire.
Linda Blair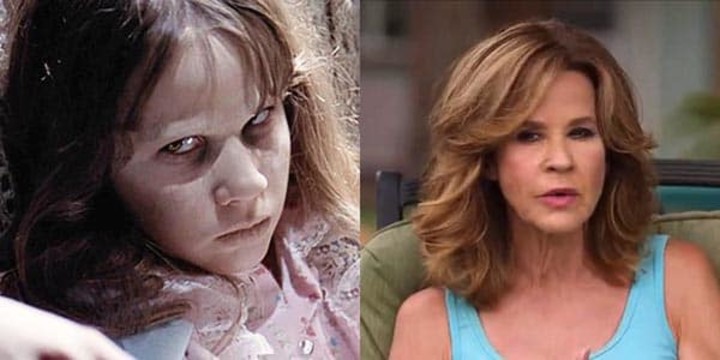 Born: January 22, 1959 (age 57)
Scream on Screen: The Exorcist (1973)
Then: Selected from over 600 little girls, Linda Blair was the lucky/unlucky actress to don the blue nightie as possessed Regan in The Exorcist. Blair earned a Golden Globe, People's Choice award, and an Oscar nomination, then reprised her role for Exorcist II: The Heretic. Despite a Saturn Award nomination for Best Actress of 1978, Heretic is dubbed on of the worst films of all time. If this wasn't bad enough, in 1986 Blair swept the board, winning three Golden Raspberry awards for Worst Actress.
Now: Seemingly happy to ride on the wave of her horror fame, Blair is candid about her horror past, and is more than open to a cameo. In one of Wes Craven's many Easter eggs, you can spot Blair as 'obnoxious reporter' in the first Scream film. A one episode stint in Supernatural in 2006, as well as hosting Scariest Places on Earth means that unlike Ms. Aniston, Blair isn't one to forget her horror home. She appeared as herself in an episode of RuPaul's Drag Race, ironically named "Scream Queens."
Jamie Lee Curtis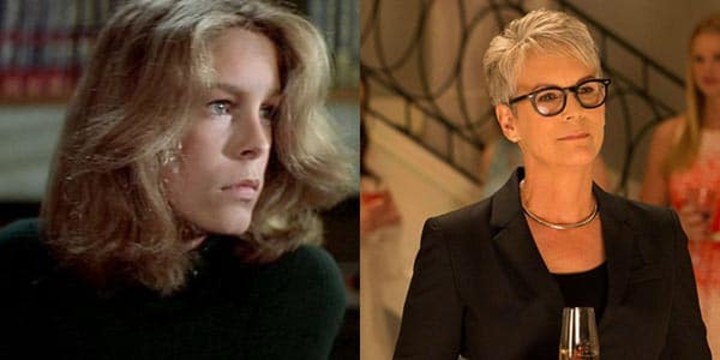 Born: November 22, 1958 (age 57)
Scream on Screen: The Halloween series (1978-2002) Scream Queens (ongoing)
Then: No list of Scream Queens would be complete without Jamie Lee Curtis, especially when she is front and centre of the FX series of the same name. Few actors owe so much to their first role - as Laurie Strode in John Carpenter's Halloween in 1978, Jamie Lee Curtis became synonymous with the term 'final girl'. Despite only being credited as playing the titular Laurie Strode in four of the franchise's 10 films, Jamie Lee Curtis was an uncredited telephone operator in the third Halloween film. However, it isn't just thanks to Halloween that Jamie is the ultimate Scream Queen - roles in The Fog, Prom Night, and Terror Train make her one of the most rounded members of the list.
Now: As long as you ignore 2002's Halloween: Resurrection, Jamie Lee Curtis/Laurie Strode is a true icon of horror, but just when you thought she couldn't get any better...wow, Cathy Munsch was born. Last year Lee Curtis dominated Ryan Murphy's murder-mystery as the sadistic college Dean. Escaping the Red Devil Killer, Munsch is back for the show's second season, this time taking up residence as a hospital administrator.
Tara Reid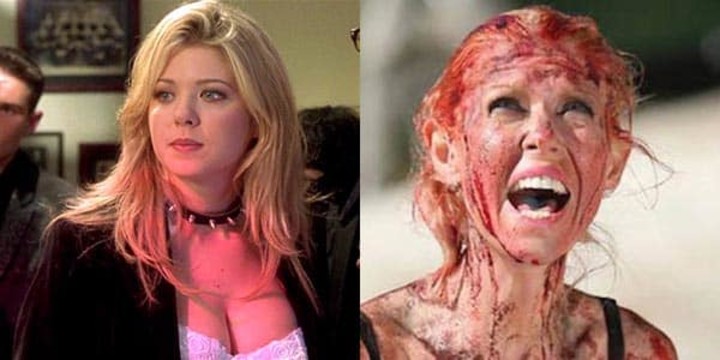 Born: November 8, 1975 (age 40)
Scream on Screen: Urban Legend (1998), Sharknado series (ongoing)
Then: Another girl with a start in horror, Tara Reid's first part was as Amanda in A Return to Salem's Lot, the sequel to the 1979 mini-series. She had a break-out role in 1998's The Big Lebowski, but also had a foray into horror the same year - a rather buxom Reid met a grisly demise in Urban Legend, which coincidently mirrored Scream 2's radio room chase. Reid had a brief rom-com foray as the virginal Vickie in American Pie and its sequel - choosing not to return for the third film, it wasn't until 2012's reboot of the franchise that Vickie was back to her virginal ways.
Now: We are more used to seeing Reid on our television screens nowadays - she had her own E! reality show called Taradise, and appeared as a contestant on Season 8 of Celebrity Big Brother U.K. However, Reid's biggest televisual coup has to be the trashy-yet-sassy Sharknado films. This year's Sharknado: The 4th Awakens held a social media campaign to see if Reid's character April should survive the cliffhanger ending of Sharknado 3: Oh Hell No!. Sharknado has somewhat boosted the actresses's career, leading to a swimwear range and even a perfume...'Shark by Tara.'
Rose McGowan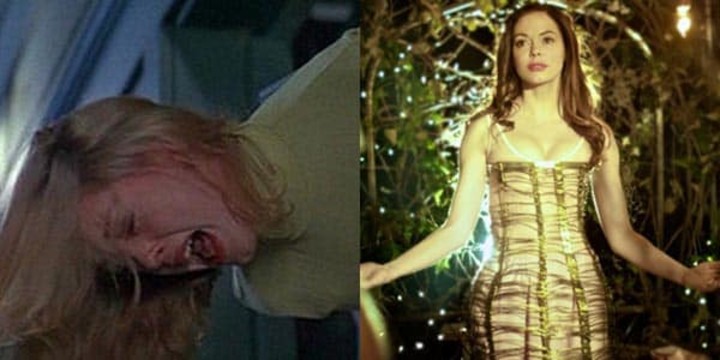 Born: September 5, 1973 (age 43)
Scream on Screen: Scream (1996), Charmed (2001-2006), Planet Terror (2007)
Then: That iconic lime-green jumper and that support bra! 1996's uber-meta Scream is one role that Rose McGowan will never be able to forget- her character of Tatum even joked "I wanna be in the sequel", but alas, it was a one-time role for Rose. Tatum has the honour of 'Most famous Scream kill ' (aside of Drew Barrymore's phonecall prelude). After attempting to escape through a cat-flap, Tatum meets her maker thanks to a garage door incident. Like Scream co-star Neve Campbell, McGowan was drawn to witchcraft - from Season 4 onwards, she played long-lost half sister Paige on WB's Charmed.
Now: Stealing the show as a one-legged go-go dancer named Cherry Darling, McGowan was the shining star of Grindhouse feature Planet Terror. In a different role, she was due to return for spin-off feature Machete, but McGowan's filmed role was cut by director Robert Rodriquez. In 2015 the actress sparked controversy when posting notes for a casting from an Adam Sandler film. The casting called for "Black (or dark) form-fitting tank that shows off cleavage (push-up bras encouraged). And formfitting leggings or jeans." McGowan rightly called out sexism in Hollywood, but the outburst lead to rumors of her agent firing her, which she denied.
Shawnee Smith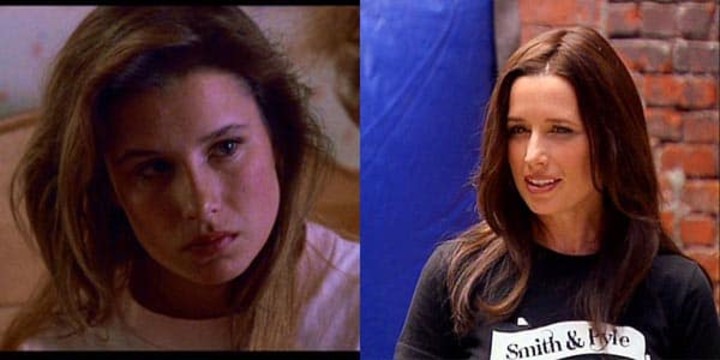 Born: July 3, 1969 (age 47)
Scream on Screen: The Blob (1988), Saw series (2004-2010)
Then: Shawnee Smith dominated the 1988 remake of Steve McQueen classic The Blob as final girl Meg Penny, before turning her attention to other horrors. A bit of a Stephen King-ophile, Smith appeared in both the miniseries of The Stand and The Shining. It is as Jigsaw protégé Amanda Young that Smith was brought into the torture genre in Saw. The DVD commentary from Saw II revealed that Smith was four months pregnant during filming, but carried on regardless. Outside of the series, Smith even hosted VH1's reality series Scream Queens, which searched for a girl to cameo in the sixth Saw film - the show was won by Tanedra Howard who appeared in Saw VI's 'trap scene'.
Now: Scheduling conflicts meant that Shawnee Smith didn't return for the second season of Scream Queens, but she's never far from horror. She appeared in horrors like Repo! The Genetic Opera, and the direct-to-DVD The Grudge 3, as well as archive footage and sporadic appearances in the rest of the Saw films. Smith was also part of country music group Smith & Pyle with Missi Pyle, but the two parted ways in 2011. There is no news on whether Smith will return for the upcoming Saw VIII, but we hope to see her strapping on the reverse bear trap soon!
Sarah Michelle Gellar
Born: April 14, 1977 (age 39)
Scream on Screen: Buffy the Vampire Slayer (1997-2003), I Know What You Did Last Summer (1997), Scream 2 (1997)
Then: As the no-nonsense Buffy Summers, Gellar dominated our television screens across the late '90s & early noughties. Whilst the show continued beyond its seven seasons in books and comics, fans are clamouring for a full return of the show to our screens. Buffy is hailed as one of Joss Whedon's greatest creations and frequently tops lists, alongside Firefly, of shows that his fans want to return more. Outside the Buffyverse, Gellar starred alongside her hubby Freddy Prinz Jr. in I Know What You Did Last Summer, as well as 2002's live-action Scooby-Doo and sequel. Gellar had a small part in Scream 2, before moving over to the Grudge franchise as lead character Karen Davis.
Now: Taking a two-year hiatus after the birth of her daughter in 2009, Gellar was never really able to shake the fame of Buffy. Her single-season show Ringer was met with mixed reviews. In 2015 she joined the second season of animated Star Wars Rebels, and in a much-needed dose of nostalgia, Gellar will reprise her role as the venomous Kathryn Merteuil for NBC's Cruel Intentions series.
Chloë Grace Moretz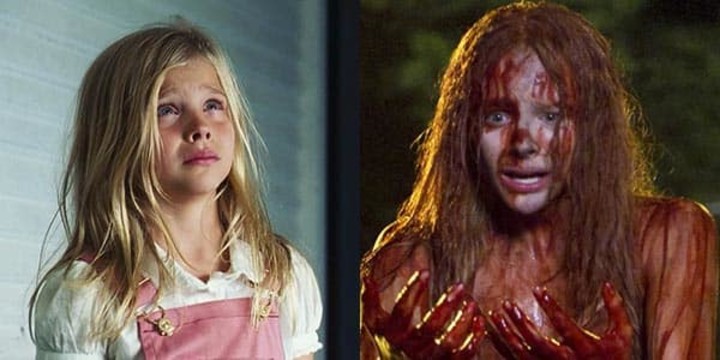 Born: February 10, 1997 (age 19)
Scream on Screen: The Amityville Horror (2005), Let Me In (2010), Carrie (2013)
Then: Starting just aged seven, Moretz quickly garnered attention for her part in the 2005 remake of The Amityville Horror, and earned a Young Artist Award nomination. Moretz entered the superhero genre thanks to 2010's Kick-Ass, and reprised her role as Hit Girl for the 2013 sequel. Nicknamed "the busiest actor in Hollywood", Moretz really doesn't stop - she played 12-year-old vampire Abby in the remake of Sweden's critically-acclaimed Let the Right One In. Whilst the film couldn't match up the original, it still stood on its own and maintains a Rotten Tomatoes score of 88%.
Now: Something of a Hollywood golden girl, everything has gone a bit crazy for Moretz recently. The 19-year-old has cleared her slate and dropped out of all her upcoming films...meaning no Little Mermaid. Moretz told The Hollywood Reporter:
I pulled the plug on all my movies because I want to reassess who I am and find myself within my roles again. I'm realizing that I can slow down.
Moretz promises that the break is only temporary, and that she wants to become more"picky" about her roles. We are sure she will be back in the saddle sometime soon!
Kate Beckinsale
Born: July 26, 1973 (age 43)
Scream on Screen: The Underworld series (ongoing), Van Helsing (2004)
Then: After performing in period films and the standard romantic comedies, Beckinsale said it was refreshing to take on the action genre. As vampire Selene in three of the four Underworld films, Beckinsale was the series's main protagonist. Sticking with the theme of vampires, Beckinsale played heroine Anna Valerious alongside Hugh Jackman in Van Helsing. The film was intended to become a series, but considered a commercial failure, Van Helsing still lies dormant. Aside from Underworld, Bekinsale had parts in Total Recall, as well as 2014's direct-to-VOD Stonehearst Asylum.
Now: 2016 is a busy year for Beckinsale - as well as performances in Love & Friendship, and the Wentworth Miller-penned The Disappointments Room, Selene will rise from the grave. Beckinsale returns for a reboot of the Underworld franchise. Underworld: Blood Wars once again pits Selene against vampires and lycans. She has also reportedly signed on for a sixth film.
Sigourney Weaver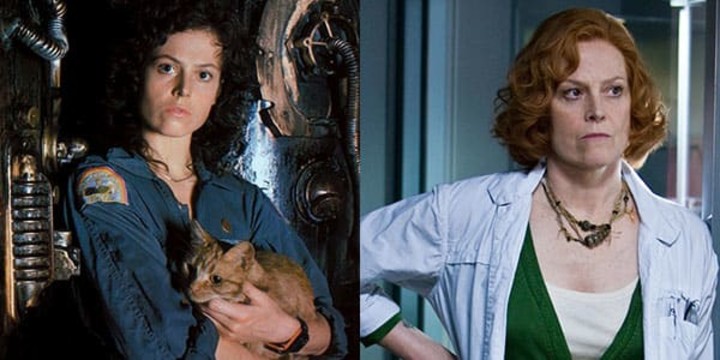 Born: October 8, 1949 (age 66)
Scream on Screen: Alien series (ongoing) Ghostbusters (1984), Ghostbusters II (1989)
Then: After a minor part in 1977's Annie Hall, Weaver shot to horror stardom as Lieutenant Ellen Ripley in Ridley Scott's Alien. Becoming the unlikely final girl, Ripley came back for the three following sequels. As part of pop culture, Ripley takes the role of movie heroine one step further than most. Film critic John Scalzi told AMC:
She's not a sidekick, arm candy, or a damsel to be rescued...As each film progresses, she comes to the fore and faces challenges head-on — she's the hero of the piece, in other words [...] Ripley isn't a fantasy version of a woman.
Still away from Earth, Weaver's work includes Avatar, Futurama, and Wall-E. Continuing the horror, an amazing cameo at the end of Cabin in the Woods proves that Weaver can still work it for the fanboys.
Now: After an impressive career spanning nearly four decades, Sigourney Weaver is one of Hollywood's greatest assets. This year, Weaver worked the Throwback Thursday to cameo in the all-female Ghostbusters, albeit not as her original character of Dana Barrett. Weaver is also set to (eventually) return to the role of Ripley for Neill Blomkamp's fifth Alien film!
Shelley Duvall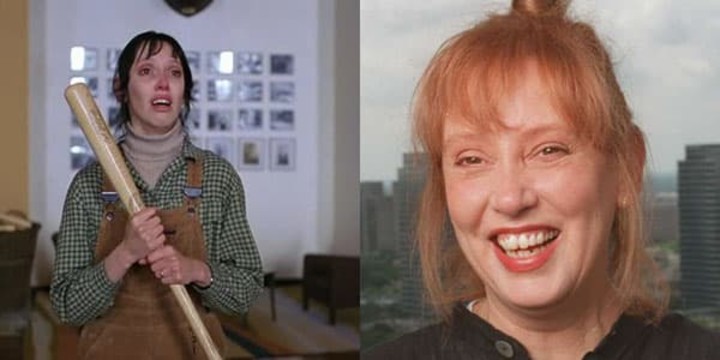 Born: July 7, 1949 (age 67)
Scream on Screen: The Shining (1980)
Then: Seemingly made for the role of Olive Oyl in 1980's Popeye, Duvall went on to host her own Bedtime Stories show. However, as beaten-down housewife Wendy Torrance, Duvall took a step too far into horror for The Shining. Mistreated by director Stanley Kubrick, Duvall was subjected to bullying on set, as well as dehydration and public humiliation. Whilst The Shining may be one of horror's greatest films, Duvall's treatment was beyond inhumane. It was no secret that leading man Jack Nicholson had wanted American Horror Story's Jessica Lange to take on the role of Wendy, but it is hard to imagine anyone other than Duvall in the role.
Now: Leaving cinema behind, Duvall's last role was in 1994. These days she appears to shy away from the media attention, living her life in the quiet Texas town of Blanco. Whether or not the horror of The Shining was a contributing factor to this remains to be seen, but there was no love lost between Kubrick and Duvall.
Let's hear it for the girls.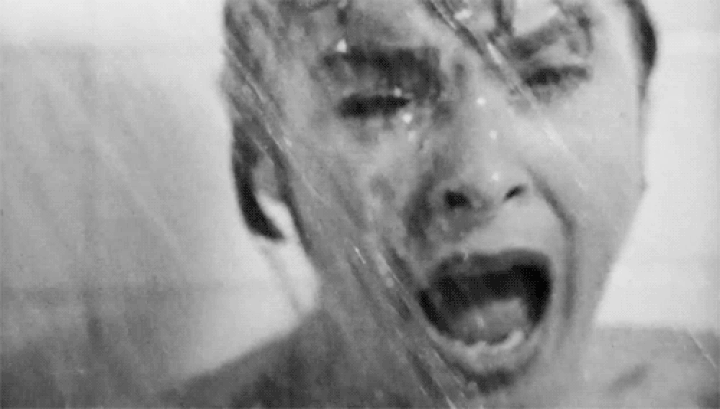 Every Freddy has a Nancy, every Michael a Laurie, and every Xenomorph a Ripley - so just where would Hollywood horror be without its Scream Queens? As FX's series enters its second season, with an ever expanding cast, we can only dream that some more of our favourite final girls join Jamie Lee Curtis and the rest of the queens. Can you imagine Langenkamp, Weaver, and Blair taking on the Chanels? Take note Murphy...take note!