'False Positive' Review—Darkly Fascinating
No spoilers!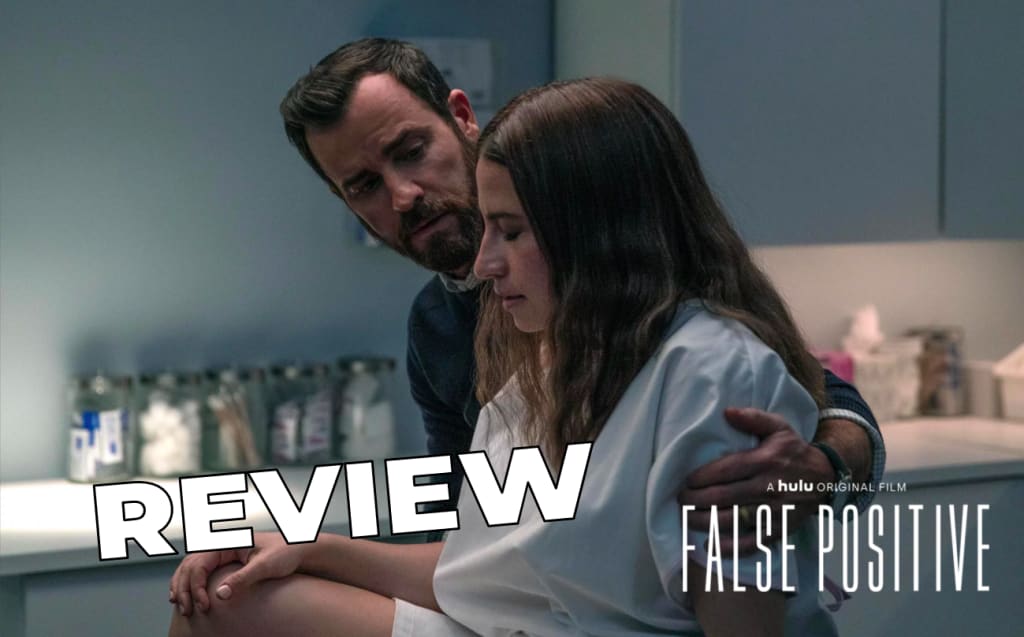 Pregnancy can be a scary experience, especially when you're the protagonist of a horror movie. False Positive comes to us from director John Lee, the obvious choice for a horror filmmaker after his terrifying directorial debut, Pee-Wee's Big Holiday.
Lee directs and co-writes this film with Ilana Glazer, who stars in this movie as Lucy Martin, a woman who wants to be pregnant with her husband, Adrian (Justin Theroux). They enlist the help of Dr. John Hindle (Pierce Brosnan), who successfully gets her pregnant. However, as her term continues, Lucy begins to suspect something sinister is happening beneath the surface.
This is, by no means, a conventional horror movie. While many horror movies are obsessed with having something scary happen every few minutes, False Positive takes its time with its scares. This decision, much like the entire film, leads to a quite polarizing result.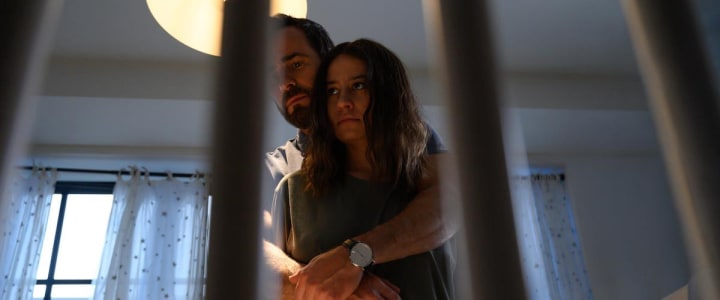 It's generally easy to predict how audiences react to a film, but this one is tricky. The setup for this movie feels more like a drama than a suspenseful horror-thriller, with the first act containing no scares at all besides a mysterious in-medias-res opening shot.
Many horror filmmakers like to open their film with a frightening sequence; this movie only uses the conventions of a traditional horror movie as a seasoning on top of a story that is more of a drama than anything, with a lot of conflicts between Lucy and Adrian about what each of them wants for their baby.
Does this movie work? Mostly. In some ways, it does, but in other ways, it doesn't. This is a middle-of-the-road, darkly fascinating horror movie that may rub some viewers the wrong way, but it has a certain appeal to those who can relate to the protagonist's struggles.
The film features questionable ideas and lines, which may be a part of the movie's central ideas about how women feel during pregnancy, the pressures that society (especially men) place on their choices, and how strange it can be as a woman in the male-dominated medical field.
Perhaps the film with the greatest influence over this movie's style is Rosemary's Baby, another movie about a pregnant woman sensing a looming presence over her unborn baby. The movie offers a lot of quiet suspense, which feels unique, but the comparisons to that film are inevitable with this premise.
It also has its moments of style, with mirrors creating symmetrical shots and moments of conflict that work really well. But the film is not above throwing a cheap jump scare once it feels like there hasn't been enough suspense in the dramatic narrative.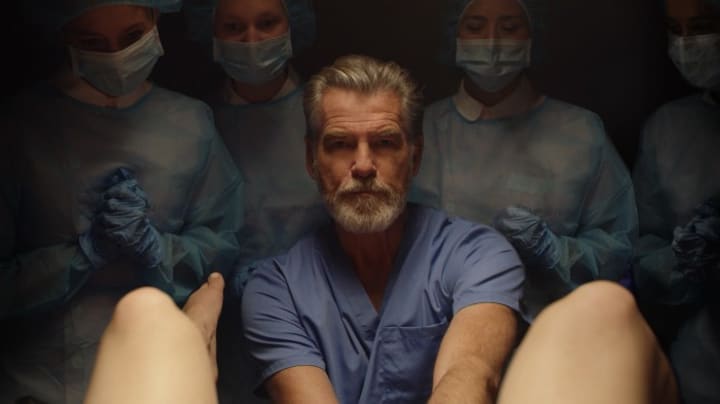 One of the most surprising aspects of the film is the performances. Glazer offers a masterful dramatic turn as Lucy, while Brosnan has fun with his role as a charming doctor with mysterious motives. Gretchen Mol gives a creepy performance as Dawn, a nurse who works with Dr. Hindle, although her character felt the most deliberate as a horror movie character.
But while the film has its merits, we also have characters who don't have much of a personality or relationships beyond the story. The film relies heavily on mystery instead of scares, making the movie feel less compelling as the story doesn't really move forward that much.
The final ten minutes have a few good ideas and a few bad ones. Some may be unsatisfied with the ending, as it leaves a lot of questions unanswered. But Lee's ability to pull the rug out from under the audience leads to a horror movie with excellent psychological thriller elements, despite not fully reaching its lofty ambitions.
Grade: ★★★☆☆ [6/10, C+]
Jonathan's Tips: This is not The Conjuring. Expect minimal scares, but also expect a few good ideas.
False Positive is now streaming on Hulu.
movie review
About the author
Film critic. Lover of Pixar, Harry Potter, Star Wars, Marvel, DC, Back to the Future, and Lord of the Rings.
For business inquiries: [email protected]
Reader insights
Be the first to share your insights about this piece.
Add your insights