Down the Wrong Hole
The Snakexpert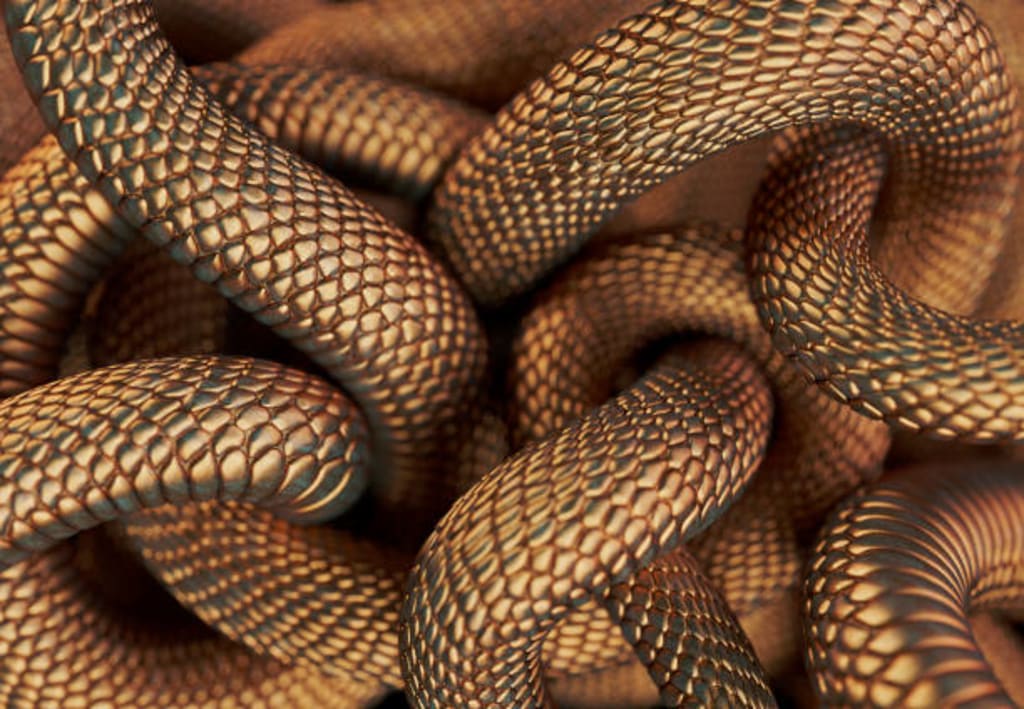 Down the Wrong Hole
by Dennis R. Humphreys
Chance Williams wondered what he was doing here and how life guided him to this point. He was only trying to make some good money, even though it was a little on the shady side. A lot of people did that and never ended up in this position. He read somewhere one time to do what you love, and figure out a way to make money at it, and you would discover your 'bliss'. Yeah...it was a Joseph Campbell thing...some world famous mythologist and religious expert. Maybe that was the problem. Doing that was just a myth. Maybe that's what got him here. That's it...it was Joseph Campbell's fault. If he was alive today he'd make him eat his books. But that was easy to say being duct taped to a piece of plywood with your head taped still and two dental wedges in your mouth to hold it open. He was lying flat on the plywood lying on the floor in a six by eight foot room with about two dozen snakes were lose and slithering about randomly. It was a matter of time before one decided to slither into his mouth and down his throat, choking him to death. Just the thought of it was terrifying, but then that's why the two goons and Victor, that put him here, did what they did. They were instructed to do it, not to just to get rid of him but in the process, use him as the deterrent to any others thinking about doing the same thing.
Chance always liked snakes much to the dismay of his mother, Cynthia, who hated snakes. His father didn't feel much better about them. He began with his first snake at age twelve and tried keeping it quietly in his room, in a box, under his bed, until his mother found it one day cleaning his room, while Chance was in school. She about had a heart attack when she pulled the box out from under the bed and pulled the lid off to see what her son stashed away this time. In minutes she was on the phone to his father, Randy, screaming about what his son had done. Why are mothers that way? If you did something good it was 'look at what my son did'. If you did something wrong it was 'look at what your son did'. They seem to wash their hands of their kids when they don't quite live up to their expectation.
Anyway, after much fighting, crying and pleading, his mother relented, allowing him to keep the snake in the garage. There, Chance set up an aquarium, complete with warming lights, as a home for his new friend. Feeling guilty about the loneliness his reptile probably experienced, living in the garage by himself, Chance brought another snake home. This was a gopher snake which elicited another reaction similar to the first snake, when his mother discovered it. There was less weeping and gnashing of teeth this time but due to the success of keeping the first garter snake successfully where it was for several weeks, before bringing the gopher snake home, his father talked his mother into thinking this was a good thing. It was, by Chance's standards. The following weeks found the twelve year old bringing three new snakes home. By the last one his mother didn't even bat an eye.
"As long as he keeps those things in the garage, that's fine. The first time one slithers through the kitchen will be the last," she let it be known.
Chance's father, on the other hand, decided it was in fact a good thing. It taught his son responsibility who had begun reading incessantly. It was all about snakes but the boy was learning responsibility and becoming an expert on snakes in the process.
By the time he was fifteen, one whole wall of the garage was lined floor to ceiling in aquariums, housing all his snakes. He had migrated after a year and a half from his first snake to the poisonous variety so his father built a wall to keep his collection behind a closed door where it was inescapable. The boy was already making a reputation for himself and a local lab called a few times for venom to produce an anti-venom for someone snake bitten. It was decent money but it was inconsistent. It was enough to get Chance thinking this might be his future.
In college he studied biology and took a correspondence course on reptiles. He read everything he could and visited a zoo some miles away where there was a reptile house. The director there talked to Chance regularly and was amazed at the wealth of knowledge the boy had about not just snakes but reptiles as a whole. He told him to come see him when he graduated, for a job. He wanted him to work there summers but it was too far away to commute and not enough money to take an apartment there.
Out of school he went to work at the zoo but there just wasn't much money to earn there to defray the cost of living even though he had two room mates to help with rent. He decided he needed another job and more income but a a part time job was hard to come by in the town. Then he read about the illicit importation of snakes from other countries. There was a lot of money to be made from collectors wanting the unusual. He needed to make an overseas connection in a snake rich area with someone who shard his interests. When he was nine he had a pen pal fro several months in Italy until they both lost interest and stopped writing. He thought about it and went on line looking for a pen pal. The only difference now they would be writing to each other on line as opposed to dropping letters in the m ail box.
After going through six different people he met someone who shared his interest in snakes in Uganda...Joseph Uwari, an orphan who sold snakes to white collectors in the area. He had never made any inroads overseas but that was about to change. His love of snakes caused him the same consternation it did for Chance in the early days but he had no parents to contend with, only nuns and a priest that ran the orphanage there in his town in Uganda,
That pen pal relationship began an illegal snake import business that began a healthy income for both young men. They used code words for the snakes and the various kinds in case they were monitored. Chance wired money to an account in Joseph's name on a monthly basis and the snakes were hand carried into the states with documentation that they were highly contagious viral samples for the Department of Health in Washington D.C., just a few miles where Chance still lived with his parents. The logistics were good and the plan was simple and it worked.
The money was good even though they had to pay the carriers bringing the reptiles into the country. Each carrier brought eight to ten snakes with them based on the size but then based on the size the prices increased,
Chances reputation grew because of his knowledge of snakes and among various collectors throughout the country...there were a lot of them. Like anyone, as their collection expanded so did their interest in the unusual. Most of these people could afford it but those who couldn't, still manged to get the money legally and not so legally. Chance was surprised how many drug dealers he dealt with put a lot of their drug money into rare venomous snakes. It must have been the thrill of the danger more than the snakes, as was the thrill of dealing drugs more than the thrill of making a lot of money.
Time went on and Chance was making a considerable amount of money. He ended up writing articles in magazines about snakes and became the man to go to if you needed answers about snakes. He even acted as a consultant on a Hollywood horror movie about snakes. Then it happened. He was visiting the reptile house one day at the zoo, with his old friend. There he ran into the director's daughter. It was love at first sight for both of them and they ended up in a whirlwind dating romance their first three days nonstop. He moved into her apartment the following week leaving his snake collection behind at his parent's house. It wasn't very far and since his girlfriend's apartment wasn't large enough to accommodate the snakes too, he decided to go back to look after them when he needed to. His new girlfriend was into snakes as well, having a father who was a reptilogist and director of the reptile house at the zoo. There just wasn't enough room in her place with all his aquariums. Now Chance had even bigger aspirations for making money off his snakes. He was an incessant gift buyer for his girlfriend, It was more of an obsession that began adding up financially very quickly.
After three months of living together he decided to pop the big question and she said 'yes'. Now he wanted a house after their brief civil ceremony with six invited guests that included both sets of parents and two friends acting as best man and maid of honor.
Business increased but then so did expenses. One carrier was caught and arrested for illegal importation of reptiles so the money was lost there. He had found after a time if was safer to pay off customs officials at either end rather than try to fool them all of the time, They weren't dummies. Seeing the same people come through all the time with the same papers etc. made the officials suspicious. That added to overhead which you either ate or passed on to customers. It was a little of both. However, the consistency was there and with consistent money you can look ahead and plan.
He found a small place outside of Reston Virginia but it was expensive. It was in a semi rural area but close to D.C. It was the place both he and his new bride were familiar with.
"I hope nothing happens with your business," Lania said one evening paying bills which Chance hated doing, :They seem to be never ending and they went up every month even if you didn't spend anything."
Chance was aware of the corner he was backed into. He couldn't stop doing what he was doing because it was lucrative yet the balance of things was fragile and if anything happened the house of cards would come tumbling down.
"Mr. Chance Williams?" the voice inquired on the other end of the line.
"Yes it is," replied Chance warily since he didn't recognize the voice and found unsolicited calls like this suspect.
"This is Victor Bertucci. You are highly regarded as a snake enthusiast and the man to go to for the unusual. I've asked around," the man told him.
"I know a little about them. Who gave you my number?" Chance asked him with growing suspicion. He just wasn't used to calls like this out of nowhere.
"Sure...I like to hunt and I took my fiance with me on safari in Uganda a few weeks ago. We just got back. I met this young guy in a bar over there by the name of Joseph Uwari...says he's known you for years and has done business with you. You're a straight shooter and can help me with my fiancee. She likes snakes and in fact is an x stripper that would dance with some big ass python she had until her manager claimed the snake tried to choke him. The guy had the hots for her and was jealous of the snake but the authorities took the snake and put it in a zoo somewhere." he explained.
"So you want me to get her another python?" Chance asked him.
"She has a couple snakes yet but wants to collect more and I have just the place for her to do it with lots of room. Snakes give me the heebie jeebies but we;re getting married and I want to get her a room of snakes that make her happy. I asked her to list all the snakes she would love to have and I can send you an email with them," he suggested.
After giving him his email address Chance immediately got the list. It consisted of thirty different kind of snakes, poisonous and non-poisonous. There was a lot of money involved to obtain these snakes. Chance wasn't sure who this guy was or how well off he was but he needed to tell him a general amount of the cost in case this guy had no clue.
"You know this is going to cost quite a bit of money, probably close to a hundred and fifty grand, maybe more depending how easy some of them are to get at the moment," Chance alerted him. "And I'll need half down to get things rolling."
"Sure not a problem. I can wire the money to an account within the hour if you want. I also want you to set up the room for her here at my place the way it should be set up for the snakes. What will that cost me?" he asked.
This was too good to be true. The guy had money and didn't worry about it. There was probably a two hundred thousand dollar deal sitting right there in front of Chance.
"Let me think about that. I should get everything set up ahead of time so the snakes can be put in their new homes with the least amount of disruption. They;re not all going to come in at one time so I'll have to make several trips to your place to put them in their new homes. I'll have them sent here and transport them there. I'll teach your fiancee about each snake and its idiosyncrasies," Chance informed him clearly.
"Sure, whatever. You're the expert. We're getting married in two months with a big ceremony. I'd like to have most of it set up for her but I know this'll take time and there's no rush. I just want it done right," he told Chance.
So arrangements were made and Chance checked his account. True to what hepromised seventy five thousand dollars was deposited to his account within twenty minutes. Chance felt elated and got on the ball touching base with Joseph in Uganda as a starting point.
"Wow, this is some order! It will keep me busy for several weeks. I'll let you know as I get the items and ship out several at a time," he told his partner.
Chance emailed Victor Bertucci to let him know he got started right away. The next day he had an email reply telling him that was good and he had a shipment of aquariums and other items for the room at his place to house the snakes.
"That was fast. This guy must have contacts," he spoke to himself. He emailed him with a price to set everything up apart from the actual snakes and Victor okayed it asking when he could get up to the place in New Jersey to begin finishing the room.
"Ill be up late Friday and work the weekend," he typed."Is there a motel close by I can stay?"
"No such thing," Victor typed back. "You're working for me so you'll stay at the place. There's twelve bedrooms there that never get used so you can take a pick."
Chance could hardly conceal his excitement when he went home that afternoon.
"What are you so hyped up about?" Lania asked him seeing him come in the door and sitting on the sofa, unable to read the magazine he picked up to read, without turning the page every ten seconds. His whole body was in constant movement sitting sideway on the sofa,
"I have this huge order I got today with fifty percent up front. Plus the guy's going to pay me set up on the room where he wants to put thirty snakes in as a wedding gift to his fiancee. It'll be probably over two hundred thousand bucks when said and done. This guy;s got money," he told her rapidly.
"Where do you have to go to do the set up" Lania asked him as she pulled some things out of the refrigerator including a cold beer for her husband,
"In New Jersey," he told her.
"That's not bad. Who's the guy?" she asked innocently.
"The guy's a Victor Bertucci," he informed her, pulling the flip top off the can of beer.
"Oh God, " Lania exclaimed," do you know who that is?"
" I don't know...some business guy that's filthy rich," Chance laughed downing a mouthful of beer,
"Victor Bertucci is a mob boss...as in mafia...organized crime," she warned him.
"So he's good for the money," Chance responded smartly.
"Oh he's good for it and a lot more. A lot of people disappeared over the years working with this guy . Are you sure you wan t to do this?" she asked him looking at him concerned,
"Look, I''m selling him snakes and setting up the room where they're going to be. What could go wrong? You said the bills were getting higher and this is a way to get s little ahead of things. I'm sure he'll be a good reference too so the money won't stop if he's happy with me, and I intend for him to be happy with the deal," Chance promised her.
Friday afternoon came and Chance left for the mob boss' house. It took awhile because the traffic was rough on the turnpike getting there. He pulled up to a mansion that would make an Arab shiek cry with envy.
"There you are. I hope you had a good drive. I know how the turnpike gets on Fridays," he told Chance shaking his hand profusely like old buddies.
He gave instructions to the maid that answered the door to take his suitcase up to bedroom seven. Imagine a house where all the bedrooms are numbered, like a hotel.
"Let's go to the room I'm talking about, out by the pool. It's part of the cabana and separate from the house. You have roughly a twenty by thirty five foot area to work with. The ceiling is twelve feet high not that you need the height but it's there. It has its own heating and air conditioning so you can set it however you need to," he informed Chance.
The room was impressive as Chance scoured the area. There were piles of boxes with different sized aquariums and various soils and sands to put in them. There were rocks too and other various paraphernalia to use. He had purchased a number of plants if needed...everything you might need was there.
"If there's anything you can't use or don't want just throw it away. I read an article on setting up a place for a snake and I basically multiplied that by thirty and threw in some extra things for you I though you might use. I tried to put myself in the snake's place," he joked as he walked through the room and out the door. Chance assumed he was supposed to follow him. Chance noticed a really stunning young woman in the smallest thong imaginable that had just taken her place by the pool lying on her stomach reading a fashion magazine.
Following Victor he led him to the woman.
"Honey this is the snake expert I told you about...Chance Williams. Chance this is my beloved fiancee Deidre Bonaparte, a distant relative to that little general from France," he introduced them.
"Pleased to meet you," she said turning over and putting out her hand out to shake Chance's.
"Nice meeting you,' Chance told her looking down at her outfit that didn't really cover what she was trying to hide, or was she? She seemed proud of what she was displaying and there was nothing negative about what Chance observed. She was one of those women that liked to make men look and then acted surprised if someone said anything.
"Chance is going to be with us through the weekend to set your room up. He'll be coming by bringing in the snakes from time to time and teaching you about them so you can take proper care of them. He's the expert so you listen to him," he instructed her.
"I'll do whatever you tell me to do," Mr. Williams she purred.
"Please, just call me Chance. Mr. Williams is what they call my father," Chance corrected her.
"Sure thing Chance. I never knew anyone with that name. I like it. I guess we just had a chance meeting," she giggled at her own joke she made. Chance laughed too not to be rude but Victor just shook his head and rolled his eyes.
"Come on Chance, let me get you a drink so you can settle in. Dinner will be in a couple of hours. You can get started in the morning...take it easy after that drive, and kick back,"his employer told him. He was certainly understanding and unconcerned about sucking every minute out of him because of cost.
They sat there talking about anything and everything. Chance sucked down a few Black Russians while Victor put away quite a few Jamison's on the rocks. Diedre ambled into the room and took a seat across from Chance next to Victor, smiling at Chance as she wiggled into the overstuffed sofa that looked custom made.
"Can I have a drink?" she asked out loud.
"Now angel, you know what alcohol does to you. Maybe a little tonic water?" Victor offered as an alternative.
"I want a drink...with something in it," she pouted.
"How about if I put some Vodka and lime in the tonic water? You can have a vodka tonic," he suggested and that seemed to appease her.
"That sounds good. I'm hot," she announced waving her hand to create a little breeze across her face and breasts.
Chance watched Victor as he made her drink behind her at the bar. He kept the cap on the vodka bottle as pretended to pour it in the glass of quinine water floating a piece of lime on the top. He smiled at Chance proud of pulling one over on her.
He handed the drink to Diedra but before he could take his seat, she drank it all down. She held it out for another one.
"That was really good and thirst squelching. I'd like another one, please," she asked innocently but her term, 'thirst squelching' almost had Chance laughing.
"Now dear, take it easy on these," Victor warned but winked as he walked by Chance to get her glass.
He handed her another glass as Chance watched her getting tipsy from the first drink without any alcohol in it. It was an amazing display of the placebo effect. By the time the cook came into the room and announced dinner, Diedre could hardly walk into the dinning room on her own so Chance held her by the arm and led her to her seat.
Mid meal Victor's cell phone rang. He excused himself and took the call after looking to see who it was .
"Yeah...yeah...can't you take care of it? I have a house guest for the weekend. Alright, I'll drive in there tomorrow. Set up the meeting...set it for nine so this asshole has to give up some home time over his weekend and get up early. I'll leave here by eight. Yeah...see you then," Victor said disconnecting his phone with an attitude,
Chance looked at Diedra who was falling asleep in her chair. Her head was bobbing and would jerk every so often in an effort to regain consciousness.
"Sorry about the interruption," Victor said, looking up at Chance and then at Diedra, speaking loudly this time "I said, sorry about the interruption."
Diedra shook herself free of her slumber and sat up straight, looking first at Chance and then Victor.
"Did you say something? I couldn't quite hear you the way you mumble," she told her fiancee.
"Yeah, right. I said, that was Will on the phone I have to go to a meeting tomorrow at nine so I'll be leaving here by eight. I probably won't get back until around noon" he answered her but then turned to Chance. "Sorry I won't be here when you get started but if you have any questions just ask the drunk here."
"No problem," Chance told him. These two were about as far from each other as a Neanderthal and Homo Sapiens. The marriage would have to be one of the biggest jokes in New Jersey.
Victor stayed up a while watching television with Chance but went to bed early leaving Chance to watch virtually anything he wanted on the entertainment center. He watched a couple of movies before heading up to his bedroom. On the way down the hall he passed a naked Diedra walking the other way in what appeared to be a trance. Chance realized she was sleep walking and watched her go down the hall from his door. She was certainly a looker.
A couple of hours later, Chance woke up some shuffling outside his door so he got up and looked out, first one way and then the other. There was Diedra again, stark naked walking down the hall in a trance. Chance watched her as she moved. She was enjoyable to watch. As he watched her pass by the two inch opening in his door he thought he saw her eyes move to him in recognition but sleep walkers didn't do that, or so he thought.
Going back to bed he slept, without interruption until he heard Victor leave. Then he got up, dressed and went to the kitchen. There the cook greeted him and handed him a coffee as he took a seat at the counter.
"And so what can I get you to eat?" she asked.
"Just a couple of eggs and bacon with whole wheat toast if that's OK?" Chance told her sipping the hot coffee she gave him.
"You've got it. How did you sleep?" ,she inquired.
"Pretty good. Diedra woke me up in the middle of the night sleep walking," Chance told the cook.
""That one...she sleep walks when she's been drinking. Watch her, she's not as dumb as she pretends," the cook warned.
"That's the trouble. She only thinks she was drinking. Victor made her drinks but didn't add any alcohol to them, " Chance enlightened her.
"Hmmmm...like I said, she's not as dumb as she acts, just watch out for her. By the way my name is Fran," she told Chance as she threw bacon onto a skillet.
"Mine is Chance. I'm glad to meet you," he reciprocated.
He ate breakfast enjoying the conversation with Fran as he consumed four cups of coffee. About that time Diedra came walking in with another interesting thong of a different color but if it could be, was smaller than the one she was wearing yesterday when he met her,
"Good morning Diedra! Did you sleep well?" Chance asked her as he stood up to leave.
"I feel a little tired but I'll catch up on rest by the pool. Did you have any interesting dreams?" she asked with a smile as Fran put a small plate of cottage cheese and applesauce in front of her. She looked at Chance and rolled her eyes before she went back to what she was doing.
"No, no dreams that I can remember but I don't remember many of mine when I get awake. I'm headed out to the cabana to work on the room," Chance told the two of them and left.
Chance had plenty of room to work, thank goodness, because Victor had ordered a ton of stuff. The aquariums were all a nice size and varied. He unpacked everything and organized it to see what there was to work with. At one point he saw Diedra come out to the pool. She took a chair right in front of the cabana, Chance figured for his sake. It was a real show of bending over for extended periods of time to arrange her towel. She sat on the chair facing the glass door he was working at and proceeded to smear gobs of lotion on herself taking special care of her glorious breasts. Finally the top came off and that was that. She looked around like she was lost and then got up coming to the door and knocked on it and came in.
"Do you mind?" Diedra began," I need lotion on my back and I can't get at it."
Chance went out as she laid down on her stomach. He picked up the bottle and squeezed an ample supply onto the middle of her back which he began rubbing into her with both hands.
"Oh God, that feels so good. You should be a masseur. I like the way your hands work," she warbled to him.
She was into it. Her body started moving to his hands and she began spreading her legs apart. Her breathing became different and she started raising her butt. That;s when Chance put an end to the application. It wasn't just her, he was beginning to get excited and he didn't need that, since he was married and under the circumstances considering his benefactor right now was a mob boss. There were way too many complications.
"I have to get back to work," Chance announced and went back into the cabana.
Diedra sat up and looked at him. He heard her yell 'spoiled sport'.
Chance had only been working for a few minutes again when his phone rang. It was Victor.
"Hey Chance, how's it going there? Diedra's not getting your way is she?" he asked.
"No she's fine. She's out by the pool and I'm in the cabana getting organized," he imparted to Victor.
"Good...this stupid meeting has more problems than I want to deal with and I can't let it go. I'm going to be longer than I thought. So tell Diedra to tell Fran, the cook, not to expect me home until dinner...thanks, you're a good man, I appreciate it," he said to Chance and disconnected.
"Hey Diedra," Chance yelled out the door,"Victor just called me and wanted us to know he won't be home until dinner, if you could tell Fran that."
Victor's fiancee got up, acknowledged she got the word from Chance and jumped into the pool. Chance watched as she swam the length of the pool. She was a hell of a swimmer and nice to watch but even better getting out of the pool. She rearranged her chair to face the sun so she was squarely pointing the bottom of her feet towards the glass door, among other things. She laid down and acted uncomfortable and got back up Chance was beginning to realize, all for his benefit. She slipped out of her thong, bending over in the process, her ass towards the door, and then laid back down on her back. Before long the legs spread wider. Chance was beginning to have a hard time concentrating and wondered where this was heading.
After another hour of work, Chance was happy to see her dress and leave. Now he became absorbed in what he was doing without distractions but that didn't last long. He heard the door open behind him and when he turned, there was Diedra in a long pale blue sequined gown and a albino boa drape around her neck. She had just put large radio down on the coffee table and turn on what was some very sensual music.
"I thought you might want to take a break and see what I used to do for a living when I met Victor. I want you to get over here and sit in this chair to watch," the x stripper announced as she took Chance by the hands and lead him to the chair she wanted him to sit in to watch.
There she began a sensual gyration that picked up speed with the music and accented by rising drum beats. Some very sexual squats and movements letting Chance see glimpses of things in the same way she toyed with her audience in the past. Eventually the dress came off. Chance wasn't sure how because he never saw her take it off, it suddenly just wasn't on her anymore. The snake slithered around her and in constant movement hanging on as it moved sensually over and throughout various parts of her body. Chance was about to burst but still maintained decorum, albeit difficultly. Finally she left behind the little she was still wearing and was completely naked. She danced provocatively with the snake for a few minutes but than the last vestiges of cover disappeared as she laid the snake down on the floor. Looking at Chance as she stood she danced towards him and then jumped on him where he sat, straddling his lap. Her dance became more sexual if that was possible and she rubbed herself against Chance who now made no pretense of escaping. When she slid her breasts over Chance's head and held his head close, then slid her breasts over his face and rubbed him in them, that was the point of no return. Diedra had seduced Chance. He wanted her...more than his wife, more than money, more than snakes and more than Victor's approval.
She was soft and hot. She personified sex. He could still smell the coconut oil in the lotion he rubbed on her earlier but she was exuding some pheromone that was intoxicating. He wanted more and she was willing to give him more. In minutes she had stripped him and bathed him with her mouth and tongue. He reciprocated as they both fell into the depths of sexual frenzy and gratification ending in unsurpassed orgasms.
Immediately upon finishing, Chance felt guilty, as men do in these cases. He quietly stood, dressed, and went back to work as Diedra laid there and watched him.
"Are you sorry that happened?" she asked.
"Yes. I wish I had more self control but you are very disarming," he told her frankly.
"I'm not. Maybe we can come to an arrangement or something," she offered in a naive way.
"Maybe not. Did you hear what I said? I don't think so. That was that," Chance dictated with finality.
By then Diedra got up and put her clothes on. She left leaving the snake behind. Chance placed him in the a big aquarium that was there and covered it. He went back to work but thought he'd call it a day in a couple of hours and take a shower. He smelled like Diedra. He didn't want to take the chance of Victor smelling her on him. The thought of irritating a mob boss wasn't something he wanted to think about now or at anytime.
Chance stopped off at the kitchen to get something cold to drink before heading to the shower. Fran was there getting dinner ready when he went to the refrigerator.
"I just need to get something to drink. Orange juice is fine," he said pulling out a pitcher and looking for a glass. Fran saw him looking so she went and opened another cupboard where she extracted a glass and handed it to him.
"Whew...you need more than a drink. You need to shower before Victor gets home and smells you," Fran told him straight forward.
"It was hot out there in the cabana. I didn't turn on the AC," Chance countered.
"That isn't what I mean and you know it. You smell like sex and that bimbo out there. If the boss gets a whiff of you, I won't even venture a guess as to what might happen but it won't be good," Fran spelled it out clearly.
"Well Fran, thank you for your honesty. I'm headed up to the shower right now,' Chance said putting the glass in the sink and leaving. Fran yelled after him.
"Use the Axe body wash in the closet in your bathroom and the body spray when you're finished," he heard her say as he went up the stairs.
Do I smell that strong? He asked himself as he tried to sniff to see. If I have to use Axe I must be bad.
Coming back into the kitchen when he came downstairs, he poured another glass of orange juice and held it up to Fran.
"Think I'll add some vodka to this," he anticipated as he waved the glass,
"You smell much better," Fran acknowledged.
"Glad you approve," Chance responded as he walked down the hall.
He walked into the study where the bar was and got the vodka, pouring himself and ample amount-in his orange juice. Diedra walked in then.
"Hey there, lover boy," she started.
"Do not go there," he warned her. "We both don't need to get Victor riled."
"I sill hope you reconsider," she mentioned knowing the guilt would wear off and the desire would return.
'No way," Chance answered shaking his head as he looked down at his drink.
'No way for what?" Victor spoke aloud coming into the room. "Chance pour me my Jamison on some ice, will you?"
"Oh nothing," Chance replied."Diedra was just wondering if you could put any of these snakes together in the same aquarium."
"It's good seeing you wear some clothes for a change," Victor told Diedra as he bent over to kiss her. Chance noticed his face changed slightly and he paused to sniff her.
"We didn't hear you come in," she told him.
"Well I thought I'd surprise everyone and see if anyone was doing something they shouldn't be doing," Victor joked, or was he? Maybe he was just hunting for a reaction to make people think he was omniscient if they did something they shouldn't be doing.
Dinner was excellent again, just like the previous night. Fran was a tremendous cook. After dinner the three of them sat back in the study and had desert wine. Victor wouldn't allow Diedra to have any but had Fran make her a sorbet float.
"Let's go to the cabana. I want to see your progress," Victor announced.
"This looks great already," Victor complimented Chance.
"Thank you," Chance answered.
"Hey you two, take a seat over here. I want to show you something I got today," Victor announced as he pointed where they should sit and then went to the CD player for the big screen television hanging over the couch where Chance and Diedre had sex earlier. He slipped the CD he had taken from his pocket into the tray and pushed it into the unit.
In a few seconds there was Chance and Diedra screwing each others' brains out.
"Turn it off, we don't need to see more. We get it," Chance yelled embarrassed.
"No you'll sit there until it's done, like I did.
So he made them sit there the entire thirty six minutes. It seemed impossibly long yet you watch an x rated video that's an hour long and it seems short. Diedra seemed to enjoy watching it and even appeared to be getting turned on by it. Does she really live in this world?
When it was over there was complete silence. Victor went over and pulled the CD before he spoke.
"I'm disappointed Chance. I really like you...and I trusted you. I felt you could be trusted to be here today, while I was in a business meeting, with my fiancee. I know how she is. All you had to do was exercise some restraint. We could have had a great business relationship," Victor said almost apologetically.
Chance didn't like the tone or the tense of the statement.
So here was Chance lying taped to a three quarter of an inch board with an entire roll of duct tape. Taped across his forehead to keep his head still with dental dams and a metal ring in his mouth to keep it wide open.It was only a matter of time before one of those snakes crawled down his throat. He was alone. The two goons that came at Victor's call finished their job and left. Diedra bent over and gave him a farewell kiss on his forehead and then she and Victor left to go dancing.
Reader insights
Be the first to share your insights about this piece.
Add your insights