'Crawl' - A Movie Review
Watching 'Crawl' with all the lights turned off was a very intense watch from start to finish.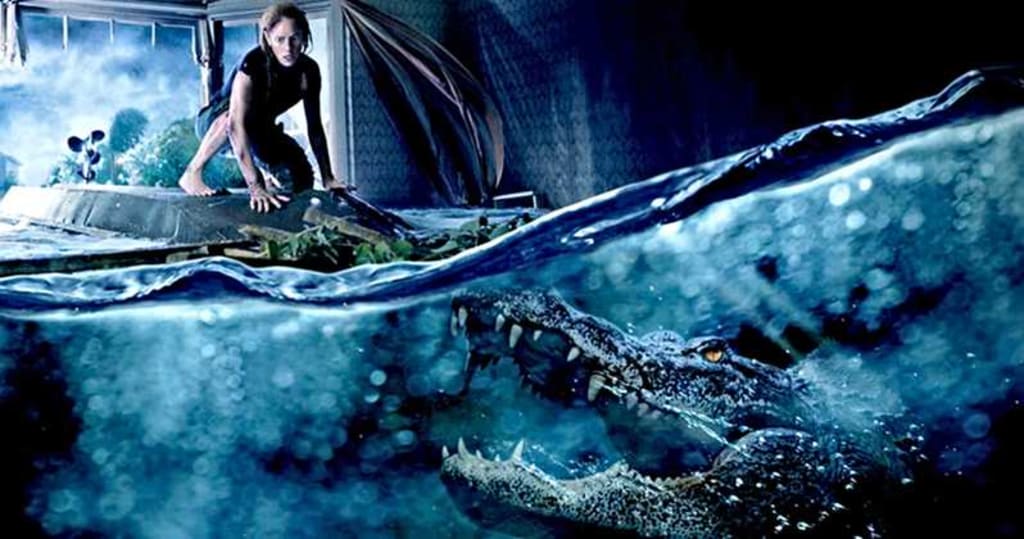 Brace yourselves for the horrendous hurricane! That and the alligator lurking in your basement too.
Crawl is a 2019 thriller about a father and daughter trapped in the basement of their house by alligators as a torrential hurricane hits the area. Working together, the two stop at nothing in this epic fight for their lives as the basement floods.
Watching Crawl with all the lights turned off was a very intense watch from start to finish. I'm surprised that there wasn't a lot of marketing for it when it was released into theaters. The realistic special effects, great acting, and a story filled with never-ending terror, Crawl was a suspenseful and fun movie to sit through.
Kaya Scodelario's incredible determination to fight for survival was my favorite part of this movie. Due to a mistake in the past, Haley is too hard on herself, pushing away from important family matters. Scodelario was very impressive swimming through the murky water avoiding alligators, ignoring pain, and rehabilitating a relationship with her dad.
Now, I want to see Scoldelario in more films because of her amazing acting abilities and willingness to put herself in a precarious situation.
One of my favorite parts about Barry Pepper's performance as the stubborn father of Haley is his sarcastic demeanor while utilizing every ounce of his strength to keep his daughter safe despite their distant relationship.
I loved the interactions between Haley and Dave. I thought it was a smart technique for them to talk to each other about the past as Haley is crawling through the muddy basement to get her phone. In this short and intense amount of time, they work out their relationship, fix issues and learn to trust again.
Crawl has a small cast of actors. No matter how small their part is everyone is useful to the plot. I liked the three people who were trying to rob a store during the immense flooding. I also enjoyed Ross Anderson's heroic performance as Wayne, a police officer who tries to aid Haley and Dave out of their situation.
So many times I thought those were actual real live alligators in the film. The CGI designs of the alligators were outstanding and terrifying at the same time! Now, I'll be sure to keep my garage door closed. The alligators were used in authentic jump scares which actually startled me. No matter where you are, the alligator is lurking close by.
The hurricane is prominent throughout the film. Buckets of rain, fierce winds, and thunder and lighting made me feel exhausted after watching the movie because I actually felt as if I just experienced this harrowing storm! I give props to the effects team on Crawl because they researched and created such a believable hurricane.
Other than alligators, a cute dog is along for the perilous adventure. With his presence, I felt all the more on-edge praying for everyone to make it out alive.
I immediately felt a claustrophobic feeling as the characters are trapped in the dark basement below the house, ducking underneath pipes, crawling through the mud, and wading in rising water as the rain was building up.
One of my favorite moments is Haley swimming through a pipe as the water quickly rises, being wary of any snapping alligators lurking in her vision.
Crawl is an intense thriller. I enjoyed every minute of this film and I like the span on time. Instead of filling audiences with unneeded exposition, the film focuses on the situation with the alligators and the hurricane. I recommend Crawl on a rainy evening with all your alligator friends.