Choose Them Wisely
(Before it's too late)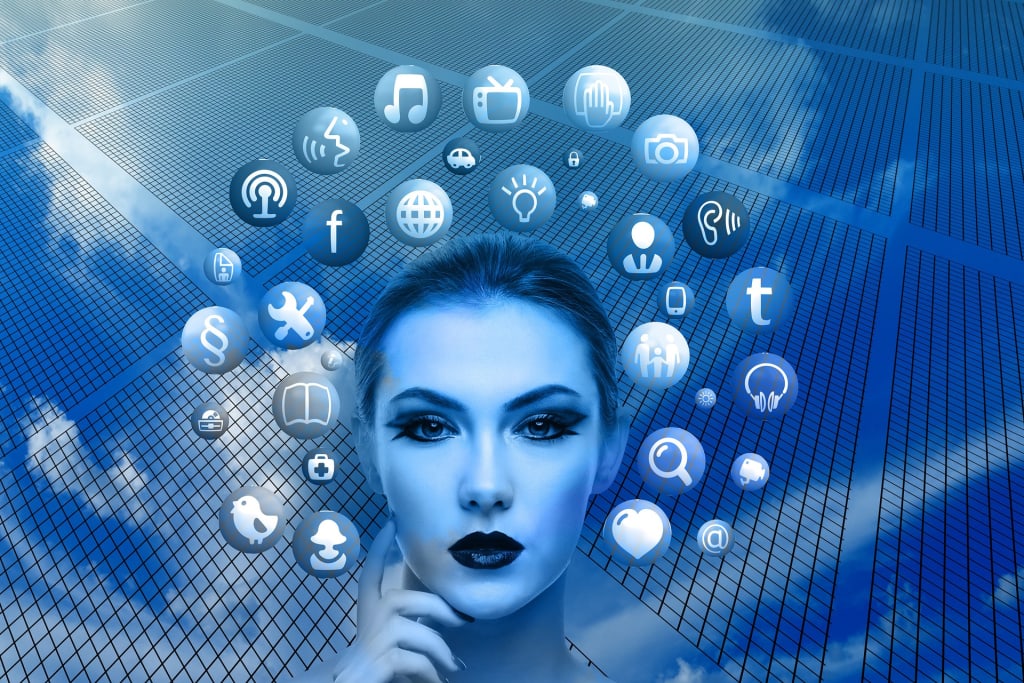 The signing up process was scaringly smooth. After filling in my profile details, I quickly scrolled down through the terms and conditions. I'm a businesswoman. I don't have time for that. I was just one click away to getting automated and personalised posts. Well, one click and one pill. I must admit that the whole pill thing put me off a little. But all my colleagues had already been in the social network for a while and I couldn't afford to be left behind. After all, it's crucial to have a decent online presence, and if it was all a matter of swallowing a pill, I wasn't going to chicken out. The purple pill gave me a stabbing headache for a week. Every little thing would irritate me and I was struggling to get through the days, but I couldn't be off work for something like that. Yes, it was a bit of a nightmare, but I've had it worse. How could I be so naive? The worst was yet to come…
The first posts were quite neutral and nothing special. Boring, even: "Quick shower, muesli and coffee. #MondayMood". "I killed the financial report today. I deserve some ice-cream #YouGoGirl". But soon things started to escalate. "If it was up to me, Selma would be fired in no time. #SpreadTheLove #FireTheUseless". "What's the point of having holidays if you don't have people to spend them with? #HomeAlone". Well that was unacceptable. But it was the truth. No Instagram filters. Yes, I did think that Selma wasn't quite right for our team because she lacked vision and professionalism. And now all my old friends are married with kids and have their own thing going on. I do miss them. More than I dare to admit. Yes, it was the raw truth. But did I want to display it in front of my 878 followers? No, thank you. Who tells the truth on social media anyway? I attempted to delete the posts. I tried exactly 61 times. From my 4 smartphones, 2 laptops, using 13 different IPs and 4 browsers. What a stupid joke. Raging, I contacted the support team of the app. An AI robot picked up the phone, speaking in a patronizing tone of voice that reminded me of my History teacher and his annoying little remarks. After explaining the issue, he simply told me:
"You didn't read the terms and conditions. I'm afraid there's nothing I can do to help you. Could you please rate this call after hearing the…"
I sharply interrupted him: "I want to delete my account".
"You didn't read the terms and conditions. If you wish I can kindly email them to you".
"Thank you, but no. I don't have time to read all that. And I'll probably lose my job if I don't manage to delete those posts".
"I'm sorry for your loss. I guess following your boss in the network wasn't the wisest idea. Good day!"—And he hung up.
And that's what they call customer service. I had a cup of tea because some people say it's supposed to calm you down. Another joke. I let the hot water run and prepared for a bath. A glass of wine would do. At least for 15 minutes I could try and forget that stupid social network and my rapidly sinking reputation. But of course not. I couldn't even enjoy a freaking bath. 53 seconds later, my phone started beeping like crazy. Why on earth did I have my phone in the bathroom? Only God knows. I grabbed it to put it on silent and horrified, I saw that people were constantly liking and sharing my latest posts. My true but horrifying thoughts were spreading like a virus. Fantastic. The last thing I needed was being popular. Despite being in silent, the phone kept beeping. And vibrating. All sorts of lights started flashing. Lights I didn't even know they existed. Even the torch turned on somehow. I tried to turn it off, but it just wouldn't. A message kept popping up after every desperate attempt: "You didn't read the terms and conditions". "Dear Selma, good luck with your job search. Believe me, you'll need it! #SayonaraBaby". And then out loud, shouted by the helpful customer service agent: "You didn't read the terms and conditions. This is what you get". Huge drops of sweat were dripping from my forehead. Was it the hot bath or a panic attack? I had to stop that nightmare. I threw my phone in the hot water. I took a deep breath. But that satanic device kept vibrating and beeping like crazy. And finally the nagging voice again: "Proverbs 4:23: «Be careful what you think, because your thoughts run your life». And they will all be displayed on your profile. Choose them wisely.
psychological
I am a Catalan soul living in Edinburgh. Passionate about languages and music. I love swimming in the shower and singing in the street (rain is optional, but it helps!). I have a concerning obsession with Highland cows and ginger.