AMC Will Take You to Joe Hill's Nightmarish 'Christmas-Land' in NOS4R2
It was announced this month that AMC has acquired the rights to Joe Hill's 2013 novel NOS4R2.
It was announced this month that AMC (you know that small network that has got that really unknown zombie show on it lol) has acquired the rights to Joe Hill's 2013 novel NOS4R2. That's pronounced NOS-FER-ATU which should give you some indication it's not about kittens and fluffy bunnies.
Anyone not familiar with Joe Hill's work should hang their heads in shame, the son of legend Stephen King has proved that he has the writing chops to match the prowess of his own father.....and that's saying something.
He's published a respectable body of work with HORNS already having been produced starring Daniel Radcliffe in 2013. Alongside that his first novel HEART SHAPED BOX is being prepped for the big screen, personally I loved his short story collection 20TH CENTURY GHOSTS and would recommend it highly to anyone wanting to find their way into his back catalog (see the video).
Back to NOS4R2, the show is being produced by Michael Eisner's Tornante TV and AMC Studios, but they are currently searching for a writer to adapt the novel for television. No small task but hopefully Hill will be on-board creatively aswell to oversee his work personally. With AMC behind it i'm confident it's in safe hands, I mean could you imagine SyFy or MTV having a crack at this? I don't think so.
The plot goes like this:
"Victoria McQueen has a secret gift for finding things: a misplaced bracelet, a missing photograph, answers to unanswerable questions. On her Raleigh Tuff Burner bike, she makes her way to a rickety covered bridge that, within moments, takes her wherever she needs to go, whether it's across Massachusetts or across the country.
Charles Talent Manx has a way with children. He likes to take them for rides in his 1938 Rolls-Royce Wraith with the NOS4R2 vanity plate. With his old car, he can slip right out of the everyday world, and onto the hidden roads that transport them to an astonishing – and terrifying – playground of amusements he calls "Christmas-land."
Then, one day, Vic goes looking for trouble—and finds Manx. That was a lifetime ago. Now Vic, the only kid to ever escape Manx's unmitigated evil, is all grown up and desperate to forget. But Charlie Manx never stopped thinking about Victoria McQueen. He's on the road again and he's picked up a new passenger: Vic's own son."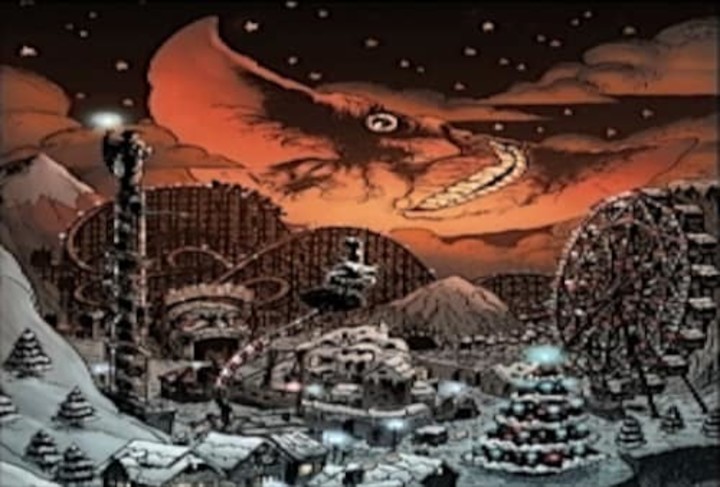 If that doesn't make you want to devour the novel like a child's soul i don't know what will. I look forward to hearing more as development continues, but if you want a little more check out my book review in the video below.