Addams's Deception
*Insert cliché line here*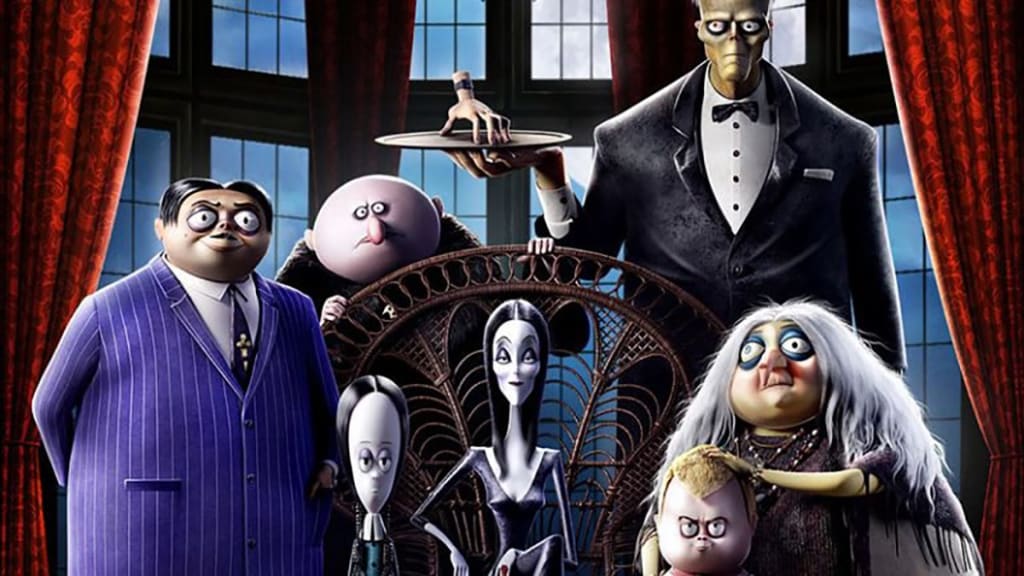 Dear Readers.
When Charles Addams created The Addams Family, he portrayed the characters as lovers of the dark side of nature. That's why I believe IMDb classifies The Addams Family as a 2019 3D computer-animated comedy-horror film. I however do not see the horror. Instead, there is the unoriginal homage to the concept that ordinary people are the real monsters. With Halloween night being near, it is fair to say that we expected more macabre then corny puns.
It starts with Gomez and Morticia Addams fleeing their native home, after a quick marriage ceremony that resulted in getting attention from a mob. After searching for a horrifying place to settle in, they encounter New Jersey. I get it: no one likes New Jersey; the state itself might as well be haunted too. It is known. It has been established by the oldest laws surrounding American urban myths. But what of it? There is no reason behind Jersey's faux horror in the film. Nevertheless, Matt Lieberman makes a cheap attempt by including the cliché abandoned asylum on a haunted hill. The history behind the asylum is not explored. Neither is the reason of the haunting. It's just conveniently there.
As for Wednesday and Pugsley, their dark natures are not explored either. There is no mention of Charles Addams' initial description of Pugsley: his affinity for guillotines and full-sized racks, his menacing behavior, his love for boats, and his threats of poisoning Wednesday. He is instead portrayed as a regular kid who struggles to live up to his parents' expectations. As well as liking explosives, of course. Wednesday is more sarcastic and sassier and seldom sadistic than what older fans expected. She is instead simply reduced to a girl curious with the outside world. She does befriend a group of girls after humiliating a popular cheerleader with revived frogs, thus creating enemies as well. But alas, we never see those teenage enemies ever again.
Overall, the movie is too happy for my taste. The best example of this is Margaux, Parker's mom and The Addams' rival. She stalks our favorite family, and there are no consequences. She invades the privacy of her fellow neighbors, and there are no consequences. She goes out of her way to physically destroy all Addams, and there are no consequences. She commits false imprisonment with Parker and Wednesday, and there are no consequences. She is discovered as a prejudicial person on live social media, and there are no consequences. Instead, she just switches business tactics by teaming up with Uncle Fester. No one's grossed out by this lady's behavior. The movie just ends on a high note by claiming that it is okay to be different, which it's true. That theme however has been done to death by every single other children's book.
I no longer feel bad about briefly falling asleep. After it finished, the kid next to me and I both asked "is that it?" We expected more. The movie was only an hour and twenty-seven minutes long and that includes the Migos song at the end. I will be honest. I will admit that I searched for other reviews to make sure I was not going crazy with mine. They all have something in common though: they were all short. With good reason; there isn't much to write for. However, I didn't necessarily hate it. I just thought I'd see more of the macabre lifestyle of the palest family I've seen. By not exploiting and exploring certain topics, the film fails to reach its most outstanding version of itself. Then again, it's some sort of reboot and/or adaptation. I shouldn't have gotten my hopes up.
Sincerely,
AO.
About the Creator
Started writing when I was 18. Ever since then I couldn't stop. Check out my story, "Mad," on Wattpad at https://my.w.tt/cfqHb0tkPW
Reader insights
Be the first to share your insights about this piece.
Add your insights