A Short Review of The Lighthouse (2019, Robert Eggers)
An atmospheric tale of Seafaring insanity, surely to leave one unnerved.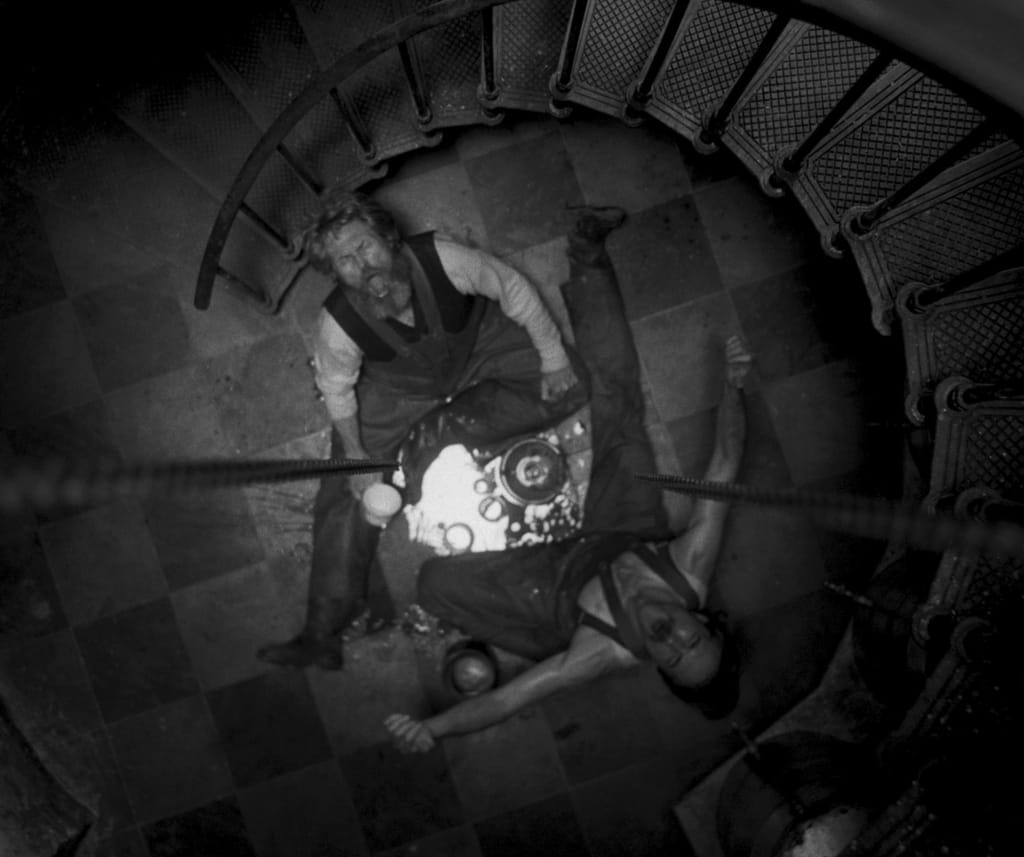 I am going to flat out say it. I absolutely adored this film. It may not be everyone's cup of tea but for myself, it was a highly visceral and surreal film with a delightful amount of weirdness, eeriness and atmosphere, which created a perfect blend, that I enjoyed every minute of. For Robert Eggers second directed film, following his highly successful folk horror The Witch (2015, Robert Eggers), it is a truly impressive achievement.
The film holds a unique blend of genres and themes, including psychological thriller, Lovecraftian /cosmic horror, seafaring folklore, gothicism, Greek myth and elements of comedy. This blend for me worked very dynamically well and allowed plenty of room for the story to truly flesh out. It is quite a slow paced film, which not everyone will like but I myself found it perfectly fitting of the films style, eeriness and aesthetic. For me I found it a perfect demonstration of a well executed horror, harnessed through atmosphere and a story propelled by the uniqueness and actions of its characters, as is required with any great story.
Of which, the story is a very simple one but with such thematic complexity that one cannot help but be intrigued. It is brutal throughout, as we see the two characters slowly turn against each over and drive each over insane. Which is greater enhanced by the emotional connection one can make with the the two of them, who I just constantly loved to follow. A sign of extremely good writing and also fantastic performances from both Willem Dafoe and Robert Pattison, whose authentic performances made me feel like I was on the island with them, desperate to escape.
These performances enhanced the characters relationship greatly, pitting young against old and seeing their frail minds become tortured and their masculinity pitted against each over. To top it all off, the location of the story further goes onto cement this feud. It is as if the island is one great omnipotent cosmic being and the light, that Dafoes character obsessively tends to, is its nefarious heart.
However, whatever exactly it is that lies behind this foreboding presence, whether it be some kind of Lovecraftian being, the angered presence of an Ancient Greek deity or the crippling effects of the characters isolation and madness, it is constantly kept mysterious and ambiguous. Perfectly implementing the rules of effective atmosphere but still effectively blending other elements within.
The film looks visually stunning and vivid, adding to the atmosphere greatly and creating an immensely foreboding and creepy environment. Which truly enhances the sense of tension and apprehension that constantly builds throughout the story. Where you end up questioning what is real and what isn't. You lose all sense of time, just like the characters. You will feel as if you are actually there, giving into the madness.
While it may not be for everyone, for me personally it is a film that I found beautiful, creepy, surreal and existential. A unique and atmospheric work that I honestly found to be, for myself, the best film of 2019. I honestly recommend this film, however don't expect a straight up scare fest horror, if you're solely looking for that you will be disappointed. This is not that, instead it is a slow burning path of suspense and atmosphere, woven into a brutal tale of madness and isolation.
It is a film that will make the seafaring folk songs ring in your head, as you stare into the unspeakable black void of the sea, where you will give into the fear and the insanity.
Watch it spill yer beans....