A Family of Trappers Encounter a Vicious Predator in the Unforgettable 'Hunter Hunter'
What an ending!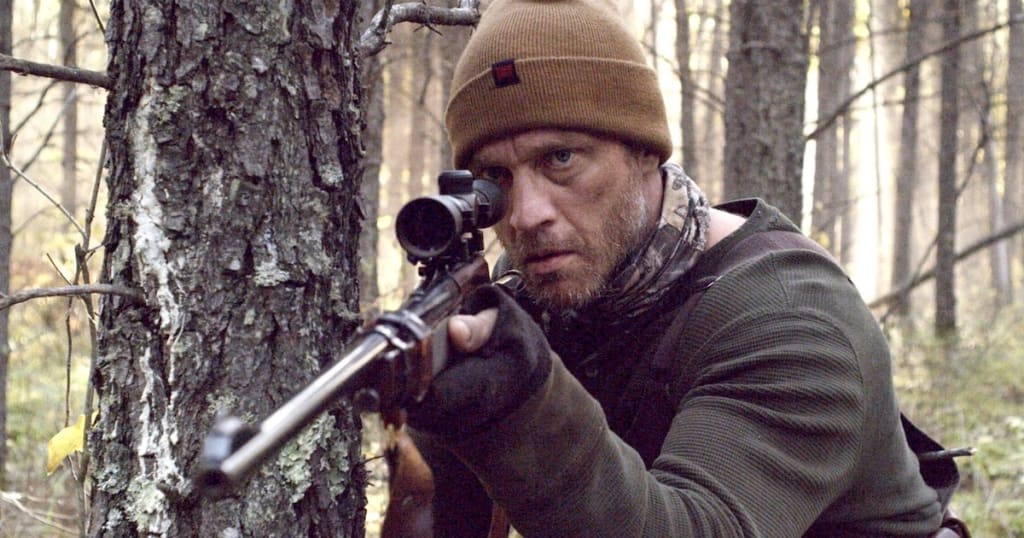 IFC Midnight
READ THE REST OF THIS REVIEW ON OUR WEBSITE: https://moviebabble.com/2020/12/30/a-family-of-trappers-encounter-a-vicious-predator-in-the-unforgettable-hunter-hunter/
...
This much-belated review could have been finished last week, considering the film came out on the 18th. But I'll be honest, considering that Christmas was coming, I didn't want to spend my time writing about this disturbingly violent little film. This does not mean Hunter Hunter wasn't good. Quite the contrary, actually. But considering the subject matter, especially its final moments, it certainly wasn't going to imbue me with the Christmas spirit, something we all need during the closing of this tumultuous year.
Instead of reviewing films like Hunter Hunter, I wanted to focus on the hallmarks of Christmas. It was time to get sentimental, to watch some Christmas classics, which, in my case, involved the likes of Silent Night, Deadly Night; Bad Santa (as well as its lesser, but still fun sequel); 1984's A Christmas Carol; and naturally, the immortal The Muppet Christmas Carol.
So I decided to write this review after Christmas, and here we are. Now I'm finally ready to write about this wonderfully sickening piece of cinema.
"Nobody Lives Like this Anymore…"
"Nobody lives like this anymore", says Anne Mersault (Camille Sullivan), devoted wife to introverted husband, Joseph (Devon Sawa), as they discuss the merits of their off-the-grid trapper lifestyle. Their lifestyle is filled with uncertainty. Resources will dwindle with each seasonal change. And with their daughter, Renee (Summer H. Howell), reaching puberty, Anne ponders if it would be wiser for them to move closer to civilization, seeing that their daughter deserves a chance for a more "conventional" future.
But Joseph is dead set on the old ways, surviving just like his departed father did. He sees nobility in the hunt, the savagery to which every creature living in the woods must abide with. Yet deep within him, there's also a current of misanthropy, even paranoia about the supposed "civilized" world and its dysfunctional human inhabitants. There's madness there. A senseless evil that's far more perverse than the instinctual brutality of a wild animal. Nothing is more dangerous than the human animal.
With the sudden return of an almost unnaturally shrewd wolf, the same one that nearly depleted their resources, their way of life is once again in peril. This same wolf even seems to stalk them and seems to have grown a taste for human flesh. Anne wants to reach out to the authorities, but Joseph is confident that he can outsmart the canine.
Traversing the woods, armed to the teeth, Joseph sets out into the wilderness, looking to hunt down the beast…
Be Wary of Spoilers…
I've read a few reviews of Hunter Hunter, but it's best to keep the premise as vague as possible. I was shocked by the number of reviews that basically gave away 75% of the film's synopsis, robbing the audience of many surprises.
Hunter Hunter, like many of its kind, is best experienced blindly. It has twists and turns. And then even a few more twists and turns. I'm glad I only had a vague idea of the plot. As far as I knew, it was going to be a simple man-in-the-wilderness thriller. Something akin to The Edge, for example.
Instead, it's a bit more complicated than that. But I won't go into why. You just have to see it for yourself.
A Thriller
Hunter Hunter is an excellent suspenseful piece of cinema. Don't expect this film to be relenting gorefest. For the most part, it's a thriller set in the woods. The payoff is remarkably gruesome, but at its core, it's a thriller.
And as a thriller — if you weren't unfortunate enough to read the spoiled-filled reviews, that is — it works wonderfully.