3 Frightening Clowns Not from the Underworld or Magical Hell
They may easily be right in your backyard if you're not careful!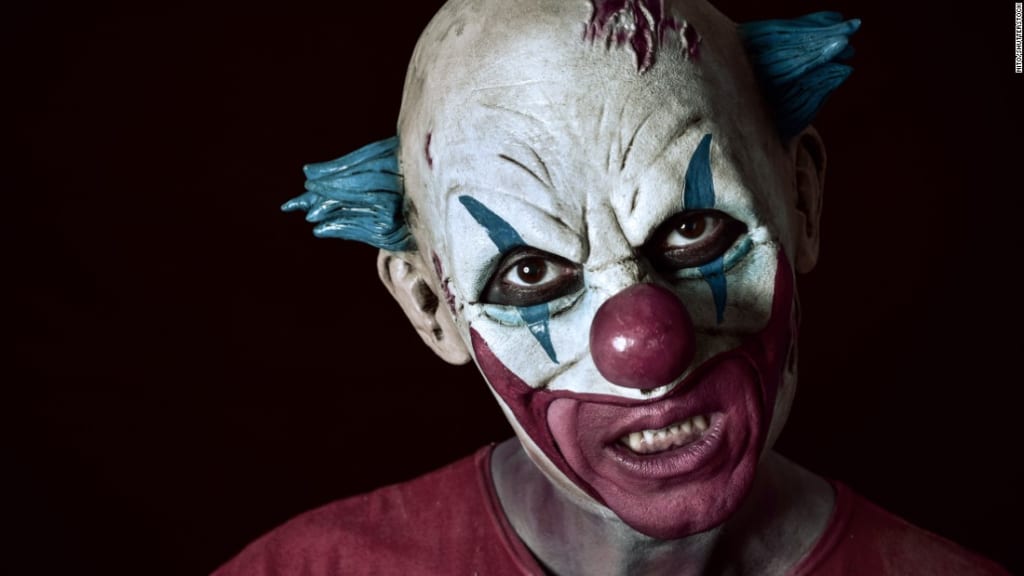 Don't get me wrong: I get the willies from zombie clowns, Pennywise-s, and certain Violators of a spawn-like comic book hero. They're the stuff of legends and horror, but ultimately we have to remember one thing: it's all fiction. The truth is we often get much more scared at the clown walking down the street in the middle of the night than we do a demon in a sewer drain with a red balloon.
Sometimes the Real World Is Where the Real Demons Are, in Fact
You know the saying: we love the horror genre, because it's an escape from the horrors of the real world. Sometimes, though, the horror genre is the real world. Texas Chainsaw Massacre, Nightmare on Elm Street, Fire in the Sky—believe it or not, but all of those films were essentially based off of real events. Real killers (or aliens, presumably).
So imagine what you'd get when you meet someone by the name of John Wayne Gacy dressed as a clown, and you've witnessed horror incarnate. Stuff like that is real. And we're getting quite the whiff of it in real storytelling, such as with these three killer "clowns."
Twisty From AMERICAN HORROR STORY: FREAK SHOW
Aside from the first season, Murder House, FREAK SHOW brought us back to a point in history where the obscene, obscure and bizarre took center stage and made us, well... scared of clowns. Probably long before Stephen King popularized it in dark fantasy horror.
Twisty was the lead in this evil musical of madness.
What's even scarier is the character honestly may not be too far-fetched, as the concept falls right into psychological horror, amping up the evil of what Gacy ultimately was as a serial killer.
Twisty was Gacy on acid. Simple as that.
What About Captain Spaulding?
Equally unnerving. Rob Zombie tapped into the Western nail-biter of such films as The Hills Have Eyes, Wolf Creek, Hostel and, of course, The Texas Chainsaw Massacre as an ode to the unknown of the frontier where no one can hear you scream.
You're simply stalked by a predator out in the wilderness. No CGI. Nothing paranormal. No vampires, demons, gargoyles, ghosts or alien chest-bursters. Just some rabid so-called humans looking for a little 'fun.'
Captain Spaulding was that quintessential 'clown' personifying madness to a tee.
Of Course, Not Nearly as Much as the JOKER
We're, naturally, referring to the most recent rendition of the Clown Prince of Crime, not to take away from the genius that was Heath Ledger, Romero, Nicholson, and yes even Leto. The Joker may be the Madonna of DC Comic villains, but he most definitely was a human—tortured, damaged, devilish, and utterly and happily hopeless.
Do a comparison take, and you can arguably say that the Joker took more lives than even Pennywise. He was a demonic existence in the world of Gotham, and not some other plane of existence—not existing in someone's dreams, or in someone's fears. Heck, the Joker embodied fear—but with a smile. And that's what made it so much fun and also petrifying.
Still, We Celebrate Clowns With the Best of Them Given the New Joker Film and IT: CHAPTER II Making Headlines
You can keep your Annabelles, Chucky's, nuns and sparkly vampires, honestly. Give me clowns any day if I want a little insanity in my life. And the best part is these clowns won't even need to transform into monsters for me to be scared out of my mind. Look for them on the street (remember the whole clown craze back in the day?). Look for them in the shadows. They're there.
And you don't even have to imagine that they are.
About the Creator
I am an author, adventurer, and father, living with my wife, four daughters and one son in Grand Rapids, Michigan. I've trekked through tundras, waded through swamps, wandered through deserts, and swam in the Great Barrier Reef.
Reader insights
Be the first to share your insights about this piece.
Add your insights