3 Top Stories About Sylvester Stallone That'll Make You Think He's the Next Horror Icon
He might even be bigger than Robert Englund, for crying out loud!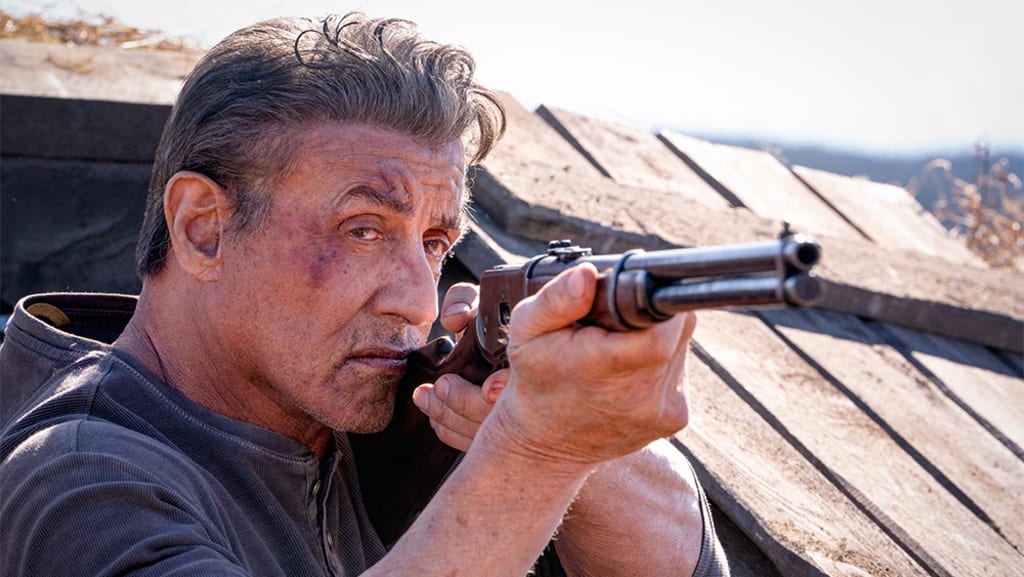 That may be a stretch. We may be exaggerating. We're not, though. When you've got clout, tremendous backing, a history of making great films, and adaptability to branch out into everything from action, to drama, to even comedy, Sylvester Stallone is the cream of the crop!
But Wouldn't You Know It—–The Man Has NEVER Been in a Horror Movie
Not even one. His work's mostly everything mentioned above. The odd thing is if you really dissect some of his work, you can see the guy has a hankering for horror!
He's just about the grittiest action star of all time—the guy has shed more blood than arguably Arnold Schwarzenegger and Bruce Willis. He's been in battles inside a boxing ring, in a forest, in massive car chases, bloodthirsty street fights, bows and arrows, explosions, cuts, bruises, back stabs, cut heads, lacerations, broken bones and more.
He just might be the most horrific action star of all time.
The Irony Is Schwarzenegger and Willis HAVE Had Their Share of Horror Flicks
Terminator. The Sixth Sense. Maggie. Planet Terror. Unbreakable. End of Days. Some have been iconic; others, not so much. But the fact remains: filmographies for these two hulks dabble into the terror genre at length, but not Stallone! Quite the stunning realization when you think about it.
We may see a shift soon in the kind of work Stallone brings to the table, though. Such as with these three new stories, updating the world of horror as we speak!
Remember the Film COBRA?
We do. Wicked action flick and arguably one of Stallone's fiercest romps, pushing the envelope about what we can see on the silver screen, bringing the gore and goods to the forefront.
It was unabashedly dark, perhaps somewhat devilish. And Stallone made for a great protagonist. You, however, won't believe what's coming with this property, and you'll want to check it out when it debuts. Stallone has something up his sleeve with the property of Cobra and the story of Lt. Marion peppering bullets and punches on bad guys.
Let's Not Forget RAMBO!
When you think about it, the character of John Rambo may easily be the human version of the Predator, which as you know is quite the horror flick in its own right (ironically starring a certain former governor of California).
The last edition in 2008, aptly titled Rambo, certainly didn't pull any punches, some stating that it even outdid the previous editions as far as ultra-violence. It makes you wonder.... Is this character a true horror action hero? Perhaps.
We, however, just might see a game changer in the next film Stallone has pulled out of his jugular like a blown artery waiting to spew the fluid: Rambo: Last Blood, the final film in the series (apparently, which will be so sad to see.
Check out the latest right here and see why the newest film might be its own horror phenomenon.
Lastly, NONE of That Holds a Candle to the Fact That Stallone Just Met With One of the Biggest Horror Studios of All Time
Are. You. Ready. To be blown away with this one? Who would've thought Stallone would ever meet with the likes of these guys? Hard to imagine. But it's true.
Just check out the news right here and see for yourself. Not fake news. For real. Stallone was quite pleased to pow-wow with the masterminds of terror, and there's no telling how far that will go, because as we already reiterated: the man has not done horror yet (officially).
Again, Though, We're Not Surprised
Stallone has proven he can handle just about anything. Being as dark, moody and demonic as he can be in his roles, it would be a welcome foray into a genre he hasn't even officially touched at all. We'd love to see him tackle titanic spirits, ghouls, vampires even. Only time will tell on how long that will take, because as we know now—the horror genre is at the top of its game.
About the Creator
I am an author, adventurer, and father, living with my wife, four daughters and one son in Grand Rapids, Michigan. I've trekked through tundras, waded through swamps, wandered through deserts, and swam in the Great Barrier Reef.
Reader insights
Be the first to share your insights about this piece.
Add your insights