You Say You Don't Like To Read?
A Story About Reading From an Avid Reader With Hopes to Change Your Mind About Reading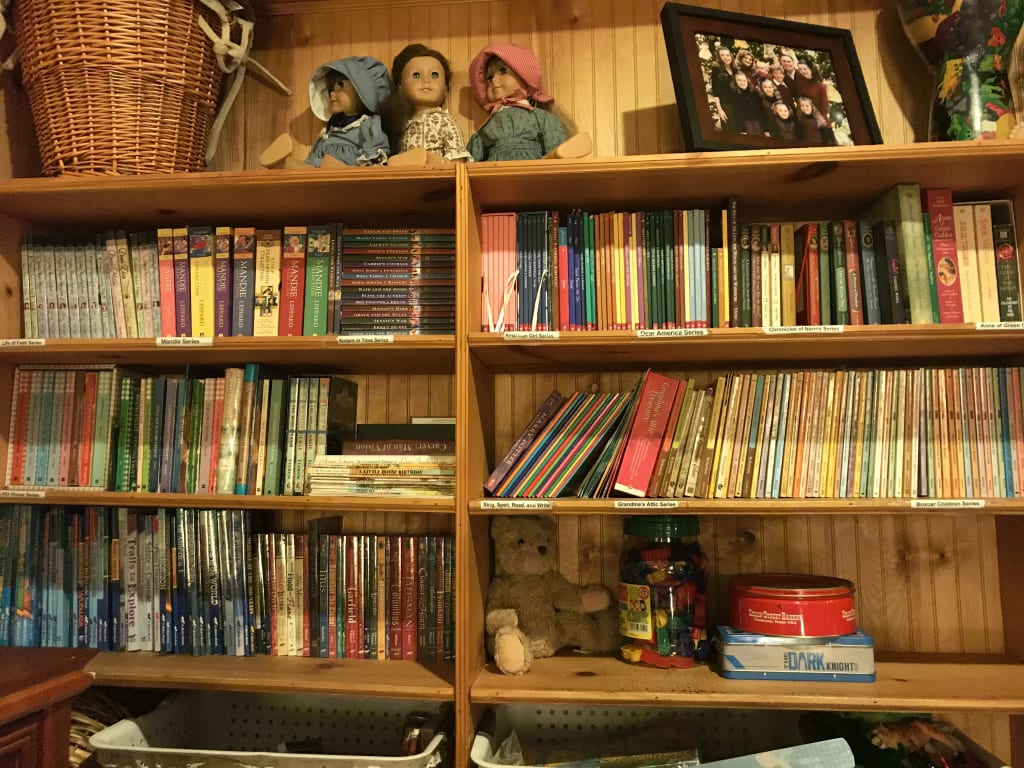 Just a Few of the Many Shelves in the Family Room, Holding Some of My Favorite Books from My Childhood
I was talking to my 10-year-old little sister yesterday, as she was playing a game on her "school" laptop, and I asked her if she's read any interesting books lately. She quickly answered me with a clear disdain for reading, saying that she only reads when she has to, and "no book in the world is interesting, it's boring." I realized then how different my childhood was compared to hers. Disclaimer, I'm only 19, so I won't pretend that I grew up in a time where technology was unheard of, but I certainly didn't have the technology as readily available to me as my siblings do now.
So back to our conversation, as I'm hearing my sister's answer, I walk over to one of the many shelves in the family room, which hold more books than I could count, and pull one of my favorite childhood books from a high shelf. It is The Boxcar Children, the first book in a very long series, and I gave the book to my sister. "Here, try reading this; it was my favorite when I was your age; I think you'll change your mind about books if you give it a chance." She grudgingly agrees to read it and sets down her laptop.
After our interaction, I begin browsing the shelves full of books, remembering the times I read the stories within and becoming nostalgic over the memories of when I would sit in the living room for an entire afternoon, just so I could finish my newest book. I fell in love with reading at such a young age, and I am so sad that many young people are growing up in an age where there isn't a desire to read more than what is required of them in school.
I think one of the reasons kids aren't reading for fun today is because of all the technology that is so readily available to them. Their free time is consumed with Wii, Netflix, video games, iPhone apps/more games and definitely social media. When I was young all I had to do in my free time was read or play outside, and being the introvert I am, I chose to read. I am certainly not saying that kids shouldn't be introduced to technology at a young age; in fact, it's almost impossible to keep them from it. Technology is so prevalent in today's day and age. I just wish that there was a way to put an equal emphasis on reading/any creative activity as well as any of the previously mentioned technologies when it comes to free time.
I know I'm pretty unique in my obsession with books at such a young age. When most kids were playing outside with friends, I was inside reading, becoming best friends with the characters in the stories. There are most certainly young people out there who are introverted little nerds like me, enthralled over our newest novel, but I also know there are people out there like my sister, without the desire to sit and enjoy a good book. I'm not sure what to say to change their minds and convince them that reading can bring such joy, but I do know that my sister came up to me today, with a huge smile on her face. She told me she's halfway through The Boxcar Children already and that she can't wait to read the second book in the series.
If I can change her mind about books, maybe this story can change someone else's mind and convince them to give reading a chance.
literature
About the author
I love Jesus, I'm a harpist, student at James Madison University and I'm an avid reader, lover of coffee, crocheting and knitting, and trying my hand at creative writing.
Reader insights
Be the first to share your insights about this piece.
Add your insights