X-O Manowar #8
Valiant Entertainment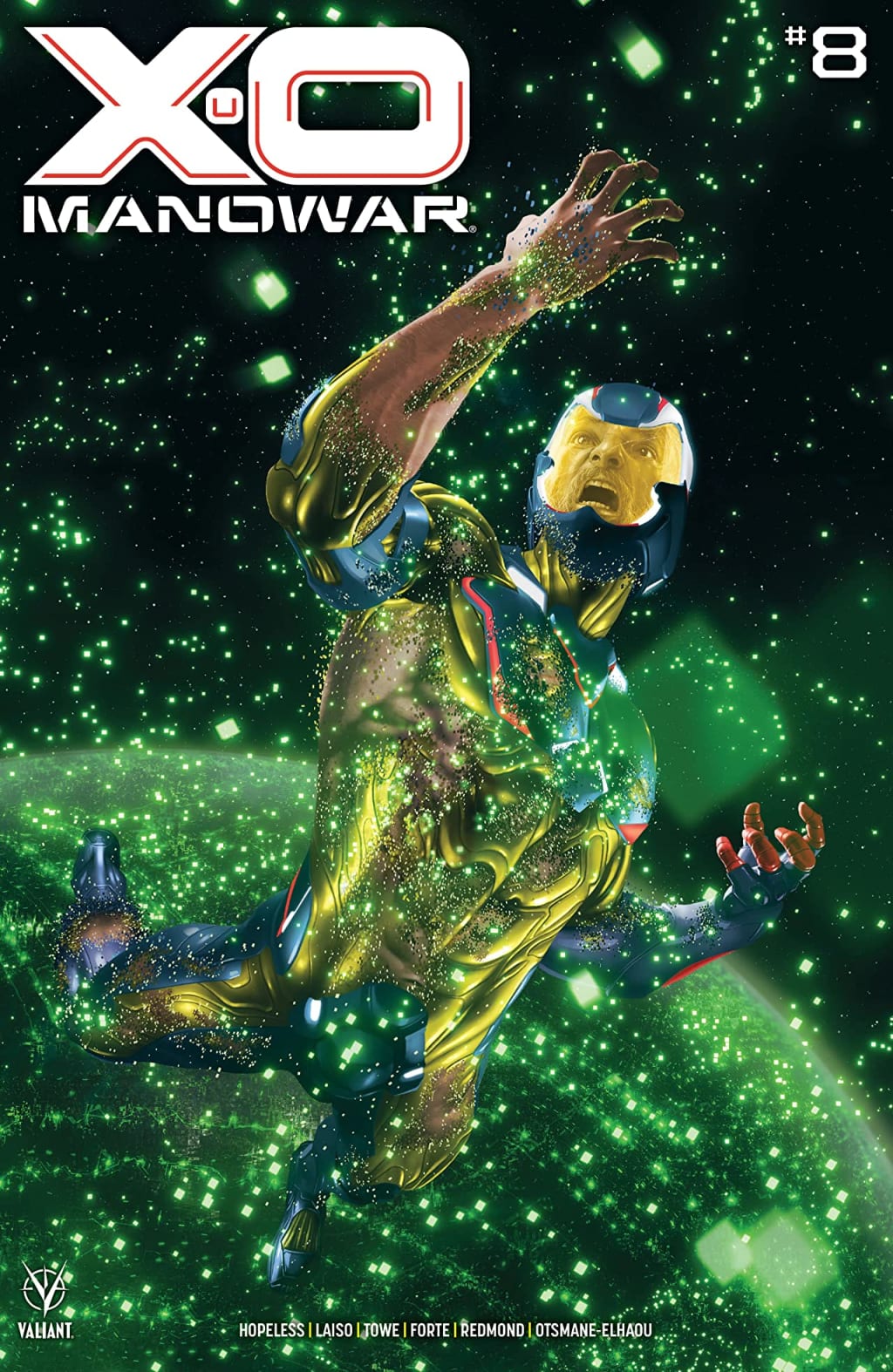 X-O Manowar #8
Valiant Entertainment 2021
Written by Dennis Hopeless
Pencilled by Emilio Laiso & Jim Towe
Inked by Raffaele Forte & Jim Towe
Coloured by Ruth Redmond
Lettered by Hassan Otsmane-Elhaou
The truth about X-O Manowar's armor revealed. A devastating plan unfolds. And the evil mastermind behind it all gets a cosmic upgrade. The penultimate chapter of Dennis Hopeless and Emilio Laiso's epic run brings big changes to the Big Apple…
This is what I love about Dennis, I knew that Troy was up to no good long before it was revealed but while I knew he was a bad guy I had no idea what he was really up to. So I had to keep coming back to see what Troy had in store for Aric and Shanhara. The amount of underhanded sneakiness that we see throughout this arc has been utterly amazing to witness and how well it's been portrayed by letting us know something was up and yet not giving away what the master plan really was is expertly done. There is so much complexity that comes with this story and so much that spotlights Aric's goodhearted nature that's being taken advantage of and how no one around him was able to really take notice that something was off that really strikes a chord with me as a reader and a fan.
I'm loving every single moment of the way that this is being told. The story & plot development that we see through how the sequence of events unfold as well as how the reader learns information are presented exceptionally well. The character development that we see through the dialogue, the character interaction as well as how we see them act and react to the situations and circumstances which they encounter as it does wonders in spotlighting their ever changing and evolving personalities. The pacing is excellent and as it takes us through the pages revealing more and more of the story the more we are pulled into this.
I'm a huge fan of the way that we see this being structured and how the layers within the story continue to emerge, grow, evolve and strengthen. I'm also liking the way that we see the layers within the story open up new avenues to be explored. These new avenues may or may not be explored but they all add this great depth, dimension and complexity to the story. How we see everything working together to create the story's ebb & flow as well as how it moves the story forward are impeccably handled.
I'm very much enjoying the interior artwork here. The linework is clean, crisp and sharp and with the varying weights and techniques that we see creating this fantastic detail within the work is bewitching. How we see backgrounds being utilised with such prevalence and how this enhances and expands the moments perfectly. They also work within the composition of the panels to bring out the depth perception, sense of scale and the overall sense of size and scope to the story is magnificently rendered. The creativity and imagination that we see throughout with the effects of what Troy is doing is sublime. The utilisation of the page layouts and how we see the angles and perspective in the panels show a masterful eye for storytelling. The various hues and tones within the colours being utilised to create the shading, highlights and shadow work shows this amazing eye for how colour works.
​
How this is going to conclude and then lead into the next arc has me excited for what's yet to come. Dennis has managed to really make a time displaced Visigoth accessible and likeable not to mention relatable to. He's someone you want to root for and see succeed and his supporting cast is amazing so there's so much going on with him right now that is amazingly well presented even through all the madness that is currently happening. With such strong intelligent writing and dynamic characterisation and these brilliantly rendered interiors we see such a great character and book grow ever stronger.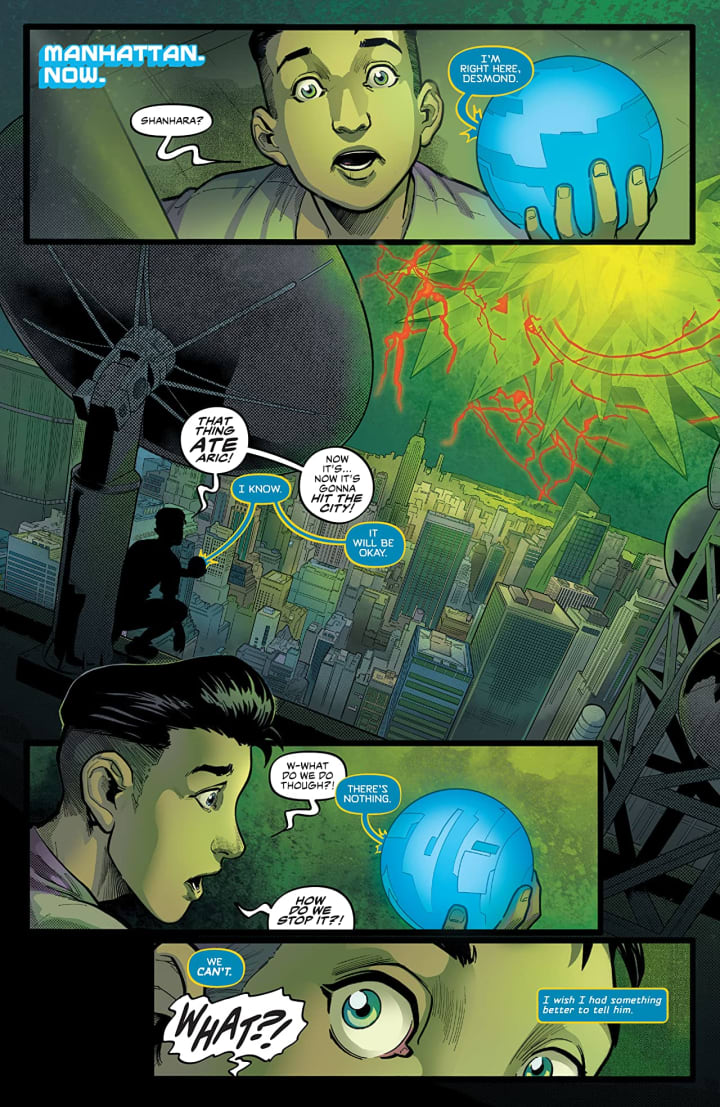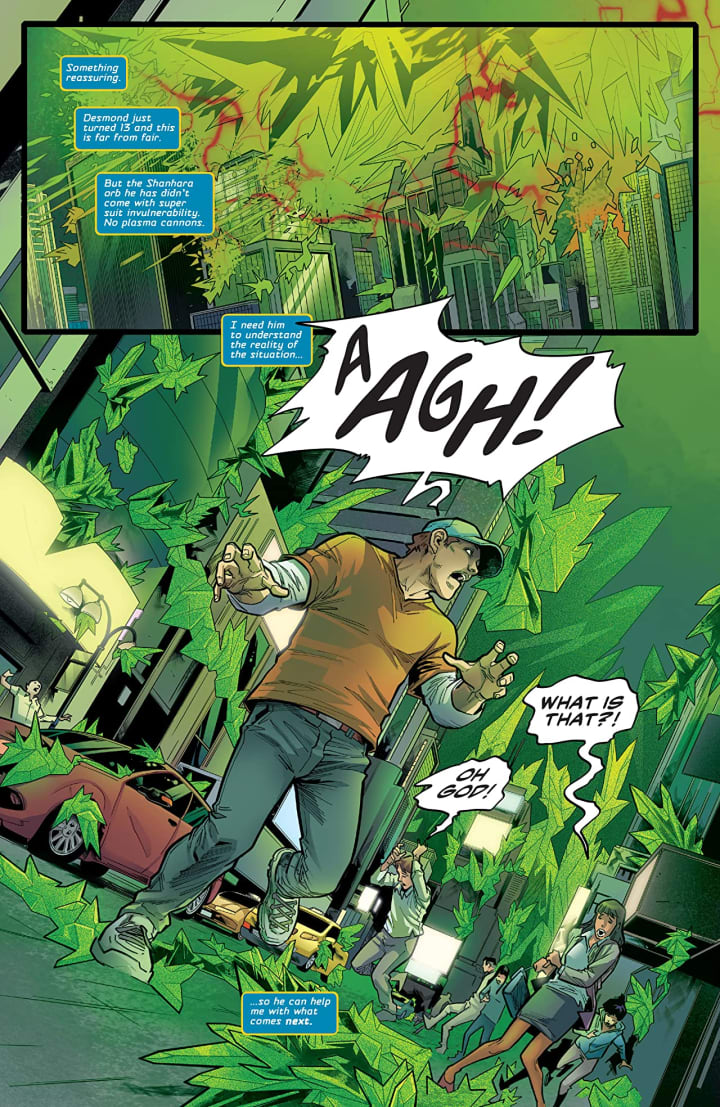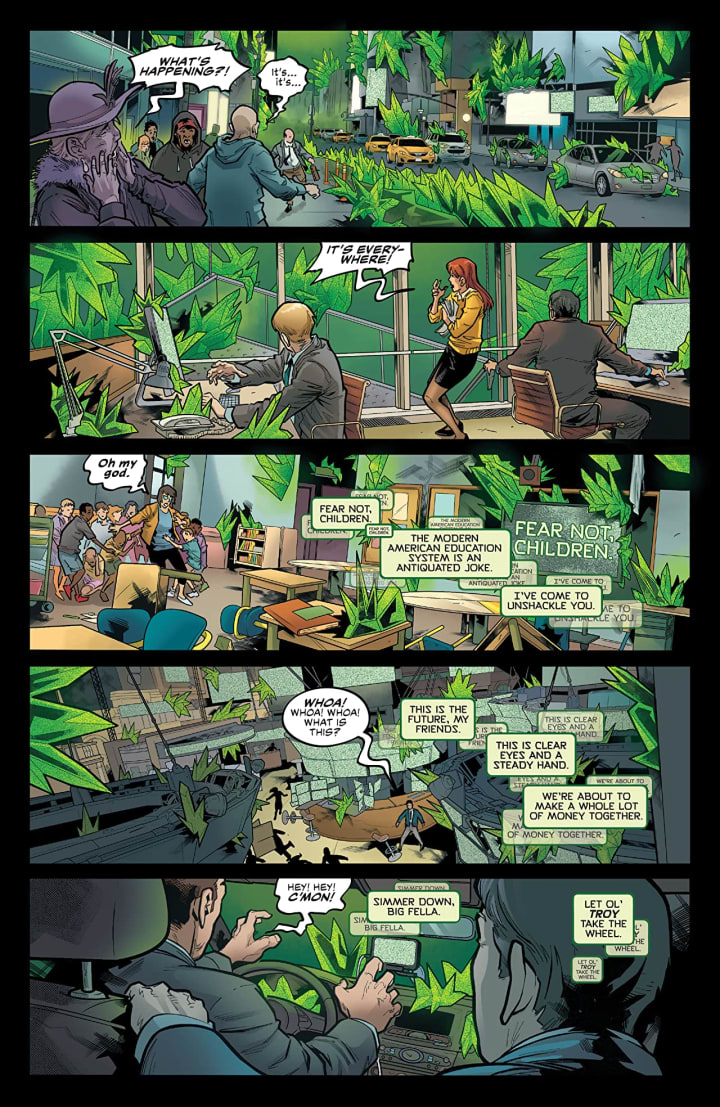 comics
Just me talking about the comics I enjoy reading, ones that you might not know exist and spotlighting the indie creators that excite me.
Receive stories by Steven Leitman in

your feed