Why Women Relate to Harley Quinn
Long before she took center stage in 'Suicide Squad,' women related to and admired Harley Quinn.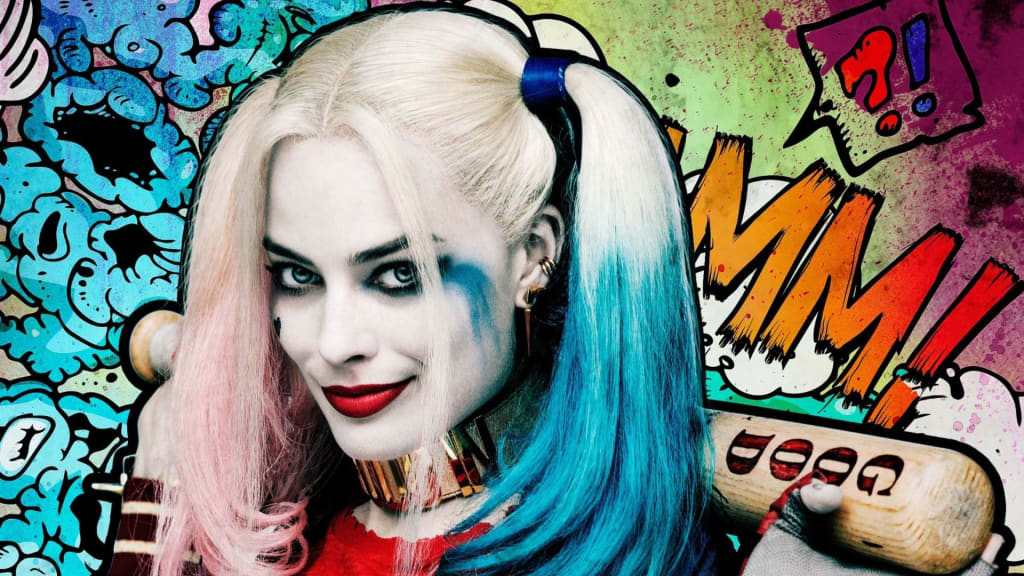 With the build up to the Suicide Squad movie spanning nearly TWO WHOLE YEARS and a promo that rivaled some of the biggest movies to date, this gang of misfits had a lot to live up to. With names like Jared Leto and Will Smith amongst the stars, it was hard to know who would steal the show, but Margot Robbie's portrayal of the Joker's battered lady friend Harley Quinn has definitely taken center stage.
But why is this psychotic, sexualized, cartoon-like character so popular, not only amongst men but women, too? In 2015, Harley Quinn was the most popular Halloween costume worn by women, so what is it that women love about her so much?
Let's start with the surface…
Her Looks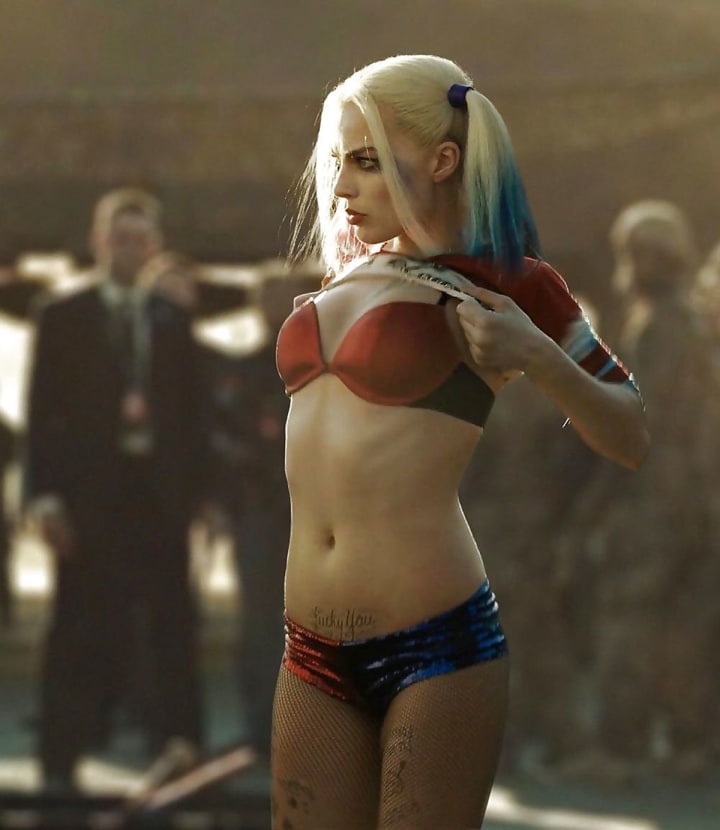 Ok. So, every dude wants to get in her pants and every girl wants to look like her. For me, Margot was the perfect woman to play Harley. After she made the jaws of men, women, and everything in between drop in The Wolf of Wall Street she was a sexual force to be reckoned with. She keeps Harley's cartoon like craziness and adds her special blend of undeniable sex appeal. Her two tone dip dyed pastel pigtails is my hair wet dream and if my poor locks weren't already absolutely annihilated after years of bleach and then black and bleach and then black and bleach again and then black one more time… I would definitely be copping that look right about now. This look has already been porn parodied more times then I can count, and I know for a fact that there was a queue of girls salivating over the role. Tattooed goddess Kleio Valentien for Wicked Pictures was my favorite portrayal, she almost gave Margot a run for her money.
Her Clothes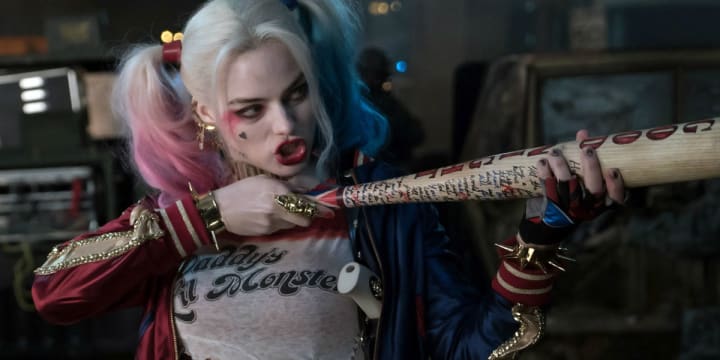 Harley is about as bad ass as they come, her Daddy's Lil Monster shirt and ripped fishnets are the perfect Halloween costume for every girl that wants to look sexy but psycho for the occasion (and every single day for the rest of the year, should you choose). Women, famously, hate to be told how they should dress, I am sure that EVERY SINGLE GIRL READING THIS has been told by a father, brother, or boyfriend "you are not wearing that." I hate being told I can't wear something because it shows too much or is too inviting, I wear whatever I want based on what I'm feeling that particular day. Harley is a middle finger to the normal dress code, much like every other superhero, but with a far more cool and achievable finished. Fucked up is far easier to come by then polished and perfect. Believe me.
I actually planned on having a Harley Quinn make over for Halloween last year but unfortunately my hair dresser REFUSED to put anymore bleach on my hair and Hot Topic was all out of Lil Monster shirts. So I wore black and painted my face as a skull, essentially my every day wear.
However, all you budding psychos out there will be happy to know that Hot Topic has restocked the famous shirt and it is available now, so grab it in time for Halloween…
Her Daddy Issues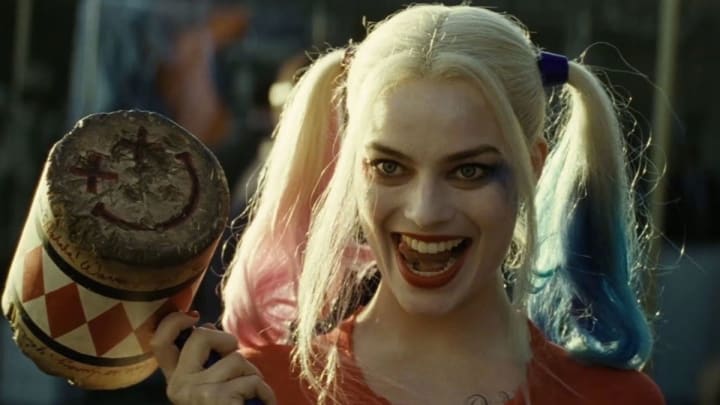 Let's face it. We all have them. Whether you hate your daddy, never met your daddy, call your boyfriend daddy, or like me, love your daddy so much that he is your hero and every guy you date has to work super hard to even come close to impressing you because your dad is so awesome (although I do have the most incredible boyfriend FINALLY after years of disappointment). So we can pretty much all rock that Daddy's Lil Monster shirt with pride.
Her Relationship with the Joker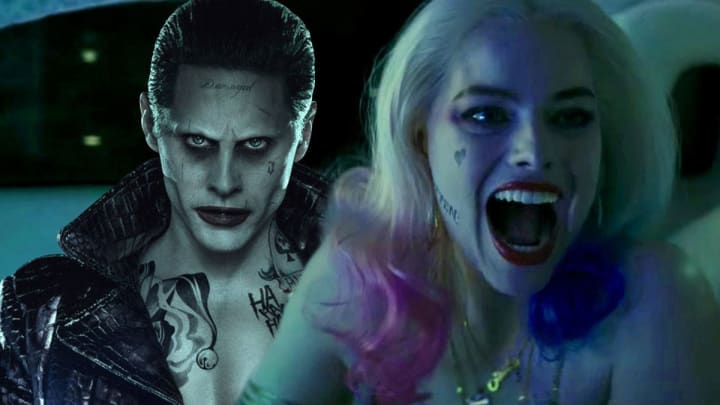 Maybe it's just me, and maybe I just grew up around/am now friends with mental girls that are incredibly over dramatic, but every single female I have ever been friends with has had a fucked up relationship at some point in their life. Maybe not to the extent of Harley and the Joker, but pretty bad. I can definitely relate to her particular brand of Stockholm Syndrome, in fact it scares me how similar her relationship with the green haired psychopath is to a previous hell hole of my own. There is something intense and passionate about being with someone that is abusive but pulls you back in each time they hurt you. Also, let's face it, she has told the Joker off on more than one occasion. Myself and so many other females can relate to that fucked up relationship that you just can't get out of, no matter how bad it gets. Your obsession keeps you holding on for the crazy ride, lusting after the highs and waiting out the lows. Harley has an incredibly relatable back story, particularly for me. She was a good person that got drawn into a darker lifestyle with the Joker because she tried to fix him. Most girls can relate to trying to change a guy that just cannot and will not change, that pulls you away from your life, even temporarily and drags you down the wrong path. No matter how powerful and strong you are as a women, sometimes you lose control of that.
Her Cute but Pshyco but Cute Personality
Girls are fucking crazy. Am I right or am I right? I know. I have a vagina. We can be more vindictive, devious, scheming, and evil than our male counterparts ever could, if we truly put our minds to it. I don't know why or what it is about the female psyche that has the ability to switch in this truly bipolar manor. I cannot speak for all females, but most of us have this ability. Harley is an out and out crazy bitch and there is something to be applauded about a character so unashamed of her utterly disastrous mentality. She knows she's crazy, she takes that crazy, she embraces it and she makes it work. I am a crazy bitch but if I let the crazy run as wild as she does, I wouldn't have a house, a job, a boyfriend, or many friends. So shout out to all the other crazy ass girls who keep it on lockdown but are secretly as insane as Harley. She is a complex character that has evolved far and beyond where she started. Plus, she's fun! And who doesn't like a bit of fun?
Her Girl Gang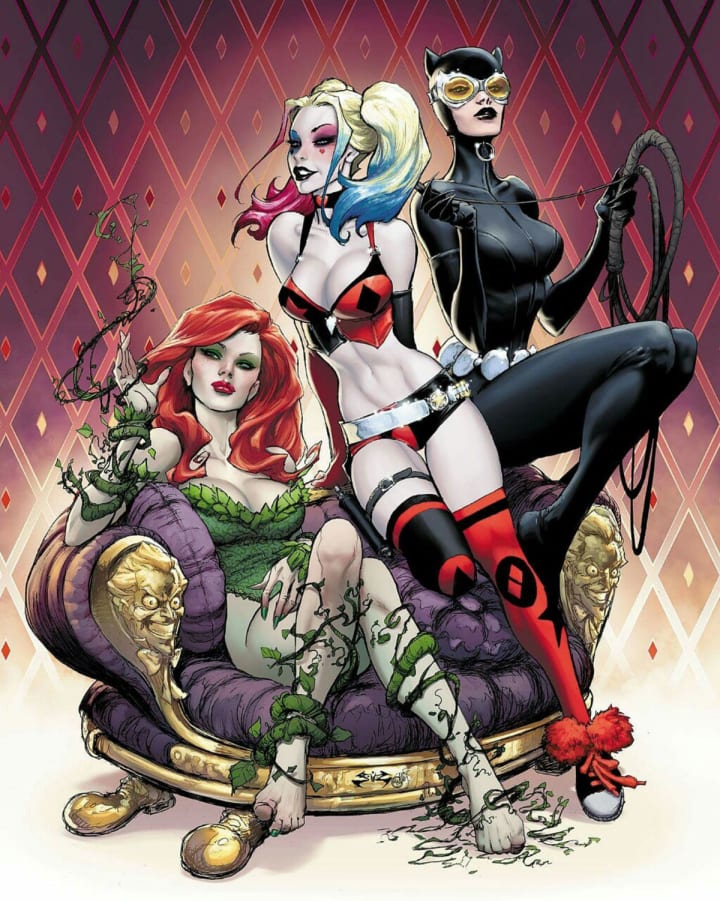 I, for one, love that the Batman series include some of the greatest female characters in comic book history. I LOVE female villains. I've never been a hero kind of girl, I hate Superman and Wonder Woman and have always leant to the dark side. The Batman stories had me gripped from day one. Harley is part of the all girl power house "The Gotham Sirens" or "Gotham Girls," consisting of Poison Ivy and Cat Woman. In my opinion, the sexiest, coolest, most badass chicks to ever grace the comic book universe. The group famously worked together to commit crimes but over the years became preoccupied with their own individual motivations. Despite their differences, the Sirens always supported each other as friends, especially Harley and Ivy. For me, this is ALL about girl power. Villains or not, they are three powerful women working together and supporting each other. Every girl needs her strong girlfriends around her, we are nothing without our girls. Support your local girl gang.
She's Just So Cool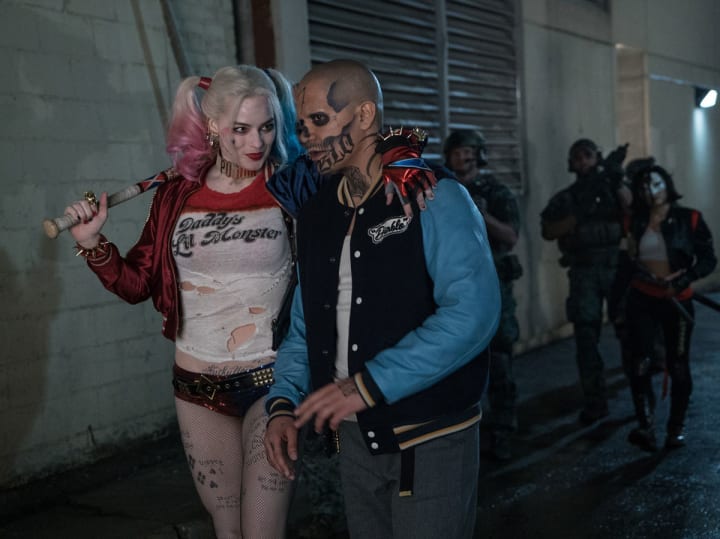 She is the epitome of cool, a no fucks given, middle finger to the world, wearing sequin pants in public, COOL ass character. I love her, and I want to be JUST like Harley when I grow up.
comics
movie
list
Born and Bred Londoner, Mother to baby Roman and my two pooches, Plant Eater, Yoga and Aerial Teacher + Learner, Music Maker... was once in Game Of Thrones, was once a Penthouse Pet, used to win awards for getting naked.
Receive stories by Samantha Bentley in

your feed