Who Was That Mystery Woman In Doctor Strange And The Multiverse Of Madness
Charlize Theron joins the MCU, but who is she playing?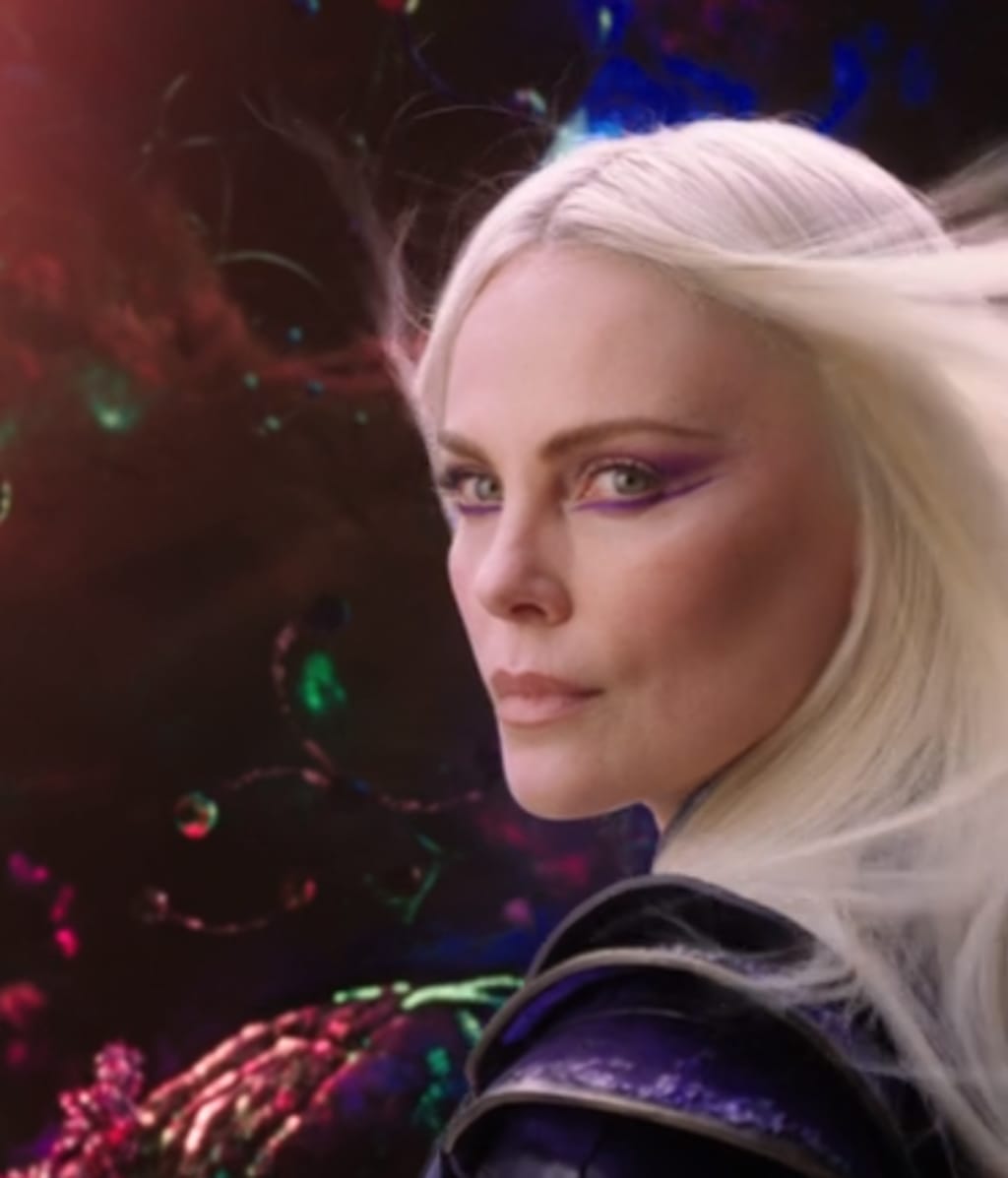 Screenshot by Author
Charlize Theron As Clea
She's in everything because she's that good. Now, Charlize Theron is in the MCU, appearing as Clea in Doctor Strange and the Multiverse of Madness. Who is she?
"I am the Sorcerer Supreme of the Dark Dimension. My magic is the match of any of [The Warlords]. Let them test me. If they dare."

— Clea
Clea is a character that was born to Prince Orini, the son of Olnar, who rules the Dark Dimension. Her mother was Umar, a Faltine fugitive and the sister of Dormammu. Her birth was traumatic to Umar and the experience scarred her when she discovered she couldn't return to the form of a Faltinian. She left Clea with Orinia and became a violent creature, starting a conflict with her brother. Dormamma defeated her and banished Umar to a different realm.
Clea, essentially grows up motherless, worshipping Dormammu, who her father served.
Clea and Doctor Strange
In the comic history, Dormammu was bent on conquering Earth, and it was during one of those attempts that Doctor Strange traveled to the Dark Dimension to attempt to stop Dormammu. A curious Clea found the "human" impressive and tried to convince Doctor Strange not to face Dormammu. Her attempts were unsuccessful.
Clea was imprisoned by Dormamu because she attempted to save Strange. When other beings, called the Mindless Ones, escaped from Dormammu's control, it forced Strange and Dormammu to work together to contain the creatures. Dormammu, now owing Doctor Strange a debt, agreed not to invade the Earth and release Clea.
After being imprisoned again, and having run-ins with Dormammu more than once, Clea finally realized that Earth was her only haven. Strange set her up with an apartment in New York City and helped her to start a new life. Clea being on Earth caused her to lose her powers and she began studying in the Sanctum Sanctorum. When Doctor Strange became the new Sorcerer Supreme he invited Clea to be one of his students. They bonded, she joined him on adventures and helped the Defenders several times.
Clea And Doctor Strange In The MCU
It made sense to bring the character of Clea in when they did. After five appearances, Doctor Strange found himself faced with finally letting go of his beloved Christine. He went so far as to go to her wedding and wish her well, before getting wrapped up in the events of Doctor Strange and the Multiverse of Madness.
As Marvel is getting closer to entering its fifth stage in the MCU long-term plans, adding new and exciting characters will breathe some new life into the franchise. There aren't the lovable couples that there once were. Hopefully, Clea and Doctor Strange don't suffer the same fate as Tony (Ironman) and Pepper did, finding each other only to end with Tony having to make the ultimate sacrifice to save the world for his family and friends.
In the comics, Clea and Doctor Strange eventually become "husband and wife," even though they aren't able to make it legal. Clea's existence as an inter-dimensional being makes a legal wedding impossible. Doctor Strange and Clea exchange magical rings that bind the two together. However, in the comic materials, their happiness doesn't last.
It's impossible to say where Marvel will take the character of Clea but with an actress the caliber of Charlize Theron playing the role, the skies are the limit. It should be fun to see the addition of Charlize Theron play out as Marvel moves forward toward Phase 5 and the next epic storyline.
comics
About the author
I have always enjoyed writing and exploring new ideas, new beliefs, and the dreams that rattle around inside my head. I have enjoyed the current state of science, human progress, fantasy and existence and write about them when I can.
Reader insights
Outstanding
Excellent work. Looking forward to reading more!
Top insight
Heartfelt and relatable

The story invoked strong personal emotions
Add your insights