What I've Learned To Do For TikTok
Tips to engage the content for the entertainment app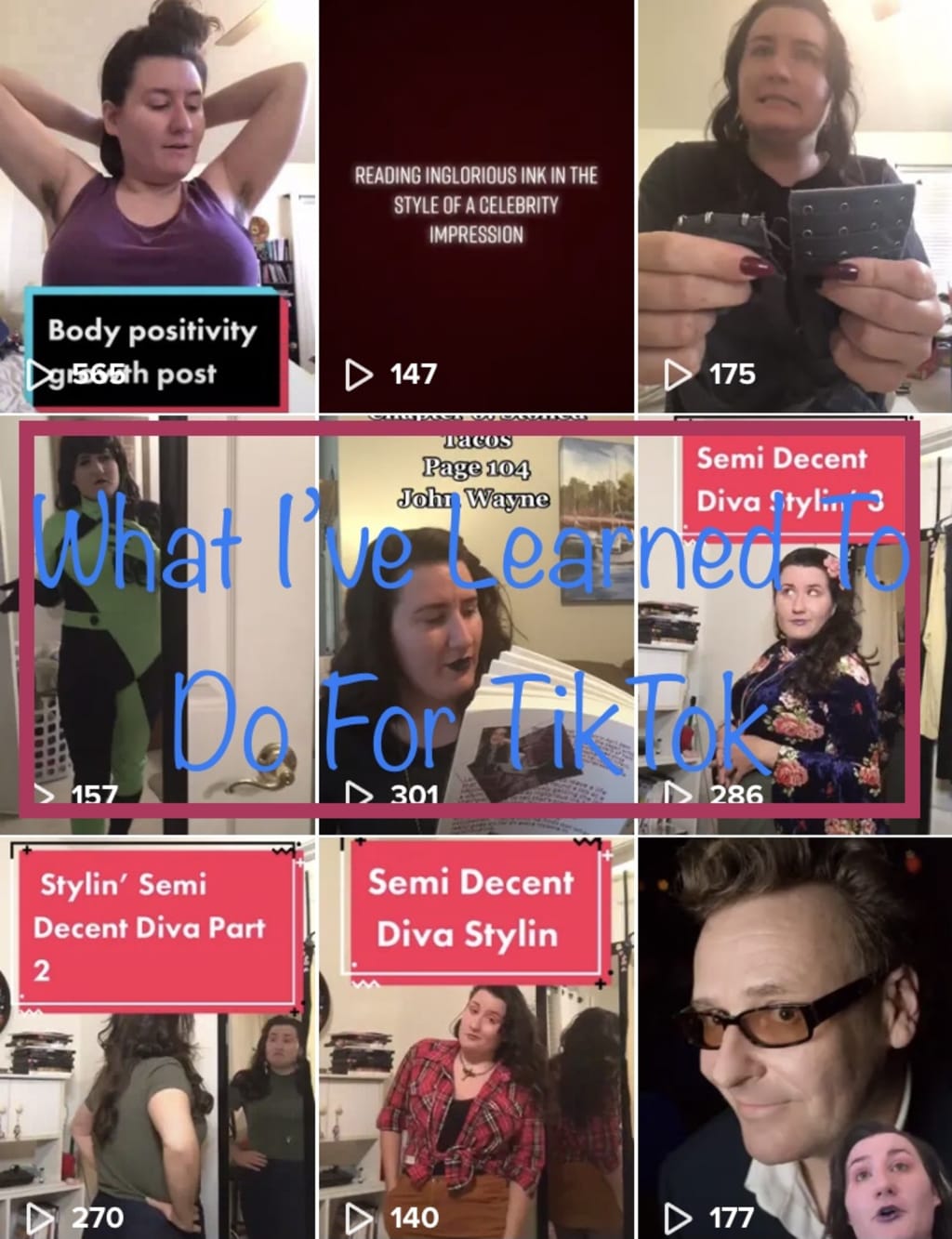 A sample of my tiktok page of various videos that I'll be elaborating on throughout this article
The world of social media has made the entertainment landmark with TikTok. It has helped out with entertaining, as well as endorsement for a boost in making the strides for creators that want a career in any way of entertainment. Now there is a chance for those creators out there to show what they want to be recognized for. It does have a great influx of people who are open and opted to taking the time to watch what has been made to weave through the system of the feed on TikTok.
I've always been used to the algorithm on YouTube where I had to maintain my content to pick one area and stay with that topic. There was no other areas of criteria, it had to be one decision and there would be time risk with that decision because of the time spent to try out different content. When I started doing TikTok, It was a faster process for editing videos with professional effects and a faster process to have it on my phone. Even the time limitation of fifteen to sixty seconds that was plus to me to be able to to prioritize the content to be quicker then longer projects on YouTube. Now it's been almost a year since I joined and I now have 107 followers and 1,556 likes for my videos. That has better success in this past year then hoping for a view or two on YouTube.
As much as I love TikTok, and what it has done for me as a creator, it is a cesspool of videos that is constantly circled around in the hopes that someone will like one video and then take a chance on the rest of the videos. When I first started uploading to this app, I was just playing around with it not really knowing what I was doing. I knew that I could use this app to my advantage to help out my marketing for my book. I had to consistently put out material that pertained to what I wanted to help me market, and put out content that I could enjoy for myself. But then I would feel so stressed that what I was doing wasn't gonna be good. I would constantly feel this jealousy when I saw other creators put out content at light speed, and I felt overwhelmed that I just couldn't catch up or keep up.
It is an app that is intimidating, and I'll admit, I still feel intimidated at times by the app. But taking that aside, there will never be another app that has both the accommodations and the audience. It has the tools required for any idea to be shared effectively and creatively with an audience that is open for new ideas to relate to or be entertained by.
Consistency is key, it does help if you put out things consistently as much as your schedule allows. There is no wrong way to do an idea for a video, because it was still followed through to be created and tested out. Whether it works out or not for views and followers, you won't know if it didn't work unless you tried it out to know how to perfect your page and maintain your audience.
I've been pleasantly surprised with the fair share of success with certain videos that I have created that were either serious content or leisure continent either way it's content that someone took the time other day to see with the many test runs that can be done on TikTok.
I have a couple of regular series that I do on TikTok,
I do a series where I read a passage of my book in the voice of a celebrity (Reading Inglorious Ink)
I do a series where I record the way I scatter around to get ready (Semi Decent Stress Stylin')
I have a comedy series where I talk about the female psyche from every part of the body (The heart, the brain, and the vag)
I also do fashion videos (Semi Decent Diva Stylin)
I do videos were I give film facts. (Film Facts)
It's content that I've managed to be the material I can be proud of, it shows who I am, and what I represent and what interests me. I have a variety in different areas: fashion, fun film facts, transformation videos, comedy skits. I don't have to be pinpointed to one specific area to create videos in. But I had to learn to prioritize how I can do my content, and have it polished to gain my audience. You can have the funniest or thought provoking material, but it does need work to be polished to be presented so people will get a video that had the time taken to be well-made. If you noticed, people are more inclined to see a video that took the time to have a catchy title, enhanced edit, well placed font, and showstopper showcased picture.
TikTok has an unpredictable crowd that makes the chances for any kind of content to be seen. To date, the one video that still generates likes and comments on my page for a solid two months now was a thirty second video called "Body Positivity Growth Post", where I talked about my body positivity with how I went without shaving.
I learned a lot of my tips from a creator that goes by the username, DOODYBEARD. He puts up a lot of content about making content. He is the one that takes time out of his day to make the tips to help other creators, and I credit him for the way I create my TikTok videos now to be polished as well as presentable. If you want to learn more about creating content for TikTok as well as creating content in general. I would highly recommend giving him a follow to learn to perfect TikTok videos, as well as getting wholesome, positive pieces of inspiration.
He does explain that it is a lot of hard work to type in the closed captions, To put out several videos a week, Because it's all about getting your content out there whether it be to support a product or to show what you can do.
So if you're thinking of doing TikTok videos, and you'd like to take the time to make them presentable for your page, here are some pieces of information I learned from his videos.
Take the time to sit down and type out what it is that you said in the video. Closed captions go a long way to make your video instantly better.
Make sure that you organize the different fonts used for the certain series you do. When you do a TikTok video and you have it ready to publish you can have the option of putting in a custom title, make sure to catagorize and use the same custom title for the same series so that way people can find it easier.
Make sure to use the middle of your video as the center focus. Sometimes it's easier to just try and find what you deemed to be the most interesting part of the video but the middle is really where it's at because it's going to be leading up to what the middle of the video is.
Attack the algorithm, you never know what video could be the kind of entertainment to produce more of or having enough content that could lead to the video you wanted the appreciation and popularity for to go viral.
It's OK if you have to wait until you are comfortable to do the videos you want to do. The spontaneity is a stride of ambition to do in moment's notice to do this idea you have, but sometimes it takes time to be comfortable with spontaneity. I still have moments that I'm uncomfortable with trying to film on the spot because I'm a planner and time is precious.
But when you get around to filming and editing, there is actually a legit schedule that does work for the flow of audience on what stats show when is a good time to upload.
If you look up "best time to post on TikTok", You will find this exact schedule as seen above . That way you get the real prime time hour to get the video you worked hard for to go with the current of the other content. You get that chance to be recognized and watch the numbers go up for your followers and likes.
That is my insight for my tiktok tips, and I hope it's helped anyone that wants to try out the app but found it difficult to know where to start or what to fix for the content. You can do it! It just take a little bit of time and effort for a video that has already has a little bit of time to it.
That little video that you haven't made yet, it could be that very video that could lead to your viral success in this app that has an abundance of opportunity, creativity, and productivity.
Your audience is going to be scrolling to find your video, you better go ahead and make it.
Thank you for reading this article!
Additional Notes:
If you'd like to see what else I do on tiktok, feel free to follow me @themysticalspacewitch
Don't forget to check out the content from @doodybeard
social media
About the author
I'm here to teach you something new or expand your mind in a neutral aspect.
Instagram: parrishpassages
tiktok: themysticalspacewitch
Oh and I wrote a book called, Inglorious Ink, now available on Amazon
Reader insights
Be the first to share your insights about this piece.
Add your insights