What American Loneliness Looks Like
Edward Hopper and his solitude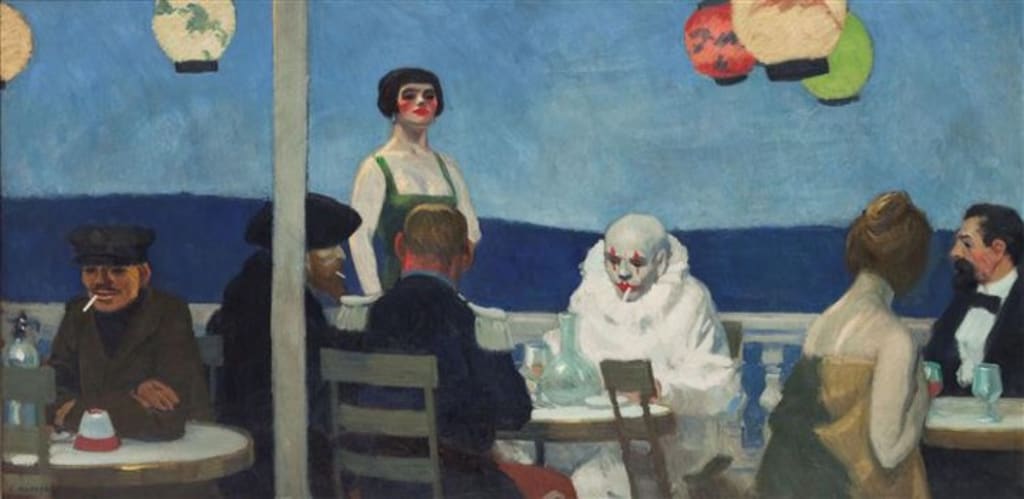 Soir Bleu. Source - Public Domain
Edward Hopper, the famous American painter, spent most of his life in one of the busiest cities - New York.
Yet his paintings portrayed a recurring theme -
• characters who were lonely, isolated and disconnected.
• couples who shared the same space but inhabited different worlds.
• people in a single frame yet with zero interaction.
Were these paintings a reflection of Hopper's own melancholy and loneliness?
Let's unravel.
---
Nighthawks (1942)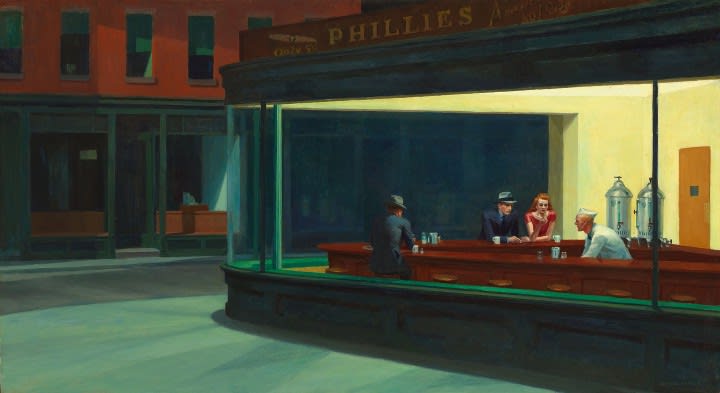 The year 1942 became a breakthrough year for Hopper. Almost after 3 decades in the art world, Nighthawks became his magnum opus.
Japan attacked America and World War 2 continued. There was this sense of mayhem and terror around the world. The empty streets of New York and jolting silence are depicted in Nighthawks.
He chose to depict a diner, a place where individuals, awake long after bedtime are drawn.
• This painting has 4 people. A couple, a waiter and another guy in an all-night diner. They look like specimens trapped in a jar.
• The couple is together yet away. The man holds an unlighted cigarette in one hand and sips a cold beverage. He is lost in his own thoughts.
• The woman on the other hand sips a hot beverage. Notice the steam coming out of her cup. There is no emotional connection between the couple.
• The waiter tries to do his job but seems lost too. The brown door behind his back possibly opens to the kitchen.
• Another man sits with his own drink.
• There's an empty glass on the table. Possibly for the viewer. A fully empty glass - perhaps characterizing the pessimism in the air.
• The setting outside is dark. The buildings are devoid of people and the windows scream emptiness. A unique choice of colors to depict the outside. No matter where you start looking at the painting, you are immediately drawn to the center, the people.
• The inside of the diner is uncharacteristic. Unlike a typical diner, there are no wall arts, wallpapers, or chandeliers. The architecture is utilitarian.
This painting became so famous that the exact scene was replicated in a number of American movies. People literally started searching for this diner's inspiration.
Turns out, the place was a figment of Hopper's imagination.
---
Soir Bleu (1914)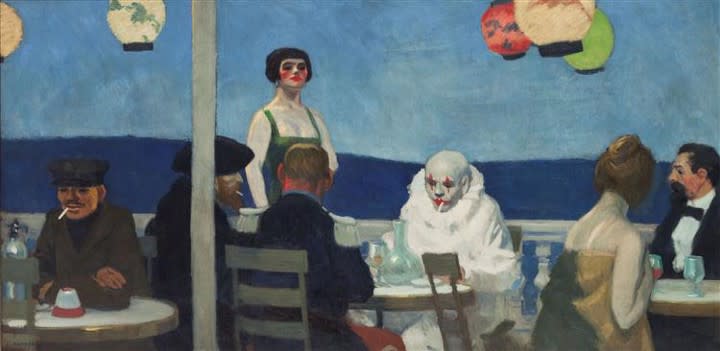 Hopper was not as commercially successful at the beginning of his career.
To say the least, he was broke. And so, he took a day job as an illustrator in an American magazine.
Soir Bleu means 'blue evening' in English.
Hopper just visited Paris and French artists inspired him.
• This French scene has a woman standing, a bourgeoise couple and a man from the military with fancy epaulettes. The man smoking a cigarette looks like a pimp, meaning the lady standing could be a sex worker.
• Okay, wait. Do you see a clown who holds our perspective in this frame? A melancholic clown. A clown sadder than Jan Matejko's Stańczyk.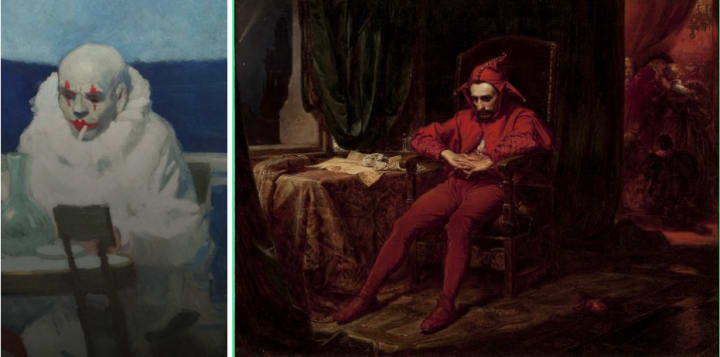 • A ranked officer and a clown quaffing on a table with another man. Perhaps a politician?
There is an urban legend in art history that the clown in Soir Bleu was actually a self-portrait of Hopper.
Does it show that Hopper no longer wished to be a clown without a spectator?
---
Room in New York (1932)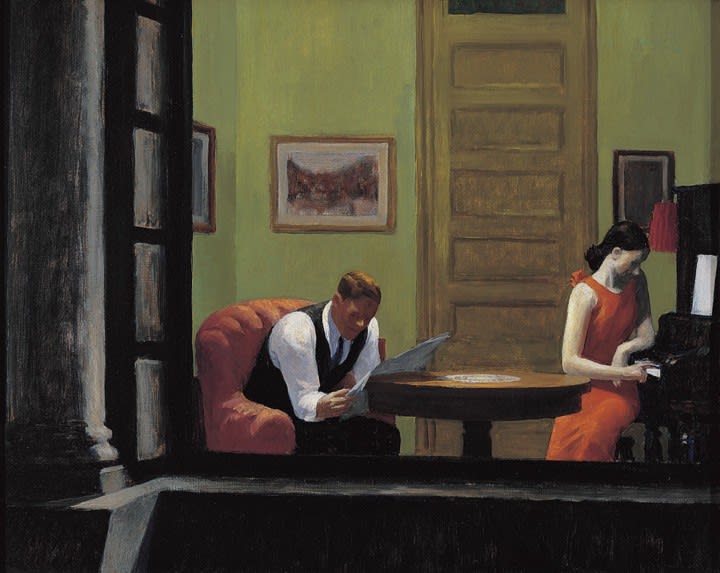 Hopper married Josephine Verstille Nivison (Jo) when he was around 40. Although they lived together all their life, their marriage was stormy.
According to Jo's diaries, she recorded their violent meetings. She scratched Edward and "bit him to the bone," he "cuffed" her, slapped her face, banged her head against a shelf and left her with bruises.
This painting shows a couple who shared the same space but inhabited different worlds.
They are both dressed in their best. Her face is turned away from him. She is reclused, idly tossing her fingers over the piano. As if waiting for something. The mood is cheerless, somber.
What captured my attention was the door. It has neither a beginning nor an end.
---
Summer in the City (1950) and Excursion into Philosophy (1959)

Jo modeled for almost all Hopper's paintings. As a painter herself, she helped Hopper to set up his first exhibition.
As per her diaries and interviews, Hopper never recognized the efforts and often belittled her.
Although the couples share a common space in these portraits, they are alienated. They have zero interaction and emotional dissonance.
The rooms are typical New York-style apartments. The only cheerful thing in them is the sunlight beaming through the windows.
---
Morning Sun (1952)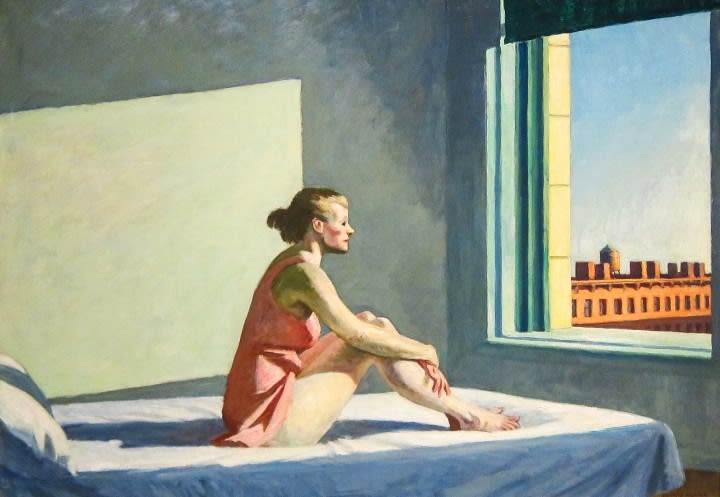 Hopper created cityscapes and buildings too in his artistic career but people resonated the most with his lonely figures.
The Morning Sun shows a woman ruminating and a signature 'Hopper window'.
The natural light in the room through the window, the sunkissed woman and her melancholic expressions add drama to this portrait.
She doesn't know we are watching her. She is anxious, tightly holding her left hand. So tight is her grip that it has turned red.
---
Last thoughts
Hopper was a deeply introverted man. He embraced melancholy.
His emphasis on solitude, alienation and loneliness makes him a standout painter in the modern era.
Hopper once told in an interview that many of his paintings are a reflection of his own loneliness.
Great art is the outward expression of an inner life in the artist and this inner life will result in his personal vision of the world. - Edward Hopper
---
Which is your favorite painting by Edward Hopper?
---
Here's my latest eBook 10 Paintings to See Before You Die.
For a limited time, I am running a promotion to give it away for 50% off.
About the Creator
Art enthusiast. I engage with art at a deep level. I also share insights about entrepreneurship, founders & nascent technologies.
https://linktr.ee/kamnakirti
Reader insights
Be the first to share your insights about this piece.
Add your insights