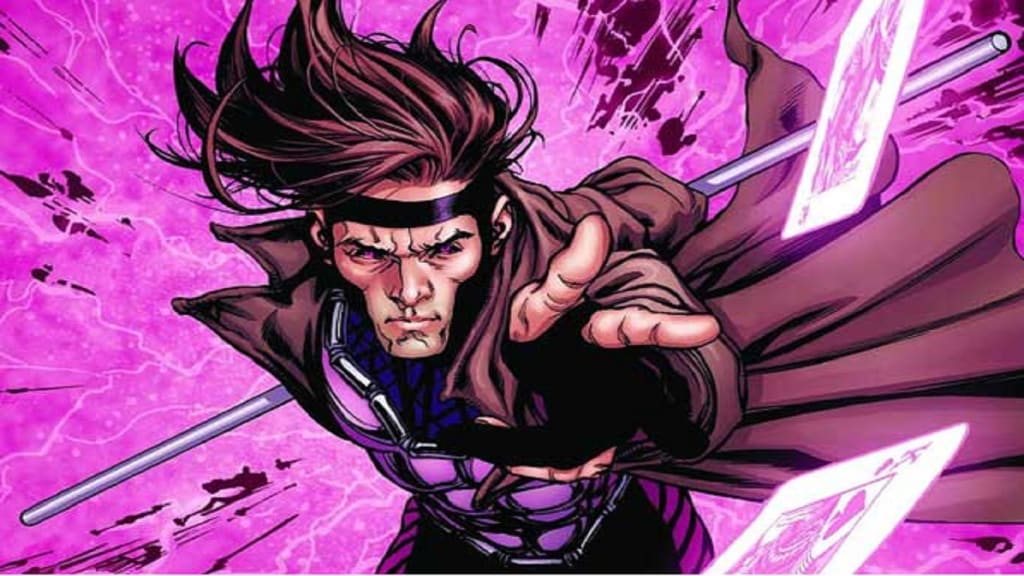 The Cajun Charmer's luck may not be out! [Credit: Marvel Comics]
Fox's X-Men franchise has never been healthier, but in a strange twist, it's not because of the main tentpole films. No, Fox is flourishing with a series of innovative superhero films that dare to take risks with the genre. From Deadpool to Logan, these films stand apart from the main narrative of the X-Men universe, and will soon be joined by Josh Boone's New Mutants.
But there's one film we've not heard about for a while: #Gambit, set to star Channing Tatum. The movie's been in the works since 2014, but has essentially been stuck in development hell for the last few years. Fans have been unsure whether or not the film is even still on the table.
Channing Tatum Weighs In
With #ChanningTatum in attendance at San Diego Comic-Con for the Kingsman: The Golden Circle panel, Comicbook.com took the opportunity to ask if he could have an update. He gave a simple answer:
"Yeah, of course. We're working on it right now."
It's an amusing response, not least because Tatum actually seems surprised to be asked the question. It's as though only crazy people would doubt that this film was still happening. Given the last we heard of Gambit was when director Doug Liman left to move on to the DCEU, the truth is that most fans had written this one off. We'd figured we'd have to settle with, well...this:
Speaking to Yahoo! later, Tatum revealed that the project has changed shape after the success of Deadpool and Logan.
"We had a first draft; it was good. But I think that we were coming to sort of the end of that phase of it at a really interesting time, where these movies went through a bit of a paradigm shift, where the X-Men movies and the superhero movies, with Logan and Deadpool — that really broke down a lot of doors for us. So we were trying to do some things that we actually weren't allowed to do, and they just smashed down the doors, and now we're kind of giving it a rethink."
Until Deadpool, Fox had really focused in on fairly mainstream tentpole superhero movies. Now, though, the studio is daring to mix things up a little more, subverting the genre into bloody, brutal Westerns like Logan and the promising superhero horror New Mutants films. It sounds as though the Gambit team is looking to Deadpool for inspiration, possibly in tone and style, although Tatum isn't too sure whether or not the film should be R-rated. As he noted:
"We're not quite going there because I enjoyed Gambit as a kid so I don't want to rule out PG-13. But some of the stuff we want to do is a little bit R, but we're not sure if it merits a full R yet."
Of course, ultimately the studio isn't the one who decides the classification. Fox would probably be wiser to concentrate on making a good movie, and let the MPAA worry about the rating. Although fans are particularly excited about R-rated superhero films right now, that rating doesn't say anything about the quality of a film, and it's that aspect of Gambit that has many fans concerned.
When Will Gambit Come Out?
Fox is planning to release three X-Men-inspired movies next year; Deadpool 2, New Mutants, and X-Men: Dark Phoenix (we're sure to get some news on all three at #SDCC2017 this weekend). But the studio recently booked some more dates for Marvel-related projects:
June 7, 2019
November 22, 2019
March 13, 2020
June 26, 2020
October 2, 2020
March 5, 2021
We can safely assume Deadpool 3, X-Force, and — in a twist nobody saw coming — Doctor Doom to be in this list. There's also likely another tentpole X-Men movie in the mix, following on from Dark Phoenix. But with six dates assigned, that's only four of the slots filled, so Fox clearly have something else in store. It seems that, surprising as it may be, Gambit may well be one of those films.
So there you have it, #XMen fans; according to Channing Tatum, the Gambit film is still a go. If he's right, then who knows? The success of Deadpool and Logan has given Fox a new confidence when it comes to superhero movies, and I don't think anybody can argue that confidence isn't justified. Maybe this film is finally getting out of its rut and on the road to production.
[Source: ComicBook.com, Entertainment Weekly]
Reader insights
Be the first to share your insights about this piece.
Add your insights