We Love The Basement Yard
The podcast that puts a smile on my face!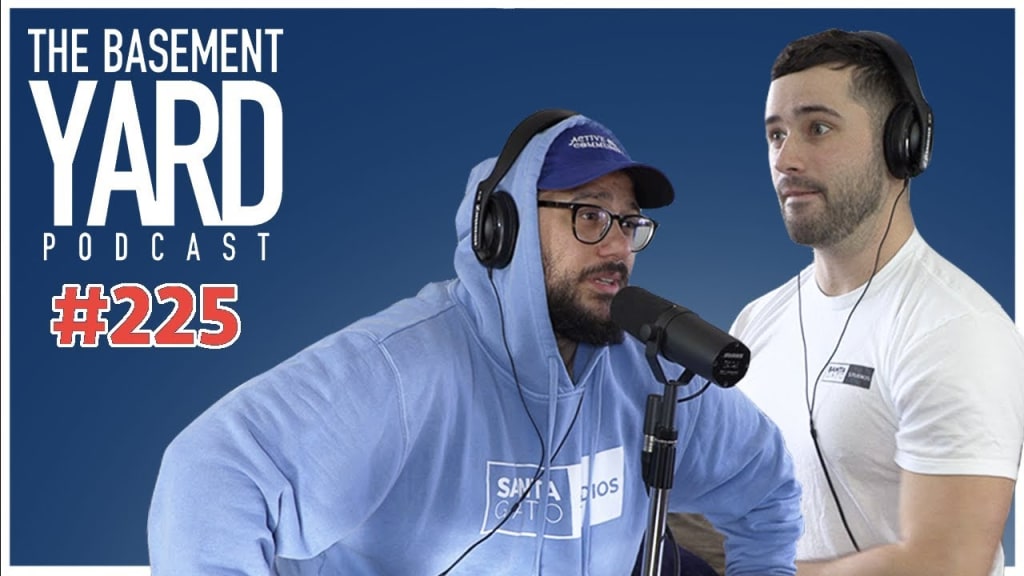 The podcast has many episodes!
The world can be a depressing place. There's bad news, fake news, news you REALLY didn't want to hear. There's viruses and climate change and everything bad is happening at once! Even social media can be depressing when you see that Becky is at Disneyland and you're at work. UGH! What will you do to make yourself feel better? What will you do to put a smile on your face? The answer is...The Basement Yard!
The Basement Yard is the hilarious love-child of YouTube star Joe Santagato and social-media content creator Danny LoPriore. Santagato was originally on Vine, who eventually made his way to YouTube and started uploading funny videos, from "Mad Lib Madness" to "Idiots of The Internet". LoPriore is well known for the singing/rapping videos that he posts on Instagram; the lyrics he sings are often saturated with humour.
Here's two tweets that perfectly sum up the humour these guys have, and it shows an insight to what types of conversations they have on the podcast!
The Basement Yard can be found on Soundcloud, Apple Podcasts, Spotify, and you can even watch the episodes on Youtube. In my opinion, it is best to watch this podcast because you miss out on so many funny facial expressions and extra bits if you only listen to it. Santagato describes the Basement Yard as a "podcast that started the same way all podcasts start...in my mothers basement.", which is actually hilarious. The podcast being on so many platforms allows me to listen/watch it whether I'm at home or I'm out and about.
Whenever I'm feeling down, Danny and Joe never fail to put a smile on my face. Their episodes are released every Monday, with content such as "The Extra Yard" and "Morning Meeting" recently adding to the podcast series. The topics of the podcasts range from expletive shenanigans to real life stories, from "this or that" questions to "what happened to Polly Pocket?" and so much more. This podcast has got it all. Watch this video from @joesantagato below to see why The Basement Yard makes me laugh.
I love their randomness and I love how the pair are just so relatable. They don't try to make fake content, they're not interested in clickbait, they're just two dudes having a laugh and I think that's the perfect type of fun and happiness this world needs.
The Basement Yard helped me trough a tough time and it always turned my bad days into good ones. When I felt alone, The Basement Yard was always there to put a smile on my face. Danny LoPriore and Joe Santagato are a magnificent pair and their comedy is always light-hearted and playful. They joke about themselves and roast into each other, the podcast's Instagram bio even says: "a podcast hosted by @joesantagato and @dannylopriore that absolutely sucks". They never take themselves too seriously.
The podcast also has it's own merchandise that you can buy from The Santagato Store, it features The Basement Yard mugs, clothing and even features clothing that has inside jokes from the podcast, such as the "still fat" t-shirts that include Danny LoPriore's face on them. Although creating merch may just be a way of The Basement Yard getting an extra bit of cash, being able to buy something related to the podcast is a great way to show your support. For me, being able to buy merch from my favourite podcast, tv show etc. makes me happy as I get to show off my interest for them AND I've got myself a cool new piece of clothing.
If you're wanting to experience a piece of this happiness then click below to watch the latest episode of The Basement Yard:
Episode #232 is titled "Dying In The Shower".
Joe and Danny do not hang around with getting straight into their podcast, which is why I love it so much. Right off the bat they are funny and energetic and that's what makes The Basement Yard so perfect. Every episode makes me laugh and smile, and sometimes even cry...from laughter though! If you think that this podcast is going to make you smile too then you have a lot of catching up to do! Go ahead and dive in, Danny and Joe do not disappoint!
comedy
A writer in her twenties with a head full of ideas and a room full of books✨
My Twitter and Instagram handles are: @leighooper