Villainess Review: Naomi Shawn (Alfred Hitchcock Presents)
An unhappy marriage turns a lawyer's wife into a scorned murderess in this fourth season episode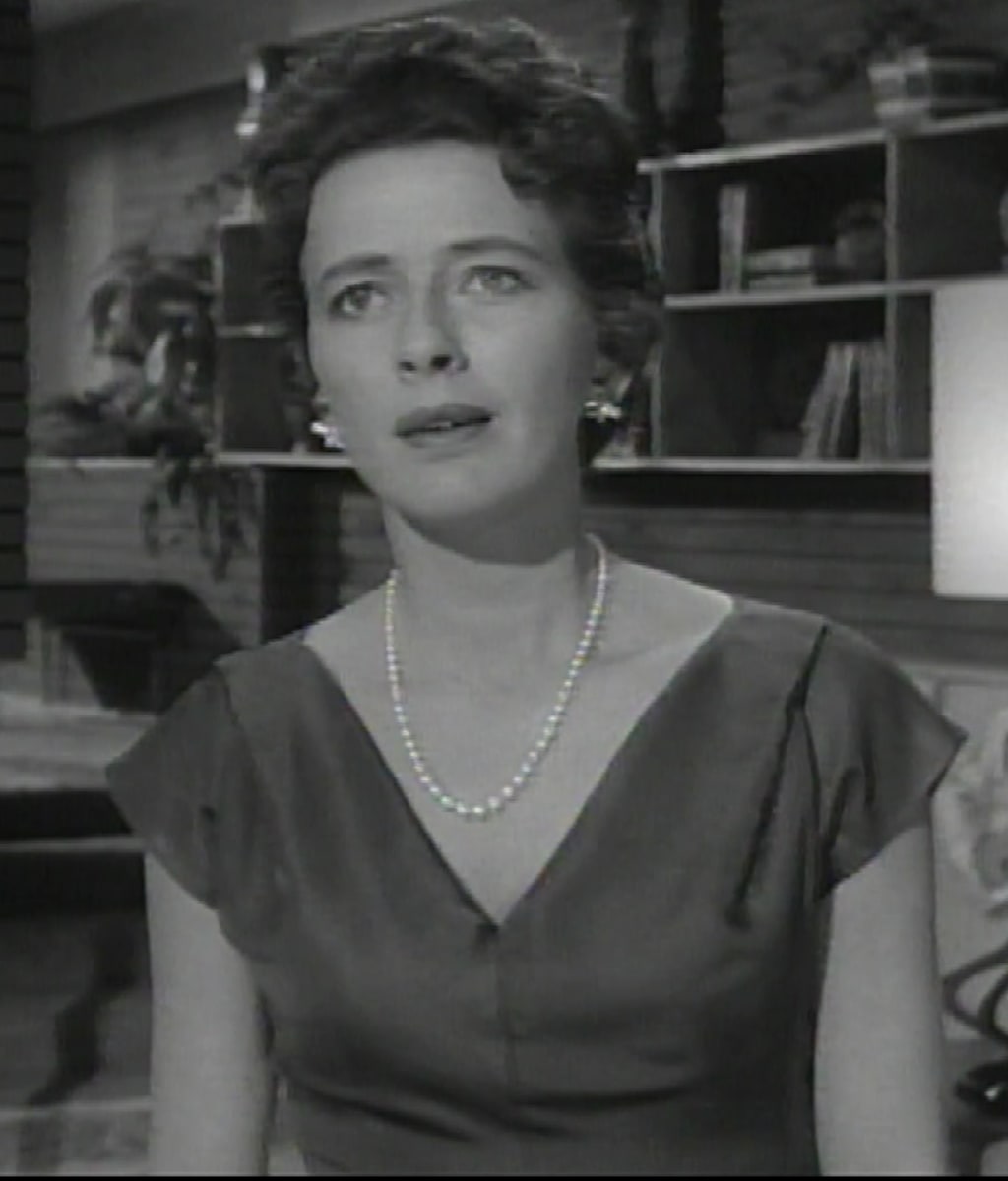 Leora Dana as Naomi Shawn
Good evening.
I do love Alfred Hitchcock Presents, the classic anthology series that served as one of many great contributions from the Master of Suspense himself. The series ran from 1955-1962, and it was followed by The Alfred Hitchcock Hour, a 60-minute version of Presents that aired between 1962 and 1965. So a full decade of this thrilling series, as well as a revival series that aired during the latter half of the 1980s. Reruns of the series air on MeTV daily, and all episodes of the series are on Peacock.
The subject of this review is the episode, "Your Witness," and it kicks off with Naomi Shawn entering the courtroom to watch her husband, defense lawyer Arnold Shawn, work. Arnold's current case has him defending a man who committed a heinous hit-and-run, and regarding Naomi, it appears that she's a loving wife who is happy to see her husband at his profession, but as we delve into Naomi's mind and memories, we see that it is not the case.
A flashback reveals that the Shawns' marriage was not a happy one, as Arnold was having an affair with a younger woman--with Arnold admitting to the affair and voicing his lack of interest in Naomi, who he had been married to for 10 years. In the present time, we see Naomi watch the trial intensely, as Arnold manages to discredit the one witness to the hit-and-run, a man named Henry Babcock, who was revealed to be color blind. Babcock's color-blindness was used to deem him an incompetent witness, and after the trial was over, Naomi informed her husband that she filed for divorce. However, Arnold turned that down, even going as far as claiming that the news would drive him into the arms of more women. Oh boy.
Naomi later approached Babcock, who fretted over his affliction also costing him his job as a teacher, and after conversing with Babcock, Naomi entered her car and later spotted Arnold. She gave a venomous glare at her husband, and it was followed by Naomi turning on the ignition and speeding towards Arnold--running him down and killing him. Afterwards, Naomi gave her version of what happened: claiming that Arnold walked in front of the car and it resulted in his death. The one person who witnessed the whole thing? None other than Henry Babcock, who informed the police officers that they would have to take Naomi's word for it...because he had been declared an incompetent witness. Seriously, the expression on Babcock's face when he said that had me thinking of the phrase uttered during the Seinfeld finale: restrained jubilation. However, as Alfred Hitchcock's closing epilogue revealed, Naomi's story wasn't bought, and she ended up convicted of her husband's murder.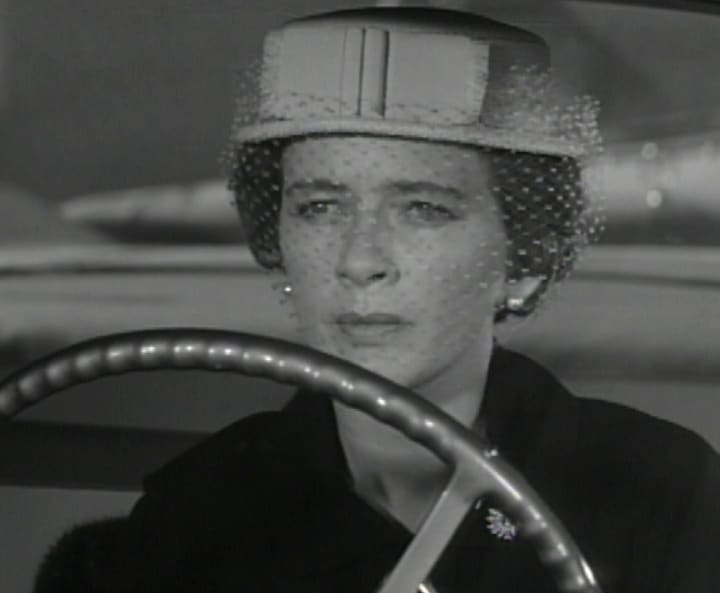 "Your Witness" was the 31st episode of Alfred Hitchcock Presents' fourth season, and aired on May 17, 1959. The episode's main villainess, Naomi Shawn, was played by the late Leora Dana, whose performance was very stellar. As we quickly see, Naomi Shawn was a woman who was suffering through a bad marriage to a man who didn't hide his lack of satisfaction for his wife, and also didn't hide his adultery. For most of the episode, we see Naomi's anger build up bit by bit, leading to that climactic moment where she runs down Arnold in a scorned rage. In that regard, Naomi went from being a suffering wife to a bitter and enraged villainess, and we see Dana perform immensely stellar in the moments leading to Naomi's heel turn and her murderous actions. All of this definitely makes Naomi Shawn quite an amazing villainess, which isn't a surprise; Hitchcock definitely delivered when it came to evil women.
Leora Dana's appearance as Naomi Shawn was her third and last role on the series. Her only heroic role was in her first appearance in Season One's "The Legacy," and she returned as a villainess in Season Two's "John Brown's Body." Dana briefly appeared in the NBC soap opera, Another World, as Sylvie Kosloff, and also appeared in Amityville 3-D, the third installment of the classic Amityville horror film series. The film was released on November 18, 1983, and less than a month later, Dana passed away at the age of 60.
Click here for Naomi Shawn's profile on Villainous Beauties Wiki!
tv
About the author
Born on March 18, 1985. I am an avid fan of sports and wrestling, and I've been a fan of female villains since the age of eight. Also love movies--especially comedy and horror--and among my favorite TV shows are The Simpsons and Family Guy
Reader insights
Be the first to share your insights about this piece.
Add your insights