Villainess Review: Jade Goddard (Labor, Lies, and Murder)
A malevolent madwoman covers up her sinister plans involving a pregnant woman's unborn baby in this 2022 Lifetime film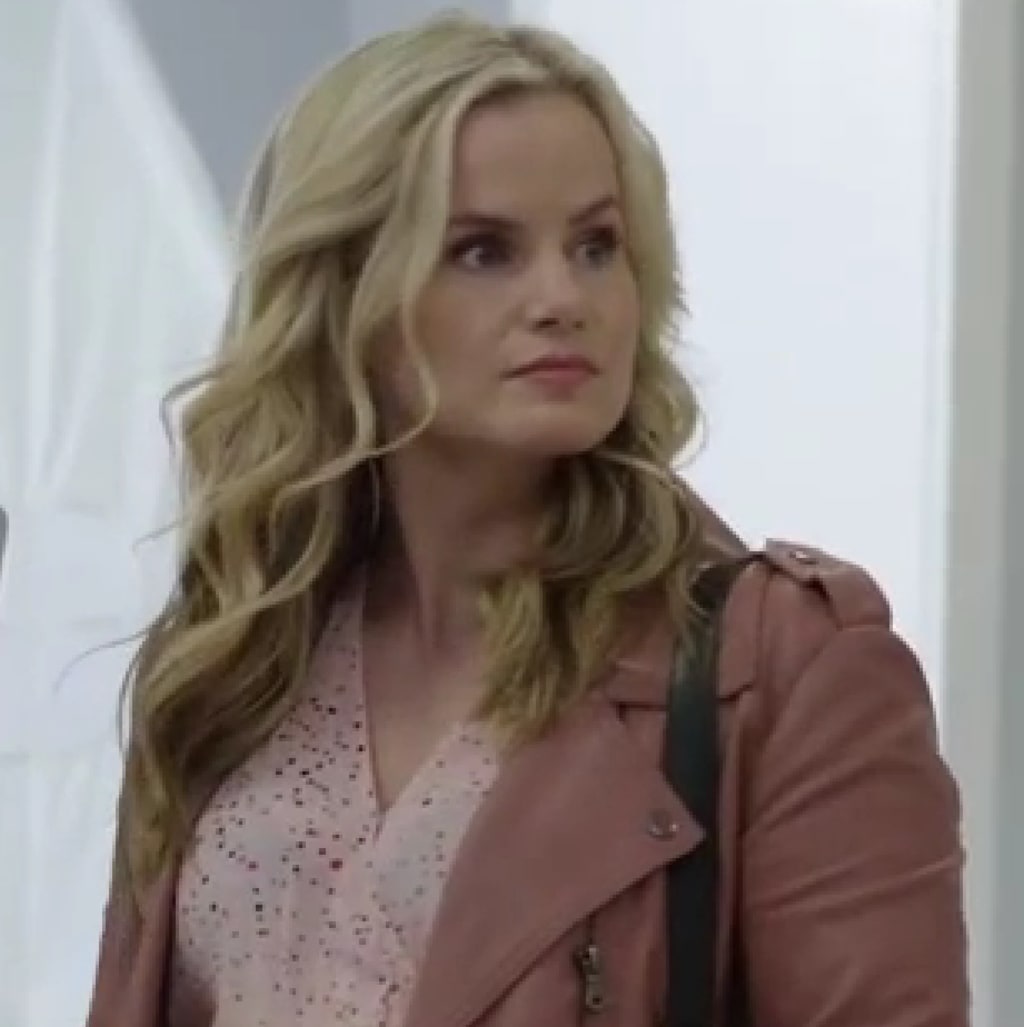 Lauren Buglioli as Jade Goddard
I had actually known about this movie when it was listed on IMDB under its original title, Deadly Doula; though I wouldn't see an actual preview of the film until New Year's Day, which featured its new title, Labor, Lies, and Murder. The film centers on Hailey Kendricks, who is expecting her first child (a girl) with husband Joe Kendricks. Hailey wants a home birth and is looking for a doula, which leads her to Bea Wexford, a bright young woman who is eager for the opportunity to assist in the birthing process.
In addition, we see Hailey befriending another pregnant woman, Jade Goddard, in an exercise class, though we also see a mysterious person (clearly female) enter Hailey's house and plant cameras all over. Meanwhile, Bea passes with flying colors and becomes Hailey's doula, though upon seeing Bea, Jade later approached Hailey again and informed her that Bea was inexperienced--in fact, Hailey was her first client. And as for our mysterious hidden villainess, she's at it again: this time starting a fire in a clothing store owned by Hailey's good friend/business partner, Lisa Young.
Bea's inexperience doesn't deter Hailey from keeping her around as her doula, but after the same culprit suddenly steals some of Hailey's jewelry, the suspicions come in. What doesn't help Bea's case was Hailey seeing various photos of of babies in Bea's collection, with Bea stating that one of them would be hers, as she plans to adopt due to her infertility. Even so, it doesn't look good for Bea, as Hailey's sister, Nicole, voiced her wariness regarding Bea. What makes matters worse: Hailey's missing jewelry is suddenly found in Bea's purse, and Bea is fired quicker than she could say, "I didn't do it."
Spoiler alert (well, not really): she didn't. It's clear Bea's being set up, and meanwhile, we see Jade attempt to contact someone in her life, only to receive no answer and Jade expressing anger. As it turned out, that someone was Caleb Young, Lisa's husband--as well as Jade's one night stand. So apparently, Jade's pregnancy is the result of the fling, though Caleb--upon being told the news--voiced his insistence regarding staying with Lisa. As for Bea, she narrowly escapes being trapped in her own swimming pool by the aforementioned villainess, while Jade continued to befriend Hailey and offer to help with her delivery.
By this point, however, Hailey realizes that she may have been wrong about Bea, as she learns that Bea actually came from wealth, and stealing's the last thing she would do. Meanwhile, Caleb comes clean to Lisa about the one-night stand, with Lisa being stunned to find out that Jade was the other woman. A confrontation ends with two things: one, Lisa inadvertently discovering that Jade's "pregnancy" was totally fake, and two, Lisa being bludgeoned to death by Jade.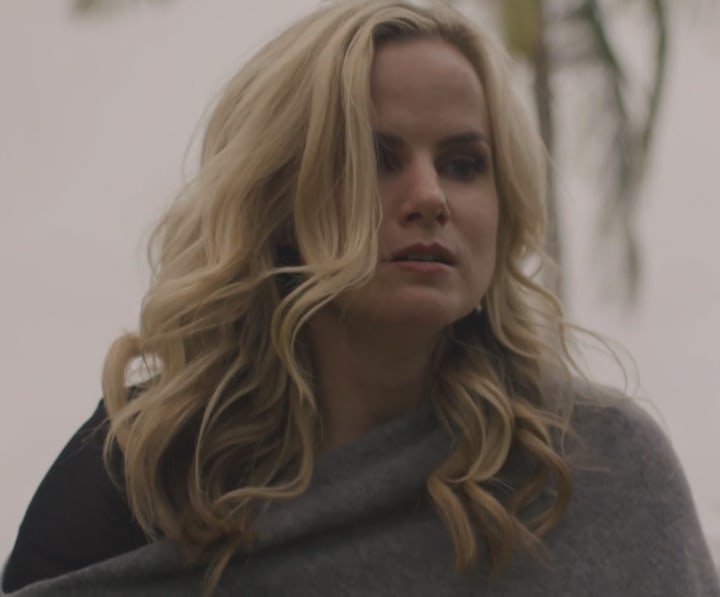 So surprise, surprise, surprise (again, not really), it was Jade all along! Jade was behind everything: the planting of the cameras, stealing the jewelry, the fire, the attempt on Bea, all of it. Hailey had her suspicions afterwards, as Jade mentioned the theft to her in their latest encounter, and it led to Hailey learning that Jade was in foster care as a child, and had been pregnant before but lost her baby. We later see Jade disguising herself as Bea and plan to drug Joe, but that was interrupted by Hailey giving birth. Joe ends up knocked out by Jade, who used the container of her drugged coffee as a weapon. After Hailey's baby, named Mia, was born, Jade attacked Bea and took the baby, after which she renamed her Dawn and presented her to Caleb, who again turned down Jade's pleas to be with her.
Caleb finds out that Lisa's dead, and knows that Jade was behind it, leading to a confrontation that ended with Caleb knocked out with a lamp by Jade. Hailey's attempt to rescue Mia sees her pursued by Jade, who revealed that she killed her doula, Riley, because she blamed Riley for her miscarriage, while adding that she had Caleb and Dawn in her life now. Hailey armed herself with a hammer and attempted to revive Caleb, only for Jade to appear with a gun and voice her plan to kill Hailey, while lashing out at Hailey for putting "her" baby in danger by having Bea around, only for Hailey to strike Jade with the hammer.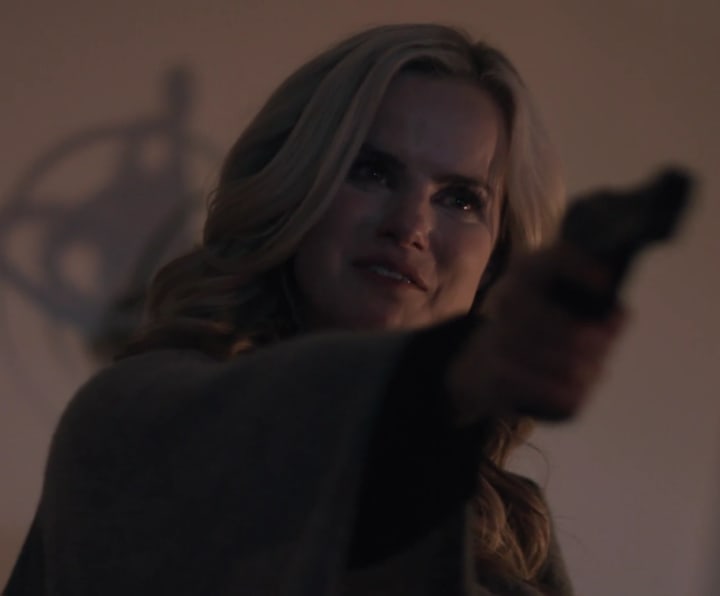 Labor, Lies, and Murder aired on Lifetime on January 8, 2022, and the film featured Lauren Buglioli as villainess Jade Goddard. When I saw the televised promo and found out that Lauren Buglioli was playing the villainess, I literally beamed! I loved all of her Lifetime appearances in 2021, and I really loved Buglioli as villainess Stacey in Secrets of Sorority Row, so I just knew she'd shine in this film. Jade was immensely psychotic and deranged, as well as elaborate. Her plotting was quite meticulous, and it also included putting on a very friendly demeanor to cover up her intentions. Buglioli portrayed every facet of Jade's personality very well; her genial persona to Hailey, as well as her increasing insanity in various scenes--including her unveiling and the climax. With stellar performances such as this and her three previous Lifetime films, it's no doubt that we'll continue to see Lauren Buglioli in more Lifetime films.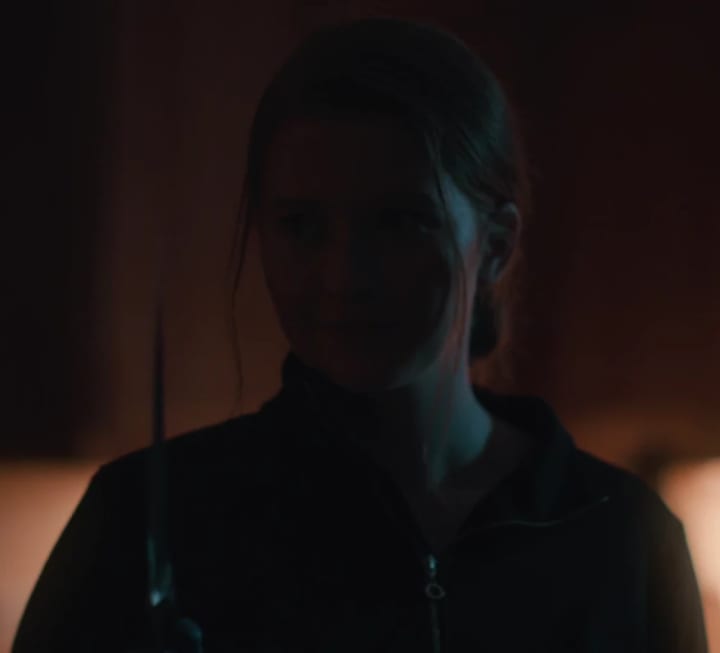 I have to add this bonus, because the film also featured a brief but amazing nightmare sequence with a twisted alternate reality villainess in Bea Wexford. As I mentioned beforehand, Hailey had been suspicious of Bea after seeing the immense baby photos, and Nicole had the same sentiment, leading to an ominous sequence that took place later that evening. In Hailey's nightmare, Bea turned heel by planning to kill Hailey, as she is shown grabbing a knife before slowly walking to Hailey's bedroom. The sequence also replays Bea's statements about her infertility and plans to have a child of her own, though they are used to portray Bea as a child-obsessed villainess. We also see a scene of Bea stealing the earrings in the fantasy sequence, which also has Bea donning a black outfit and latex gloves as part of her heel persona, and it ends with Bea wielding the knife and lunging it at a sleeping Hailey, who wakes up from her nightmare.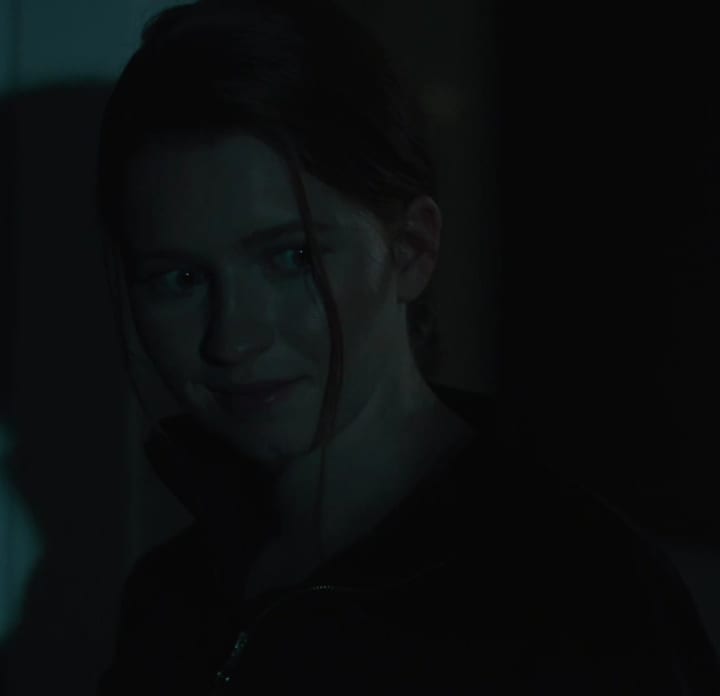 I truly loved Bea's heel turn in Hailey's nightmare; even though it was a fantasy sequence and Bea is an absolute sweetheart, that sequence transformed Bea into a murderous and maniacal villainess, and it was done brilliantly. Bea Wexford was played by Poppy George, who was in her very first movie role overall. She was terrific in the film overall, but regarding the nightmare sequence, George acted out Bea's evil demeanor very, very well in such a brief period of the film. An absolutely amazing debut performance! For a profile of Bea Wexford's evil dream sequence version on Villainous Beauties Wiki, click here.
Click the heart if you like this story, and click "subscribe" if you want more of my stories! Tips and pledges are always welcome, as they help support me as I continue writing on this amazing site!
Click here for Jade Goddard's profile on Villainous Beauties Wiki!
movie
About the author
Born on March 18, 1985. I am an avid fan of sports and wrestling, and I've been a fan of female villains since the age of eight. Also love movies--especially comedy and horror--and among my favorite TV shows are The Simpsons and Family Guy
Reader insights
Be the first to share your insights about this piece.
Add your insights