Villainess Review: Elise Simon (Devious Nanny)
A fiendish villainess hides in plain sight in this 2018 Lifetime thriller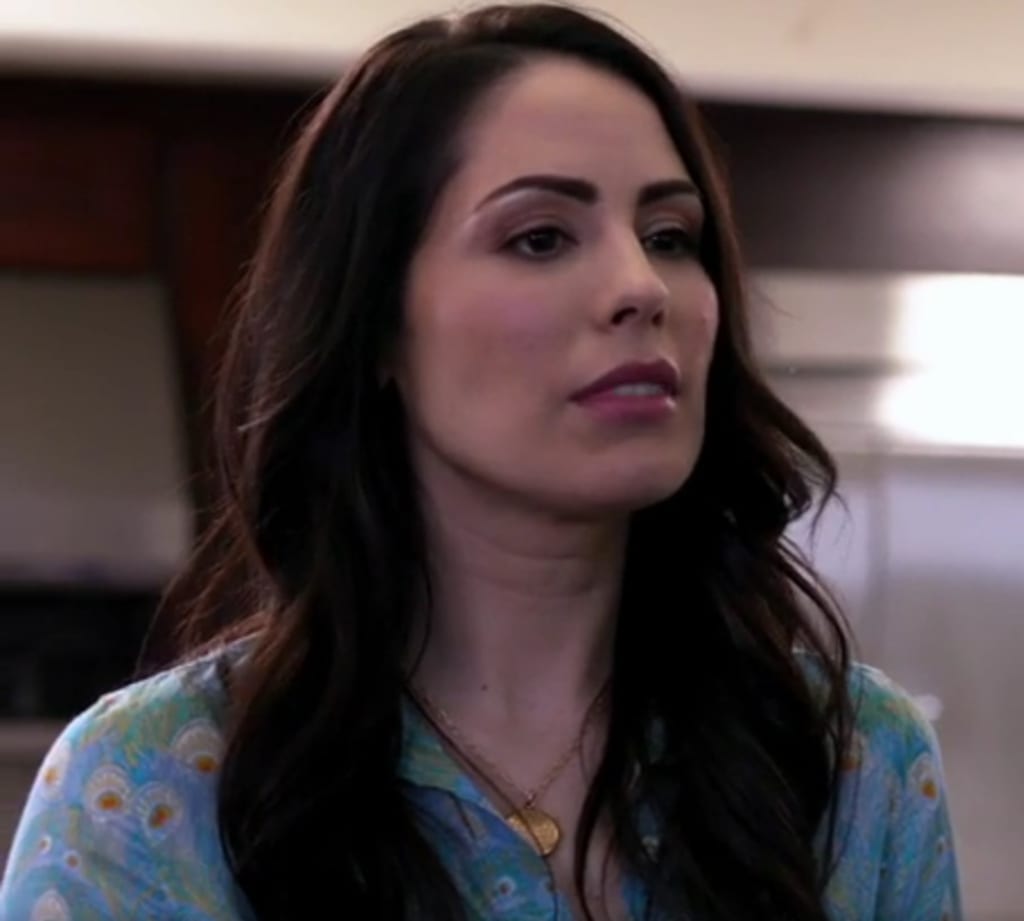 Michelle Borth as Elise Simon
As I mentioned in an earlier review, March and April 2018 were amazing months for this Lifetime movie fan, because the period featured some very amazing movies with awesome villainesses. The film that kicked off this trend was Devious Nanny, which was released as The Au Pair in 2017, and also went under the alternate title, Nanny Betrayal. The film centered on the Simons: Elise, Brian, and son Cody, as well as the couple hiring a new nanny, Amber Deschanel. She wasn't their first au pair; their last one, Becky Hopkins, was murdered in the film's opening, and it was revealed that she and Brian engaged in an affair.
The hiring of Amber came at a good time for the Simons, as Brian scored a huge account at his workplace; though his friend and co-worker, Vance Lipton, was given all of the credit--as well as the lead on that account. Later on, Vance is found murdered, and he's not the last victim, as George Dutros (a land developer who had been trying to buy Elise's art gallery) was also killed. Suspicion turned to Brian, though Elise informed her husband that she had her own suspicions towards Amber, leading to Elise tracking Amber late on night and following her to a house owned by her close friend, Jax.
After overhearing an argument between Amber and Jax, Elise returned to the latter's house and learned from Jax that Amber lied about her family background to get hired, with Elise leaving the house right before Jax is suddenly killed. We later see a confrontation between Elise and Amber, where the former accused the latter of being a murderess, which is followed by a physical fight that Brian later had to break up because Elise had her hands around Amber's neck!
We later see Elise and Brian informing the police about Amber, but six months later, Brian suddenly finds Amber's charm bracelet while gardening, and suddenly hears his wife utter the following words:
"So now you know."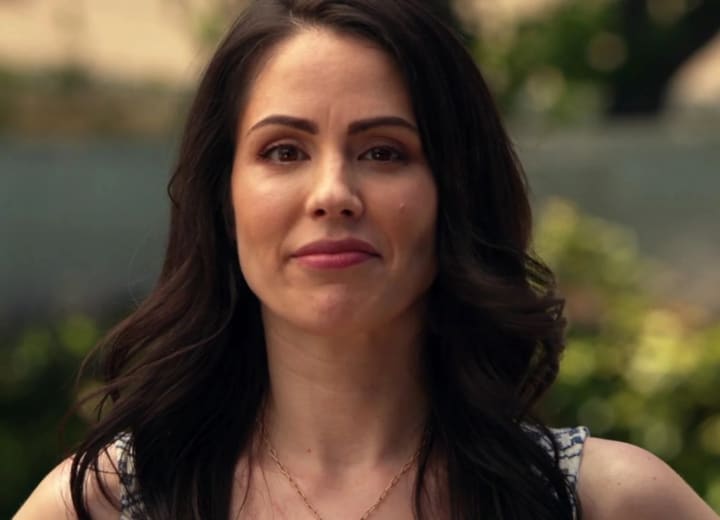 Elise is later shown displaying a very sinister smirk on her face, and it is followed by Elise fully turning heel by revealing herself as the true murderess, with her villainous motive being keeping her family together. She killed Vance because of how he affected Brian's profession, and Dutros was a thorn on her side. However, Elise revealed that her murderous spree actually began with Becky; while she appeared to be forgiving regarding Brian's affair, Elise was actually scorned and bitter to the point where she suffocated Becky to death and portrayed it as a drug overdose, while voicing her happiness over killing her. While she claimed to feel bad over killing Jax, Elise added that Jax was a loose end, and afterwards, Elise gave Brian an ultimatum: either report her or cover for her--again using the whole family thing to twist Brian's arm.
Brian decided to cover for his wife (there's a word for guys like him, but I won't say it here); giving Amber's bracelet to the police but not mentioning Elise. Later on, the couple received a shocking surprise: Amber, on video, revealing that she had suspected that Elise had committed the murders. She also revealed that she switched the nanny cam with a recorder, which caught everything, and that neighbors had spotted Elise in her disguise leaving Jax's home, while adding that she sent the file to the police, leading to the couple's comeuppance.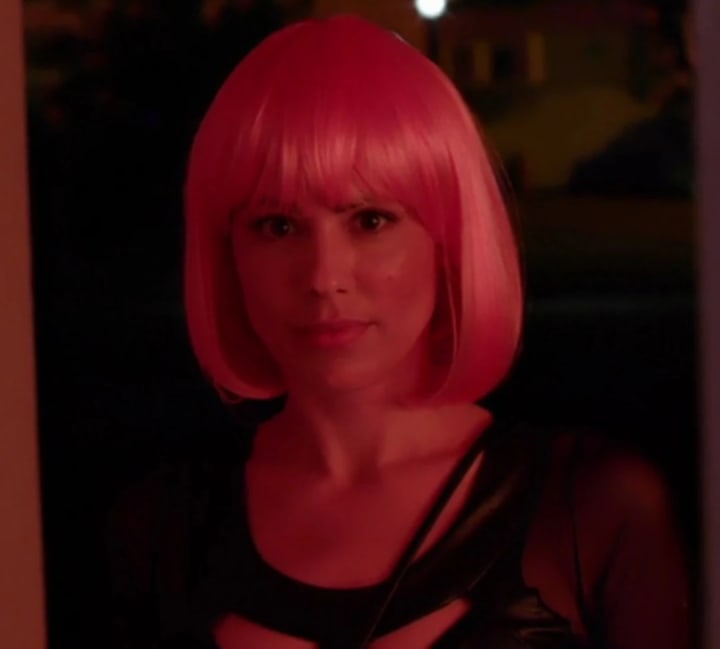 Devious Nanny was released as The Au Pair in 2017, and would hit Lifetime on Friday, March 2, 2018. Michelle Borth (Catherine Rollins from Hawaii Five-0) played the film's hidden main villainess Elise Simon, and this was a very amazing performance from Borth. I still remember watching Marvista's trailer to this movie months before Lifetime aired it, and it included Elise's heel turn in the tail end, so I was anxiously looking forward to this film. Elise was a very cunning villainess; she was relentless in her murderous quest and motivations to keep her family together (in her view), while also masking her heel persona with the cover of being a forgiving wife and devoted mother. Borth portrayed Elise's genial demeanor very well, though she really shined in Elise's reveal, as she played out Elise's evil side and ruthless nature to absolute perfection. I also couldn't help but love her "femme fatale" disguise as she kills Vance; absolutely lovely and lethal!
Michelle Borth has done the villainess thing before; she played psychotic Avery Hemmings in an episode of Law & Order: SVU. She has done a few more Lifetime films since then, including Conrad & Michelle: If Words Could Kill (the film centering on real life killer Michelle Carter), as well as 2020's No Good Deed Goes Unpunished. Borth also appeared in the superhero film, Shazam!, playing the adult/superhero version of Mary Bromfield (I'm dead serious, I literally beamed when I saw Borth in that movie!)
If you like this story and review, feel free to click the heart below, and if you love this story and review, feel free to leave a tip (if you want)!
Click here for Elise Simon's profile on Villainous Beauties Wiki!
movie
About the author
Born on March 18, 1985. I am an avid fan of sports and wrestling, and I've been a fan of female villains since the age of eight. Also love movies--especially comedy and horror--and among my favorite TV shows are The Simpsons and Family Guy
Reader insights
Be the first to share your insights about this piece.
Add your insights