Villainess Review: Valerie Sanders (Mistress Hunter)
A wife's suspicions of her husband's infidelity end up clashing with a maniacal villainess hiding under her very nose in this 2018 Lifetime thriller.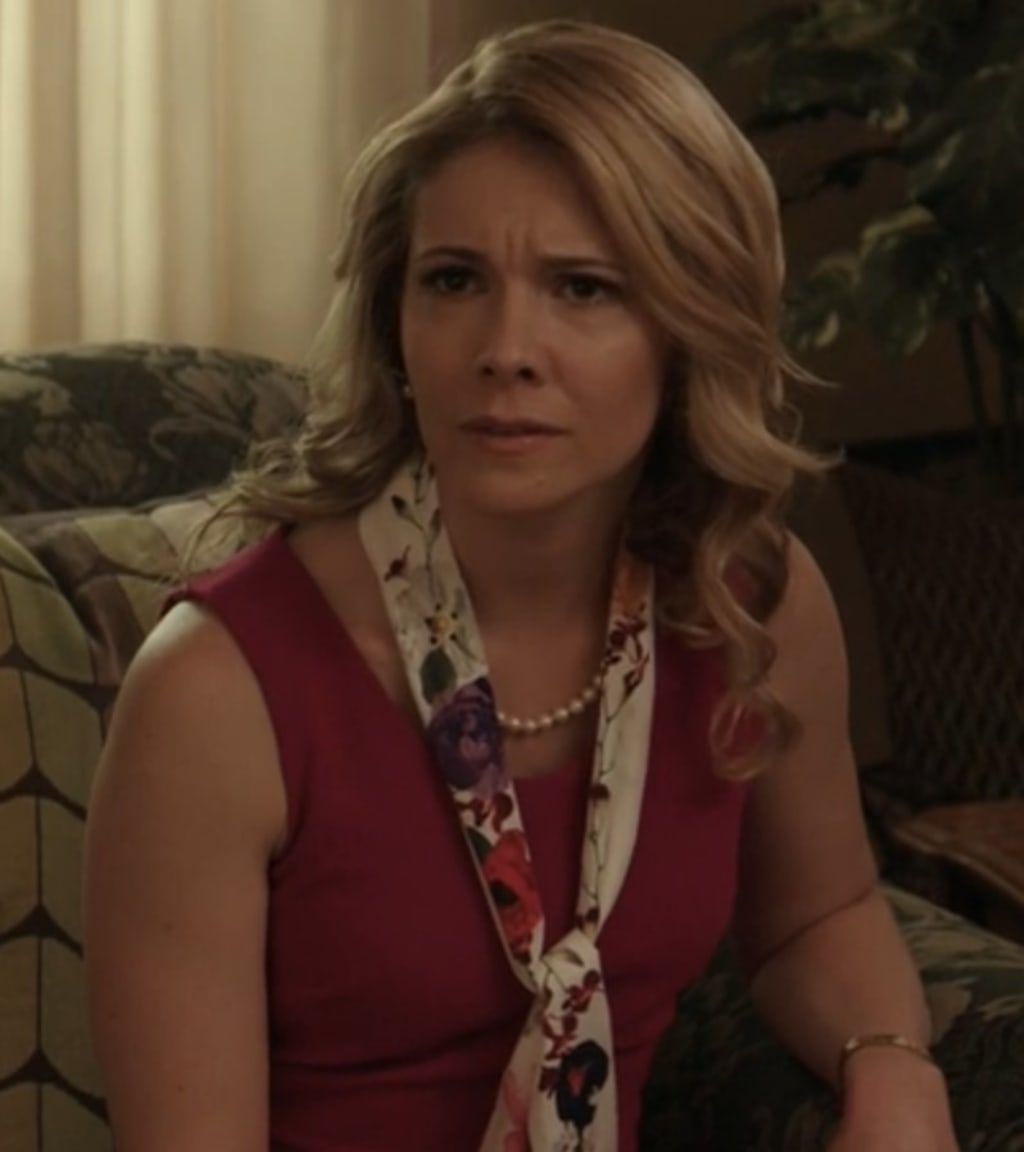 Lauren Plaxco as Valerie Sanders
In March of 2018, Lifetime delivered with Mistress Hunter, which centered on Jackie Blancher, a married mother to her daughter, Mikayla, and her suspicions that her husband, Karl Blancher, was having an affair. She has the support of her two close friends, Valerie Sanders and Melanie, with Valerie (who served as an "aunt" to Mikayla) advising Jackie to acquire the services of a "Mistress Hunter" and handing Jackie a business card belonging to a woman named Hannah Armington, who sought out unfaithful lovers.
Hannah's work led to Jackie learning about Karl and his mistress, a woman named Beth Robinson, with Hannah handing Jackie a necklace that belonged to Beth--as it was gifted by Karl. Jackie is heartbroken and angered over realizing that her suspicions were correct, but later on, both Karl and Beth were found murdered in their hotel room, and the suspicions were everywhere. Jackie feared that Hannah actually killed the adulterous pair as part of her mission, while Jackie herself actually faced suspicion--the typical "scorned wife discovers affair and offs the husband and mistress" stereotype.
Jackie ended up encountered by a gun-wielding Hannah, who revealed that Karl was a serial adulterer, and showed photos to prove it. To Jackie's shock, one of the women photographed with Karl was Valerie, who appeared to be killed when her blood was found in her home. However, Jackie began to suspect that Valerie was alive somehow, and later learned about Valerie mentioning a mansion somewhere out of town, leading to Jackie heading there and searching for Valerie. Jackie's search is successful, though she ends up being held at gunpoint by her now-former friend.
Valerie revealed her affair with Karl, and admitted to convincing Jackie to hire Hannah for her own benefit, as she longed to be with Karl. She was hoping to break up Karl and Beth, but after seeing the necklace and learning that Karl gave it to Beth as a gift, Valerie went into a rage and stabbed Karl to death in the hotel room. Her plan was to frame Beth and portray her as a scorned woman, but Beth returned to the room, leading to Valerie shooting Beth to death and later staging her disappearance and apparent murder. As for Jackie being a suspect, that was also Valerie's doing, as she planted the knife in Jackie's dumpster in an attempt to frame her.
Valerie was set on shooting Jackie and claiming that she had to kill her in self-defense, only for Jackie to disarm her. Even so, Valerie would continue to set up Jackie as a murderess, claiming that she was hiding from Jackie and that Karl was stalking her. At this point, Jackie sees that Valerie has gone off the rails and calls her out for committing evil actions for a man who clearly didn't love her, with Valerie realizing that Jackie was right. Valerie later took the gun back, but she used it to commit suicide just as the police entered and confronted her.
I recall watching a group of Lifetime films throughout March and April of 2018 that featured amazing villainesses, and one of them was Mistress Hunter's Valerie Sanders, played beautifully by Lauren Plaxco. I loved Valerie; she was definitely a "Bitch in Sheep's Clothing," but some other tropes could be connected to her as well. She was definitely on the receiving end of a "Reason You Suck" Speech, which was the only thing that truly led to Valerie's Heel Realization prior to her death.
Plaxco portrayed Valerie's duality perfectly in the film; showing emotion as a supportive friend early in the film, but went all out when it came to Valerie's reveal. In the climax and reveal scenes, Plaxco truly portrayed Valerie as a deranged woman whose mind was unraveling due to her desperation to defend her adultery and her crimes, and we quickly see Plaxco's act out Valerie's Heel Realization very well, as Valerie realizes that Jackie was right and that she basically ruined many lives, including her own, for someone who didn't care about her. In all, Valerie was a multi-faceted villainess; surreptitious, murderous, ruthless, delusional, and even psychotic, and Plaxco played all of those personalities to absolute perfection.
Regarding info on Lauren Plaxco, Mistress Hunter was her only Lifetime film. She has made guest appearances on shows such as Shameless, Scandal, The Neighborhood, Sydney to the Max, and Black-ish.
Click here for Valerie Sanders' profile on Villainous Beauties Wiki!
movie
About the author
Born on March 18, 1985. I am an avid fan of sports and wrestling, and I've been a fan of female villains since the age of eight. Also love movies--especially comedy and horror--and among my favorite TV shows are The Simpsons and Family Guy
Reader insights
Be the first to share your insights about this piece.
Add your insights