Undone By Blood: The Other Side of Eden #3
Aftershock Comics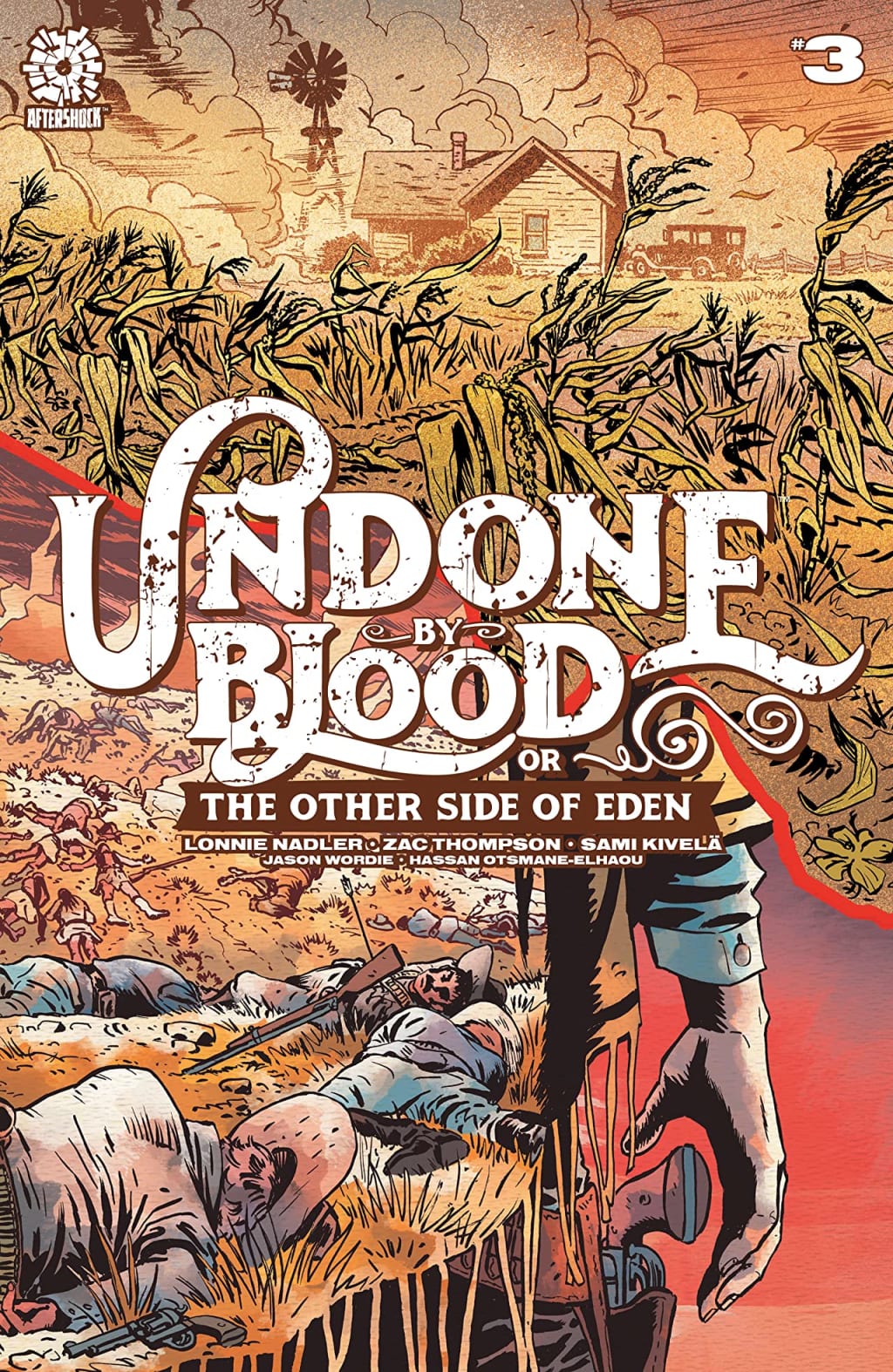 Undone By Blood: The Other Side of Eden #3
Aftershock Comics 2021
Written by Lonnie Nadler & Zac Thompson
Illustrated by Sami Kivelä
Coloured by Jason Wordie
Lettered by Hassan Otsmane-Elhaou
On the run after a frenzied heist, Silvano's plans have gone out the window. Battered and bruised, he's got a raging dust storm and an angry brotherhood on his tail, and both will stop at nothing to kill him. Meanwhile, Solomon Eaton finds himself pinned down by a legendary gunslinger and with his own heist gone awry. Cornered and desperate, Sol must form a plan with men he can't trust to get across the border and back home to America.
I think the fact that these book are the inspiration for the reader to make and go through with their own plans based on what they've read is one that is unique and full of curiosity that fuels the reader of both stories own creativity and imagination. It is like reading a James Bond novel and trying in your own way to reenact it while hoping for the same outcome though you have no special skills or training to do so. That this is so engaging and can find ways to resonate with the reader is what makes this even more powerful of a book than you'd originally expect.
I am such a huge fan of the way that this is being told. The story & plot development that we see through how the sequence of events unfold as well as how the reader learns information is presented extremely well. That both stories parallel each other so well takes such a coordinated effort on Lonnie and Zac's parts that you have to marvel and wonder who is writing which one. The character development is amazing and how we see the dialogue, the character interactions and how they act and react to the situations and circumstances they encounter continues to flesh them out more and more. The pacing is superb and as it takes us through the pages revealing more and more of the story as well as the twists & turns along the way it manages to envelop us more than that dust storm they encountered.
I very much like how we see this being structured and how the layers within the story continue to grow, evolve and new ones emerge with the introduction of new characters. How we see everything working together to create the story's ebb & flow as well as how it moves the story forward is so well achieved.
The interiors here are are bloody gorgeous! The linework is brilliantly laid down and how we see the varying weights and techniques being utilised to create this kind of detail in the work is astonishing to see. That backgrounds play such a huge role in what we see and how we see it, it does my heart so much good. How we see them work within the composition of the panels to show depth perception, that sense of scale and the overall sense of size and scope to the book is stunning. The creativity in the utilisation of the page layouts and how we see the angles and perspective in the panels show a remarkably talented eye for storytelling. The colour work is utterly magnificent to see. The various hues and tones within the colours being utilised to create the shading, highlights and shadow work demonstrates such a talented eye for understanding colour and how to make it work to its utmost effectiveness.
​
Honestly I don't know how they do it because the dual stories and how they are so in sync with one another as Silvano takes his inspiration from the novel, which he clearly hasn't read all the way through, is a work of art in and of itself. That this comes across as so easily managed when its anything but is a true testament to the talent, skill, uniqueness and charisma they demonstrate with their storytelling. Aftershock is home to some of the best and most original storytelling there is on stands today and Undone By Blood is in a league all its own even then.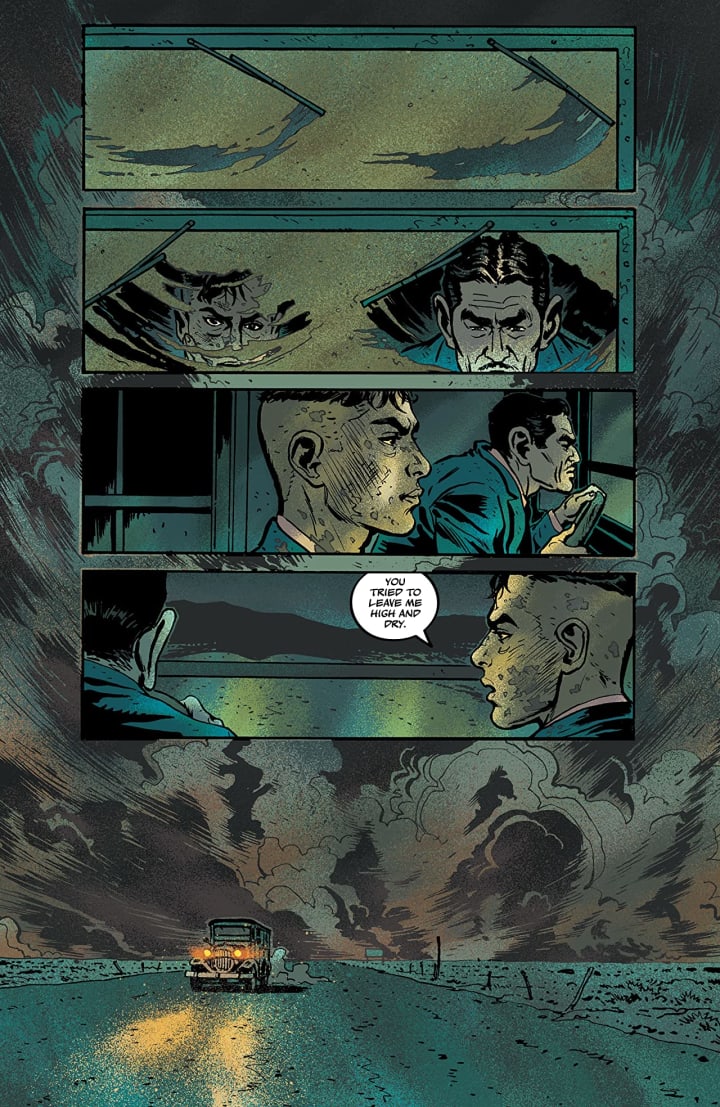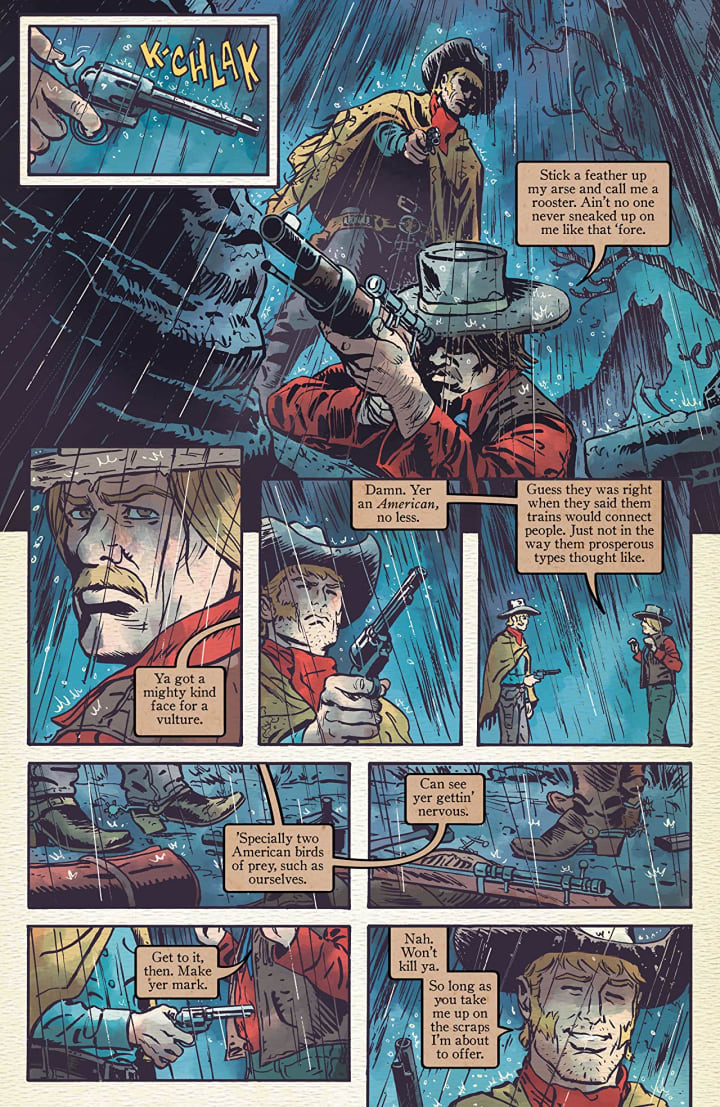 comics
Just me talking about the comics I enjoy reading, ones that you might not know exist and spotlighting the indie creators that excite me.
Receive stories by Steven Leitman in

your feed