'Toy Story 4'—A Movie Review
Better pack your tissues. You don't want to miss out on this beautifully endearing adventure.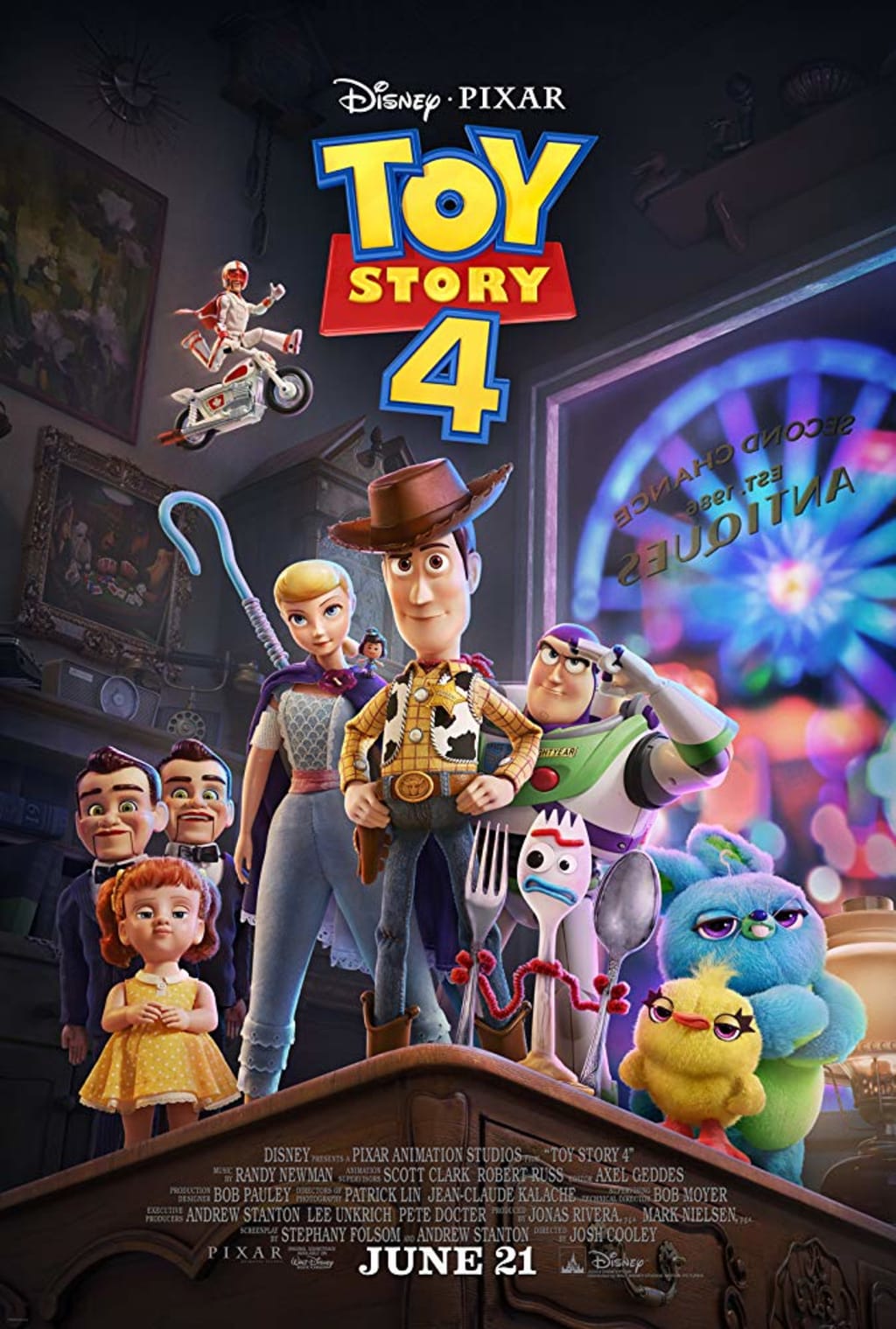 Guess what, guys? We're going on a road trip! So you'd better pack your belongings, toys, and make sure your RV's are running smoothly.
Toy Story 4 is the newly released fourth installment of the unforgettable Toy Story series. Directed by Josh Cooley, the toys are off on a road trip with a new friend named 'Forky'. After getting separated from the gang, Woody runs into a long lost friend. On a new rescue mission, Woody faces the realities of change, learning that there is more to a toy's world.
Five years ago when I was a freshman in college I squeaked in pure excitement when I learned that there was going to be a Toy Story 4. Feeling skeptical like most fans about the fourth installment, I was curious about how they could expand this beloved story. Five years later, a graduate from college, I was sitting in the theater (with many children) on the day Toy Story 4 was released to the big screen.
Tom Hanks did a pro-founding job with his latest voice work of Woody. His energy, emotion, and his provocative tone was beautiful and genuine. He truly became his character over the last twenty-four years. I applaud him for a remarkable job.
No longer the favorite toy, Woody struggles to find his place. Having been through so much, Woody has grown into a selfless toy, thinking more about others than himself. Which is where his problem lies.
Buzz Lightyear returns on yet another rescue mission to help Woody. Except he felt out of character. I felt as if Pixar wasn't sure on how to handle his character, giving him a needless subplot regarding his inner voice (his conscious). Buzz's questionable reactions didn't feel right seeing how listening to his conscious is one of his best qualities.
Since Toy Story 4 centers around Woody's story, we don't see the other toys a lot. I missed seeing the toys, especially Jessie. Jessie could have used more screen time especially in a subplot that could have been fleshed out in a pivotal scene.
Bo Peep (Annie Potts) returns to the screen with a fully fleshed out personality, and even a new wardrobe. I loved Bo's scenes. Witnessing her character evolve is something I have longed to see. Writers did a remarkable job, as did Annie Potts.
Woody and Bo's interactions are beautiful. It was the relationship we never had the opportunity to see as it was overshadowed. Their relationship is endearing, and marks a pivotal moment in Toy Story history.
Joining the cast, Tony Hale (Forky), Keegan-Michael Key (Ducky), Jordan Peele (Bunny), Christina Hendricks (Gabby Gabby), and Keanu Reeves (Duke Caboom) add comedy and touching moments of growth to the story.
The animation, soundtrack, and emotion are breathtaking. Pixar has come a long way in animation. The backgrounds are beautiful works of art, easily capturing you from the moment the film starts.
Growth, insecurity, and moving on are significant themes in Toy Story 4. Forky asks an important question: 'Why am I here?' We all ask ourselves that question. Life is all about taking risks and changes.
On a personal level, one year ago before I saw Toy Story 4, I was struggling upon graduating from college. Change is scary. We need to take risks. Don't force yourself to keep doing something or stay where you feel like you can't do anymore. We can find ourselves in this everyday-changing world. Everything will be okay.
Toy Story 4 was a beautifully emotional, captivating film. I recommend it to all audiences, especially those who grew up with the series. It is worth a watch to see your favorite characters one more time.
Be warned that there are a couple of frightening scenes for children. Pack some tissues while you're at it. You're in for a wild ride.
To infinity and beyond.