Top 5 Steve Ditko Characters
Steve Ditko, 1927-2018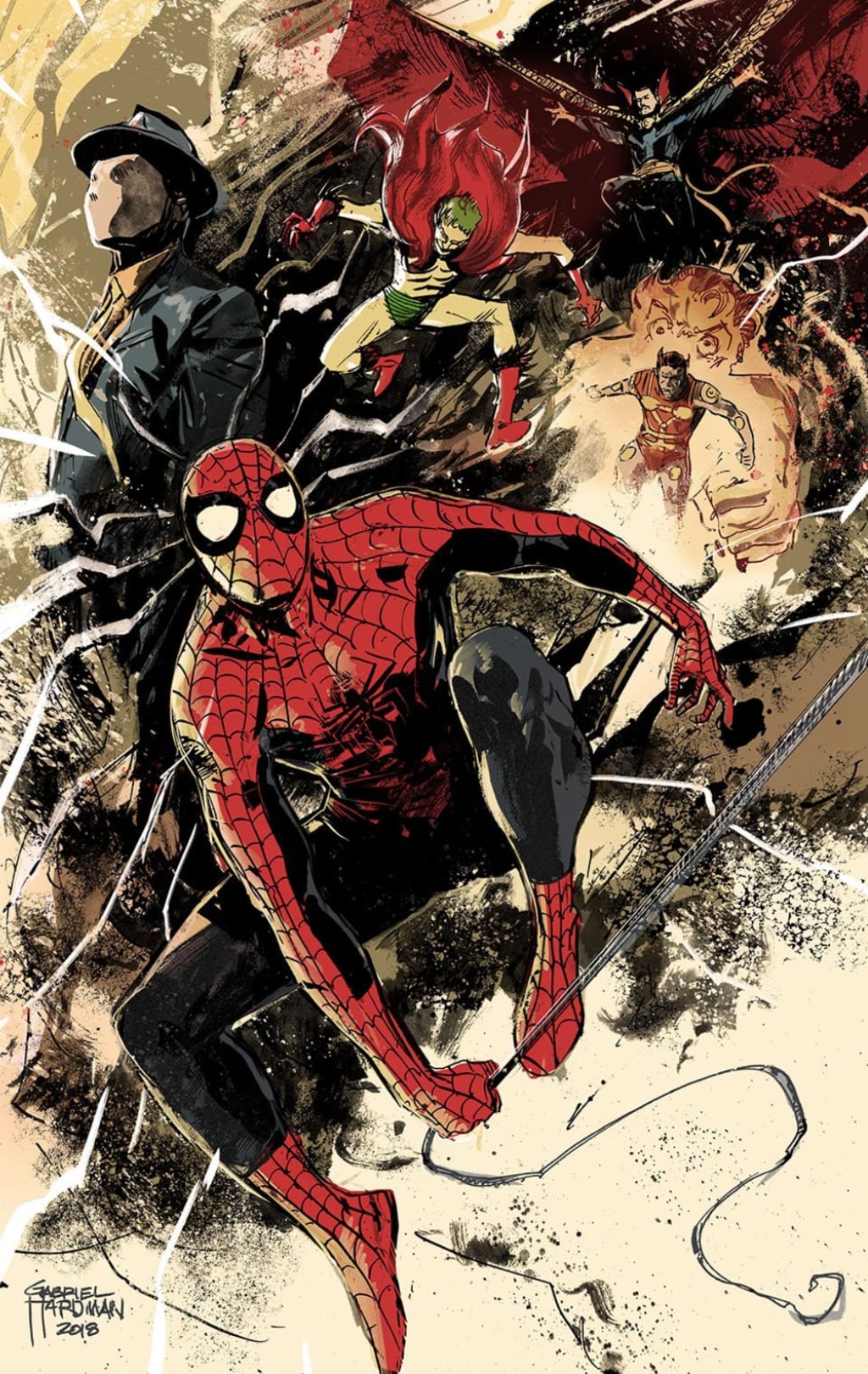 Credit: Gabriel Hardman
On June 29, 2018, the comic book community lost an icon. Steve Ditko, one of the men who helped revolutionize the comic book industry, passed away at the age of 90. Ditko gave us as readers and fans some spectacular stories and amazing characters. And in his honor, I've compiled a list of what I consider to be the five best characters he's ever created or co-created.
5. Blue Beetle (Ted Kord)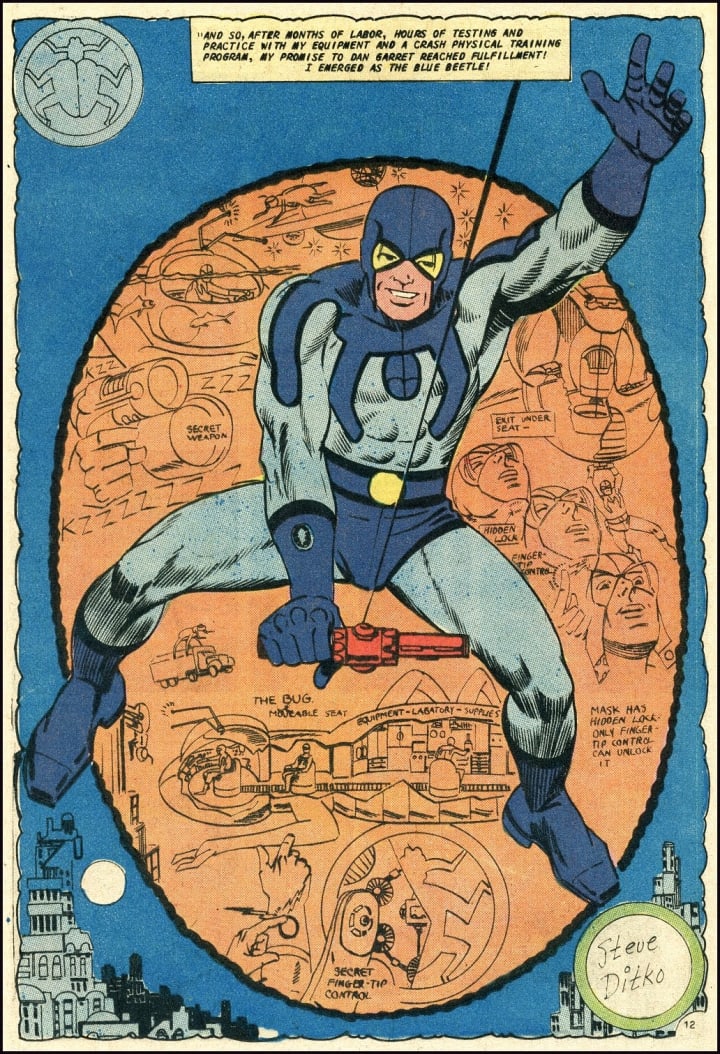 Ted Kord uses his genius intellect and technological prowess to fight crime as the Blue Beetle! Introduced on the pages of Captain Atom #83 in November 1966, Steve Ditko's Blue Beetle was actually the second iteration of character to wear that mantle. The first Blue Beetle, Dan Garrett, was created for Fox Publications before it became Charlton Comics. While Dan Garrett fought crime with magic, Ted Kord was a swashbuckling hero who used technology and a plane shaped like a giant blue beetle. In 1985, Kord jumped over to the DC universe when DC bought Charlton, where he gained a best friend in time-traveling adventurer Booster Gold. Like most comic book characters, Kord did die at one point, and though he did come back eventually, he inspired the current Blue Beetle, Jaime Reyes, to fight crime with the Teen Titans. Blue Beetle was also the inspiration for the character Nite Owl II in Alan Moore and Dave Gibbon's beloved Watchmen graphic novel.
4. The Question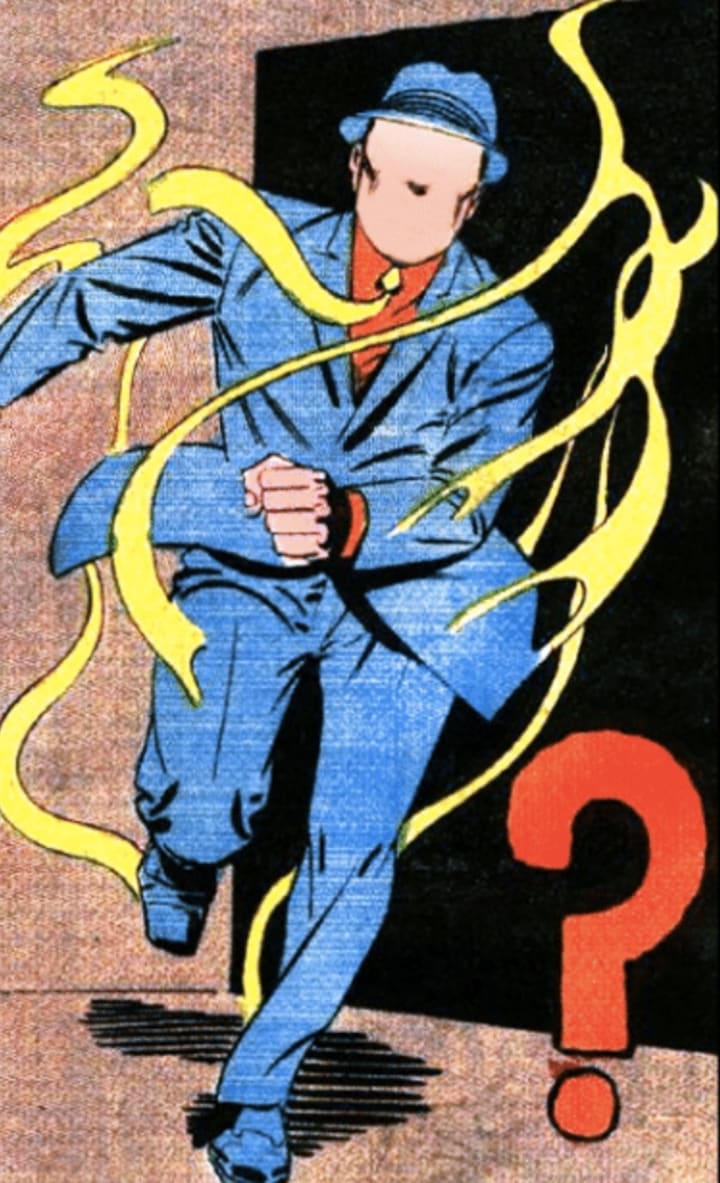 A champion of skepticism, conspiracy theories, and uncovering the truth, investigative journalist Vic Sage would strive to report the truth by day, and by night, he'd don a trench coat, fedora, and a faceless mask to fight injustice as The Question! Introduced in Blue Beetle #1 (June 1967), This character is very much like Ditko himself, more so than any other character, probably. Ditko was a follower of Objectivism, a philosophy developed by libertarian author Ayn Rand. Objectivism states that every person should pursue nothing but what makes them happy and there is only what is right and what is wrong, no in-between. The Question (and the Watchmen character he inspired, Rorschach) saw the world as very black and white, and fought what was wrong, even though some might see what he was fighting in a morally grey area. The Question is the best example of Steve Ditko getting to write what he wanted to write, which is, in a way, Ditko practicing Objectivism in a very real way.
3. Nightmare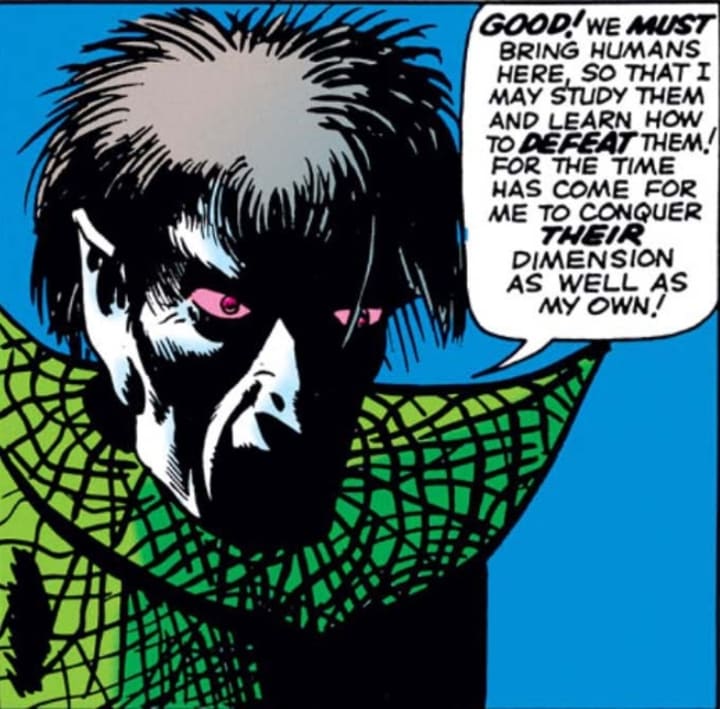 Most superheroes fight tangible opponents. But what if you couldn't fight your enemy with your fists? What if your greatest enemy was in your head, and preyed on your innate fears and insecurities? That's the baseline for Dikto's villainess Nightmare, King of the Dream Dimension and frequent enemy to Doctor Strange. First appearing in July, 1963 in Strange Tales #110, Nightmare is a demon who draws his powers from the literal dreams and nightmares everybody has. He uses this power to subjugate and control people on a subconscious level. Though Nightmare is a supervillain, he's not trying to conquer the world, or even kill anyone. He's simply the inverse of his cousin, The Dweller-In-Dreams. He feeds on nightmares, and if he doesn't make sure that people still have nightmares, the cosmic balance is disturbed and humanity would go insane. Unlike previously mentioned Ditko character, The Question, Nightmare operates in a morally grey area of needing to psychologically torture humanity in order to keep the cosmic balance intact. The only difference between Nightmare and Strange on this matter is that while Strange begrudgingly accepts this arrangement, Nightmare relishes in it, savoring every drop of fear he inflicts on the average dreamer.
2. Doctor Strange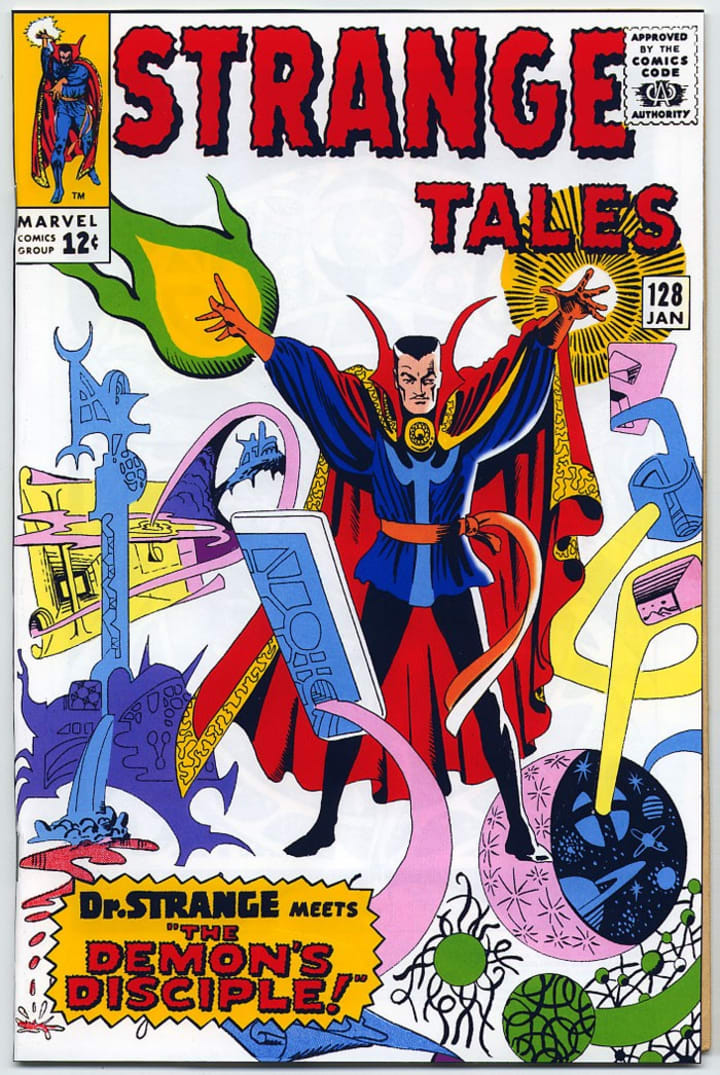 Anyone who's a fan of Benedict Cumberbatch knows this entry. Introduced in Strange Tales #110 in July 1967, the once gifted and arrogant surgeon, Dr. Stephen Strange lost the ability to use his hands properly in a devastating car accident, ending his career. His search to find a cure lead him to Kamar Taj, a monastery where he was taught the Mystic Arts and became Doctor Strange, Sorcerer Supreme. This book was where Ditko was really able to show off his artistic prowess. His art was incredibly psychedelic and perfectly fit a mystic-themed comic. Bright colors, twisty curves mixed with sharp edges, stars and other bursts of light, color, and energy, Doctor Strange was a character and book where Ditko's art was the main attraction. Other artists who've taken on the tall order of drawing Doctor Strange books don't forget the precedent set by Ditko, as the art in every iteration of the title since Ditko left has been just as mind-bending and surreal as the originator's.
1. The Amazing Spider-Man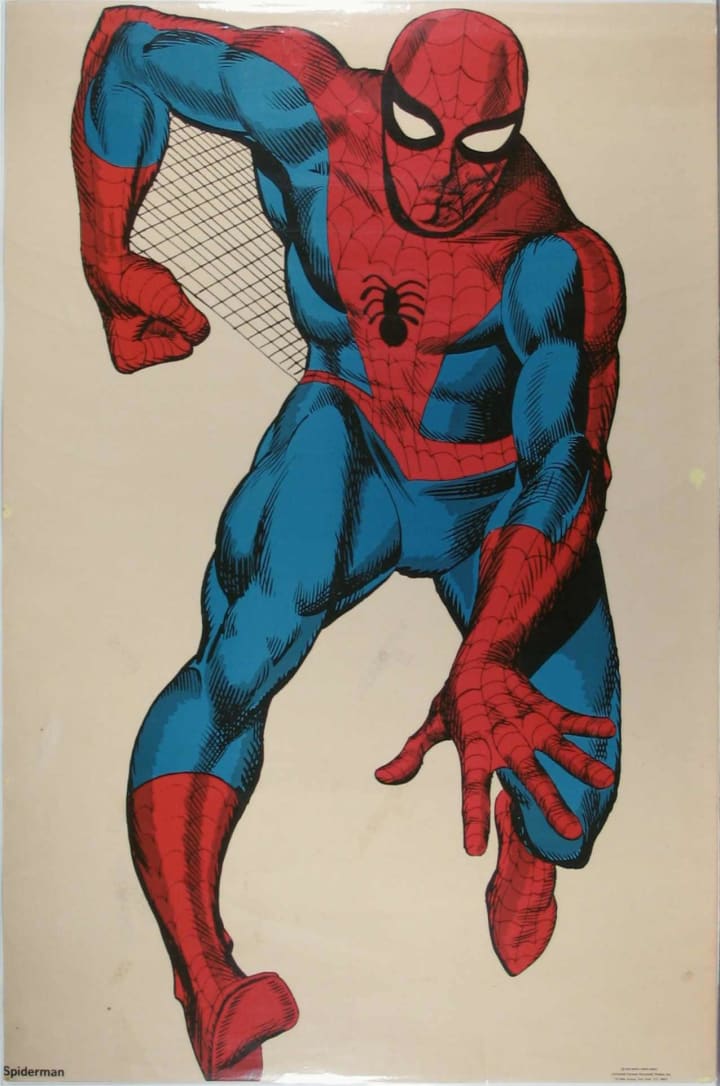 This comes as no surprise to anyone who knows Steve Ditko's body of work. Co-created with the Man himself, Stan Lee, for Amazing Fantasy #15 in August 1962, Ditko helped mold the character of the Amazing Spider-Man into the paragon he is today. Conceived as a wimpy, skinny high school nerd, Peter Parker was bestowed with a great power, and used it to do what he considered his responsibility: to help people. Throughout his career drawing Spider-Man, Ditko showed us Spider-Man at his highest and his lowest. He showed Spider-Man rising to the occasion and doing the right thing despite losing people he loved and facing great tragedy. Steve Ditko gave us a character that, no matter how life beat him down or discouraged him, he always got back up and saved the day. Spider-Man is, in mind, the best character Steve Ditko ever created or helped to create. Steve Ditko was a master of his craft, and he won't soon be forgotten.